21 Of The Best Wedding Venues In Kent
Kent is one of the most popular locations to get married in the UK and it's easy to see why! With better weather (lots of sunshine even in winter) than most other counties, fantastic food and drink with great local produce and vineyards and a huge variety of scenery from rolling hills to beautiful beaches, the county was made to be the perfect wedding setting.
We haven't even mentioned the sheer number of incredible wedding venues on offer from Norman castles to rustic beach venues and farms, barns and beautiful gardens inbetween. There are always new venues popping up and we've selected our current top 21 (why not) for your perusal. So, in no particular order...
Kent is often referred to as "The Garden Of England" so what better venue than to start with Mount Ephraim Gardens! Located between Faversham and Canterbury this incredibly romantic venue is a privately-owned family home which offers (unsurprisingly) 10 acres of gorgeous gardens and a private lake. With onsite accommodation for up to 22 guests and delicious, locally sourced food, it's a truly unique venue, steeped in hundreds of years of history and exclusively available to a limited number of couples every year. Prices for "ceremony only" start at £1,750.
Sticking with the theme of venues that are crawling with hundreds of years of stories, Hever Castle has seen it's fair share of history. Castle wedding venues are usually the ones most associated with fairytales and in this case it's easy to see why! There are also several venues within the one venue to choose from which makes the venue even more staggering. Deciding between the country house feel of the Astor Wing, the stately grandeur of the castle itself or the stunning lakeside location of the Italian Garden (yes, more beautiful gardens!) is tricky but the reality is you can't go wrong with any of them. From intimate weddings of 60 or less to large wedding breakfasts for 180, there's really nothing that the venue doesn't offer. Venue hire starts from £3,500 and there's also 28 bedrooms for guests to stay overnight.
Not a million miles away from Hever Castle is Royal Tunbridge Wells, one of the most popular towns in Kent and overflowing with quality wedding venues. One of those is The Spa Hotel. As its name suggests, it boasts a full, luxury spa and more importantly a stunning outdoor Wedding Temple which can cater for up to 228 people. With 70 bedrooms available, The Spa Hotel is a superb venue which is well-worth exploring with all its amenities and reasonably priced packages starting at £56 per head.
Moving deeper into Kent, not too far from the Coast, you'll find Port Lympne Hotel and Reserve. Set in across 600 acres, this is a glorious nature reserve, home to many rare and endangered species. With a plethora of different locations to say "I do" and even more choice when it comes to setting and style for your reception, this is truly a one of a kind wedding venue. Perfect for larger weddings as it can accommodate 300 guests across the park, they have incredibly flexible packages to suit all budgets.
Sticking with nature, but back towards East Peckham you'll find the lovely Hop Farm. A beautiful barn wedding venue in the heart of the countryside. What makes it so special is that the venue is set amongst the largest collection of Victorian oast houses in the world providing a stunning backdrop for your wedding photos. Catering for up to 120 day guests and a further 80 in the evening, it offers camping / glamping opportunities for accommodation and is rather reasonably priced with packages starting at £6,500.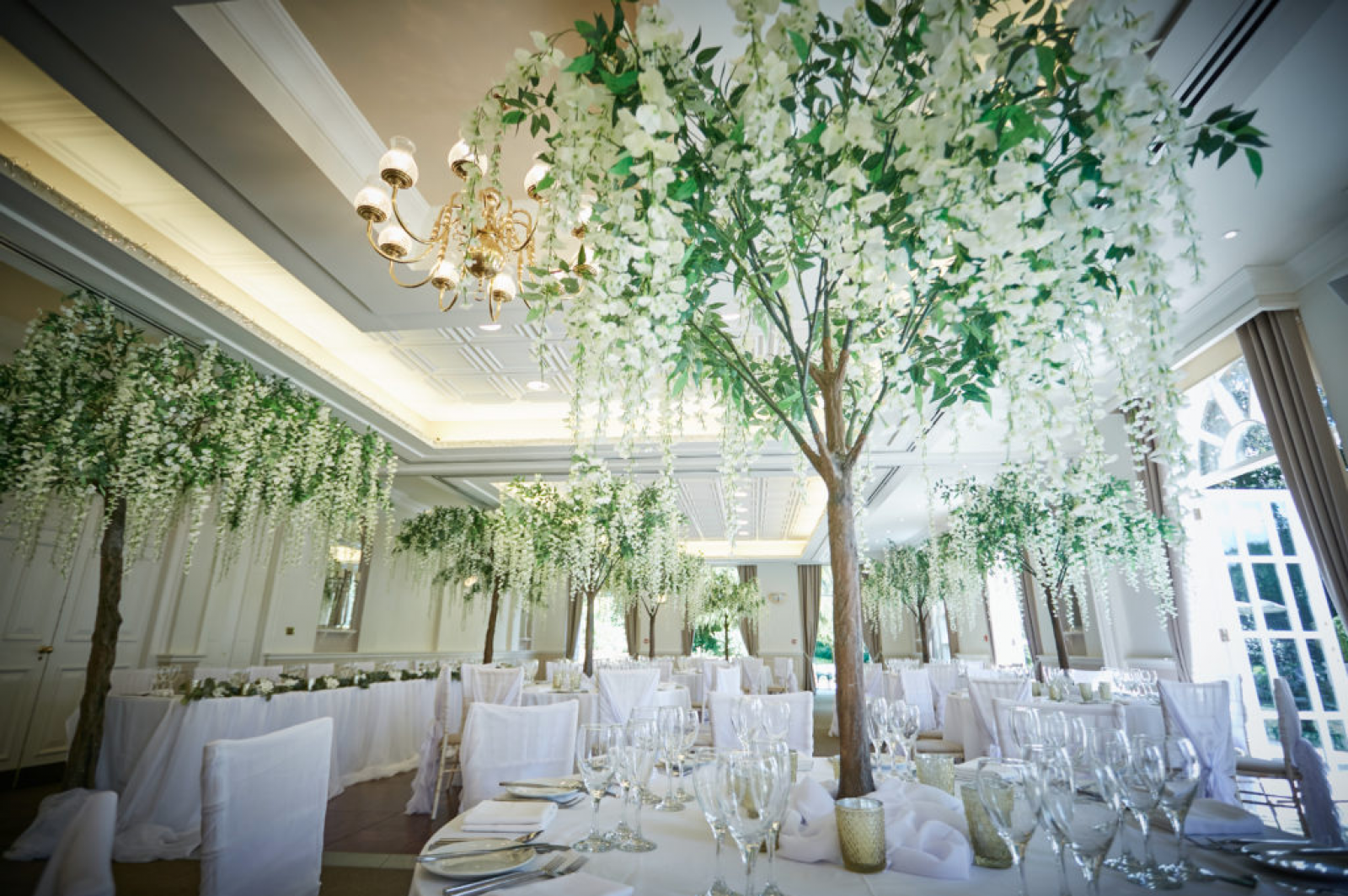 A short hop, skip and jump from Hop Farm and you'll land in Maidstone which plays home to The Orangery. Offering 9 acres of beautifully landscaped gardens, it's own private lake and an incredible tumbling waterfall, this exclusive-use wedding venue offers ample opportunities and locations for stunning wedding photos. What it lacks in accommodation it makes up for in beauty and is a great choice for any couple looking for an eco-friendly wedding. Prices start at £6,600.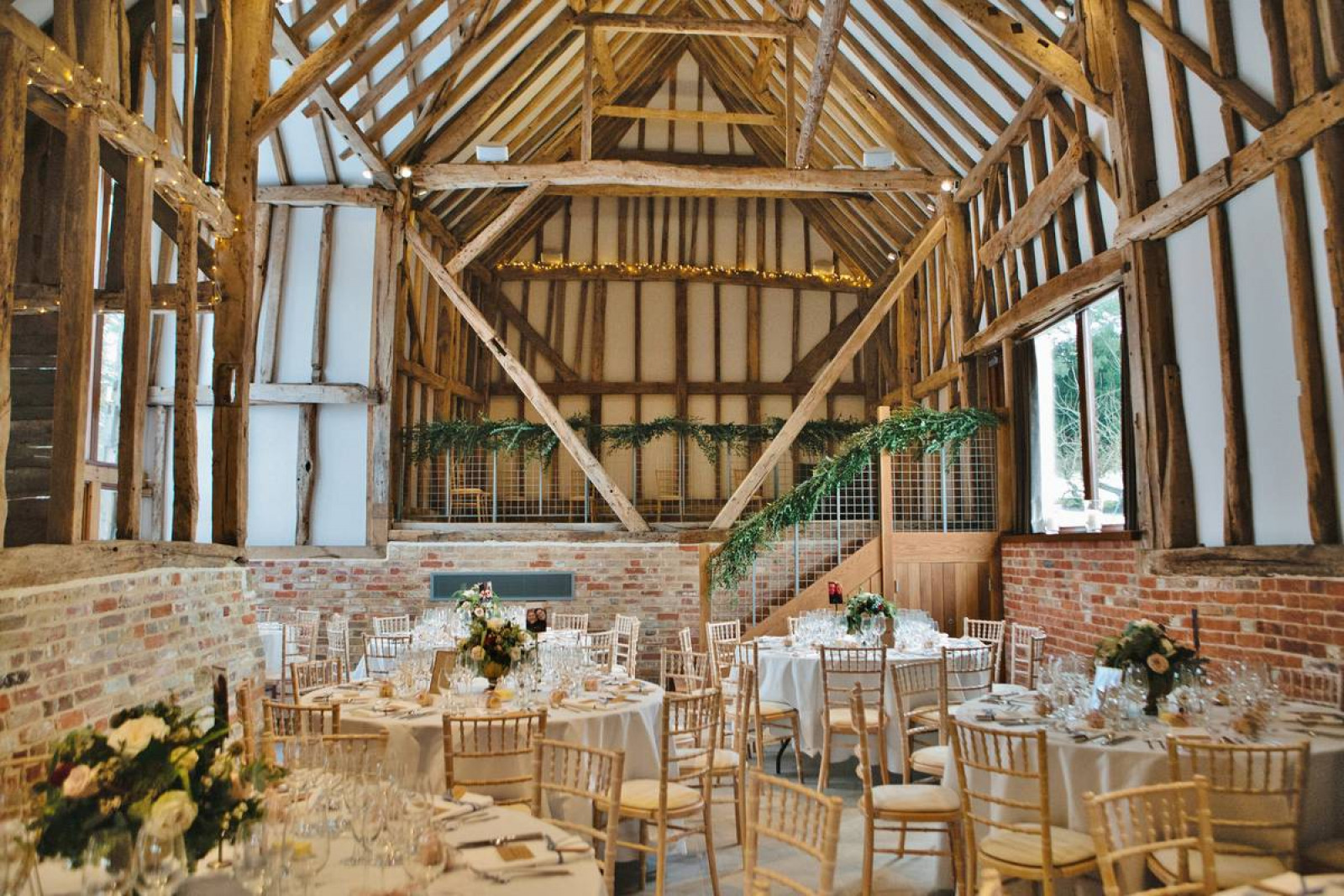 Barn wedding venues have been an incredibly popular wedding trend for the last 10+ years and it's a trend that shows no sign of letting up! With venues like The Oak Barn, it's easy to see why. This exclusive-use farm with 2 spectacularly restored barns and weaving house are particularly sepcial due to its eco-friendliness and (most importantly) it's a no corkage wedding venue, meaning you can bring your own booze and won't have to pay for the pleasure of it being opened! With packages starting at £3,000+ and cheap alcohol options, this a fantastic choice as a venue for your Kent wedding.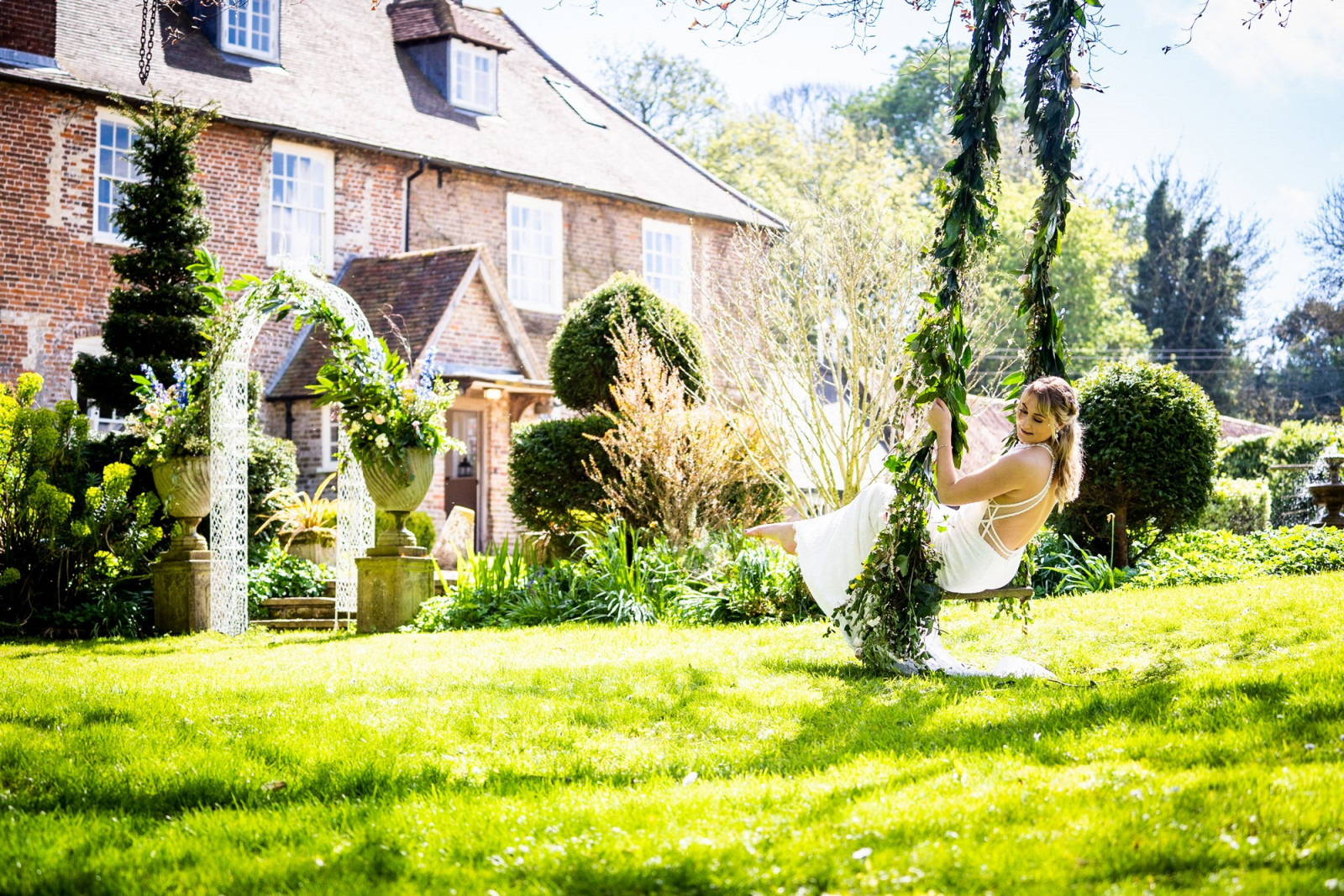 Converted, rustic barn and luxury manor house all combined in one venue? Yes please, now we're talking! Close to the Kentish coast and the port of Dover, Solton Manor is utterly glorious and the swing is a nice little bonus for your wedding pics. As an exclusive-use venue with 10 bedrooms for your guests, it has a late license so you can party in to the night and with prices starting at an affordable £4,900 this really is a "must consider" wedding venue.
Who said we're only allowed to feature one castle venue? Fortunately for us we make the rules and fortunately for you, we get to highlght the gorgeous Whitstable Castle. Situated on the opposite side of the Kent coastline from Solton Manor it's only 200m from the famous beaches of Whitstable and its historic harbour. Boasting stunning lawns, a beautiful fountain and even its own roof terrace with sea views, whitstable Castle takes fairytale weddings to another level. What's more, prices start at an unbelievable £1,550.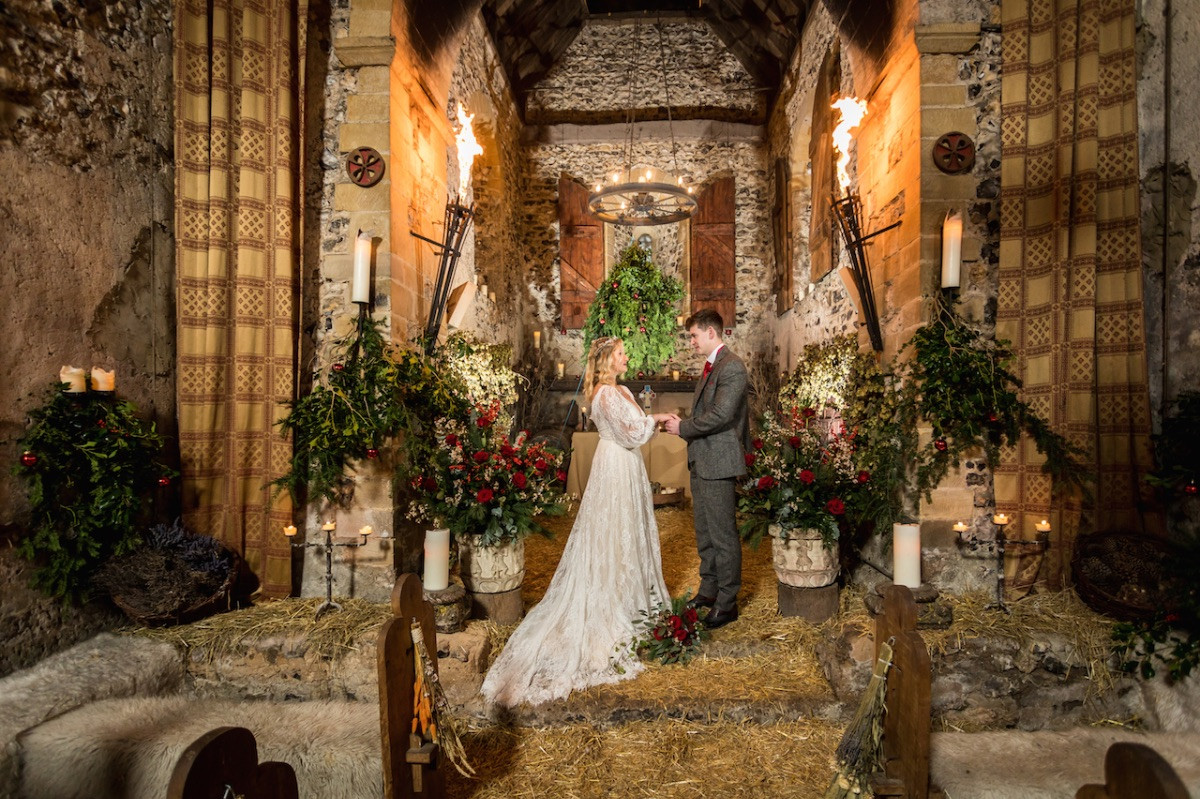 Bringing a different kind of magic to your wedding is the wondrous Lost Village of Dode nestled in the North Kent Downs. With the opportunity for both indoor and outdoor ceremonies along with pagan handfasting rituals and a wonderful Stone Circle setting, you'll be hard pushed to find a wedding venue that has an atmosphere quite like this! What's more, it's another no corkage wedding venue so again there's no charge for bringing your own alcohol. Perfect for small weddings of up to 42 guests, you'll find prices start from £2k+.
Making the Top 21 in part because we love the name but the actual venue is genuinely worthy of making this list! Back to Tonbridge (which we mentioned earlier) and Wise Wedding Venue makes you feel like you've followed Alice into Wonderland! Set within 10 acres of established oak and silver birch trees with various clearings, reed lakes and of course the amazing treehouse, it's perfect for a festival-themed wedding. Discover the hanging sofas and various installations they've put up for your pleasure! Able to host up to 150 guests, you're looking around the £3k mark for venue hire.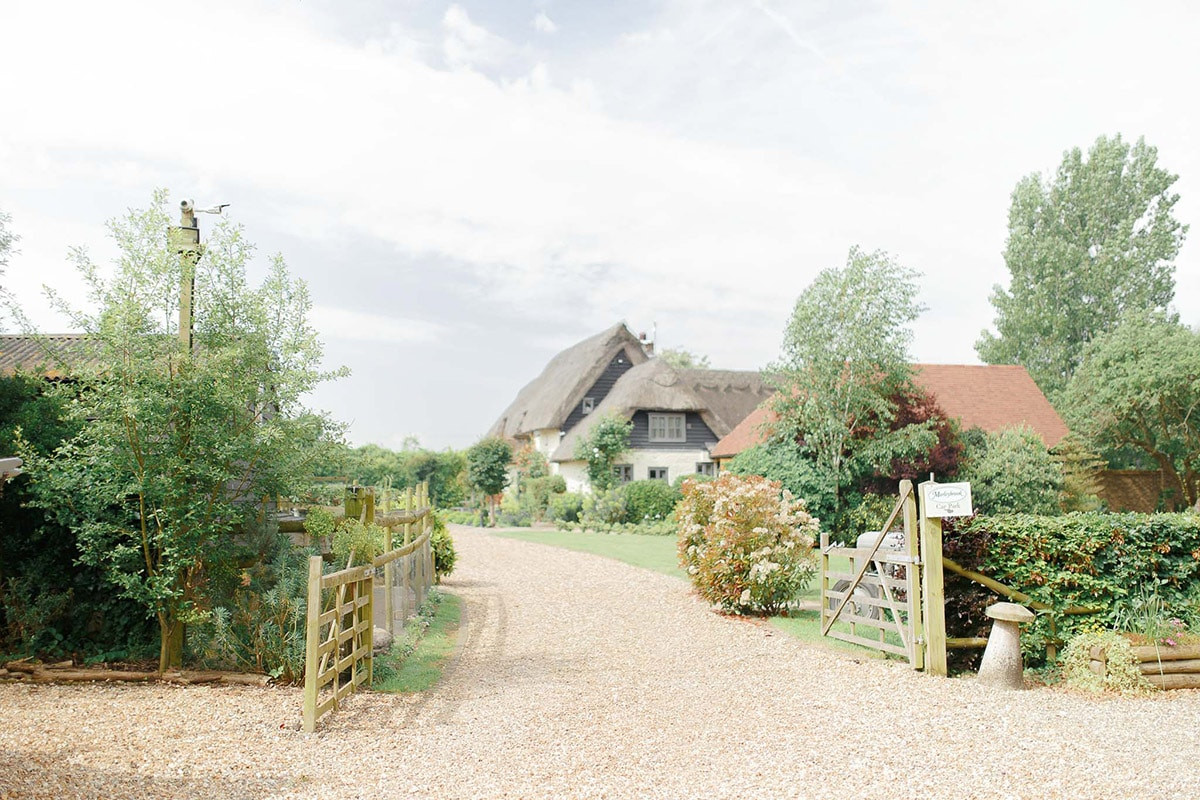 Hopping back across to the other side of Kent once more and to the historic town of Canterbury (which is well worth a visit by the way). Again, with a huge choice of great venues, one of which is MarleyBrook House, it's already a winner by the fact it offers a fairground! What a place for you and your guests to hang out. Surrounded by 10 acres of lush woodland and fields and a historic, 17th Century thatched farmhouse, the opportunities for fun and photos are endless! with space for up to 150 guests at this exclusive-use venue, you're looking at £6k+ for venue hire.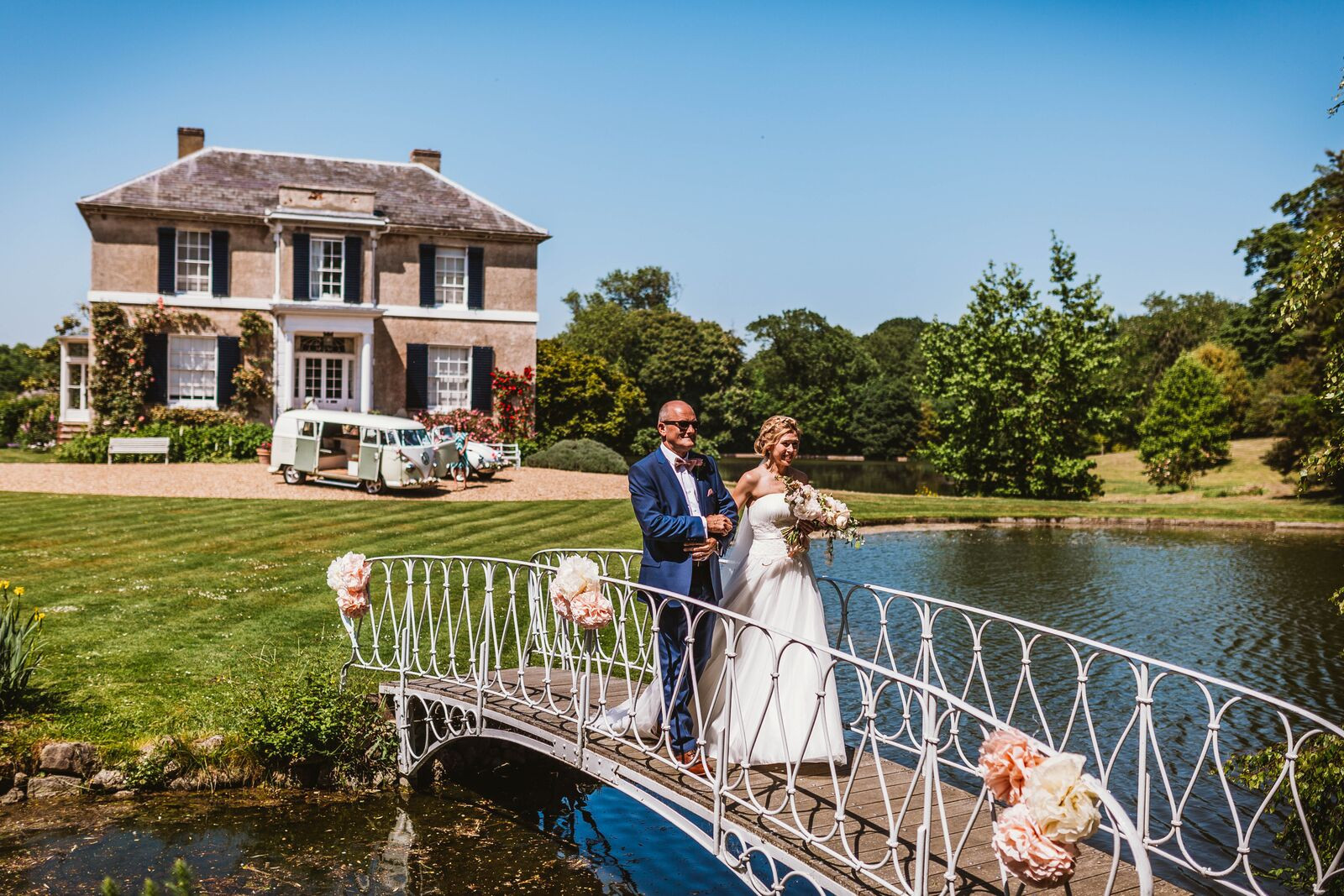 Staying in Canterbury and another stand out venue has to be Preston Court which truly is one of the most spectacular places to get married in the UK. Boasting a listed Georgian manor, a beautiful 17th Century oak barn and luxury glamping in bell tents for accommodation, it's difficult to find an item that this venue doesn't tick off on your wish list! They also have a stunning Victorian Carousel and 1920's Art Deco mechanical fairground organs so like their neighbours above, they have jumped on the whole fairground-themed wedding trend. Packages for venue hire start at £5,000.
Situated on an island, The Isle of Sheppey to be exact! Elmley National Nature Reserve is incredibly special and you'll need to get in there early as they only host a handful of weddings there every year. If you're a nature lover and having an eco-friendly wedding is important to you then this is your venue. Surrounded by water meadows, lakes, all kinds of birds and butterflies, it's a really beautiful spot and incredbily flexible when it comes to working around your requirements. With a vast range of spaces for celebration, thre's plenty of luxury accommodation onsite and there's even a rustic barn offering an extraodinary seting for your lavish feast! To top it all off... yep it's a no corkage wedding venue! While it does have everything, it also comes with a cost as prices start at £10,500.
Ahh "Goodnestone (Me) Park"! Like what we did there?! But seriously wow! This magnificent Queen Anne house is set in 15 acres of beautiful grounds and surrounded by gorgeous parkland. Unsurprisingly, it's not far from Canterybury, the Kentish town churning out unbelievable wedding venues left, right and centre! The venue is said to be the inspiration for Jane Austen's Pride and Prejudice and it's easy to see why. With a beautiful walled garden, the venue can host up to 150 guests and sleeps 50 guests. It also offers reasonably priced venue hire with basic packages starting at £3,000.
Castle, barns, yes 3 of them! Now it really feels like this is showing off! This brilliant, family-run venue is oozes cool! Add on the moat house accommodation and Cooling Castle Barn really has it all! The beautiful gardens mean you can barely move for photo opportunities. with first class catering and enough space for up to 250 guests in the evening, you can't get married in Kent without going to view this venue. Given we haven't mentioned Rochester yet, it's definitely the leading venue in the area and pushing top spot in the county. Venue hire starts from roughly £5,500.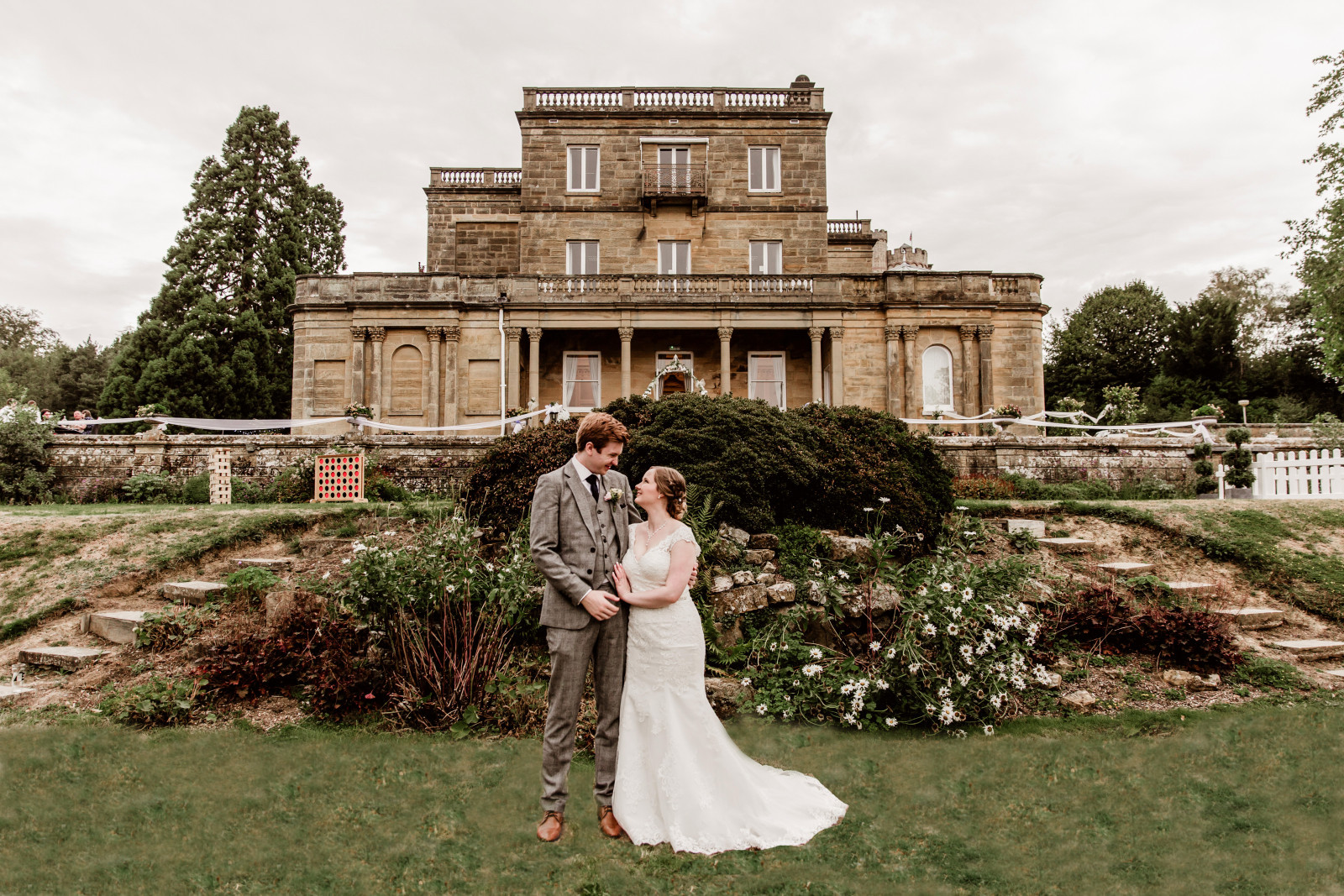 This beautiful, Victorian mansion set in 36 acres of beautiful grounds, woodland and lakes is a real treat of a venue in Tunbridge Wells. With luxury accommodation available in the nearby cottage fit with roll top bath, grand Victorian Theatre for your big party and breathtaking estate views, this is true luxury in the heart of Kent. With accommodation for up to 100 and dining capacity for 200, it's perfect to hire for the whole weekend. They can even extend their late license to 1am with an additional cost to keep you partying later into the night. Host your ceremony indoors, outdoors or at the nearby church.
We're big fans of these lovely little venue basted halfway between Sevenoaks and Maidstone. This boutique wedding venue is perfect for smaller weddings with a capacity of 80 for the ceremony and 100 for the reception. Modern but stylist, the hotel is a cosy 600-year old coaching inn balancing charm and character. Prices on packages start around the £7,000 mark.
We may be getting close to our 21 limit but we're certainly not running out of great options. Introducing Chafford Park, another winner straight out of Tunbridge Wells. Ticking both the country house and barn wedding venue options, actually 2 barns for your ceremony and party! Set within 300 acres of stunning, Kent countryside, it's another no corkage winner and they're flexible on you bringing in your own external caterers to sort the food. With prices starting at just under £4,000, this certainly doesn't look like it fits its budget price tag!
With so much variety to choose from, we probably haven't featured enough coastal venues so no list would be complete without Quex house & Gardens. Down the road from Margate, aka "Shoreditch by Sea" this charming venue offers gorgeous gardens, a magnificent carved staircase and oak panelling a wonderful Victorian style gazebo. Unfortunately it doesn't have have any accommodation but there's plenty nearby! With packages starting at £3,000, it's a really affordable venue in a lovely coastal location.
Once you've navigated the tricky task of choosing your favourite wedding venue in Kent, you'll need to start thinking about some of the other suppliers you'll need to help you. Luckily, we have you covered when it comes to local and talented florists, photographers, cake makers, hair & makeup artists and musicians! If you're still on the great wedding dress hunt then we've got some great recommendations for local bridal boutiques too!