Botanical Romance Inspired Wedding Style Shoot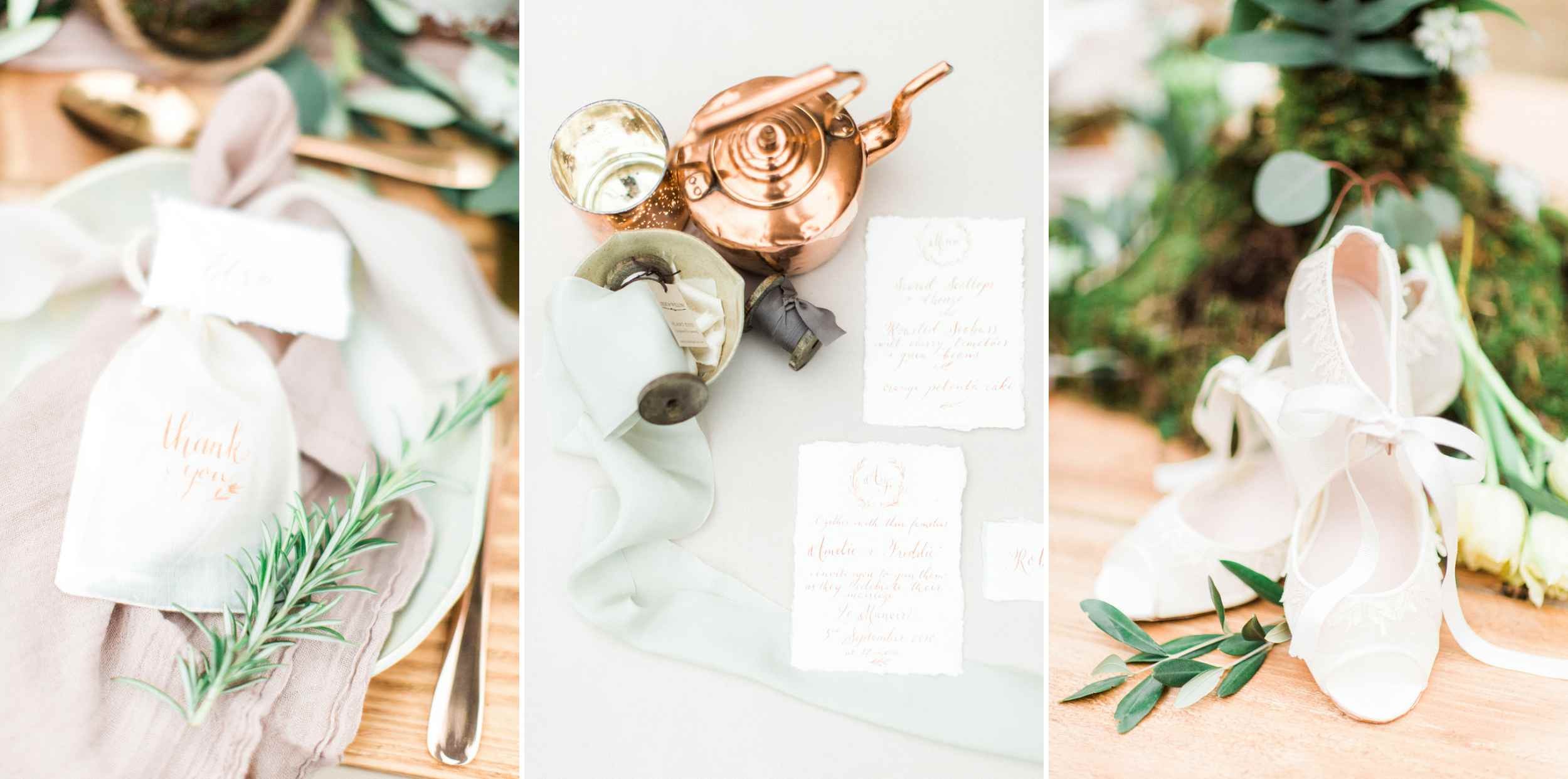 This botanical romance inspired shoot embraces earthy tones, rich greens, and delicate creams with the combination of organic and light textures to create this natural and effortlessly beautiful wedding setting. Amongst the stunning textures and colours, key details were added to give a feminine and romantic feel that felt straight from a fairytale.
Goose & Berry Weddings were the chief stylists on this shoot at the gorgeous Belmond Le Manoir aux Quat'Saisons. Alongside them, Sanshine Photography and a team of expert suppliers worked in harmony when it came to the creation of this stunning style shoot…
Colour Palette
Embracing the current trends in forest inspired colours, this colour palette channelled earthy greens, soft creams, and white. The use of the lighter roses and gypsophila allowed extra depth to be given to the rich green tones which in turn created an indulgent, outdoor feel. The use of mosses scattered throughout the centre pieces created an almost wild feel of natural beauty that is also reflected through the use of white flowers. These colours lent themselves exceptionally well to the surrounding location; the light browns of the stone walls of the garden further complimenting the greens.
The Location
The breathtakingly beautiful location of Belmond Le Manoir in Oxford provided a wonderful venue to make the most of the botanical theme with its stunning gardens proving to be the perfect backdrop. Looking like the something straight out of a fairy tale, Le Manoir is a stunningly romantic spot which allowed it to fit the romantic botanical style of the shoot impeccably.
Table Décor
With the desire to achieve a dreamy and elegant botanical feel, the table décor channelled a rustic but ethereal theme. Rose tinted copper was used for cutlery, decorative teapots and jars, providing a rustic feel but the delicate shapes allowed a whimsical vibe to be carried with them also. The delicate lilac napkins add an element of organic femininity that works seamlessly with the romantic venue.
A lovely detail in the table décor is the place cards that were used. The contrast between the rough paper and intricate but bright calligraphy completely mirrors both the key elements of the botanical and romantic theme; the two working in harmonious perfection.
The simple white candles placed on top of the centre pieces are an extra detail that created a fairytale feel, fitting perfectly with the romantic theme. The candles also draw extra attention to the centre pieces with the contrast between the two shades further enriching the greens of the botanicals.
The rosemary plants, captured effortlessly by Sanshine Photography, gave a freshness to the table décor that complimented the beauty of the foliage draping from the raised botanical centre pieces. This freshness echoes in the use of the decorative wood pieces; simple but effective pieces that provide some structure amongst the flowy botanical features.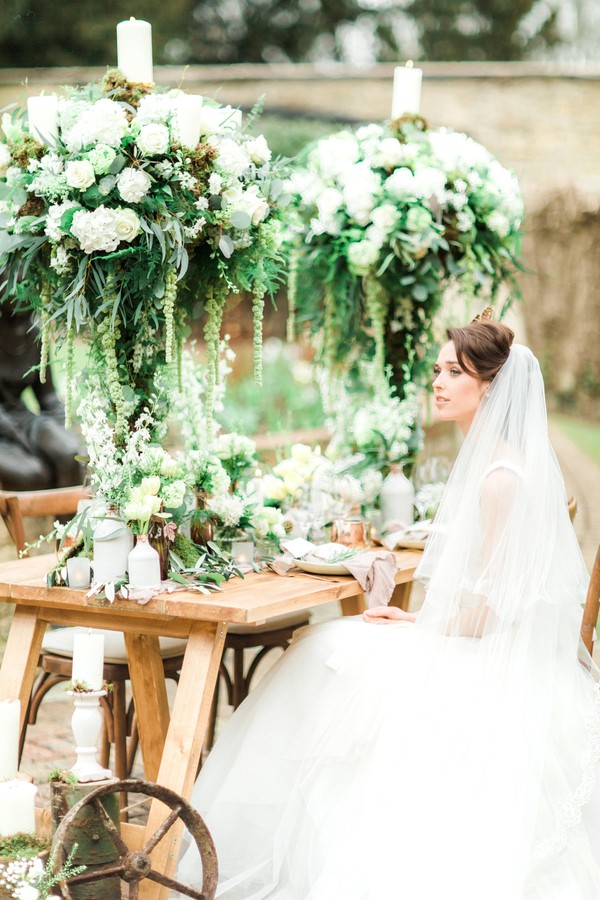 THE TEAM BEHIND THE SHOOT
• Photography: Sanshine Photography
• Styling and co-ordination: Goose & Berry Weddings
• Floral Design: Amie Bone Flowers
• Hair and Make-up: Katie Reay Scott
• Bridal Wear: Jesus Peiro 'Perfume' 5013 from Ellie Sanderson
• Bridal Accessories: Ellie Sanderson
• Shoes: Harriet Wilde
• Cakes: Gifted Heart Cakes
• Stationery: Judy Broad Calligraphy
• Paper, Ribbons, Favour Bags, Napkins and Runner: Silk and Willow
• Rentals / Hire - Table and Chairs: Stress Free Hire
• Venue: Belmond Le Manoir aux Quat'Saisons
• Model: Alexa Taylor
• Tweed Cape: Cocoon Luxe