6 Ways to Personalise Your Wedding Ring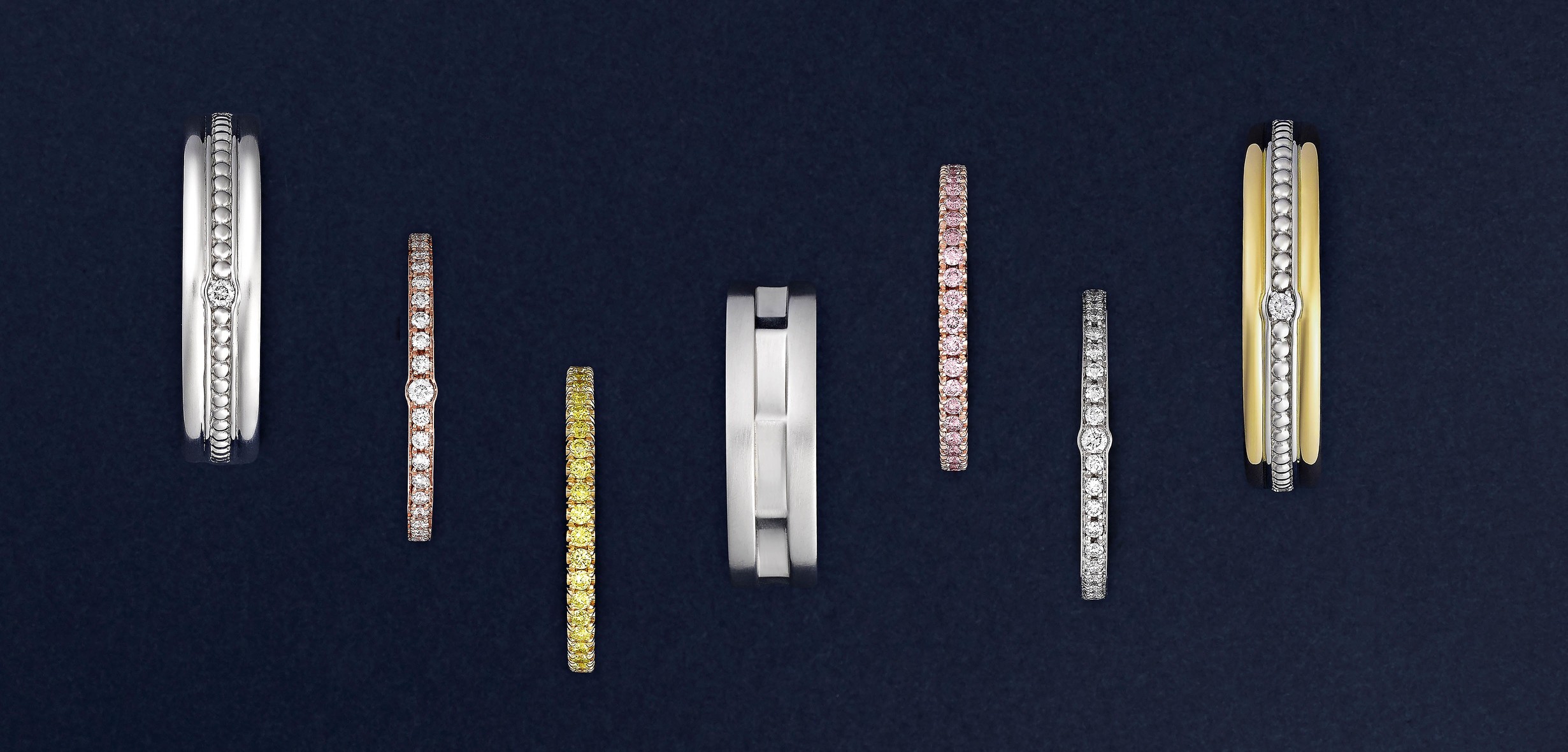 As industry leading specialists in personalised wedding rings, Taylor and Hart have their finger on the pulse of the most modern ways to bring sentiment and intimacy to wedding rings through personalisation. They're here to share with us all the timeless and on trend ways to take your wedding jewellery to a whole new level of personal.
"It's a symbol of your eternal unification and a piece of jewellery you'll wear forever, so it's important that your wedding ring suits your style. But in a world of seemingly endless choice, how do you ensure your wedding ring design is a true reflection of your style? With custom becoming an increasingly popular trend, couples are designing or customising their own wedding ring with unique finishing touches. Here are six unique ways to make sure your wedding ring design really is your own.
1. Inscribe the wedding band with special dates, quotes, lyrics or even, your fingerprint!
A longstanding lovers' tradition, inscribing wedding rings, has been a popular trend since the middle ages. In the courts of Medieval Europe, couples chose lines of romantic poetry to decorate rings made from precious metals. Inscribing words and numbers on wedding rings is a design technique that's still used today and is one of the easiest methods of personalising your wedding band. Is there a meaningful phrase, address or nickname that connects you with your partner? Subtle yet impactful, hand-engraving heartfelt messages, significant dates and even evocative song lyrics can give your ring an extra-special touch. You could even engrave a lyric or phrase that starts on your ring and ends on your partner's as a way of linking your wedding rings as a matched pair.
2. Hand engrave the outside of your wedding band
Make your unique love story one for everyone to see by engraving motifs or designs on the exterior of the band. From scroll patterns frequently seen on antique and vintage style rings, and classic wheat (as pictured below), to entirely bespoke patterns, your wedding band engraving will give an instant representation of your style.
There is an outer engraving design for every personality and the only restriction is your own imagination! For feminine brides, what about an organic, floral design? Or for couples who want to subtly highlight a special day or time, numerals allow for a dramatic statement in an unassuming design. You could even use a flowing scripture like the magical language of 'Elvish' to decorate the band, icons from your favourite movie, or bring the nostalgia of the place you first met to your ring by featuring a set of beautifully engraved coordinates in the outside of the band.
3. Set a gemstone on the inside of the wedding ring
Not all design customisations need to be in plain sight. A subtle way to personalise your wedding ring is to set a small gemstone on the inside of the band. Secretive and meaningful, choosing a significant gemstone is an intimate way to symbolise your love. It enables you to personalise your wedding ring without changing its external appearance which is ideal for couples who prefer a less overt display or individuality.
Unique to Taylor & Hart, they set a signature ruby inside the band of every ring - a secret treasure known only by you and your partner. Why not take the personalisation even further and have your partner's birthstone or favourite gemstone set into the inside of the band? This design technique also integrates with a personalised engraving beautifully, as shown in the image below with the phrase, "to the moon and back."
4. Carry your loved ones heartbeat with you wherever you go
Yes, you read correctly - you can have your own electrocardiograph engraved on your wedding ring! This impressive personalisation technique enables you to record your heart activity on the inside of the wedding band and will ensure you're known forever for your envy-inducing displays of affection.
The ultimate way to give your heart to your fianc é , an heartbeat ring engraving starts with your heart activity being recorded and visualised before being engraved on your wedding ring, leaving you with a completely unique ring design and a lasting memory of how being with your partner makes you feel.
5. Select an alternative metal finish for your chosen wedding band
Imagine you've found a wedding ring design that you love but want to give it a personal touch. That's what this technique can offer you and your partner. No matter what your wedding ring design looks like, we can customise the band for you with a final aesthetic of your personal choice. Each band can be finished differently to achieve an entirely unique look that's just right for you.
Whether you choose to give it a traditional polished finish or a contemporary matte look, you'll be able to impart your style onto the metal and get the individual look you're after. Popular finishes for wedding rings include traditional polished, satin, hammered and pebbled - each one giving your band a slightly different variation of reflectiveness and texture. For a cutting edge finish, why not choose wire brushed, soft brush finished, sand blasted, matte or even florentine - a beautiful textured metal finish featuring hundreds of tiny raised sections of metal in an almost weaved pattern.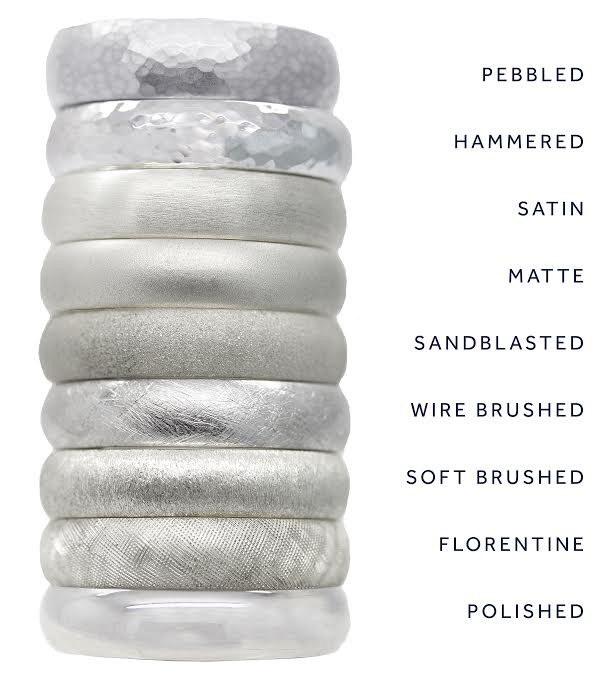 6. Choose two-tone metals for your wedding band
For brides and grooms with a love for contrasts, two-tone metal wedding rings are a great choice. Fast becoming a modern wedding trend, these rings make a great statement. Using two precious metals in wedding band brings colour and personality to your most treasured jewellery piece. Often resulting in a contemporary finish, mixing metals like platinum and rose gold for instance, is a great way to incorporate your favourites without feeling restricted by one colour.
Another brilliant benefit of mixing metals is that colour tones of your stones can be emphasised depending on your metal choice, for example, using rose gold pulls out the pink hues in pink gemstones or diamonds. As shown in the image below, you can also add an antique edge to the contemporary look of mixed metals by merging them with delicate milgrain - a pretty metal beading technique that's ideal for vintage-loving brides to be.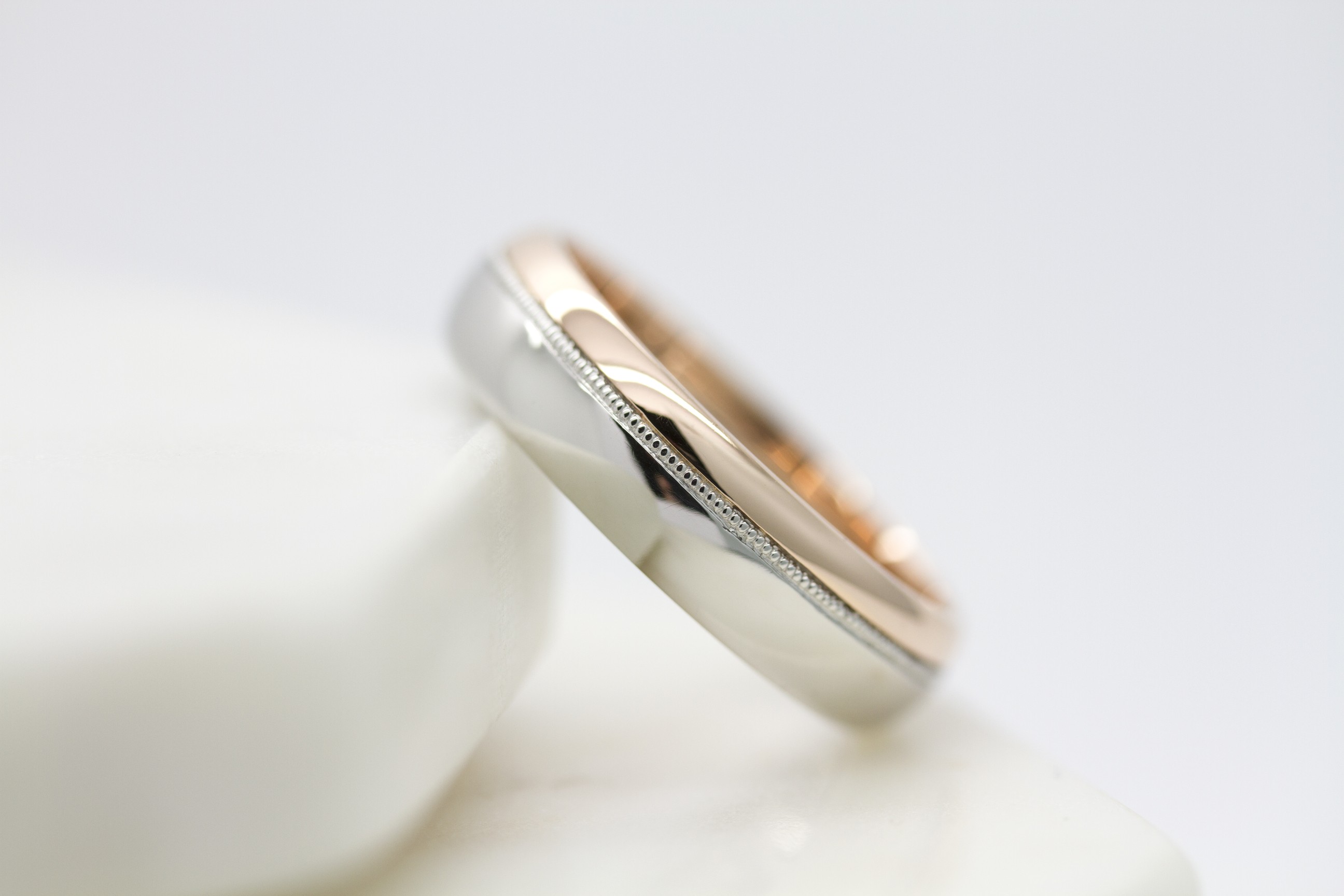 With such a wide range of techniques to personalise your wedding ring, there's so many ways to impart your own style on your most important piece of jewellery. Whether you choose vintage style rings with traditional inscriptions or contemporary wedding bands with trend-setting metal finishes, be sure to make your rings as individual as you are with one or all of these design elements."
Bio: Taylor & Hart specialises in crafting custom engagement and wedding rings. Led by your imagination, they work to ensure that your ring is thoughtfully designed and perfectly crafted. They believe beautifully bespoke jewellery that symbolises your unique story and style should be accessible to everyone who wants to declare their love.