Ideas for an Action Packed Hen Weekend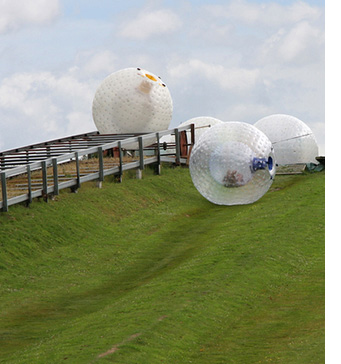 Gone are the days of pampered princesses on a hen weekend. Today we are like our stag counterparts, favouring dirt and danger over massages and manicures, and it is easy to see why. Okay we all still want beautiful looking nails but action weekends give girls something spa treatments can't, adventure!

On an action hen weekend, the adrenaline gets pumping, the thrill of the game gets more exciting and every person is left feeling exhilarated and itching for more.

Choosing the perfect action adventure can be difficult so Hen Heaven have put together their top 5 action activities.


Paintballing

Paintballing is a fantastic way to enjoy an action packed weekend. Manners and lady etiquette might fly out the window as you duck behind trees, run through the woods and release fury on the other team. Paintball gun in hand, your aim is to hit the opposing team with paintball pellets to ultimately be crowned the victorious winner.

This is one of our most popular activities for hen parties as the thrill of the adventure is both exciting and enjoyable. Everyone works together to destroy the other team, which is perfect if not everyone knows each other and when else do you get the opportunity to shoot some of your best mates? Just be weary of the bride to be if she is hoping to use the paintballing as an excuse to release her pre wedding stress!


Go Karting

A much calmer activity if the idea of being hit by paint filled pellets is not your cup of tea. You and the girls will need to suit up as you prepare to race around a track. Got a competitive edge? Good because there are no pleasantries in this activity as your goal is to beat all your fellow hens. Hundreds of hens participate in this activity each year and it is easy to see why. This is a thrilling and exciting activity that can be enjoyed by every hen even if they hate action based activities.


Zorbing

If you have a few adrenaline junkies in your hen party then this is the perfect activity for your girls. Take one, massive three metre wide PVC ball; strap yourself in and getting rolling down that hill. It really is as simple as that. This activity may sound scary but it is actually very exciting and very enjoyable and there is nothing more adrenaline pumping and exhilarating as you take that first roll down the hill.


Wakeboarding

If you are hoping for a bit of action by the sea, for your hen party, then there really is no better activity then wakeboarding. This water sport activity involves you all being pulled individually by a boat while you balance on a board. It may sound like hard work but you and the girls will be having too much fun to care or even notice. As you glide, jump and probably fall through the water, the adrenaline will be pumping through you. Plus it is also an amazing hangover cure after a night out!


Quad Biking

If you and the girls don't mind a bit of mud, love an adventure and want a good dose of adrenaline pumping through your veins then quad biking is the ideal activity for you. So get your jumpsuit on, as this isn't a friendly drive through the woods. You will experience muddy puddles, rough terrain and a few bumps making this experience both fun and exciting. Add a competitive edge to your day by beating your girls in a thrilling race around the gravel. You will arrive back with mud splattered grinning faces and an activity you are desperate to do all over again. Although I can bet you would all just easily settle for a nice glass of wine afterwards.