Wedding Catering - Presentation and Interaction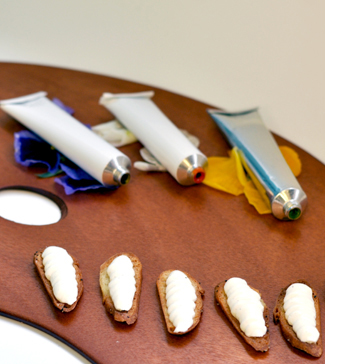 By Molly, Blue Strawberry
Sometimes, choosing what to serve at your wedding can feel like a mammoth task. You want your food to be delicious and well presented but also interesting. You want it to be a conversation starter that reflects you, as a couple, and your tastes, whilst still appealing to a very diverse age range. Yes, a traditional sit down meal is the simple and most common choice for weddings and when it is executed well it can be brilliant but if you're looking for something a little different then why not think about interactive ways you can present the food to give it that wow factor! This doesn't mean you'll be serving your food on an iPad instead of a plate; interactive food is simply food that your guests can get involved in. It's a fantastic way to break the ice and allows you to create a menu that not only tastes delicious and looks great, but also is fun and has a bit of variety.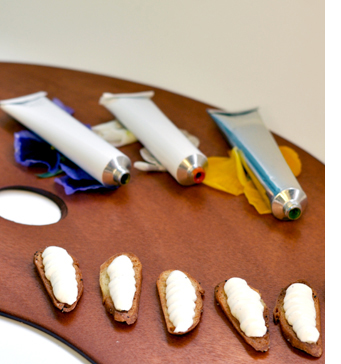 Start by thinking about small things you could do to personalise your day. Why not print photos from your favourite holidays as a couple and pop them into your canapé trays, or surprise your guests by using photos of them, with you, instead! Reflect your creative personality by serving your canapés on an art palette, or go a step further by serving the canapé dip in empty paint tubes which guests can squeeze onto the canapés themselves!

If you are having your reception outside then look at your surroundings and see if you can incorporate them into your food presentation. If there is a particular flower that is prominent in the garden then use it to decorate your trays, or if you are having your wedding in a venue that grows its own produce then ask your caterer if you could incorporate it into your menu. Doing these things will create a fantastic relationship between the food and the venue! If you're lovers of the outdoors and you are having your wedding in a venue with outdoor space then you could have guests 'foraging' for their dessert, this doesn't mean they'll be digging in the dirt but instead you can set up hidden stands of mini desserts in the grounds which they have to search for!

Buffets are a fantastic alternative to a traditional three course meal and there are plenty of techniques you could use to add a personal touch to the presentation. How about serving your buffet on a chalk board and writing what each dish is next to it in chalk? Or instead on individual wooden trolleys which can be rolled out by waiters and waitresses to be dotted about the room. The same carts can be used as carving trolleys which can each carry joint of meat and rolled out to your tables. You could even have a bit of fun by allowing a guest from each table to take the lead on the carving! And in the evening, instead of serving dessert at the table, hire out an ice cream cart for guests to feast on throughout the night. Choose your favourite flavours and have the ice cream made for you there and then with liquid nitrogen! It's a fantastic spectacle and will keep the kids entertained too.

There are plenty of things you can do to inject a bit of fun and adventure into your day so don't be afraid to think outside the box and do something a little different!