Red Carpet Glamour, Trend Alert - The Hollywood Influence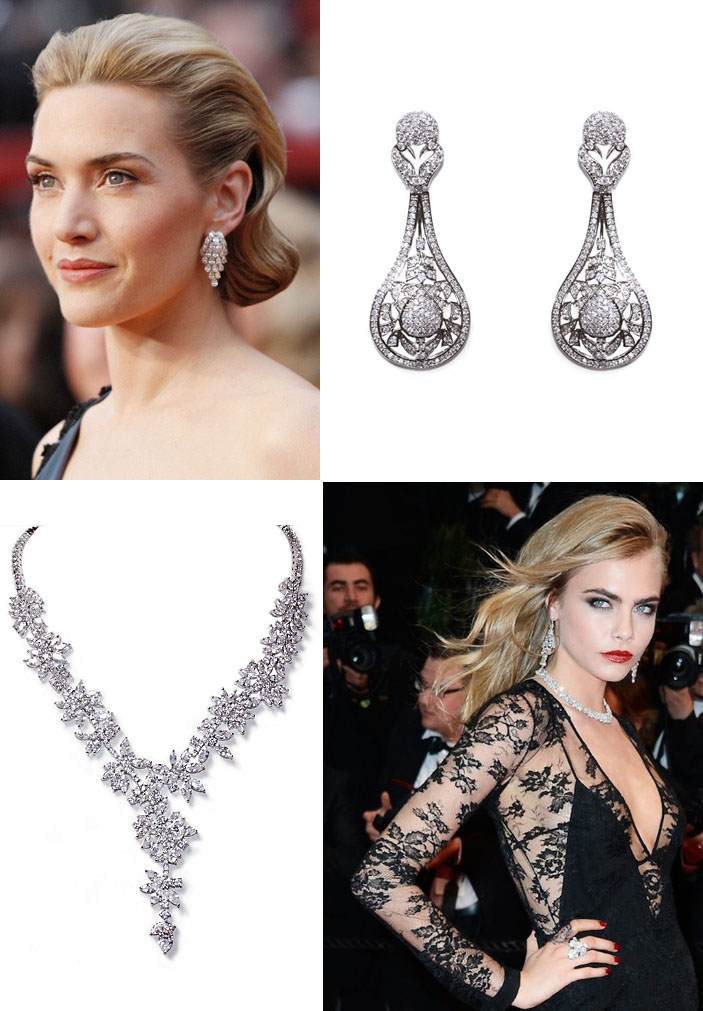 We are at that time of year again when all the great and good of Hollywood hit the red carpet for the award season. I love seeing the styling - especially all the dazzling accessories which provide such a glamourous look. For decades Hollywood has lead the way in showcasing the look of glamour - since the early days of cinema through the golden age we have seen style icons such as Elizabeth Taylor and Grace Kelly looking exquisitely sophisticated. Whether they were wearing sparkling jewellery or going as far as sporting a tiara for a film opening they looked fabulous and always very glam. In this modern era our love of elegant sparkle has not diminished as proven by todays stars as they tread the red carpet - this year as ever, fabulous accessories will be showcased at the Oscars, Baftas and every other Hollywood event.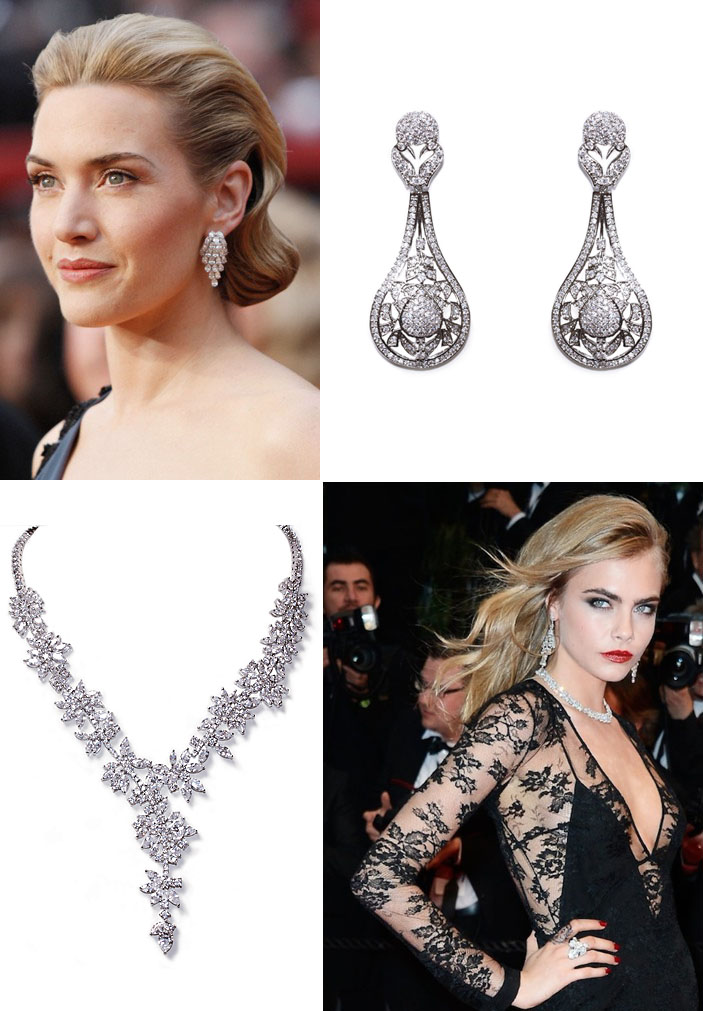 Bridal trends are increasingly influenced by celebrity styling and I am tipping the red carpet glam look to be a hot trend for brides in 2014. As well as trends for dramatic styling for gowns I am seeing more and more brides influenced by Hollywoods' accessory styling - and brides are looking for more dazzling jewellery and headpieces. If you are a bride who likes sparkle and you're looking for a glamourous theme, it may be wise to take a leaf out of the book of the red carpet A-listers, when it comes to styling.

For brides wanting this look it involves thinking carefully about the whole look for the day - not just the dress on it's own. Film stars have stylists to do the hard work for them, putting together a whole look that will work without being too over the top. So brides need to take a bit more time to consider the big picture - for example it can look fabulous to forget any hair decoration but instead go for a statement dazzling necklace that will turn heads - however you will need to think about the sort of gown neckline that this will best work with.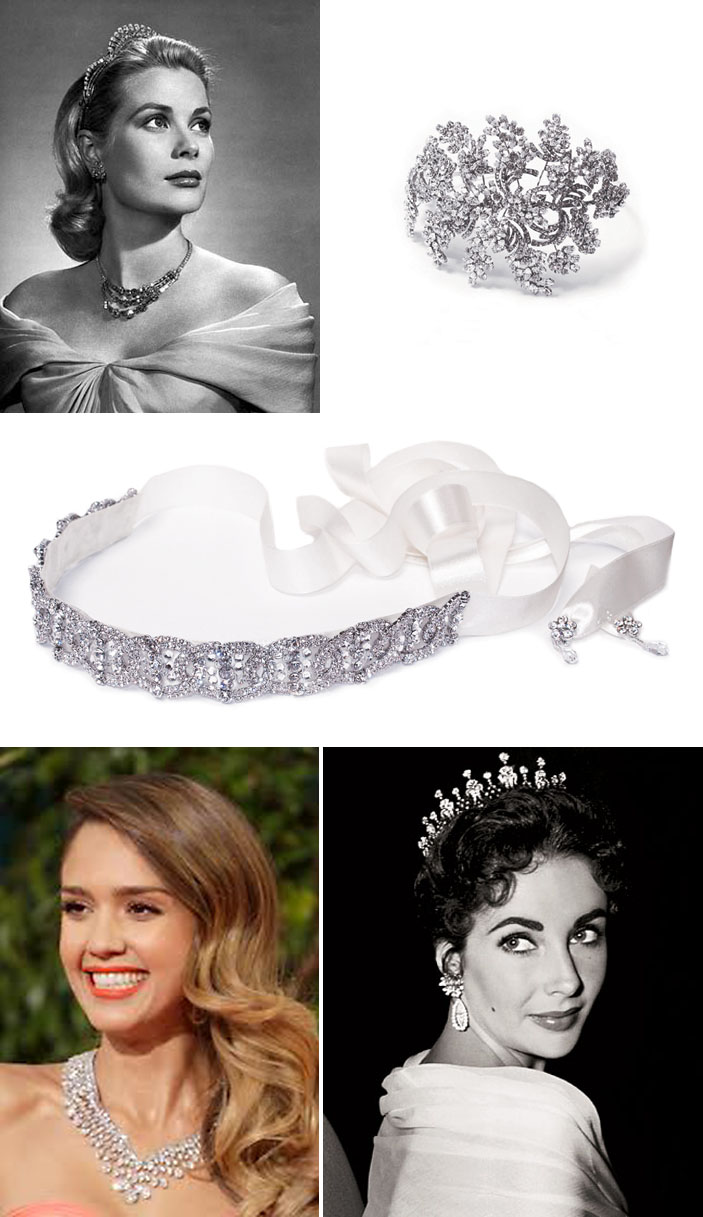 Many stars on the red carpet make a feature of their earrings, opting for large designs - this may mean forgetting any necklace and instead going for a glam bracelet. The earrings then become the focal point of sparkle and will look better without a necklace.

It would be worth considering a really breathtaking headpiece - one with lots of sparkle so avoid the more subtle pearls. Some brides opt to go for the more vintage route and style themselves on Grace Kelly with more delicate, yet still show stopping hair clips. Who can forget the tiny but memorable hair decoration as worn by Audrey Hepburn in Breakfast at Tiffanys?! Other brides may want to consider a large and eye-catching headpiece encrusted with crystals for extra sparkle.

If you are one of those brides who loves the idea of the glamourous look, but feel that it would be too much for the wedding day itself, then maybe you could go for the glam route in the evening. A classic dress can be made to have a glamourous makeover for the night time festivities by adding a rhinestone belt - or add jewellery or a headpiece for a more sophisticated party look later on in the day.

The best advice I can give to start on the right route for achieving the perfect red carpet look for your big day:


Start a scrapbook - add any images from the red carpet that you love. Look at older images from the 50's and 60's too - this will help you to decide if you love the golden age of Hollywood or more contemporary styling.

Talk to your chosen bridal boutique. Show your scrapbook and ask to try any accessories similar to those you have fallen in love with. Explain to them you are wanting to style a Hollywood glam look for your big day and ask for their help with matching the right gowns with the right accessories.

When looking for accessories consider ones with cz stones instead of just crystals. Nothing can beat these simulated diamonds for shine and sparkle - they are closest to the real thing you can get for this look. Make sure you are getting the most sparkle for your money - we use only triple A rated simulated diamonds in our necklace designs as they give a more superior shine - ask for these if possible.

Consider your venue - make sure you are booking a venue that will work with your glam look. Stately homes and castles tend to go more with the romantic look; you may need to consider more contemporary and unique venues to be able to carry off your look. You will need the surroundings to look as sophisticated as you for maximum impact.

Going for this overall look for your big day is great as it allows so much scope for amazing, elegant hairstyles and make up - so consider these too. Book hair trials where you can play at being a star for the day. The more elegant the hairstyle - the more glam your accessories will look - headpieces look even more dazzling in shining wavy Hollywood inspired locks.


Your wedding day is the one-day you can make the most of showing some sparkle and being the star of the show - so enjoy the glamourous trends and shine!