The Top 9 Lace Weddings for Spring 2019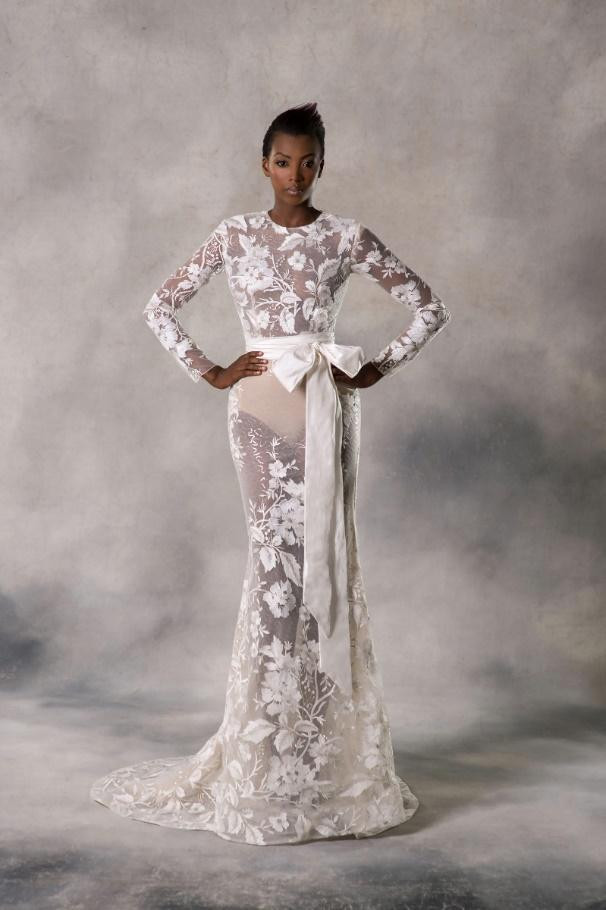 Lace, the signature royal look. First worn by Queen Victoria in 1840 for her wedding dress, lace has become more and more desired over the years and has been incorporated into most wedding dresses since the 19th century. Lace was, and still is, associated with class and regality due to its history of taking months of many hands sewing to produce the product; these days it's much simpler, but emanates that ultimate classy look.
The intricate detail of lace binds floral patterns with delicate needle work to create an elegant and sophisticated design radiating prettiness and class. Lace wedding dresses are available in different styles, shapes and suitability for each and every woman depending on what you desire. Below are our top 9 lace wedding dresses for Spring 2019.
1. The Sleeved Lace
Incorporating warmth and class, the sleeved lace wedding dress is perfect for those who wish to dress in a more traditional way on their big day. Often as a sign of respect, sleeves were incorporated onto dresses from early on to prevent shoulders being exposed throughout religious ceremonies. Although these days this may be the case for some, others prefer the sleeved look for other reasons such as personal choice and comfort. Sleeved lace wedding dresses come in different sizes varying from delicate capped sleeves, ¾ length sleeves and long, bold sleeves. The off the shoulder bardot sleeved lace wedding dress is a new and popular design for brides in 2019, maintaining the conventional sleeved look but adding dramatics and boldness.
Our top pick for the sleeved look is this sensational Autumn design by Anna Georgina. Taking inspiration from designer Pronovias, Anna Georgina encompasses the full sleeve look with a nude under layer intertwining a delicate and sophisticated top lace layer, adding an oversized bow to compliment the waist.
2. The A Line Lace
The A line lace is a dress that incorporate elegance, sophistication and simplicity. Common in design, the A line dress aims to radiate a simple balanced shape to a dress, with little complication whilst maintaining great detail within the lace design. The flowing A line skirt allows for beautiful movement within the dress and accentuates the waists balancing any figure type.
If you feel that your body shape is "top heavy" or "boyish" this is the style for you. This Anna Georgina design has everything you desire in a dress: beautiful floral lace detail, synched in waist, flowy skirt… what more could you want? This is our personal favourite A line dress, so flattering and elegant.
If you want something more dramatic the Grabrielle design by the inspirational Sassi Holford is perfect; the fuller skirt and synched in waist create more of a fairy tale ball gown look and perfect for those who are broader on top. This dress doesn't only score well for it's beautiful design but also wins bonus points for having pockets included within the design. Beautiful, practical and a huge trend for 2019.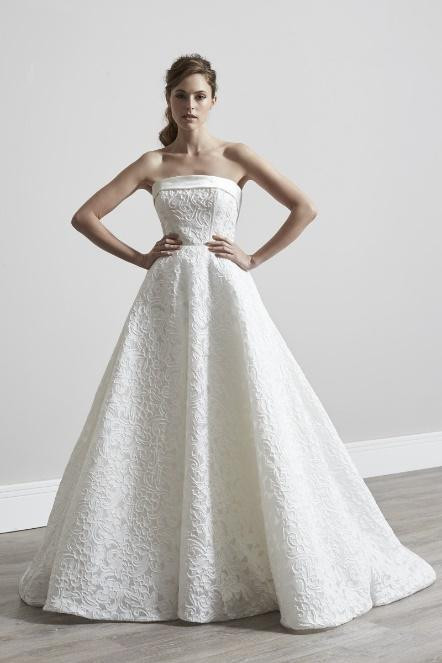 3. The Coloured Lace
With ivory and white lace dresses gaining the majority vote of women in previous years, coloured dresses have often been overlooked and disregarded; however, 2019 is the year for colour. Designers this year have worked on subtler colour changes within their creations to marry old tradition with new tradition; the lace maintains the old tradition with rich detail and the colour adds an ingenious modern touch. Popular choices are undertones of pale blues, pinks and golds enriching the dress with soft, sophisticated perfection for those who wish for a dash of colour.
Our top choice for a coloured lace dress goes to Katya Katya with their Domenica gown. The combination of pale blue and soft ivory lace complement each other down to a tee. If you are wanting something traditional but slightly more modern - this dress is for you. The waistband accentuates the waist and the colour is floral and delicate; this dress is ideal for a spring-summer wedding.
4. The Fishtail Lace
The fishtail lace dress is an all-round winner. The fishtail shape enables any woman of any shape to create the illusion on a sultry hour glass silhouette whilst the lace aids sophistication and elegance. The two components of this design intertwine shape and texture to create ethereal, finely detailed harmony.
This will forever be my favourite style of wedding dress -so simple in design and shape yet so effective and complimentary. If you are pear shaped or hour glass this style will make you feel priceless. Opulence Bridal bought this Bianca lace design onto the cards for 2019 and we can't get enough of it. This dress can be teamed with a belt or a lace over jacket to change up the look.
5. The Illusion Back Lace
In recent years, to achieve a more sensual look from a wedding dress the emphasis has been on the neckline; however, the focus for 2019 is the attention to detail at the back of the dress. The illusion back lace dress envelops double detail with lace emanating delicateness, prettiness and sophistication, whilst the illusion back emits sexiness aiding a more sensual look. The design interlocks classiness and sensuality and is perfect for those who wish to overstep tradition and add a modern twist to their look on their look on their big day.
This is the style for if you want to achieve a classy Kim K look. The illusion back enhances any booty, any shape, any size. Our favourite of these sassy, yet sophisticated booty busting lace dresses is the Camellia dress from Olivia Grace.
Opulence Bridal Seville ; Olivia Grace-Camellia
If the Camellia is too daring for you, our runner up for the best illusion back dress goes to Opulence Bridal with their Seville dress. Finished with a corset of lace and a full illusion back, this is the ultimate show stopper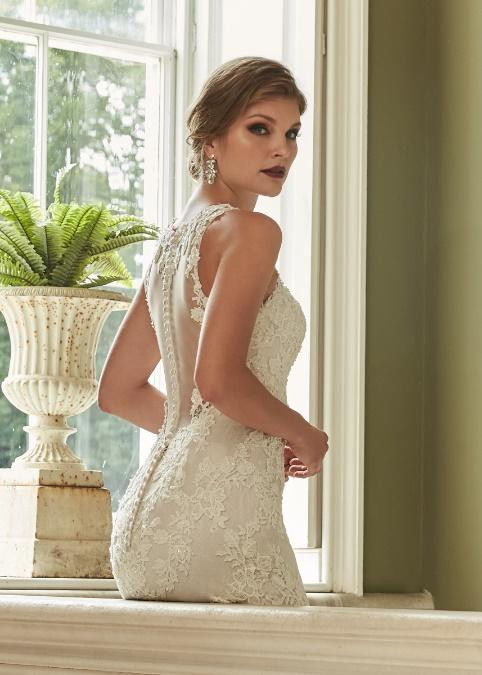 6. The Lace Cape
A new addition to the traditional lace wedding dress look for 2019 is the accompaniment of a lace cape to team with any dress. Seen by designers such as Naeem Khan and Jenny Packham, this look adds extra class and detail to create a perfect lace bridal outfit. The cape gives the option for a more covered, respectful look whilst the option to remove this throughout the day allows you to essentially achieve two looks from one dress. There are many options for lace cape and dress combo including different lace design, different sleeve length and different overall length of the cape.
Our favourite is from Caroline Arthur with her Eugenie Cape. This bold lace cape is powerful yet delicate and perfect for any time of the year. Teamed with either a simpler dress or going all out on the lace front, this cape is our favourite for the perfect lace cape dress look. If you are looking for something subtler and less bold Sassi Holford offers two other designs. Her Iris design demonstrates a full cape with a plain dress and her Willow cape offers a dramatic detailed all lace look.
Caroline Arthur-Eugene; Sassi Holford-Willow;
7. The Trained Lace
Who doesn't love a train on a dress? Stemming from tradition whereby the longer the train the higher ranking you were in society, trains have been incorporated into dresses since the 1800's. In modern times and especially in 2019, the train signifies nothing regarding society ranking but emits glamour, sophistication and exceptional attention to detail. Teamed with lace, the train adds an extra portion of breathtaking beauty to any wedding dress.
If we're feeling a bit more Kate rather than Kim K this is the perfect dress. Ivory & Co have gone above and beyond to achieve the ultimate trained dress Morning Dew; not only encompassing one beautiful train but two, yes two, trains. This stunning dress offers elegance and chic like no other. The laced structured bodice is super flattering to any shape, the waist detailing creates that envious hour glass figure and the double trained bottom is soft and sophisticated. The added lace applique to the outer train adds an extra touch of beautiful, I am in awe of this design.
8. The Petite Lace
2019 has introduced the epic shorter styled lace wedding dress. Designers such as Vivenne Westwood and Yolancris have paraded these dresses on the runways displaying their designs for year ahead. The petite lace style offers the perfect balance of timeless lace detailing with modern, classic style. Although personality not a huge fan of this look, we do have two top choices for this style; both dresses are incredibly different.
The first is the Omari design by Catherine Deane. This dress partners traditional lace combined with a contemporary length and free flowing skirt, creating a feeling of effortless elegance.
Contrast to the Omari, Ivory & Co released the Pirouette design. This dress encompasses a full body of lace with a 1950's style bodice-skirt combination. Separated by a delicate silk waistband, this dress is simple and sophisticated, radiating a modern classic twist.
Catherine Deanne- Omari; Ivory&Co Pirouette
9. The Tiered Lace
Last, but definitely not least, we have the tiered lace dress. This is the biggest new comer for 2019 and is super chic; I love this style of dress, it's super unique and fun. Adding fringe layers to a simple lace design is the perfect marriage of old meets new. Because there are too many out there to choose our top pick, below are listed our top three picks.
Up first is Sassi Holford's Yasmin. The three-tiered skirt of the dress is accompanied by a simple top and a sensational bow tie, all of which are lace, emanating the traditional vibe. This dress is such a simple classic design with a fantastic modern tiered skirt
Runner up in second place is Florence by Katya Katya. The dress is opposite in design to the Yasmin as this dress has a multiple layered effect with a belted wait and a sheer/ lace top. This dress is beautifully paired with a simple up do hair style and simple jewelry.
Katiana from Catherine Deane is our favourite dress for the tiered lace look. This stunning design encompasses the multiple layered look with an all-over lace finish; the six layers of beautiful lace are bold and striking yet soft and sophisticated. This dress takes first place for the tiered dress look due to it sensational elongating design - the neckline emphasizes the décolletage and the simple torso panel accentuates any waist line. Winner.