Have Fun! Decorate Your Wedding Car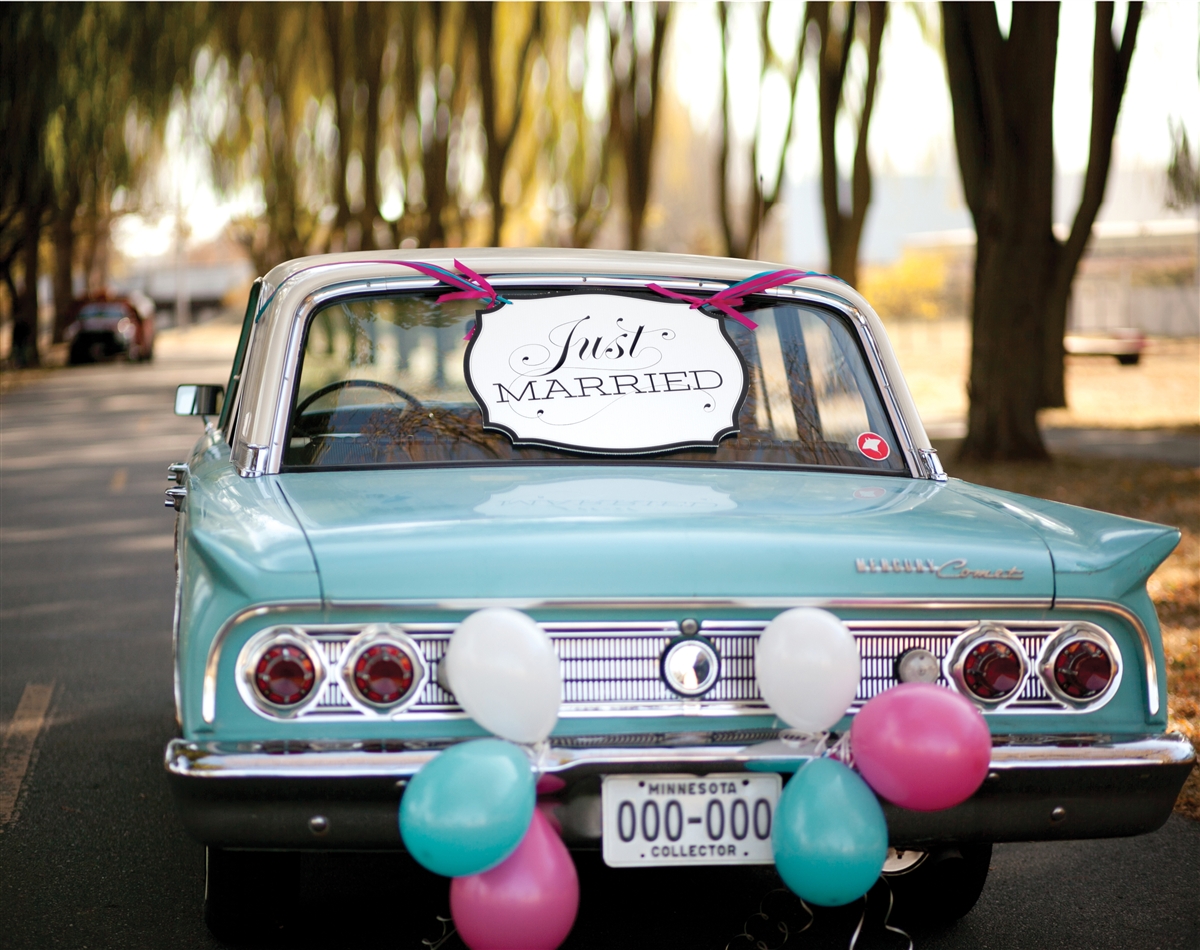 Traditionally, the best man and the maid of honour would sneak out of the wedding reception, about halfway through, to decorate the wedding car. Whether they are decorating the car to honour the bride and groom or to slightly embarrass them with over the top decorations, your wedding transport should look fantastic!

However, the bride and groom often like to be involved and decorating the wedding car can be really fun and creative. Maybe it is something you could all do together.

So… lets cover the basics first! Old shoes and tin cans are often the first decoration to be added to a wedding car. Apparently leather tied to the wedding vehicle will help to keep the couple safe and ward off evil spirits! The tin cans, well… they're just there to make noise and call attention to the new bride and groom!

But it doesn't stop there… there are plenty of ways to decorate your wedding transport!
Window markers
Obviously you will have to check with the company, who you are hiring your car from first, but window markers are a great way of writing messages for the bride and groom. You can even buy liquid chalk or glass markers! If you want your car to be decorated in this way then designate members of your wedding party to be in charge. It can look really good if a few people leave messages on the back windows, just make sure their writing is clear and neat! Alternatively, you could just stick with the classic, "JUST MARRIED."
Balloons
Balloons are a cheap, fun way to spice up any form of transport. Match the balloons to your wedding theme, keeping your chosen colours running throughout the day. You can even buy heart shaped balloons, which could lend to a classier approach.
Number Plates
Not only do number plates look great but it's also a lovely memento from your big day. You can personalise number plates and stick them to the front of your wedding car or you could even have it perched in the back window. Whether you choose to have a pre-made, novelty number plate or perhaps the date of your wedding, number plates can look really fun and original.
Flags
Leave your wedding do, like royalty; decorate your wedding car with stick flags! This will bring attention to your vehicle and, again, leaves you with something to help you remember your big day. You can even have the flags personalised. A lovely idea would be for the wedding party to decorate a flag each! Maybe they could include funny picture of you both?!
Silly string and streamers
A quick and easy way to create… um… mess! If you are wanting whacky and fun then silly string is the way to go. Spray it outside and inside the car… all over the steering wheel, the roof, the engine, and the seats! Try using a few different colours for a larger impact. Streamers will do exactly the same- maybe you could make a large bow for the roof of the car?

These are just some fun ideas for decorating your wedding car. If you are looking for a more sophisticated, classier decorated vehicle then this perhaps isn't for you!

However, if you have a mischievous best man and a cheeky maid of honour, who are desperate to decorate your car, then lend them a helping hand with these fun decoration ideas!