Laura & Wayne's New Year Wedding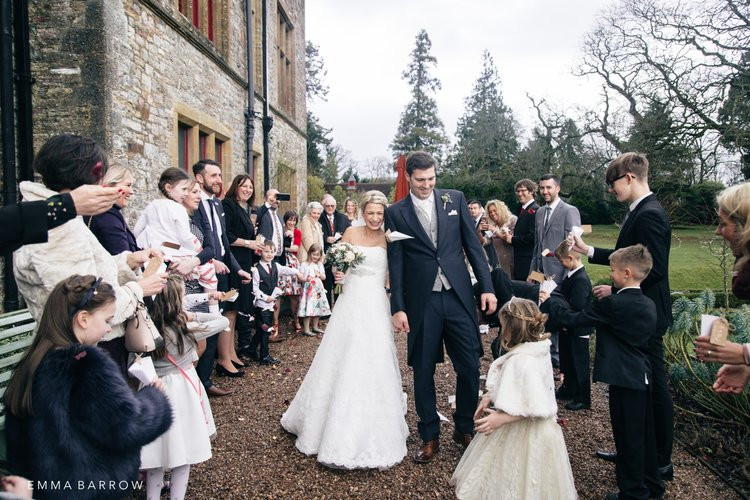 What better way to see in the New Year than a stunning wedding at Devon's magnificent Huntsham Court. On 31st December 2017, Laura and Wayne tied the knot at the end of the festive period, embracing the temperature with an outdoor ceremony and popping mini champagne bottles at midnight. They really made the most of traditional festivities and the Christmassy decor. Follow on to find out more about this lovely couple and their big day as they celebrate their first wedding anniversay...
First things first, we want to know a bit about you!
We have been together for over 10 years and have 2 daughters, Ailla 5 and Maren 2. We have been engaged for 5 years but with no set ideas we never got around to planning anything until we saw Huntsham, the beauty of the setting and relaxed 'can do' attitude meant there was no doubt in our minds, the wedding was on! We both work in education and live in Cornwall, we love to be on the beach and in the sea, we are quite relaxed in outlook. We had our pre-wed shoot at Holywell Bay which we are now lucky enough to call our home having recently moved to our special place.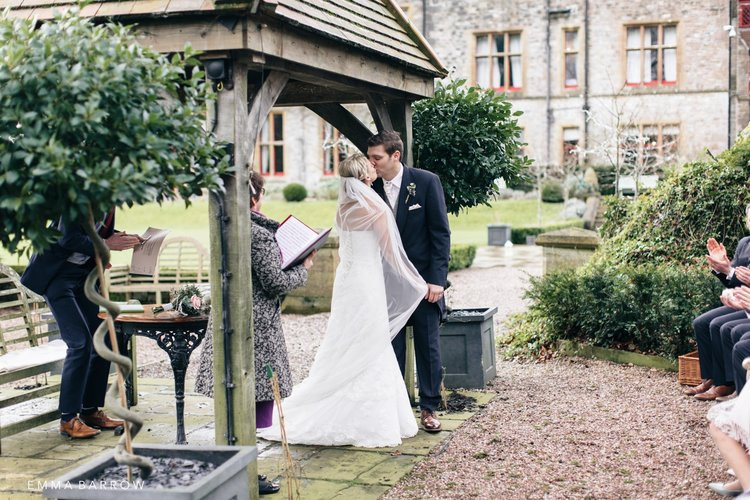 Popping the question - how did it happen!?
Wayne proposed whilst skiing in Les Duex Alpes. We had made our way up to the glacier and skiing back down we found a beautiful view of the mountains where he got down on one knee. I was totally surprised and thought he was gathering snow for a snowball attack, a proposition was the last thing expected! I was completely unprepared and a little miffed that I hadn't suspected at all!
Tell us about your big day - when did you get married, where, and what was the day like?
The big day was amazing. We planned a New Years Eve wedding where we could get married in the afternoon followed by an evening party with midnight celebration. Huntsham Court was decorated for Christmas so we didn't have to worry about flowers and extra décor as the setting alone was beautiful. Everyone arrived the night before and enjoyed the best men manning the bar and leading pub quiz style entertainment which they had devised. A fish & chip van provided supper & children were catered for throughout the weekend with a huge playroom including table tennis, video games, dvds and plenty of activities to keep them out of mischief. On the day itself we were determined to get married in the Dove Cot lined with fairy lights, guests brought cosy blankets for extra warmth. We were extremely lucky as the weather was temperamental but gave us a lovely sunshine break for the ceremony and photographs. The ceremony itself was traditional with our daughters as bridesmaids & the brides mother walking the bride down the aisle. Post ceremony we headed inside for mulled cider, winter pimms and hot chocolates accompanied by a beautiful winter venison and hog roast for sustenance. We opted for this as we have never really felt the need for a formal sit down meal with speeches, our wedding was all about the party! We revelled into the night with the help of sparklers, a snow machine, limbo competition, childrens disco, casino tables and a fun phototbooth. DJ Northey kept the tunes coming till the small hours. Our first dance was Calvin Harris ft Florence and the Machine; Sweet Nothing, everyone piled onto the dancefloor, it was a great moment. At midnight ice buckets full of champagne and indoor sparklers graced the dancefloor and everyone popped their own champagne cork to Big Bens chimes. When many of the party finally retired the hard core continued in the snug until exhaustion set in. New Years Day was met with bacon and sausage baps, walks and tennis in the grounds, the fresh air was very welcome!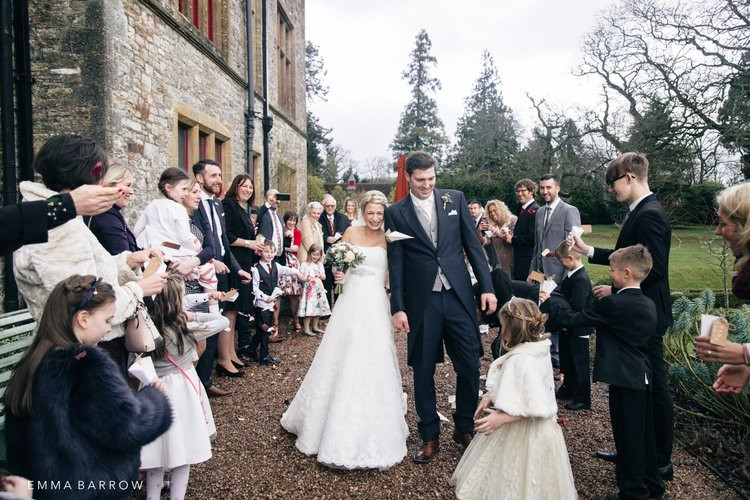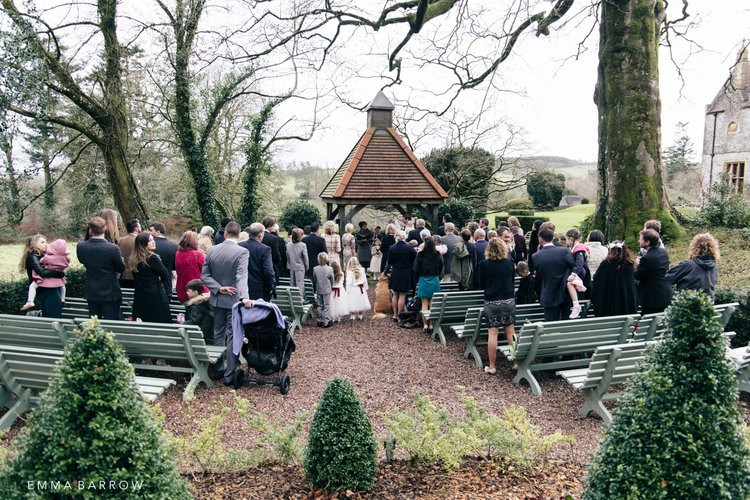 What was your favourite/most memorable moment of the whole day?
Among so many amazing memories of the day our daughters reading stands out. Ailla, who was 5, read a personalised version of Oh, the places you will go! By Dr Seuss. She had practised and practised but we had kept the pressure off, the whole thing was her choice, she did it because she really wanted to and she did it perfectly. She was so brave in front of the whole congregation, spoke clearly and confidently and didn't falter once. We were both so very proud of her. Maren supported her sister beautifully and it was lovely that the girls could be so integral to our big day as they are to our lives. The house was so safe that the children basically had their own independent house party alongside the adults!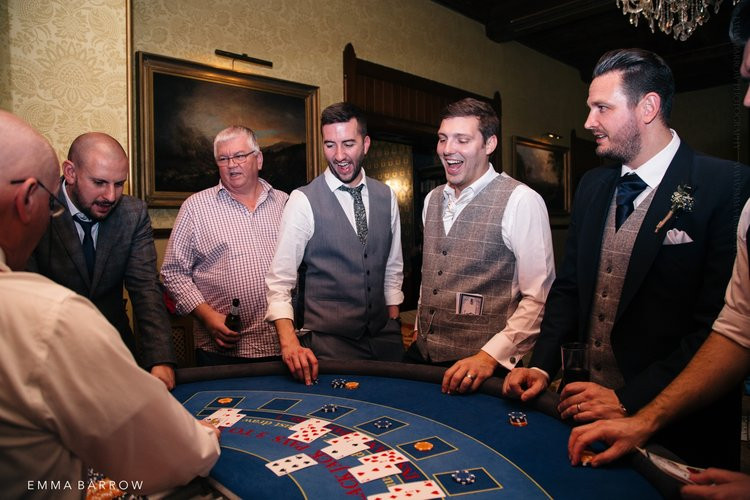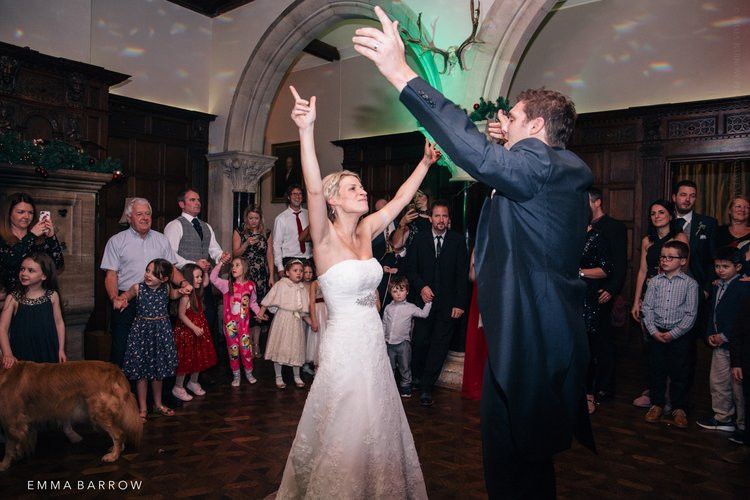 Why did you choose your venue, and what was important to you when making the decision?
We chose Huntsham Court because of its unique character and we could have our whole wedding weekend exactly how we wanted. We weren't restricted to predetermined menus or structures, it genuinely became home for us and our guests, it was our party our way. Nothing was ever too much trouble for Clair who went out of her way to help us with genuine advice and a friendly ear. An important part of the weekend was to have all our nearest and dearest stay. With many of our friends and family now with young families this was the perfect venue to safely accommodate over 30 children as part of the wedding party. The rooms were interchangeable when we needed and flexibility was key. The venue itself is full of charm and has the most amazing feel about it, everyones needs could be catered for and that in itself made planning the wedding fun rather than a stressful chore.
The dress/suit - where did you find it, and what was it like?
Neither of us are particularly fussy so the whole experience was relatively painless. We thought that dress shopping could end up being a chore as frankly we don't really have the time to devote to endlessly hunting so it was a relief to find out that the saying is true; when you find the one you just know. I took a friend to our local dress shop and tried a few styles, she suggested taking pictures and some time to think so we went back a few weeks later and I bought something completely different! Once the dress was sourced some sparkly Jimmy Choo's seemed like the perfect New Years Eve wedding celebration shoe!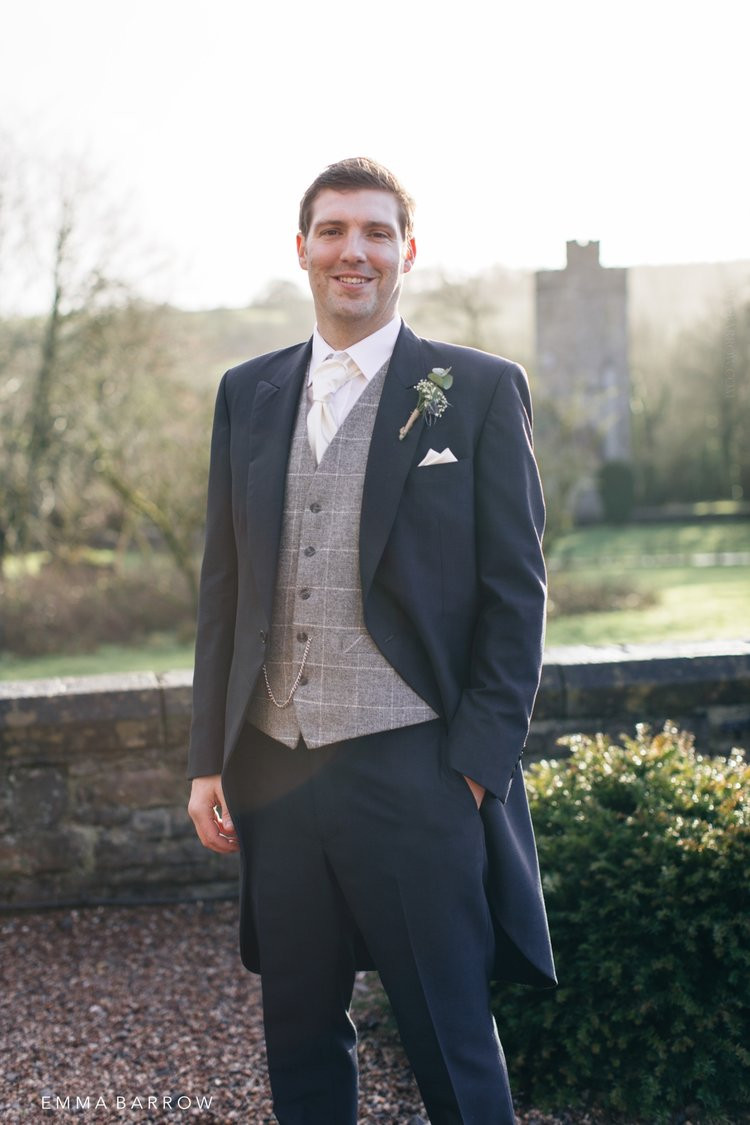 Wayne was keen on a couple styles of suit but as he wears one everyday for work tails were opted for to gain a sense of occasion and a different look to the everyday. The best men had the same styles and were completely laid back, they would have worn whatever we had picked for them. We had a boys celebration breakfast after their fittings and a tipple or two after the girls fittings.
When planning your wedding, did you have any help or did you do it mostly yourselves? What were the most important aspects for you?
The most important aspect of the weekend was that it was based upon partnerships with people that understood what we were aiming for. We wanted everyone to feel at ease, it was a celebration of our friends and family. With this in mind we planned the wedding ourselves, knowing what we wanted and how we wanted it to run. We had a spreadsheet to keep track of bookings, costs, roomings and details. It was invaluable in keeping on top of everything and fitted well with Clairs own way of organisation. She suggested tweaks to running orders, staffing and details where she felt issues may arise. Huntsham Court is the perfect place as it is like having a hunting lodge for the weekend, it wasn't a venue, it was ours to do with what we wanted for our time there.
If you could give any piece of advice to current bride or grooms-to-be, what would it be?
Find a venue that will cater to your needs and a planner that you click with, don't let their, protocol or expectations determine what your wedding will be. The whole experience will be as stressful as you make it, be a creative thinker and a problem solver, there will always be issues but nothing insurmountable. Make your wedding what you want it to be not what external influences dictate.
Suppliers
Photographer – Emma Barrow
Venue - Huntsham Court
Florist – St Mellion Flowers
Catering – Peter Mundy Catering
Cake – Danielle Murray Desgins
Music – DJ Northey
Decor & Styling – Huntsham Court
Dress – The Wedding Company
Hair & Makeup – Envy- Hair Salon (Kerra Day -Hair, Tracie Gunningham – Make Up)
Bridesmaid dresses – House of Fraser
Groomswear – The Grooms Room
Wedding Planner – Clair Dodds