Phoebe & Kane's NYC Inspired Wedding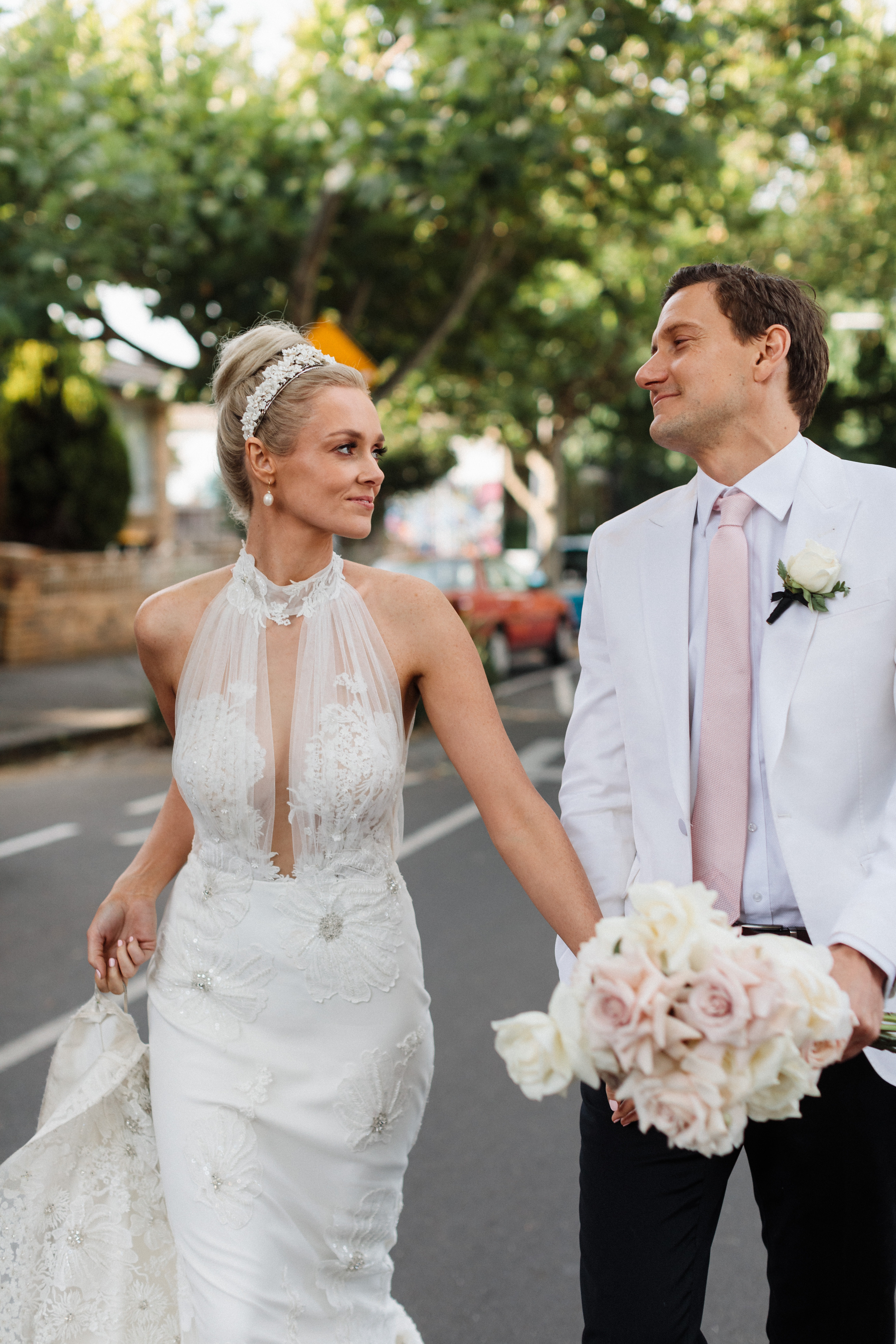 We're thrilled to bring you Phoebe and Kane's romantic, Melbourne wedding. Having met by pure coincidence, these two lovebirds were destined to meet each other. Phoebe was playing wing woman for one of her best friend's, so they were at a popular bar on Chapel Street, and Kane happened to be there following his younger brother's birthday celebration. Kane describes the moment he first laid eyes on her saying. "I opened the door for Phoebe as she came out to the balcony and she looked just like a princess". As they were both instantly attracted to one another upon meeting that night, the rest became history!
How did he propose?
"He proposed the night before my 30th birthday. It was a Sunday night and Kane left the house to run some errands, he then called me and told me he wasn't actually running errands, and that I need to check under my pillow because there was a letter for me. I read the letter, which told me to pack an overnight bag, dress up nicely and meet him at the Cullen Hotel. I then went to the Cullen and reception gave me a room key and told me my next note would be on the bed. I got to our room (still no Kane), and there was another note from Kane. It was such a beautiful message, and my heart started racing at this point. It then told me to meet Kane upstairs on the Cullen rooftop. I raced upstairs to find my handsome man standing on the rooftop with a bottle of champagne ready to pop. We had a glass of champagne and looked out over Chapel Street (where we had met). He then said he wanted to give me my birthday present. He brought over a huge square (metre by metre) gift which was all wrapped up, I opened it and realised it was a piece of art, it was graffiti art on a canvas frame, which read "Phoebe Wallace will you marry me?", I then turned around and Kane was on one knee with the most beautiful ring in hand. The answer was most definitely YES."
What sort of style did you envision for your wedding day?
"We didn't want florals or anything in the way of our invitation designs, we wanted something geometric and classic, so we landed on the art deco vibe. That then steered the theme for our table settings and menus. Pink, gold, art deco vibe was where we landed, and it was made all the more beautiful by the stunning New York style layout of Panama Dining Room. The greenery and big arch windows just framed everything perfectly."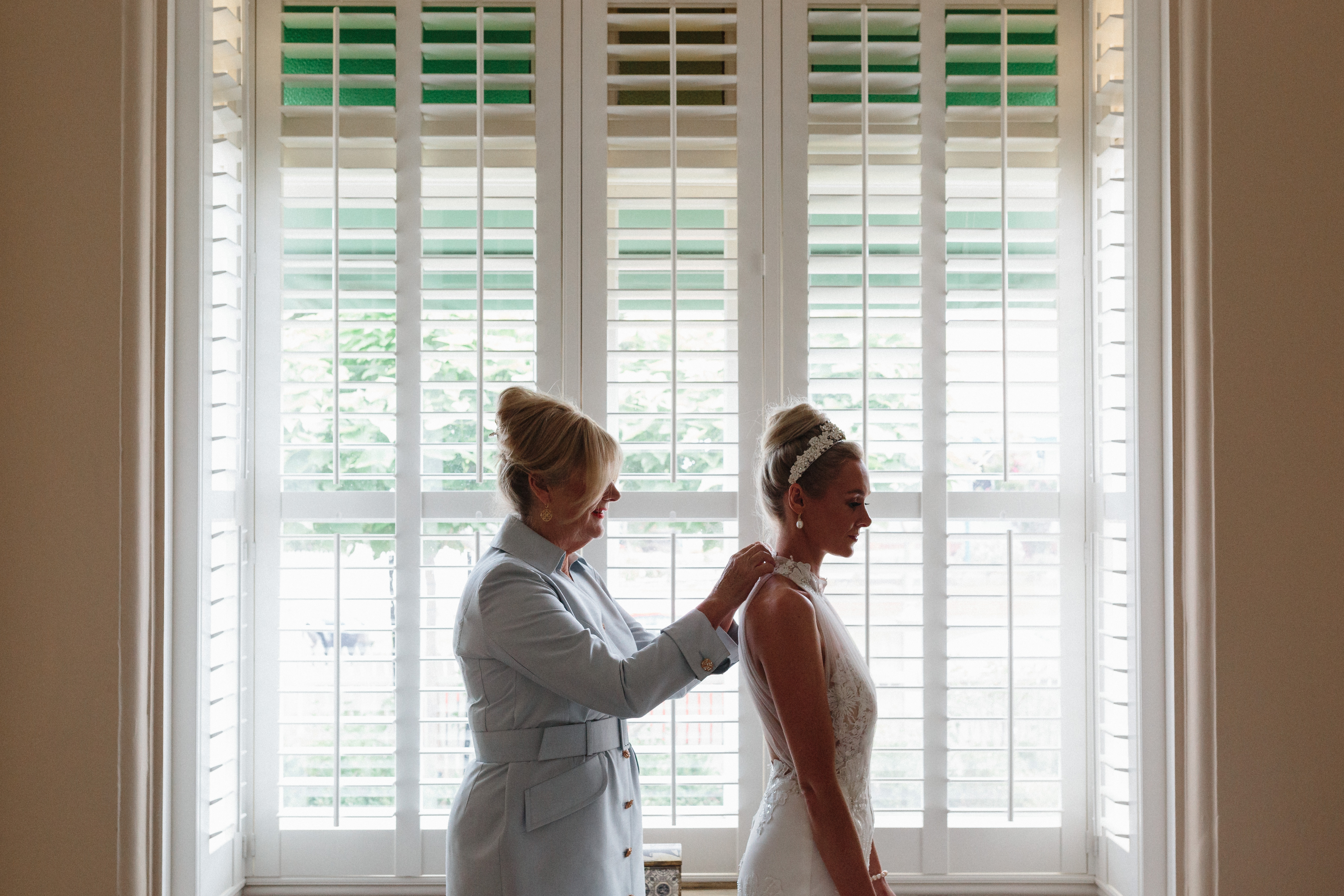 How did you come to choose the location and venue?
"We love Fitzroy and feel that it captures everything we love about inner city Melbourne in one area from the houses, ex industrial buildings, commission flats, eateries, street art and boutique stores. Panama we knew of and loved the legant meets informal NYC vibe and incredible food. Having a place where we could have our ceremony and reception all in the once place was important to us for throwing the ultimate wedding party by capturing the best atmosphere possible."
Tell us about your wedding gown and how you chose it:
"I saw the gown in the window at Raffaele Ciuca in Brunswick. I thought it was stunning and so unique. I loved the halter neck and beading in the way of big flowers. I was with my Mum and decided to try it on. As soon as I put it on, I definitely knew.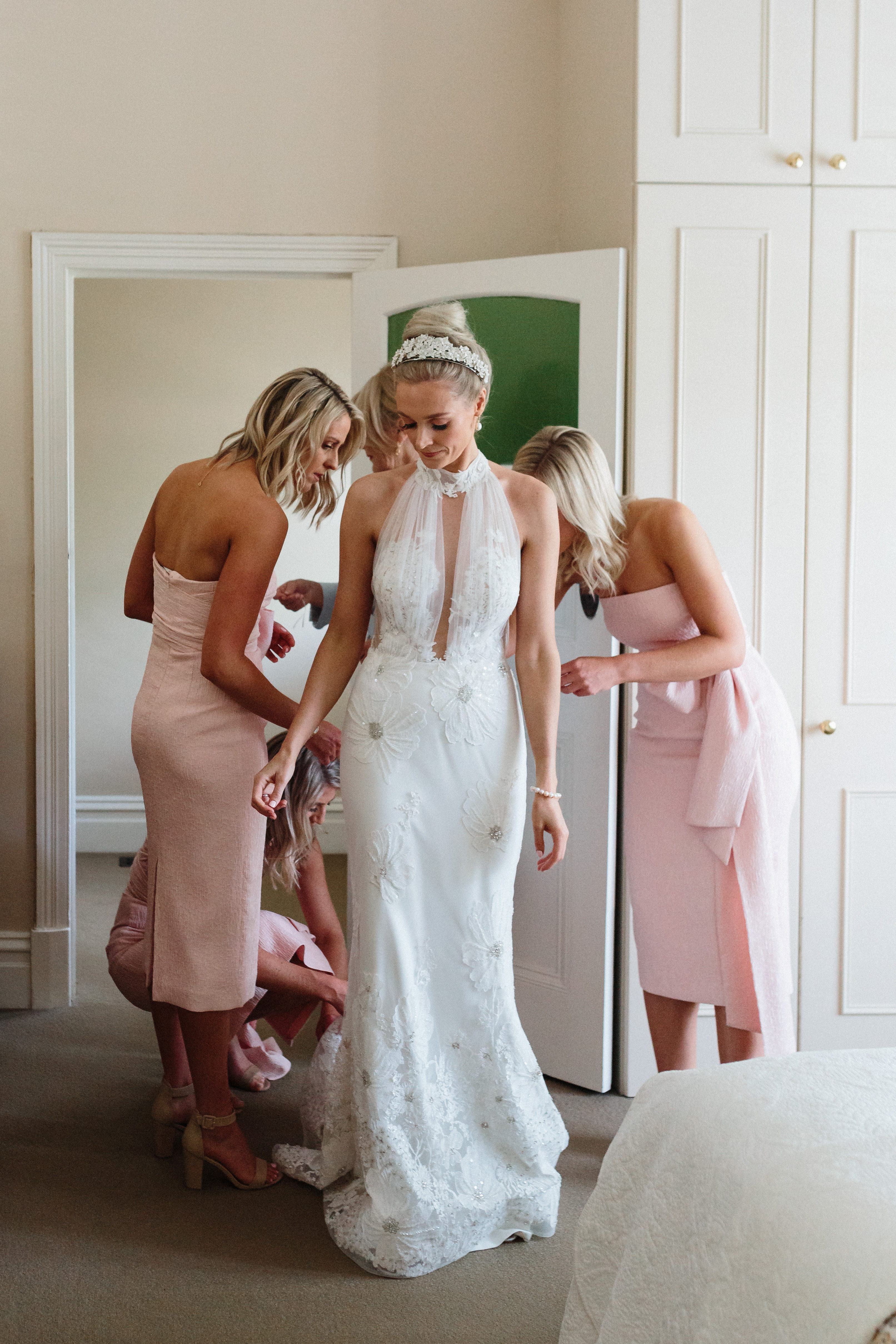 How did you save on costs?
"We didn't really have an active approach to this, we just knew we didn't want things to get out of hand so we capped it at a certain number of people, and we discussed rough estimates around what we were prepared to spend. Again, everything sort of fell into place and we were so luck with our suppliers as they were all absolutely fantastic and also provided their services at a reasonable cost, considering the quality!"
In hindsight, anything you would have done differently?
"The only thing we would've like was the chance to spend a bit more time together, just . the two of us!"
If you could sum up your wedding in one sentence, how would you descirbe it?
"It was the most honest and fun representation of our love and one hell of a good party!"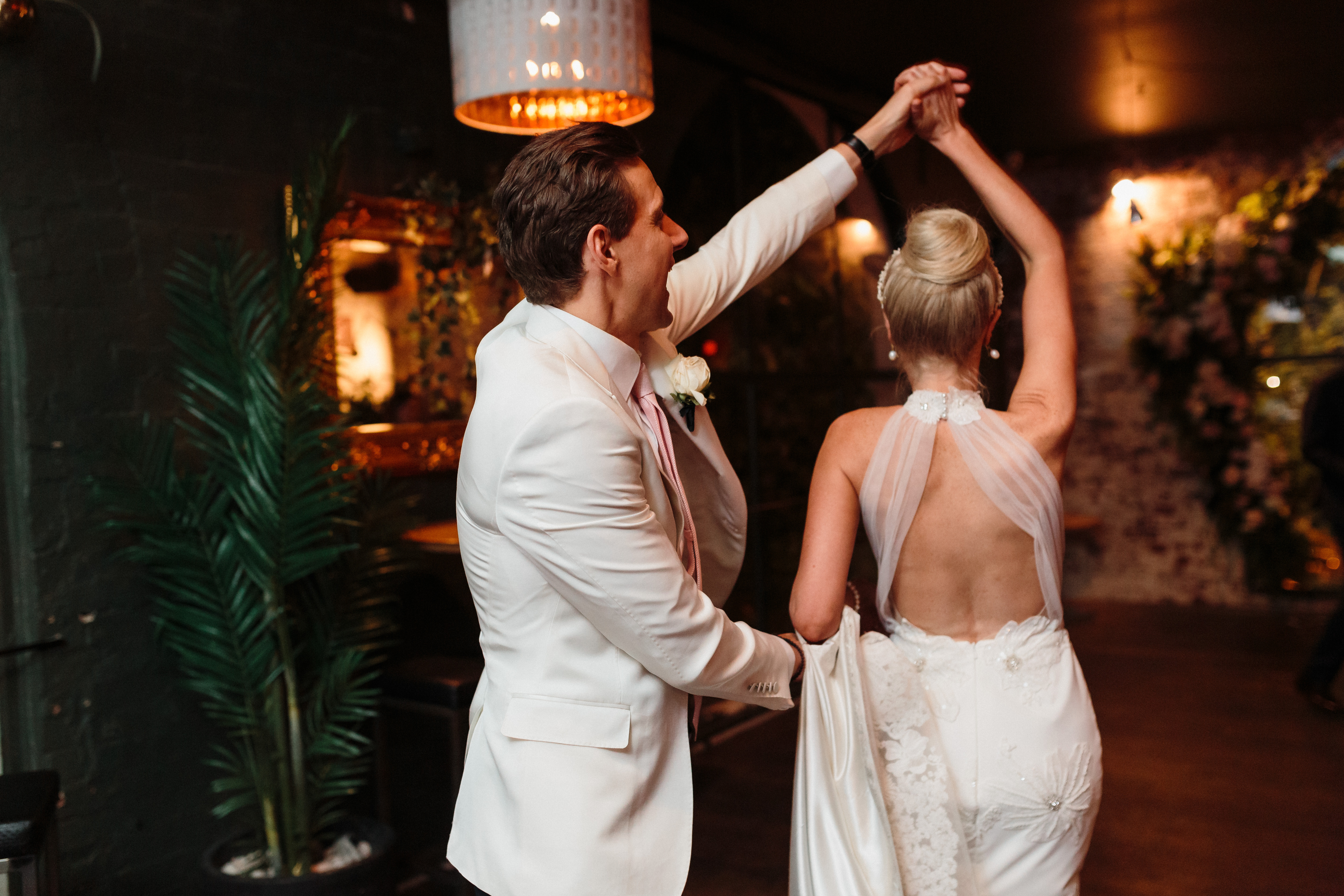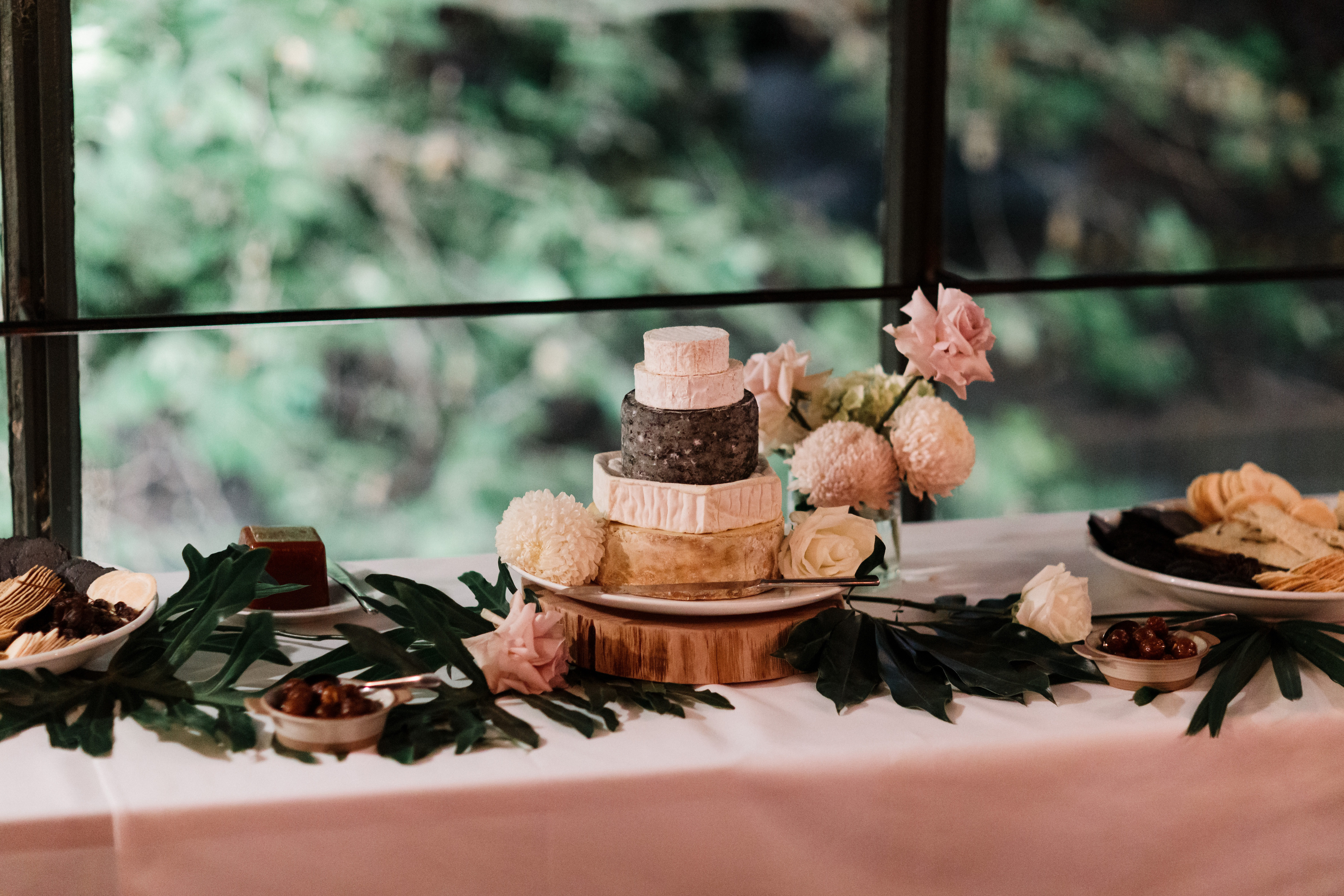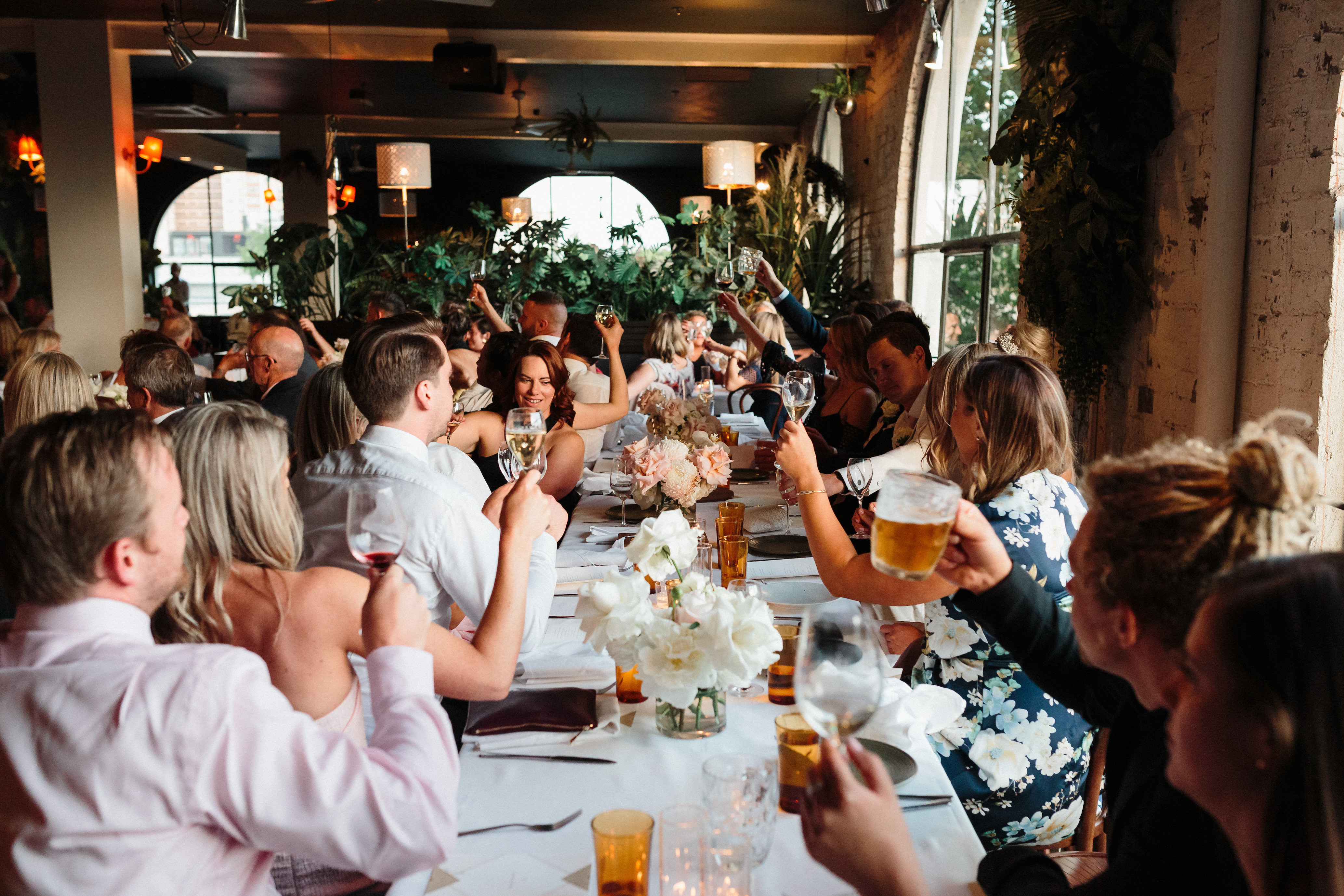 The Team
Wedding Invitations: Giant Invitations
Dress: Caleche Bridal
Veil: Didn't have one
Makeup: Danielle Gardiner
Hair: Vittoria Boyle
Shoes: Edward Meller
Accessories: Head piece by Stephanie Browne
Bridesmaids Dresses: Rebecca Vallance
Groom's Suit: Calibre
Groomsmen Suit: Joe Black
Cake: Harper & Blohm; we had cheese wheels instead of a cake
Food: Panama Dining Room
Flowers: Lulu bird
Photographer: Jeremy Blode
Ceremony Venue: Panama Dining Room
Reception Venue: Panama Dining Room
Entertainment: Pete Mitchell on Saxophone; Eliza Jacobs (DJ ELIZA) and Luke Martin as DJs
Celebrant: Shura Taft
Transport: Lachlan and Grant from Heritage funerals (family friends)
Wedding Favours: None
Any Other Vendors:
- The I Do Crew (Wedding Day Management)
- Make and Keep (Table Numbers)