How to throw the best festival-themed wedding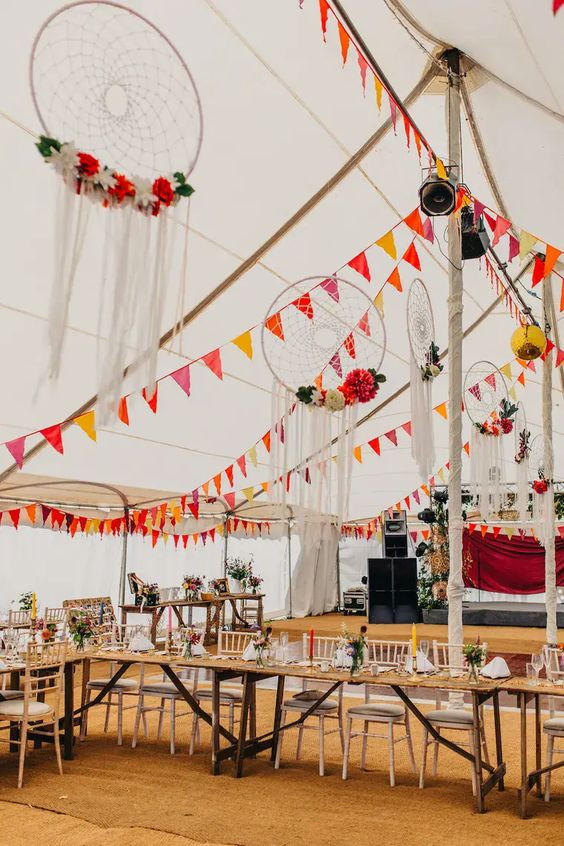 Creative, fun, relaxed and full of personality, a festival-themed wedding is perfect for any couple who don't want the pomp and ceremony of a more traditional wedding. Because it's alternative, you can shape it to fit exactly who you are as a couple and how you might want the day to flow. You could have a focus on creativity or really great music - the world is your oyster so get those creative juices flowing!
Below we've detailed some things to think about when planning a festival-themed wedding and some ideas of how you can really make it feel like a mini Glastonbury…
1. Figure out what type of festival you'd like
Why is it that you love the idea of festival-themed wedding? Is it all the amazing musical acts, is it the fun sideline events and quirky activities, street food vans or is it a little bit of everything?! Think about your favourite bits and prioritise these when making your plans and splitting your budget.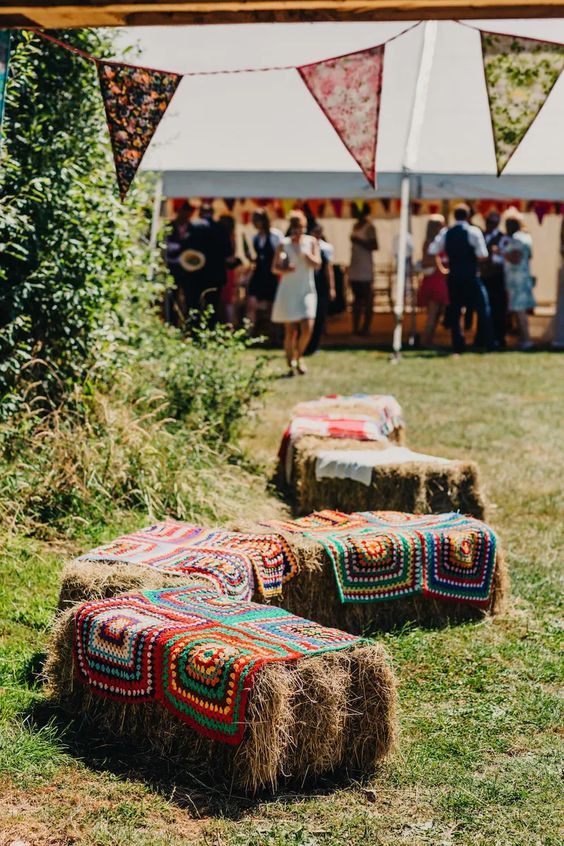 2. Find your location
There are lots of routes you can go with this, so ultimately it comes down to budget and the location you're looking to get married. The main thing to remember is don't be afraid to ask, as the ideal spot could be somewhere you never thought of. One option is to ask local farmers to see if they'll let you rent out their field for a small fee. Alternatively village halls also come with a large amount of land or a village green that could suit nicely. Otherwise another simple option would be to pick a venue that already has that festival feel or markets themselves as a great location for an outdoorsy wedding.
3. Send your guests a festival themed invite
From invitations inspired by tickets, wristbands and lanyards with a full programme of events on them, there are so many cool ways to get your guests excited for your wedding via your invites. You might want to detail some of the fun things you have planned for the day (and maybe keep some secret too!) And let them know any practical things, such as if they need to pack certain footwear.
4. Festival-themed food and drink
Who needs a three-course sit-down meal when you could have a bevvy of food trucks serving everything from pizza to Mac and cheese! You could hire a cool bar to serve a variety of different drinks and also just dot around big trugs, wheelbarrows or even bathtubs filled with iced and alcohol. Think about how the food and drinks you choose might reflect you two as a couple.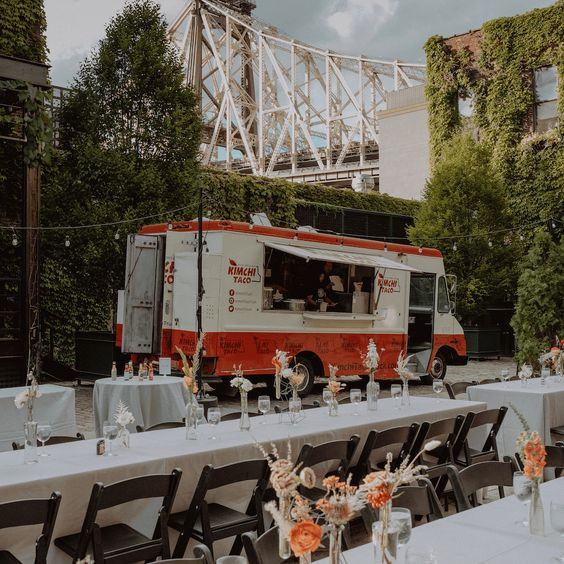 5. Get crafty
From cool bunting and festival flags to hand painted signs, so many things could potentially be crafted for a festival themed wedding - so if you're that way inclined, get creative and have fun! Alternatively if that's not for you, take to Etsy and support some small creators.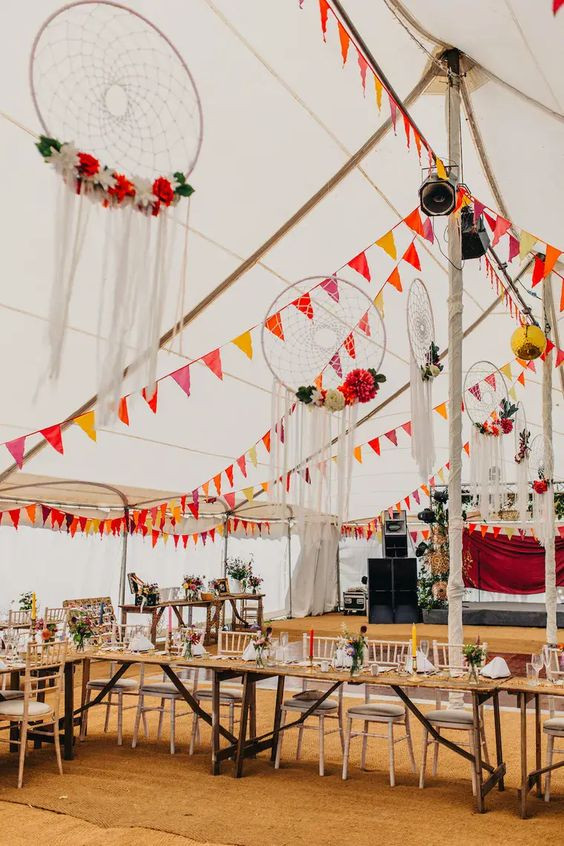 6. Create a line-up
Make a big list of all the activities and performances you have planned for the day and display it on a big sign or in individual programmes you give to your guests.
7. Choose festival-inspired tents
From tipis to Arabian tents and glamping tents, choose a variety of festival inspired tents to dot around your space to really bring the theme to life.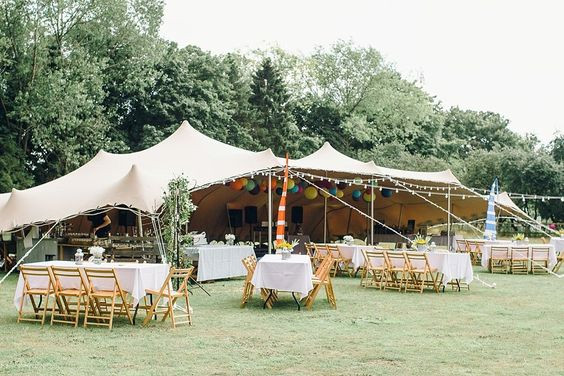 8. Put on great music
You could either have one really great band or DJ all night, or have a medley of a few. If you choose the latter, this can get a little expensive, so ask friends and family if they know of any singers, speak to any buskers you think are particularly good or spot people at open mic nights. Get creative!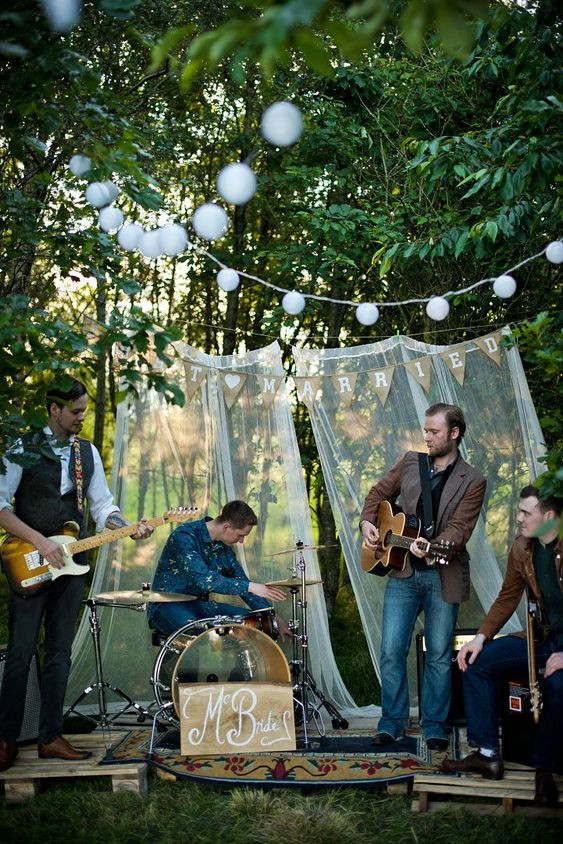 9. Bring the warmth
As the evening sets in, you may find people start to get a little chilly so be sure to provide lots of blankets, fire pits and perhaps even a marshmallow or mulled wine station.
10. Finish with fireworks
End the night with a romantic display of fireworks, to really finish off your festival with a bang.