Budgeting For A Wedding: Break Tradition (Not The Bank)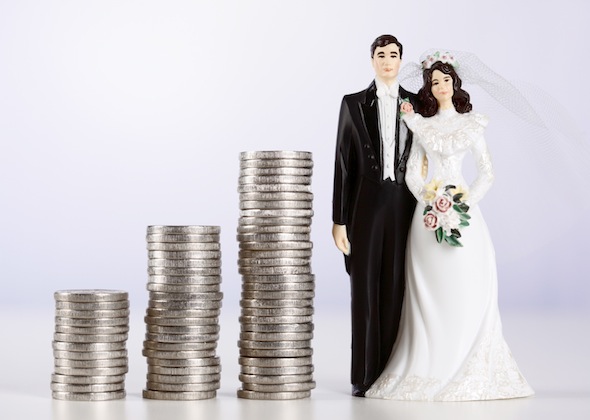 Managing a wedding budget is by far the most stressful (and least exciting) part of planning a wedding, and undoubtedly the topic which we get asked for help on the most. Without prior experience of planning a wedding how are you supposed to know the best places to cut costs and the clever ways to save? That's why we've enlisted the help of professional wedding planner, Samantha from Oh So Perfect, to give us the inside scoop on how to save money by breaking with tradition (and not the bank!).
Weddings, they can be pricey affairs! But there's plenty of ways to cut back on your budget, simply by saying no to the 'traditional.'
There is so much emphasis placed on having the 'perfect day' that many brides think they have to do everything just so to get it right, and often that means spending a small fortune to do it too. But once you change your perceptions of what is perfect, and accept that, actually, it's your wedding your way, you can find plenty of ways to knock down your spending, and still celebrate in a way which is perfectly you.
Here's how….
The Venue
Your wedding does not need to take place in a wedding venue. Fact. Whilst there are many gorgeous, glorious, and completely individual venues out there to choose from, they are not the only option. Hire a hall. Book a basement. Wed in a warehouse. Marry in a marquee…. Look beyond what's already listed on wedding websites and simply find somewhere – anywhere! – which is suitable for you. A wedding is what you make it, and it's far cheaper (and a little bit more fun….?) to hire your local village hall and dress it up in bunting, than to book a big venue already kitted out for the most luxurious of dream days.
Outside of the Ordinary
Remember, weddings don't only have to take place in hotels and stately houses – look outside the box and see what room hire facilities are on offer in more unusual places, for example: museums, country parks, local tourist attractions, warehouses, galleries, restaurants…. Even at the zoo! Or contact some local farmers to see whether they'd let you use their land to set up a marquee in exchange for a small fee.
The Ceremony
….but doesn't my venue need to be licensed for weddings? No. It doesn't. You just need to use a wedding celebrant instead for your wedding ceremony (meaning you can hold the ceremony absolutely anywhere you like!) and you can then register your marriage at the registry office for a minimum fee a few days before or after your wedding day.

Wedding decor by Oh So Perfect
The Décor
DIY. I'll admit it's not for everybody, but often doing-it-yourself can save a hefty wack of cash. Get everybody involved from crafty friends to helpful family members, and together you can get creative to make your day a pretty one at a fraction of the fee. But be sensible – plan ahead, research the how-to, leave plenty of time, and for goodness sake have an initial trial session at least a few months before you whip out the glue guns and wind up in a frenzy!
The Little Things
Oh eBay, you truly are a bride's best friend! So many brides list their bulk-buy décor up on eBay after their wedding, so make sure you look online for some second hand beauties before you hit the big shops! And remember, any extras you buy for your wedding can be sold afterwards as well, just remember to think ahead and buy quality items which will be easy to sell on - and list them in bulk!
The Dress
This may come as a surprise to you, but you're only going to wear that big, white beauty the once. Lots of brides sell their wedding dress after the big day, and there are plenty of second-hand bridal stores stocking some gorgeous numbers. I know the dress is super important, but if you really want to save some cash consider buying one already used – they're not that bad! You could even customize it and add a little bit of extra detail to make it new and unique to you.
The Girls and The Boys
Bridesmaids and groomsmen do not necessarily have to wear the same outfit. Hit the mid-season sale and mix and match your girls' dresses in similar shades, or have your gents dress in their own suits but with a matching tie and buttonhole to distinguish them on the day.
The Invitations
The majority of our day to day communications these days takes place over email, social media, and the trusty telephone – so why should our wedding be any different? Rather than post out 100 invitations, create a gorgeous PDF invitation and email it to all and sundry. You can design something bespoke or buy off the peg on Etsy, but you'll save a fortune on paper and stamps by sending the invite out via the web.
Wedding Website
.... and if emailing your invites isn't enough, set up a wedding website too, so all your guests can access the full details of the day online and email you their RSVP too.
Pret A Cake
The Cake
4 tiers of buttercream-covered fruit and sponge is bloody yummy, but it isn't an absolute necessity. Hire a 'dummy cake' out of the window of your local cake maker (a polystyrene cake covered in real icing) to stand and look pretty in the corner, then purchase a simple square cake to cut and serve after dinner – no one will ever know the difference! Sneaky.
The Dinner
Keep your reception drinks short and sweet so the canapes double up as starters for the main meal, then for dessert it's all about that wedding cake. In the evening, simply hire in a hot dog van and – BOOM! – full bellies on a minimal budget.
Bake Off
Bake offs aren't just for the sweet-toothed amongst us, one can also whip up a wonderful savoury dish in full Mary Berry fashion. Invite guests to bring a baked good to your wedding – give some the task of sweet and others the mission to find something savoury, and then use their offerings for your evening buffet. Make a game of it, hold a bake-tasting, and give out prizes for effort. Super fun and not a penny out of your pocket.
The Bar
Sale or return = boozy bonus. Many bar hire companies and alcohol stockists now offer this option so that you can order plenty of drink knowing you'll get back what you don't use afterwards. It's either that or a road-trip to Calais – whatever floats your boat!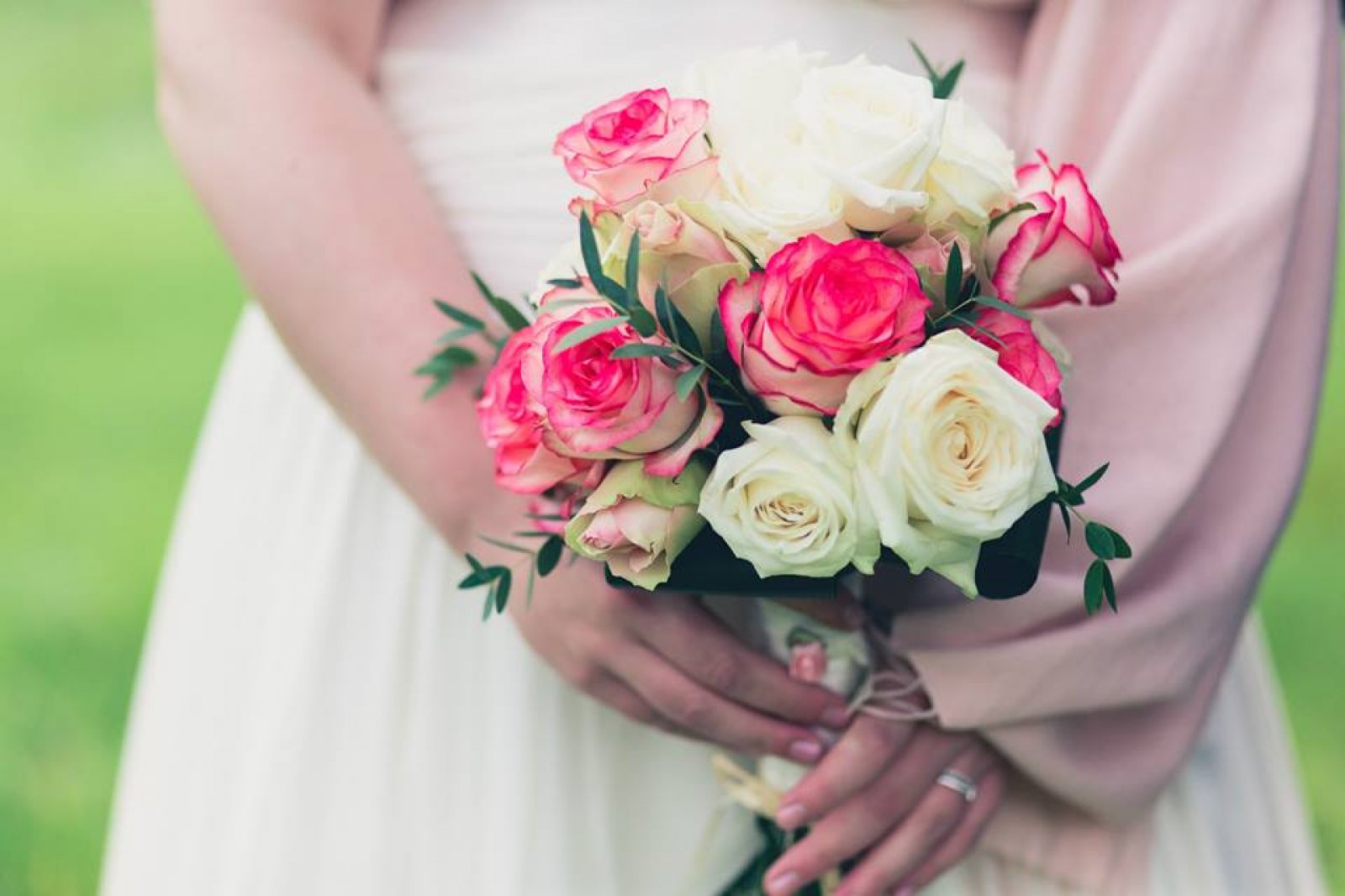 Hall of Flowers
The Flowers
I won't lie, as a wedding planner I simply adore fresh flowers, but if you're really looking to save then consider the alternatives. Do you need a great big bouquet on every table? Create centrepieces that represent you as a couple – get creative with a pile of books, some candles, photos and postcards, or some objects that represent things or places meaningful to you, or go really funky using glass vessels and coloured water – anything pretty and an alternative to petals! If you really do wish to have flowers, why not look into growing your own (usually a good task for a willing gran!), or order your blooms direct from a flower seller and have your bridesmaids get hands on in putting them together the day before the wedding.
The Entertainment
We're all on iTunes or Spotify or the like these days. Create an awesome playlist, have guests give their suggestions in advance, hire a decent PA speaker system, plug it all in and away you go…. Penny pinching party time!
And finally…
…your wedding is simply what you make it. It doesn't have to be a big, luxurious, lavish affair to be remembered (although, you know, if you've got it flaunt it honey!) but it does have to be true to your expectations. If you want to save, you can, just be savvy about it and let go of the 'oh, buts….' There's no right or wrong wedding day, and not every tradition must be followed to a tee to make it right. It's yours and it's going to be a blinder whatever your budget.
Now, hold on to your purse and have fun!
If you'd like to contact Samantha to work on your wedding with you, or to find out more about her celebrant services, you can contact her here.