Contact Sergei now to get a quote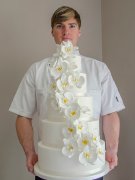 Pret-A-Cake

4 0
Looking for the best price? Enquire through WeddingPlanner.co.uk
Summary
Pret-a-Cake is a cake atelier based in Tunbridge Wells, Kent. We create and supply stunning bespoke cakes for weddings and celebrations.
Key information
What kind of wedding cakes do you offer
Traditional, Alternative
Do you do bespoke designs?
Yes
Can you do gluten/wheat/dairy free?
No
Can you supply cake toppers?
No
Where are you based?
Tunbridge Wells
How long before my wedding should I order?
at least 1 month before the wedding
What forms of payment do you accept?
Cash, Credit Card, Bank Transfer
About
More about us
Pret-a-Cake provides couples in South East of England with trendy and delicious wedding cakes along with professional and reliable service.
Pret-a-Cake is run by qualified pastry chef and cake decorator Sergei Strelets. Cakes is our passion and we understand that wedding cake is an important part of the big day hence we offer very personal service and work closely with a couple to make the whole process as easy and stress free as possible. Each of our cakes, no matter how big or small naked or iced, is unique and prepared with care and attention to details.
View availability
We had a great experience with Pret-a-Cake for our 2 tier wedding cake! The cake was exactly to our specifications and was gorgeous on the day (as well as tasty!). Sergei was very responsive to enquiries and happy to offer suggestions. He is great to work with and clearly loves his baking! The cake tasting session is recommended (£10 at time of writing) as it was good to taste possible combinations (Victoria sponge - which we went with - chocolate and carrot) but also to discuss more in detail about the cake design, size, etc. The price is also very reasonable for what is a bespoke service and we were very happy with the end result!
Our cake was made exactly the way we wanted it. It was definitely a centerpiece of our wedding and I think pretty much everyone commented on how beautiful it was. Needless to say, it tasted delicious too, with different tiers having different flavours to meed all our guests' demands. No doubt would recommend Sergei to anyone. Very professional and pleasant to work with!
My daughter's wedding cake was the most amazing creation I have ever seen or tasted! Sergei did exactly what the bride and groom wanted and his expertise and creativity meant it surpassed all expectations! I can't recommend pret-a-cake highly enough. Thank you Sergei.
Our Silver Wedding cake turned out exactly how we imagined it to be. It was not only beautiful, but delicious too. My guests and I were delighted and the left overs were a lovely change from Christmas pudding! Thank you for the excellent service and for contributing to our special day. Highly recommended!