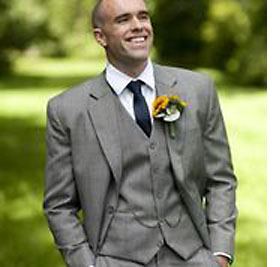 Groomswear - What Style Works for Me?
---
We've all had the experience of buying something that looks amazing in the pictures but when you put it on yourself it just doesn't work. Even if you have the body of an Adonis some things do not look as good, so don't be disheartened that your body is the problem - it's just the wrong style of clothing!

Your wedding day is the day when you absolutely want to work to your strengths and feel as flattered as possible, in your outfit of choice. It's absolutely not about having to change yourself, but being more selective about your suit.

So here are a few key design elements all suits will have, and by making the right selection it will transform your appearance.


1. One, two or three button jacket?

If you're going for a classic 2 piece suit the 2 button jacket is the safest choice as it looks great on the widest selection of body shapes and heights. If you're going for a slightly more 'mod' or retro style the 3 button works really well without becoming a costume; or likewise if you are particularly tall a 3 button can balance you out quite nicely!

The one button jacket creates more of an evening look e.g. traditional dinner jacket. Quite a suave look in my opinion, but if you're wanting your suit to be very fitted, bear in mind that a one button jacket doesn't provide as much structure so it won't feel as fitted as a 2 button.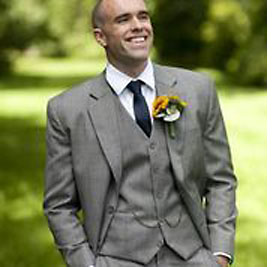 2. Notched or Peaked Lapels?

Most suits, these days, particularly wedding suits are single breasted; it's a little more contemporary and a more flattering shape. Especially now we're getting to the summer months you're very unlikely to have the jacket buttoned up all day- so it's nice for the jacket to still look fitted whilst un-done.

Traditionally you would see a Notched lapel on a single breasted lounge suit, and a peaked lapel on Tuxedos, Double breasted suits and morning coats. The peaked lapel is a more dramatic look which some people find a bit too much. I generally advise sticking to tradition when it comes to lapels as they were designed that way for a reason.


3. Standard or Skinny Lapels?

There is an element of style here, in that if you want an ultra-modern, very fitted, tapered trouser suit then the slimmer lapel will really enhance the look. However, if you want something a little more timeless a standard width is more sensible as a slimmer lapel will go out of fashion then return a few years later. As I work on bespoke I usually advise my customers to choose based on their shoulder width. E.g. if you've got a slimmer frame a slim lapel looks great, particularly with a fitted suit as it matches the overall look. However for those with broader shoulders or a generally larger build a slim lapel can get lost and leave the upper part of the jacket looking like an expanse of cloth that's not been finished.


4. Number of buttons on the Waistcoat

To help determine this one, I'd first refer back to item 1. First know how many buttons your jacket will have, and then think whether you'd like to be able to see the waistcoat above your jacket when it's buttoned up. The most classic combination is a 2 button jacket with a 5 button waistcoat so that you can definitely see the waistcoat whilst still seeing plenty of shirt and tie. If you'd prefer to see a little more shirt and are happy to see the waistcoat mainly when the jacket is open a 4-button waistcoat looks lovely. If you've gone for a 1-button jacket on the other hand, a 4-button waistcoat will have the same effect.


5. Long or Short Jacket

There is a very common misconception that shorter men must wear short jackets to prevent their legs from looking too short. Admittedly some standard length jackets may look a little top heavy if you're slightly shorter, but that doesn't mean you should go too far the other way! The key is to get an equal balance of your upper and lower body. I.e. Jacket collar to bottom of jacket should appear to be the same length as from the bottom of the jacket to the bottom of the trousers. If you go too short it will make your upper half look compressed and boxy. The same rule applied for taller chaps - just keep it in proportion!