7 Utterly Amazing And Totally Ridiculous Celebrity Wedding Cakes
Here at world of Wedmin we love checking out celebrity weddings for style tips, ideas and just to see how lavish they made things. Fortunately for celebrities they have seemingly endless amounts of money to spend on the Big Day and the results are nothing short of incredible. Although you probably don't have the budget of Elizabeth Taylor or Prince William, it doesn't hurt to browse the eye watering pictures. Here are some ideas from the most extravagant wedding cakes of all time...
1. Christina Aguilera and Jordan Bratman
. This glamorous wedding between pop star and music producer took place in 2005 (and ended in 2011 - shocker!)  and cost $2.2 million. Aguilera commissioned a stunning Spanish style Christian Lacroix gown costing $80,000 dollars alone. The cake was an enormous five tired mountain, with sumptuous icing flower decorations crowning each level.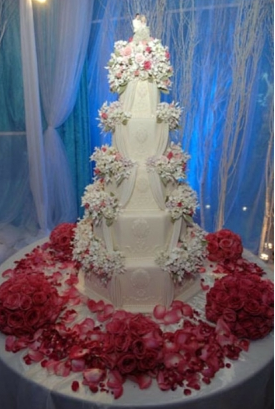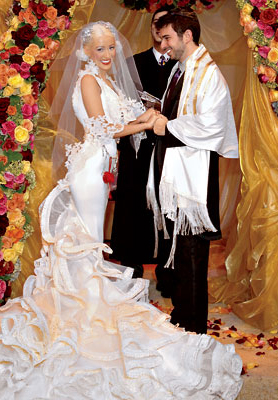 2. Donald Trump and Melania Knauss.
In 2005, D
onald Trump 
and
 Melania Knauss-Trump 
exchanged their vows in an unquestionably extravagant ceremony in Palm Beach, Fla. They chose pastry chef 
Cedric Barbaret
 to create their 200-pound, seven-tier Grand Marnier chiffon cake that was adorned with 3,000 sugar roses. They also sent their guests home with individual chocolate sponge cakes that were filled with chocolate truffle, and topped with a single edible rose.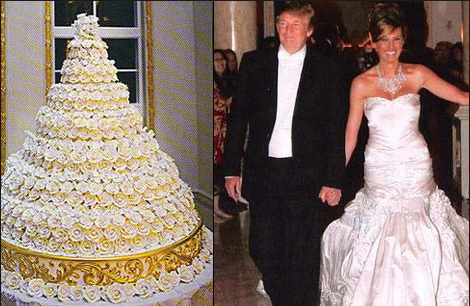 3. Liza Minnelli and David Gest.
The marriage of Liza Minelli and David Gest took place in 2002 and is said to be the largest celebrity wedding of all time, boasting a 34 strong wedding party including Michael Jackson as best man and Elizabeth Taylor as maid of honour. With $700,000 spent on flowers, anyone attending this wedding may have thought they'd accidentally died and gone to heaven. The cake alone cost an unbelievable $40,000 and was 7 foot tall! If it had collapsed on someone they would have perhaps actually died and gone to heaven. Unfortunately, it was the marriage which died a staggering 16 months later, what a horrific waste of cake!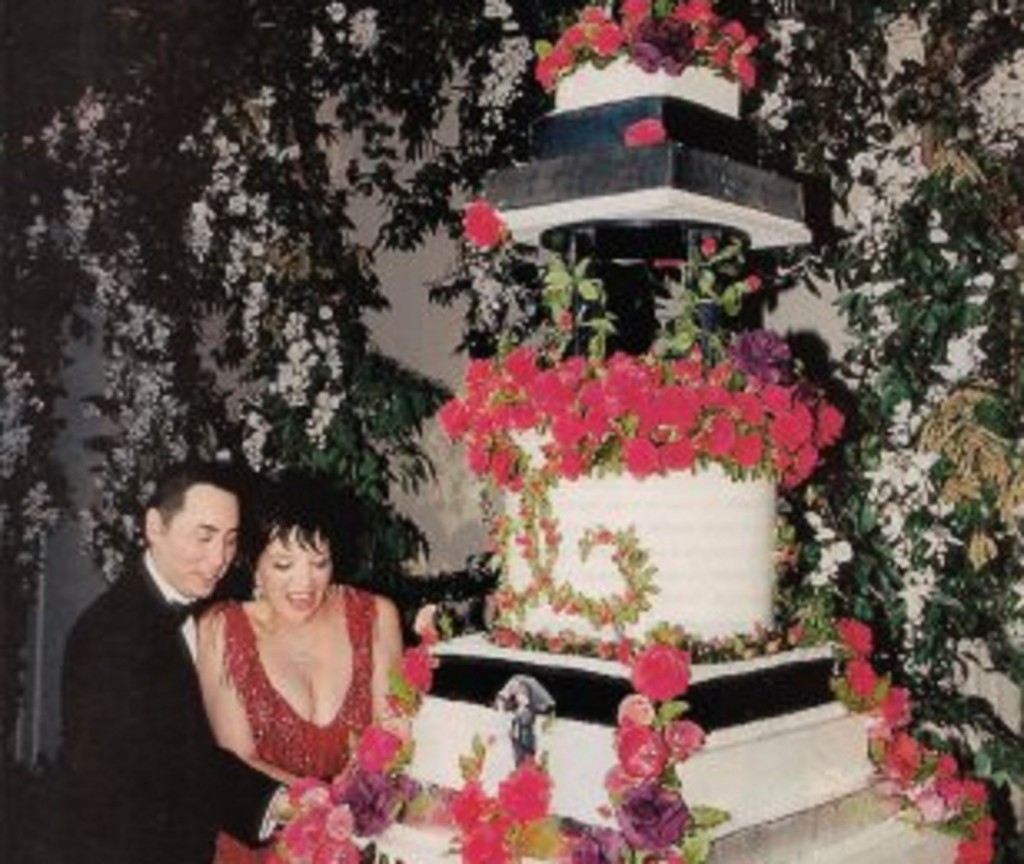 4. Chelsea Clinton and Marc Mezvinsky.
Chealsea Clinton, the daughter of Hilary and Bill Clinton married her investment banker fiancé in 2010. The wedding cost around $5million which included a dainty Vera Wang wedding dress and $11,000 wedding cake. The cake was a pure white delight, built with 8 thin tiers and has delicate white icing roses and lilies trailing down and around it.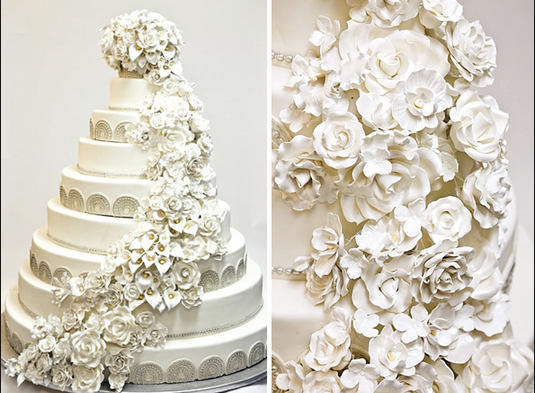 5. Wayne Rooney and Colleen McLoughlin.
Wayne Rooney's wedding to his childhood sweetheart Coleen was extravagant, sumptuous and no doubt a lot of fun. The wedding cost around £37 million and included 5 days of partying on a large yacht and later in a 5 star hotel, a 17th century Abbey for the wedding reception and a very wide wedding cake which was simplistically designed and covered with ribbons and flowers.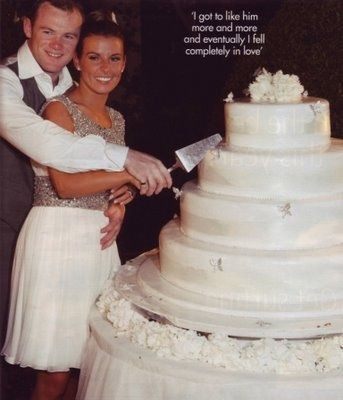 6. Prince William and Kate Middleton.
The cake for Prince William and Kate's wedding was so amazing we could talk about it for a good long time! It took 5 weeks to make, cost £80,000 and was decorated with 900 sugar paste flowers. Kate requested that there were 11 different plants on it that all symbolise different things such as the Scottish thistle and Ivy which symbolises marriage.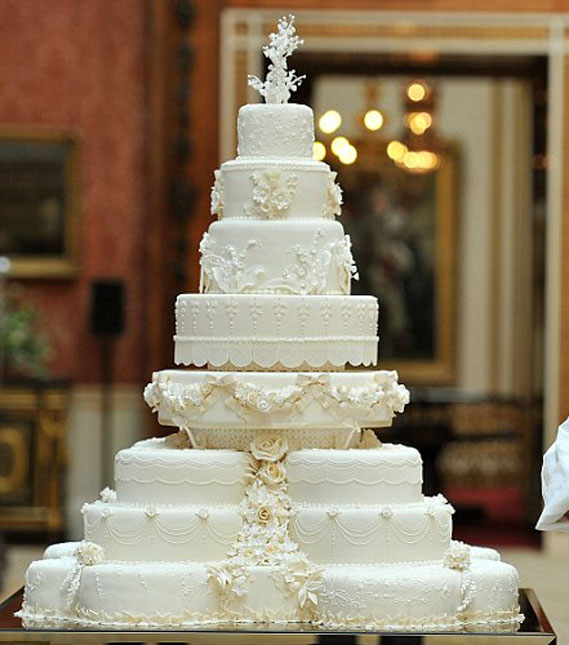 7. Blake Lively and Ryan Reynolds
. 
In September 2012, 
Ryan Reynolds 
and
 Blake Lively
had a very private wedding in South Carolina — there were only 35 guests in total. Their impressive wedding cake was showcased in the winter issue of 
Martha Stewart Weddings
, and was made of sour cream and vanilla cake with peach-apricot preserves and Earl Grey-milk chocolate buttercream by Maggie Austin Cake. And as if the magnificent cake wasn't enough, other desserts offered that night included s'mores bars, fruit tarts, and strawberry shortcakes.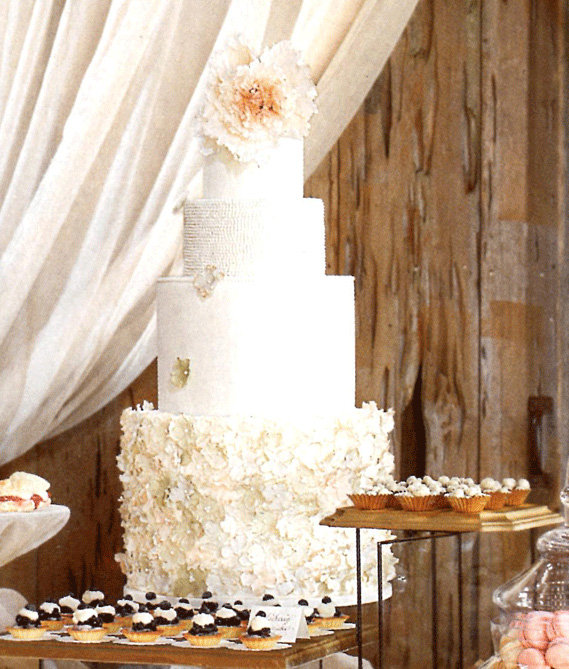 We know that not all weddings can be as extravagant as Liza Minelli's or as fairy tale-like as Kate Middleton's but we can help make it perfect for you! Here at World of Wedding you can find the best cakes, photographers, musicians and more to make your wedding the best day of your life.