How to Get Wedding Ready Skin This Winter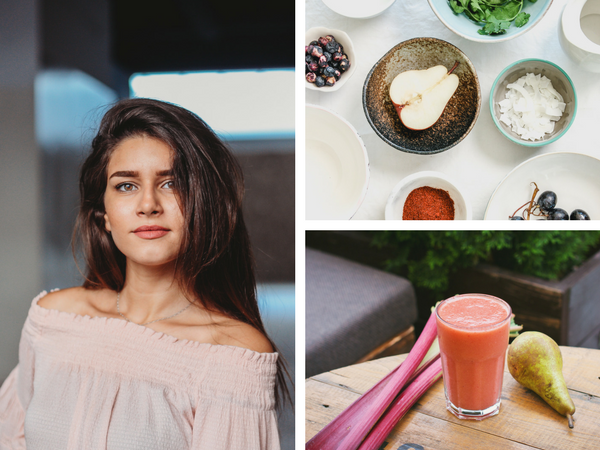 Beautiful, healthy and glowing skin starts from within. Fact.
So no matter how much you slather yourself with the latest skincare products, if you're not keeping yourself hydrated, and nourishing your body, these products will have a very tough time proving themselves.
Now I'm sure most of you have had a slight (if not fairly significant) change in your diet and exercise schedule, what with your wedding day looming, but sometimes both these things can be a shock to the system and you could be facing more problems with your skin than before you kicked off this healthy regime!
What happens on the outside is a reflection of what is within.
Stress plays a big part in triggering skin outbreaks so it's important to try and keep yourself calm. Don't launch into a crazy 6 day juice diet (or any other fad for that matter) if you have spent the last few years munching high salt and sugary foods.
Everybody is different and what works for someone else might not work for you so it's important to listen to your body and slowly introduce healthy habits that aren't going to cause too much stress to not only your organs but your mind too.
You want to adopt small healthy habits that you are able to stick to and if you start early enough then you can build up on these as the wedding day gets closer. Now I know sticking to a diet or keeping up with any new healthy regime can be hard but the best place to start is by gently introducing more hydration and more nutrients into your diet.
Making sure you get through 2 litres of water a day isn't hard to do if you ensure you've got a bottle of water by your desk/in the car/on the coffee table to keep sipping from. If plain water bores the life out of you spice things up a bit with some lemon, ginger, cucumber, strawberries… anything! Just add a little flavour with some fresh ingredients which will even get your water working harder for you!
Instead of completely eliminating things from your diet, start by adding more veggies instead and loading up with lean protein such as chicken, fish or lentils. Both of these things will help you feel fuller for longer and provide not only your skin, muscles and organs with what they need but also your brain too so you can keep focused on your goals and stay sane to achieve what you set out to do.
Caffeine and alcohol are not your waist line's or your skin's friend unfortunately and I will be the first to admit that there are very few days that I get through without dabbling in either - It's just life. if you're anything like me then abstaining from either or both of these will be tricky!
Again, instead of giving up both in one hit, start easing your mind round to the idea and weaning yourself off slowly. Practice going out to the pub or bar and ordering a soft drink in-between any alcoholic beverages. If you can't get out the door in the morning without a caffeine hit then that's fine, just try and replace any subsequent caffeine urges with a cup of green tea which has similar effects and also speeds up your metabolism - win, win! If green tea isn't for you there are plenty of herbal teas out there such as camomile, peppermint and a whole host of flavoured teas so you can keep it varied - no excuses!
Running down to sign up at your local gym or throwing money at a personal trainer may help but these can be quite costly, especially the latter, and as I said before it's all about slowly introducing small, healthy changes.
So if you're not that active and don't have spare cash lying around (which I'm sure you don't if you're planning a wedding) then get moving on what god gave ya! It may be getting colder outside but it really is beautiful out there what with the autumnal colours and dewy mornings so factor in some walking, jogging or running into your daily routine. You can either set time aside or if you're short on that then swap bus/train or short car trips for getting some fresh air on foot - honestly you wont even notice you're doing it and it won't be long before you start noticing the benefits!
If you get a chance to get your sweat on either on a run or in the gym then thats great as this will help to flush out toxins from your body and get your skin glowing.
So, now you've got your insides working as best they can it's time to focus on adopting a beauty regime if you haven't already. Always ensure you remove makeup each and every day before going to sleep, hell if you can survive a day or 2 a week without any on then even better so your skin can breathe.
Daily cleansing, toning and moisturising will help nourish your skin from the outside and exfoliating once or twice a week will remove any dead skin cells and bring out your radiance. As for products and brands to use, there are lots of great ones out there and I'm a huge fan of Liz Earle. Dermalogica are great too and I really like Nip + Fab's ranges as well. If you're on a tight budget then I would use the Simple range but if you can stretch to purchasing a good serum then this will really help bring out the very best in your skin.
If you're skin is quite dry this time of year (which it most likely is with the cooler weather and increased central heating action!) then a little facial oil or argan oil used underneath your makeup will not only protect your skin and keep it hydrated but also help your makeup sit better. If you have oily or particularly acne prone skin then of course I do not recommend doing this!
All the above goes for your whole body, although not necessarily the toning part. Exfoliating with mitts or a nice salt or sugar scrub as well as using lotions and oils after will make your skin glow and will keep you looking radiant from head to toe!
This post is written by Camilla J Collins, one of our Wedding Planner Ambassadors.
As an expert in both hair and beauty, Camilla has a long career in both the film and wedding industries with previous clients including Louis Vuitton, Wahl, Claridge's and Warner Brothers studios along with numerous lovely brides - her favourite bit!
If you would like to book Camilla and her team for your wedding day, explore her profile and enquire here.