After the Wedding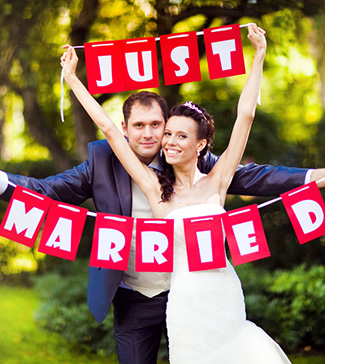 You've had your dream wedding, now it is time for the honeymoon! A perfect, getaway for you and your new husband, use our going away advice to make sure you don't forget the obvious in all the excitement! And, of course, make sure your groom carries you over the threshold of where ever it is you may be going; a tradition that says you will be rewarded with plenty of good fortune!


Outfits
The bride and groom often stay in their outfits, your dress and his suit, for the whole of the wedding day. However, if you are making your way straight to the airport, a change of clothes may come in handy! If this is the case then make plans beforehand about what you will wear and make sure it goes to the wedding reception with you. Maybe ask a close family member or friend to take your luggage with them, along with your clothes you are going to change in to, in a separate bag.

Also think about what you are going to do with your wedding dress, if you are planning on leaving your reception for the airport. Speak to your wedding party and choose someone who will take care of your belongings for you, whilst you are both away. Remember to tell them if there are any stains on the dress or suit, they will need to be cleaned as soon as possible! Also, if any clothes were hired then they may need to be returned during your holiday, so a reminder about this would also be handy.


When should you leave?


This is completely up to you! Your honeymoon may not be straight after your wedding, or it might be straight from the reception to your flight, either way, try to plan in advance what time you will be leaving the reception. If there is a Toastmaster then he will make an announcement to the guests, allowing everyone to come together and give you a big send off! This is when the bride, traditionally, throws her bouquet over her shoulder, a lovely way to end your perfect day!


Cake and cameras


If you are leaving earlier than the guests then assign someone the role of collecting any disposable cameras you had at your reception. Also, leave someone in charge of your cake! Make sure they send out pieces to people who couldn't attend, especially if they gave you a wedding gift. Nobody wants to miss a piece of the wedding cake after all! Ask someone from your wedding party to be in charge of this.


What's next?


A honeymoon, a romantic getaway, an evening in a hotel… the rest is down to you! At least, you'll now remember to let everyone know when you're leaving and you'll have an outfit on standby for your chosen occasion!

Other Timeless Advice you might like to read:
'Your Honeymoon'
'Looking Good and Feeling Great'
'Roles and Responsibilities'