Top 5 Hen Do Destinations for 2014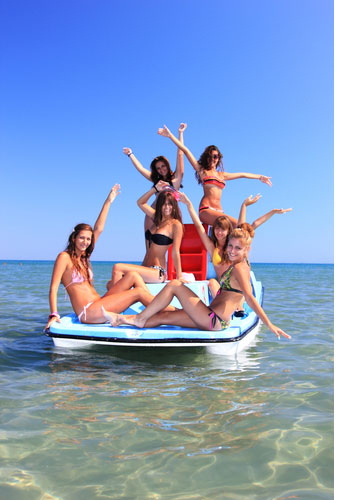 Planning a wedding is stressful enough, where to have the ceremony, where to have the reception… don't worry we feel your pain. So if you have no energy to think about where you want to go for your hen do or just need some ideas, then this is just the list you need. Because other than London, there are other destinations both popular and up and coming that deserve your consideration too.


Brighton

Known as 'London by the sea' this colourful bohemian city has always been a firm favourite amongst hens. It offers both a seaside experience as well as extensive shopping that could rival any of London's quirkiest streets. Speaking of quirky, the famous lanes are a must if you plan to hit this city for your hen weekend. Filled with interesting and independent shops, there's something for every shopper here – especially for the fashionista who loves to buy unique things! Also known for being a little risqué, Brighton is one of the best places to try out something a little naughty such as Burlesque lessons with your girlfriends.


Ibiza

Ah the original party destination! If you go during clubbing season then prepare to be up every night till the crack of dawn because there's always something going on in this party loving town. Other than the obvious clubbing scene (my favourite clubs are Pacha, Amnesia and the more unusual Lío.) Ibiza is also a great place for hens who love ocean based activities, and by that I mean drinking cocktails on a private boat cruise whilst you bask in the sun and top up that tan! I recommend staying on Playa den Bossa which is Ibiza's longest beach and despite being one of the most famous beaches it is genuinely lovely with its soft white sands and scenic palm trees.


Bristol

An up and coming destination in my mind, Bristol has only gone from strength to strength these past years, and I've noticed several hens are flocking there for the great night scene and musical events. Plus, because it's surrounded by lush countryside, there's plenty to do for the active hen. For example partaking in an inflatable assault course with the girls is a fun way to be active without physically destroying yourself. But let's face it, if you're going to Bristol it's mainly for the music so grab the girls and head over to Cosies, the Canteen or even Thekla – a music club on a boat!



Barcelona

Yes Milan is one of the fashion capitals of the world but there's a special charm about Barcelona. A city for the laid back lady; you aren't going to get better tapas or better lazy strolls through scenic streets than here! Pack light though because I recommend you fill your suitcase with local fashions, believe me there are so many young and rising designers with tiny boutiques in this city – it'd be silly not to shop. Also, if you get the chance, climb the Montjuïc Mountain for one of the best panoramic views of the city. You really won't regret it!


Manchester

Another city heavily influenced by music, this cosmopolitan metropolis is a northern mecca for shopping and nightlife. This is a city for those who like to get glam and hit the town. So a spot of cocktail making is probably in order here before you hit the best bars and clubs in town. Speaking of which, as far as I'm concerned the only clubs worth hitting are Sakura, K2 and Bijou. Saying that though, if you're more of a pub than a club girl then you must visit the Molly or the Marble Arch for the décor alone!