5 Weird and Wacky American Games to Play on Your Hen Weekend
---
It's no secret that there are many differences when it comes to the British and American ways of celebrating a bride-to-be's upcoming nuptials. While us Brits look to go all out and give our friends a send-off to remember which more often than not includes a spot of ahem, light drinking and a weekend's worth of fun, the American way of seeing a friend off into the world of marriage is for the most part far more reserved. Having said that, there are a stack of games they play during their Bridal Showers that I can only describe as being quite 'out there'. Here's a list that includes some of the weirdest and wackiest American Bridal Shower games I have found.


Purse (Handbag) Raid

Kind of like a miniature scavenger hunt, one of the hens will draw up a list of items that you would expect to find in the average handbag. These can range from things you would find in any woman's bag (lipstick, make up brush, a set of keys) to more random or completely bizarre items (a shower cap, condoms, whatever you can think of!). Whoever drew up the list calls out the items and then it's a race to see who can recover said item from their handbag first, and emptying the contents of your handbag out onto the floor isn't allowed! Hand out a prize for each item or keep score and announce the winner after you've worked your way through the list! For an idea of the kind of list you'll need to prepare take a look at this one.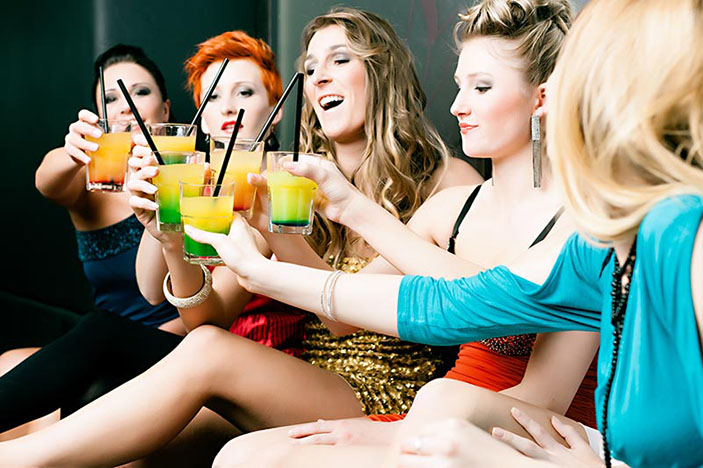 Two Truths and a Lie

This one is as simple as it sounds; each hen tells everyone three facts about themself with two of them being true and one being an outright lie. Then the group has to decide which of the three facts the lie is. It definitely helps if you've got some outrageous true stories to drop in there to throw everyone off the scent, not only that but if someone has a crazy truth in there you can get them to tell the full story. It makes for a great bonding experience and a chance to hear some amazing, true stories about everyone in the hen party.

The next three games are a mixture of strange and funny or even both. So if you're a fun loving bunch of girls (and let's face it, who isn't really?) you'll love these:


Spice of Life

Relatively straightforward in how to play, but actually quite hard to get right is the Spice of Life game. It involves your hen party attempting to identify a number of different spices using just smell alone. It sounds easy but probably isn't, unless you have an incredible sense of smell or a pretty good knowledge of spices. The winner is the person who correctly identifies the most spices. If you're thinking of giving this one a go I'd probably recommend that you get it out the way before you get too drunk, otherwise someone runs the risk of inhaling far too much ground pepper. Get to know your spices here and get the edge on the competition.


Oven Mitts and Hose

I quite like the sound of this one and I'll bet it is a pretty funny one to attempt and even funnier to watch. You get two hens at a time to wear a pair of oven mitts and they then have to try and put on a pair of 'hose' (hold up stockings) over what they're already wearing whilst wearing the oven mitts. Cue much hilarity as each pair tries to successfully put on a pair of stockings without full use of their hands. For extra laughs I'd recommend playing this game once everyone has had a whole bunch of drinks, it probably doesn't get much funnier than seeing someone stack it whilst wearing oven gloves and trying to put on some stockings.


Toilet Paper Dress and Veil

Finally, I've chosen a game that could actually become a real life scenario for some brides who find themselves harder up than others, Toilet Paper Dress and Veil. Again the name of the game more than gives away what the actual game entails, which in this case is allowing some of your hens to fashion a wedding dress and veil for the hen using just toilet paper. Set a time limit to make it more of a challenge, and also limit the amount of toilet rolls too. Who knows, if the toilet roll wedding dress looks decent enough the bride-to-be might even choose to use it instead of her nice expensive dress (ok maybe not!). Get some inspiration for your hen party with this Toilet Paper Wedding Dress pinboard over on Pinterest.