Wedding Suits - Some Top Planning Tips!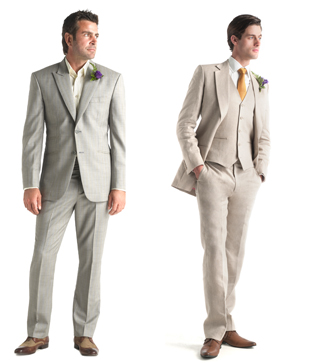 Firstly, congratulations- you're getting married! There's a lot to think about, and every groom wants to look sharp on their big day. Here are a few planning tips to help you along the way.
Six months to go:

By now, you're sure to have a colour theme. Visit your tailor and order your suit. This will give plenty of time to finesse the fit.
Four months to go:

Come in for your suit fitting (and don't forget your wedding shoes!)

Three months to go:

Order your buttonholes
Two months to go:

Pop in for another suit fitting
One Month to go:

Collect your suit and start to wear in your shoes
Two weeks to go:

Book yourself a pampering shave at a barbers for the morning of the big day
One week to go:

Get a hair cut
Wedding Day:

Suit up, take a deep breath and enjoy your special day!

Before coming in to order your suit there are three initial things that you should think about:

1. Morning suit or a Lounge suit
2. Two piece or three piece suit
3. Colour of the main cloth and any wedding colours

The answer to these questions will give you the foundation of your outfit and will help determine what you actually want! A well fitted suit can have a big impact and this is the one day you deserve to feel a million dollars.
Morning suit or Lounge suit?


Many Grooms opt for a traditional morning suit for their big day. If you're going with the bespoke option and want a suit that you can wear again in future, it's worth considering a two or three piece lounge suit, then after the big day, you can wear the waistcoat at home and wear your new bespoke two piece to the office!
Two Piece or Three Piece?


Personally, I think a waistcoat is the perfect way to transform your work suit into a function suit with minimal effort! I would absolutely champion the traditional waistcoat made from the same cloth as your suit. This is subtle, classy and creates an 'effortless chic' impression. It's also a great way to incorporate wedding colours into your outfit by selecting a relevant lining colour for the back of the waistcoat! If you're going for a fairly classic two button, single breasted jacket I'd advise a five button waistcoat to ensure you see a few inches of it above your jacket when closed.

It's your special day, and each wedding – and Groom – is different.