Wedding Planning: First Steps
So you've just go engaged (WAHOO!!) and the champagne bubbles are beginning to settle, and then it dawns on  you - it's time to start planning the biggest and most expensive day of your life. Oh man. Where to begin?
Some people are super organised by nature, some people have been secretly planning their wedding day for years and years (with or without a potential h2b) but for many, this is the first they've really thought of the whole thing, and if this  is you, panic not, we're here to help!
Here's a list of the 
first steps
you need to take, the first few big decisions you need to make, before getting caught up in reams of bunting and wedding favours.
1. Budget
It's one of the biggest issues to tackle, and can be mean an awkward conversation with parents if you're hoping they'll help out. In 2013, however, 53% of couples paid for the whole wedding themselves with only 3% of couples' parents footing the whole bill. As for the rest, the wedding was paid for by a nice combination of parents, family and the couple themselves. To find a rough idea of the average costs of things, head to 
this
wonderful little article by Brides Magazine!
2. Guest List
Now you have an idea of your budget, it's time to establish your guest list. This way, you can estimate a rough allowance per head thus enabling you to start your venue search fully armed with budget guidelines.
Writing your guest list needn't be daunting task, check out our post on
Guest List Politics
for more info, and use this handy little quiz to help you out...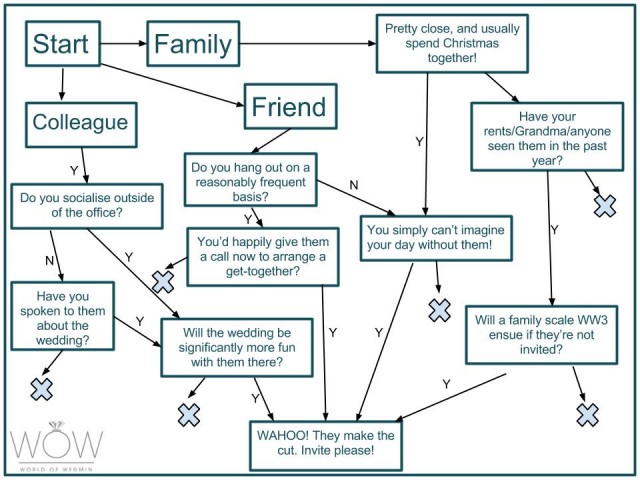 3. Location
Budget and guests list in place you can now start to think about venue and location! This is where it starts to get fun! If you're from different places, or live in a different city to your families, you need to think tactically. There are several ways you can approach this task:
Tot up the guest list to work out where the majority of people on it are based and consider that location - it's nice to only have to consider hotel accommodation for the minority of your guest list as oppose to most of them!
Think practically, if your parents home is hundreds of miles away, would you be able to go there quite a few times leading up to the wedding in order to coordinate local suppliers? You'll need your caterers, florist, hair and beauty team and maybe photographer to be local to your venue.
If you're set on a church wedding, there are some restrictions about which churches you'll be eligible to marry in, which could then inform your choice of reception venue. Check out this
guide to church weddings
for more info.
4. Theme and Styling
This is where most brides are indecisive or a touch overwhelmed. With so many amazing ideas floating around it's really hard to narrow it down to theme you really love. As far as we see it, there are 4 main categories of styling to choose from (VERY broadly speaking) and we think you should choose the one which most naturally relates to you as a couple and your lifestyle. These are, elegant and romantic, modern and chic, quirky and unique or simple and relaxed. Once you have this basic idea, you can begin to build and customise your day with your favourite colours, flowers, features and accessories. Hit
Pinterest
to start building up some fab ideas.
5. Wedding Party
Selecting bridesmaids and grooms-men does need to happen at some point, if you choose to have any at all (there's no rule which says you have to!). Give some thought to your budget to help inform how many of each you can afford and go from there. There is no right or wrong way to choose your bridal party, but head to
this article
for some handy hints.