The Dress - The Hunt Begins
You've told your friends and family that you are getting married, you've set a date, worked out a budget, viewed a few venues and now it's time to start the hunt for 'The Dress' - but where do you begin?

There is an abundance of wonderful dress designs to choose from. There has never been so much choice! From bias cut draping satins to full skirted richly embellished lace. Influences from the 1920's, 30's and 50's are evident in many collections with soft hues of colour subtly introduced.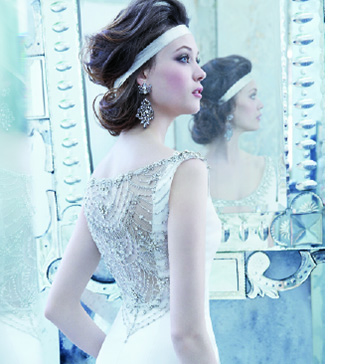 Styles are eclectic and fun, reflecting the diversity of brides' personalities. By choosing a venue, the first step in choosing a dress has begun. Stately home, rustic barn, a tepee in a field, a cathedral or a quiet beach on the other side of the world, the tone of the wedding has already been set.

Now it's time to research boutiques in your area, browsing their websites to get a real feel for the service they can offer. Search the internet, look at magazines or even visit local wedding fairs. Be aware of what's available but keep an open mind. Give yourself plenty of time, if possible, as some dresses can take as long as five months to arrive at the shop. In addition to this you will need to have several dress fittings.

Talk to friends about their experiences; the best recommendation of a shop is from a happy bride. Ask her about both the variety of designers and importantly the service received during the lead up to the wedding.

It's now time to book yourself an appointment. Take a couple of close companions with you, whose opinions' you value. Having too many people there can make the choice overwhelming and confusing as everyone tries to offer their own points of view.

Remember that the bridal consultant will be very experienced in helping brides find the right dress. Consultants will often enquire into the location, size of the wedding etc. to try and build up an image of the sort of wedding you are planning, whilst also starting to know you as a person. This information will help her to make suggestions of gowns to try on that you might otherwise not have considered.

Try a mixture of fabrics, silhouettes and necklines. Give feedback; don't be afraid to say what you don't like about a style as well as what you do like. If you have concerns about which styles flatter your body shape share these with your consultant and draw upon her experience and knowledge to find the perfect dress, for you.

Brides may often need to visit other wedding shops before committing to their dress choice. Bridal boutiques are accustomed to this and will not find it unusual, as it is certainly your prerogative. Don't be rushed into making a hasty decision because of an amazing offer on a dress. At the very least, go and have a coffee and a private chat with your companions.

So, you've found 'The Dress'! Now make sure you feel completely confident that the shop you are ordering from can truly deliver the 'perfect fit'. Most bridal gowns are 'made to order' not 'made to measure'. Measurements are often taken just to establish the most appropriate size to order in for you. This is then preceded by a series of dress fittings with a highly experienced bridal seamstress a few weeks prior to the actual wedding date.

I strongly recommend purchasing your gown from a shop that takes full responsibility for the fitting process, preferably with in house seamstresses who are involved with the sizing of the gown to the final dress fitting. Ask the shop about any additional costs that may be incurred during the fitting process.

Congratulations 'The Dress' hunt is over! Now the bridesmaids' dress hunt begins...