Colourful Confetti For Your Autumn Wedding
Do you love colour? Autumn is the perfect time for you to get married as you can take full advantage of the natural colours autumn has to offer. Use the outdoors for beautiful photographs and wedding theme ideas. And, if you're getting married this autumn, don't forget the confetti for some additional colourful fun on your wedding day. To help with choosing your autumnal confetti, Shropshire Petals share their top 5 colourful autumn mixes:
1. Moulin Rouge
This vivid brand-new confetti mix features burgundy cornflower petals and delicate ivory delphinium petals. Combined, they make a fantastic rich confetti mix that will add a colour pop to your confetti photos. Mixing burgundy with ivory really makes the colour stand out.
Shropsire Petals A Handful of Moulin Rouge £11.95 per litre
2. October mix of the month
Each month, Shropshire Petals feature a different pick and mix of petals. October's mix of the month celebrates the season of colour with a stunning blend of orange, ivory, black and berry tones. This mix is perfect for autumn weddings, halloween featured weddings as well as halloween parties
ShropshirePetals.com Pick and Mix of Icing Sugar, Burgundy Berry, Ginger Snap and Black Tie £11.95 per litre.jpeg
3. Sunshine Kisses
Autumn may be a sign of darker days and nights, so brighten your wedding day with a yellow and ivory confetti mix. Perfect on its own, or add a touch of blue to enhance the autumnal feel.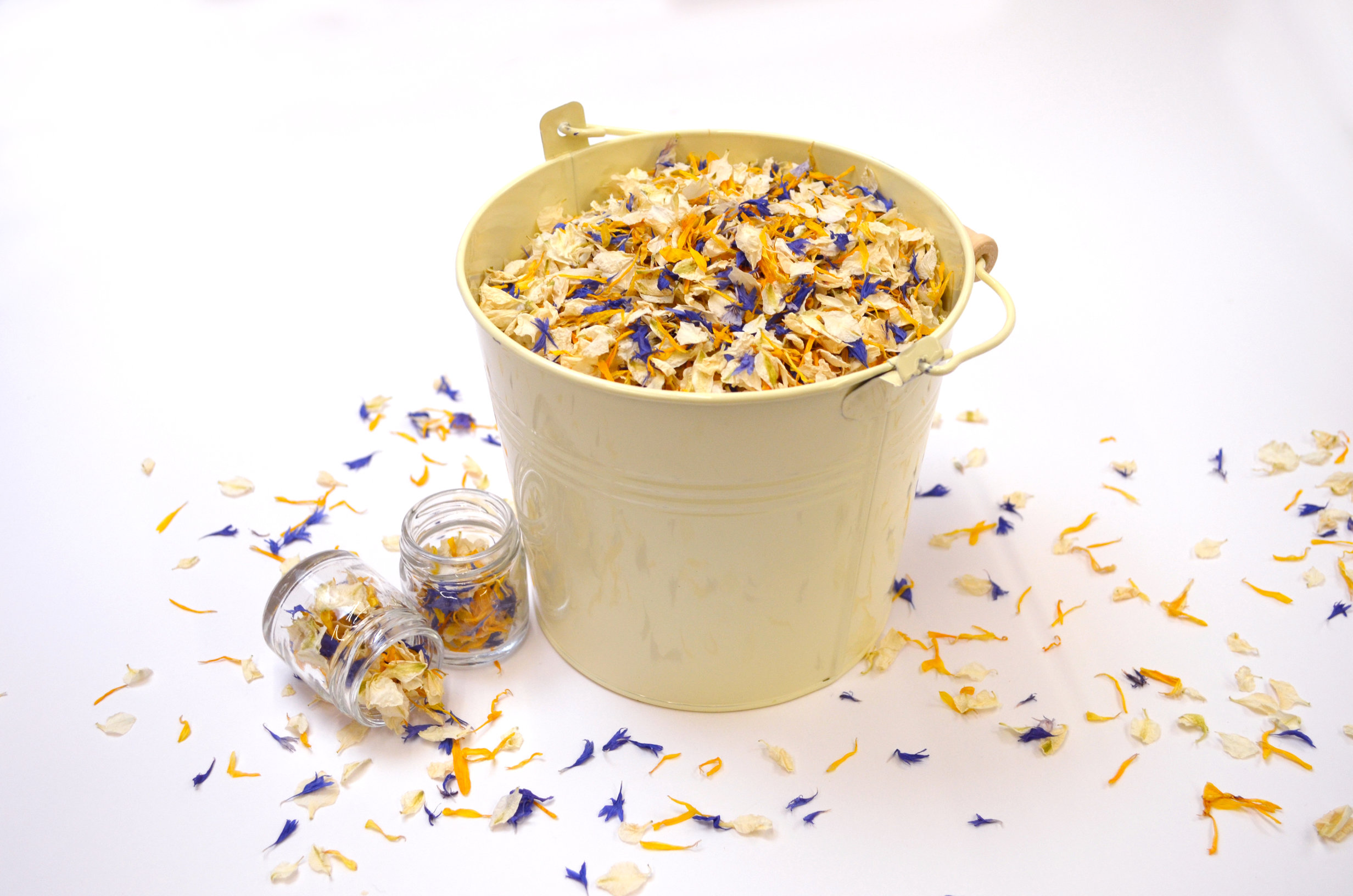 Shropshire Petals Cream Confetti Pail with Pick and Mix of Icing Sugar, Honey B and Blue Bird £28.50
4. Enchanted Woods
Keep it simple with a combination of green, brown and ivory. The light green hydrangea petal in the Enchanted Woods mix gives a hint of delicate colour, which looks fantastic displayed in brown kraft confetti cones. Mix two confetti cone colours together, such as white and kraft to make the colours stand out. You can now choose from 9 different confetti cone colours.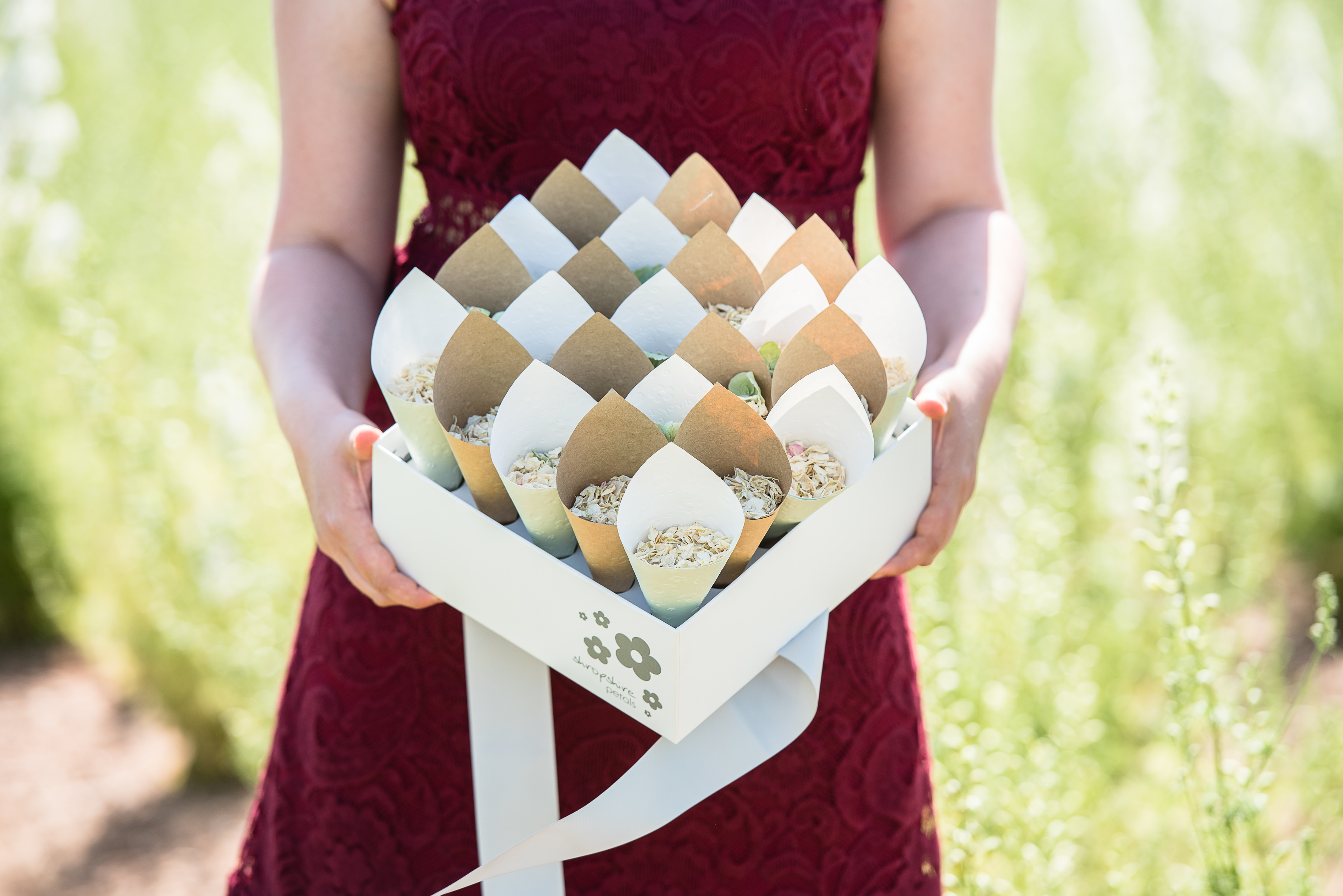 Shropshire Petals Shropshire Box with Kraft and Green cones and Enchanted Woods £50
5. Coral Reef
This pretty, bright confetti mix is a stunning blend of ivory, baby pink and orange. This mix is perfect for sprinkling on your reception tables to add a touch of colour. Too bright? Use the pick and mix tool online to pick your own unique confetti mix.
Shropshire Petals Confetti Pop with Coral Reef £2.75 each
Top tip – choose smaller petals for throwing confetti as they create a delicate flutter as they fall down when thrown. For some additional colour and texture, choose a larger rose or hydrangea petal to add to your chosen mix.
Enjoy your confetti moment and have fun choosing your confetti. Don't forget to order your free sample online today.
EXCLUSIVE WEDDING PLANNER OFFER: Click here for 10% off orders over £50
For more inspiration and ideas, please visit www.shropshirepetals.com