V&A Wedding Dresses Exhibition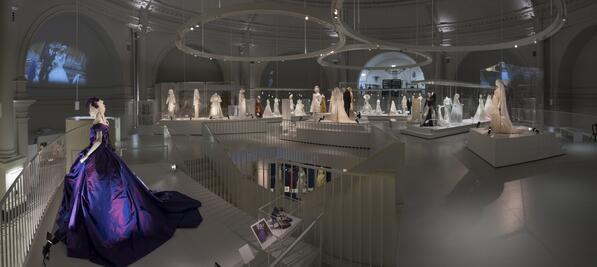 Calling all wedding dress fanatics, fashionistas, budding brides and just anyone who loves pretty dresses! The lovely lot over at the V&A museum have put together the most fantastic collection of wedding gowns through the ages, from 1775-2014 which you simply MUST see. We were lucky enough to get a sneak preview of the collection (YIPEE) and hear the ever-so insightful and wondrous Lead Curator, Edwina Ehrman, tell us all about it. She described the main aim of the collection which is to tell a story of the 'white wedding dress'  through the ages, starting with some seriously old beauties c.1780 right up to some modern dresses by designers we know and love (Jenny Packham, Ian Stuart etc!).  There were some classics from times of war of the 'make-do-and-mend' ilk, and some fabulously elaborate society wedding gowns, such as the one pictured below worn by Margaret Whigham (later to be Duchess of Argyll) when she married Charles Sweeny in February 1933. The dress was created by London designer, Norman Hartnell who later designed the Queen's wedding dress. It has a 3.6 meter train!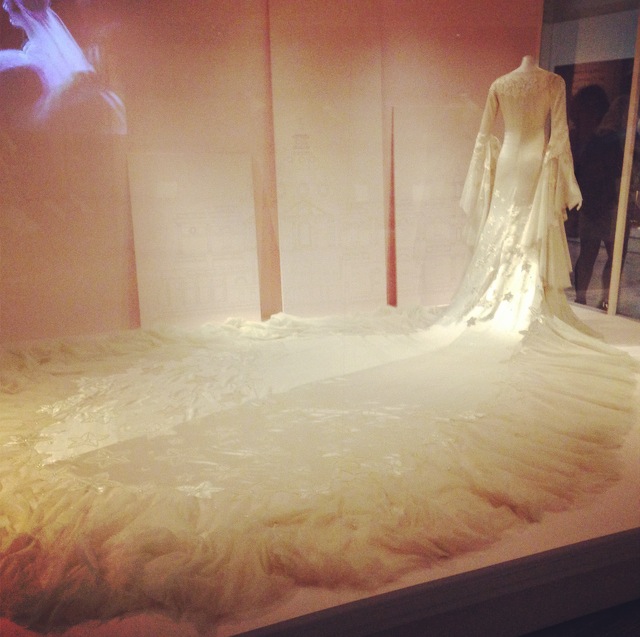 Another aim of the exhibition, which spans 2 floors of the fabulous V&A museum, is to consider how bridal fashion and the wedding industry is ever changing to reflect modernity. Edwina Ehrman spoke of how the exhibition shows dresses which address modern issues such as cross cultural marriages and second marriages - The Duchess of Cornwall kindly lent her Anna Valentine designed silk dress and coat worn at her blessing of her marriage to Prince Charles.
For any one with a love for all things celebrity, or for those designer divas amongst you, it's worth checking out the fabulous offerings from Galliano in the form of both Kate Moss' elegant sequin number, and Gwen Stefani's rock chick dip dyed frock!
The exhibition space is nothing less than you'd expect of the fabulous Victoria & Albert museum, high domed ceilings, imposing columns and spectacular lighting makes this a unforgettable experience. The dresses can be appreciated as true works of art as you follow the chronological path from dress to dress. Adorable little touches adorn the walls and hide in arches, such as quotes taken from the letters of everyday people of by-gone times, newspaper clippings, film reels and photo montages.
So what were our highlights? Too many to choose!! We particularly enjoyed the attention to detail, for example, the casing surrounding each dress featured beautiful line drawings representing the individual church in which that particular marriage took place, and, where possible, designers' original sketches, fabric swatches and accompanying shoes and flowers were shown. In terms of dresses; we LOVED the dramatic Vivienne Westwood dress worn by Dita Von Teese, and, of course, the fabulous 'flower bomb' by everyone's fave, Ian Stuart.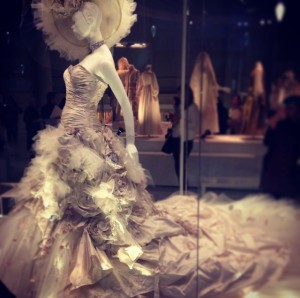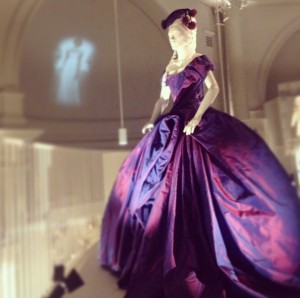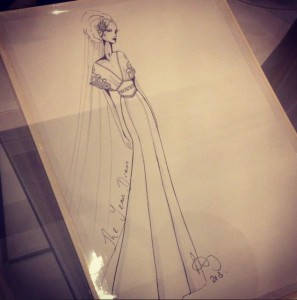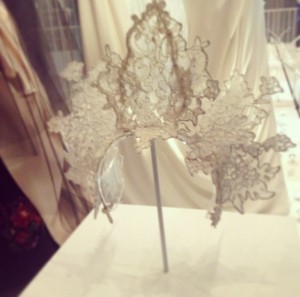 The exhibition opens this Saturday (3rd May) and runs until 15th March 2015 (So we'll be going back a few times then...) and costs £12 for non members. More information can be found here, and a huge thanks must go to their partners, Kuoni, Waterford Crystal, and Monsoon Bridal. Great job!!