Wedding Jewellery - What to Look For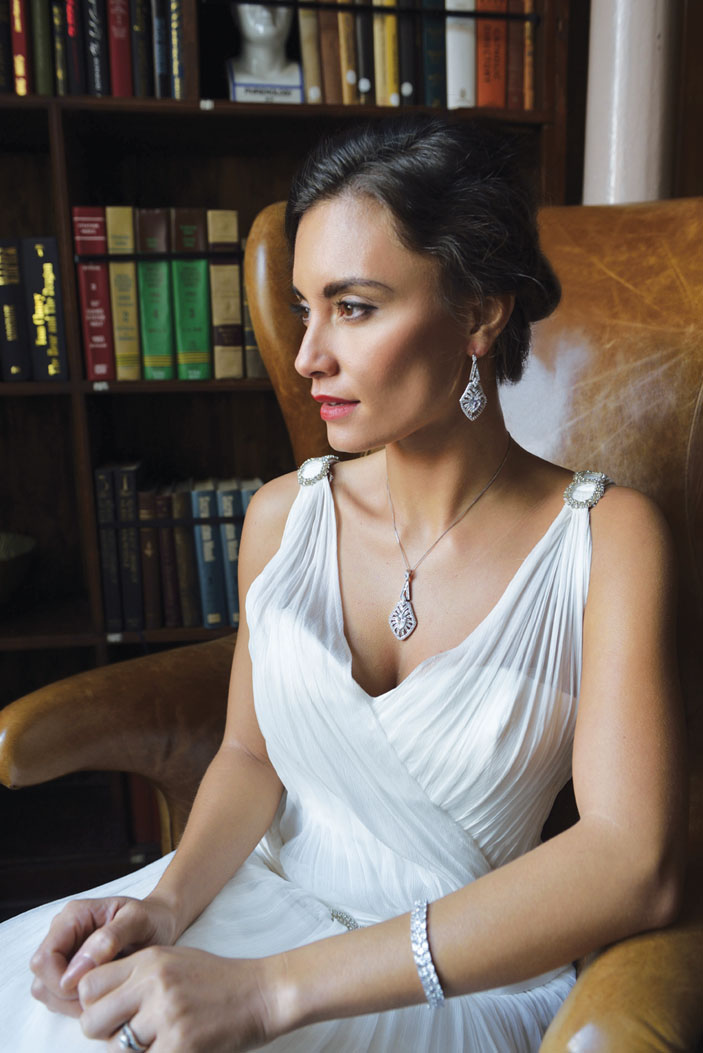 When choosing your bridal jewellery there are many things to consider; the neckline of your dress, how you are having your hair and do you need a bracelet? If you are having a headpiece do you want your jewellery to compliment it or will you be swapping your tiara for statement jewellery to dance the night away in? Whatever your ideal, there will be a solution to your desires. Here are a few pointers to help you make the right choices for your special day.


Theme

It stands to reason that a statement hollywood glamour jewellery set may look a little out of place if you have opted for a delicate floral themed wedding; so how do you compliment your theme without sacrificing on the jewellery? Less is definitely more if you have opted for a delicate dress. Slim Bracelets and sterling silver chains with a pendant, containing pearls and small stones, look great if you aren't big on bling; and also won't steal too much limelight if your wedding theme is a little more laid back. If you have opted for all out glamour, adding statement accessories will finish your bridal look perfectly.

Don't worry if you are struggling to identify your theme; trial and error is a foolproof way to get a good feeling for what works for you. Booking appointments with Bridal accessory shops can prove very helpful, as the advisors will be able to assist you with any questions you may have.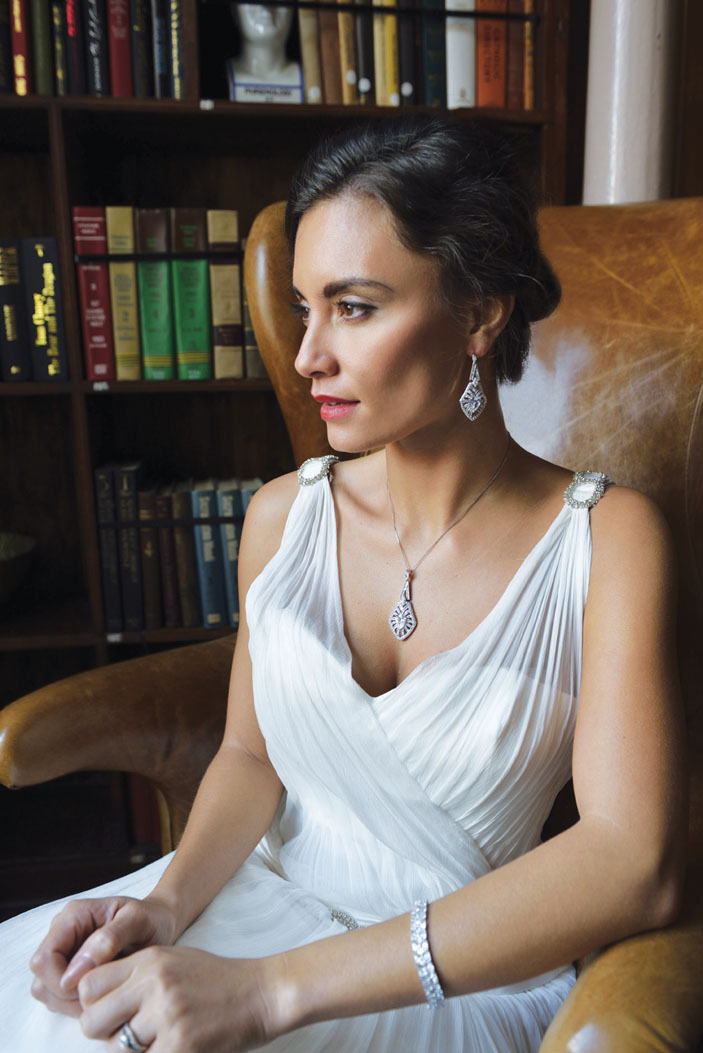 Materials

When considering the materials for your jewellery, your choice will depend on the look you are hoping to achieve. For a more vintage feel choose rhodium. This member of the platinum family has a slightly greyer look than silver, lending a more vintage feel to the finished piece. Silver is lighter and brighter than rhodium; as such it will stand out that little bit more and will add maximum glitz. Gold accessories look fantastic with champagne and coloured bridal gowns and really add luxury to the overall look. When choosing your jewellery remember the fabric of your dress; can you afford to have a pendant snagging the lace on a high neckline? Are you a furious arm swinger likely to catch proud settings from an intricate bracelet on your skirt? Jewellery should not interfere with the dress itself; it should be used to adorn your exposed parts and create interest in your outfit.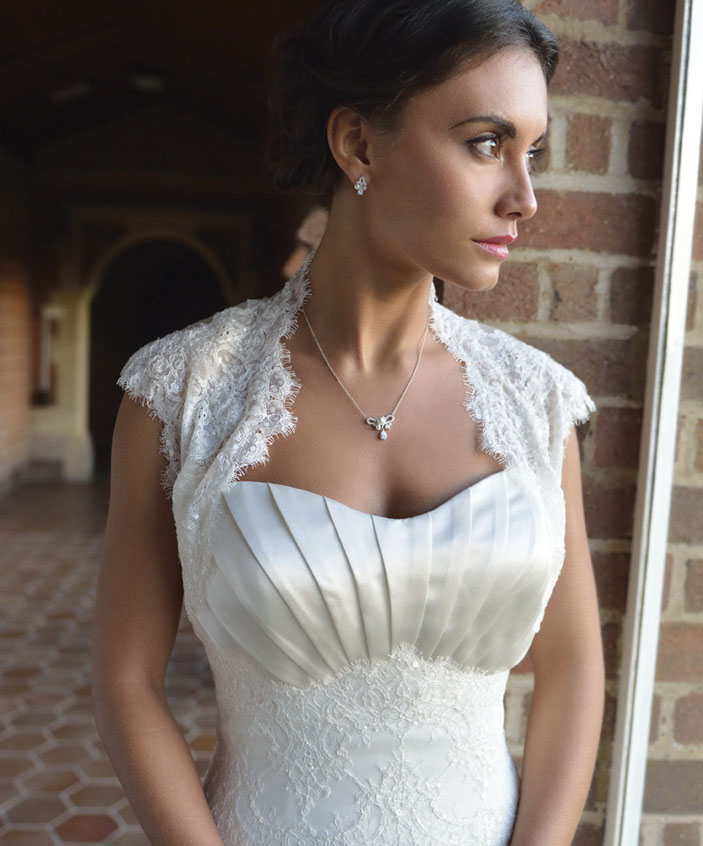 You

If you have a set style and wish to reflect this sympathetically on your wedding day, choose with your heart; when looking at options try on all items that catch your eye. This can lead to you choosing something you can wear again after the wedding, making it a more cost effective purchase! If you would like a full set but are on a limited budget, could you borrow an item of vintage jewellery as your something borrowed? Then treat yourself to some earrings or a bracelet to compliment the lend.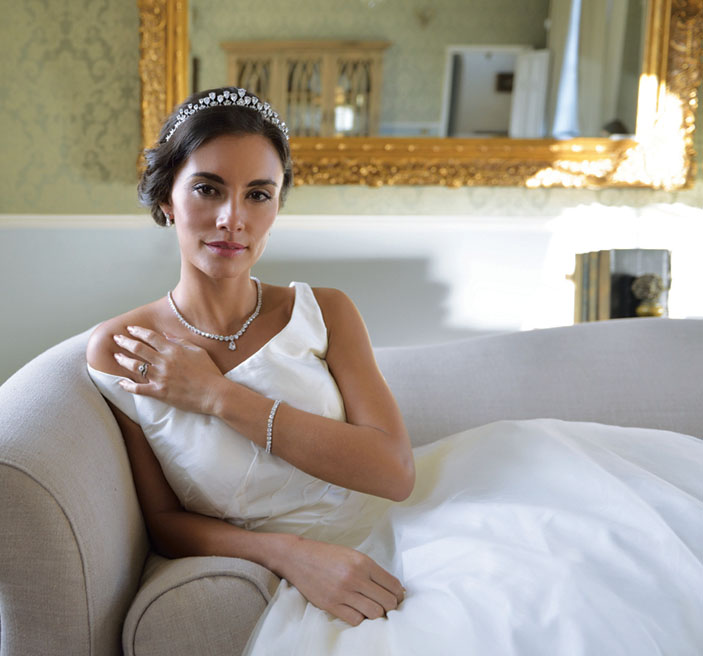 Other influences

The jewellery you choose can be heavily influenced by your choice of dress; for example a strapless dress looks great with a necklace - a chance to make the most of one of the most feminine parts of your body and also make you feel a little less naked. A sweetheart neckline lends itself nicely to wearing a necklace with a pendant drop in the middle to mirror the lines of your dress. If you have a dress with a high neckline, a choker style necklace or something quite short works very well and adds even more interest to the neckline of your outfit. Pearls are an excellent choice if you are looking for something that will not get caught on your dress as their smooth surface makes snagging very unlikely on higher necklines.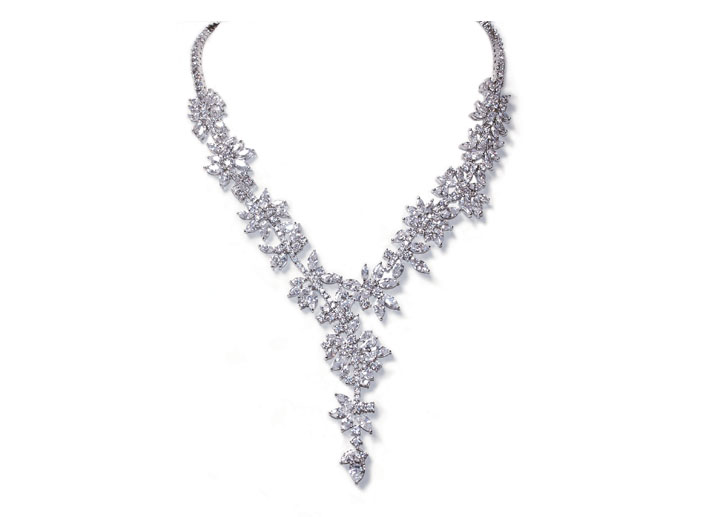 The addition of jewellery can be used to compliment your headpiece. By choosing jewellery that shares common elements with your headpiece, jewellery can become the glue by which your entire look is held together. It is also a great opportunity to practice artistic licence with your look; if your dress is plain the sky is the limit with your accessories! Alternatively if your dress is heavy on detail or embellishment, picking one element and mirroring it in your jewellery can be very effective. If your budget allows, consider introducing different accessories to your evening do to change your look. With all the options out there this can be an inexpensive way to change your look without having to change your dress! If you aren't going for a necklace how about a bracelet to match drop earrings? Do look out for bulky clasps or heavy embellishment as this could catch on your dress.If your hair is up, droplet earrings can be a wonderful way to draw attention to your hairstyle and add a bit of shimmer as you move, catching the light as you talk and laugh your way through the happiest day of your life.

Whatever you decide, make sure you try your jewellery with your dress before your big day just to check that it all gels together nicely to deliver the look you were aiming for.