Wedding Balloons - Let the Fun Begin!
What better way to add atmosphere to any venue, making a colourful backdrop for your photographs and video; balloons and banners can transform the look of your wedding and can brighten up any venue!

Balloons and where to use them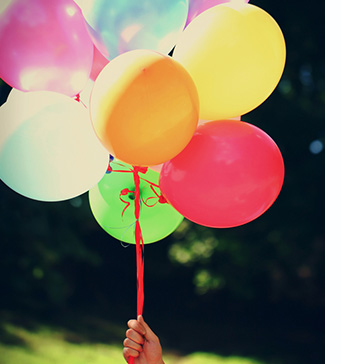 Table centrepieces/archways and sculptures - one of the most popular uses of balloons is to create stunning table centrepieces, colour co-ordinated to your theme. Additionally, balloon archways, sculptures and exploding balloons create the most spectacular effects!

Net of balloons - released over the dance floor is a perfect way to start the party of with a bang… quite literally!

Cloud of balloons - released as the couple leave the church or reception is a delightful spectacle for all to see, for miles around, and signifies peace and lasting happiness.

Floating balloons - attached to the going away car adds that extra touch to the traditional cans and boots.

Balloon in a box - you could even say 'thank you' to special friends and family with a balloon in a box, a slightly different present, with a personalised message.
Banner decorations
When banners are made well, they can look great! It is a lovely way to get across any message and leaves you with something to cherish from the day.

When deciding on how you want your banner to look, talk to someone about your exact requirements. What colour do you want your banner and what font will you want the writing? Banners can be printed in full colour, including pictures!

Banners are usually supplied on high quality photographic paper for indoor use, or on high quality vinyl for outdoor events.

You could even go as far as presenting a banner in the sky! This could be a lovely surprise for your guests, or maybe as a gift to each other, announcing your marriage by plane.
Have fun with our balloon ideas!
Balloon Printing

Celebrate your big day in style and have your balloons' decorated to match your theme. 'Mr and Mrs Jones, celebrating their wedding day.' This would look great if you choose to release your balloons, especially if you're getting married in your local area- lots of people will be able to acknowledge your wedding.
Balloon Archways

Balloon archways can look fantastic, especially if they are bright and colourful. Maybe you can't decide on a colour theme for your wedding, you could always pick lots of colours! Decorate an archway, a boring doorframe or even a garden fence- balloons can make your venue look a lot more exciting. Balloons will also make any venue look welcoming and friendly. We advise that you check the weather beforehand though; you don't want all your balloons popping on a windy, rainy day!
Balloons Inside Balloons

We love this quirky idea! If you have two main colours, for your big day, then this can work really well. Say, for example, you have chosen to go with ivory and red. Why not put the two colours together? Insert the red balloon inside the ivory balloon and blow them up together. This can make normal balloons look really sophisticated and a little bit different. Try blowing the outer balloon up a bit bigger, practise with different sizes and you could even use helium to make them float.

Balloons and banners may not be your thing, but if they are then we recommend having fun and trying something different. Not only can you use them to announce your wedding but they can also make your day look bright and colourful too.