10 Top Tips For A Marquee Wedding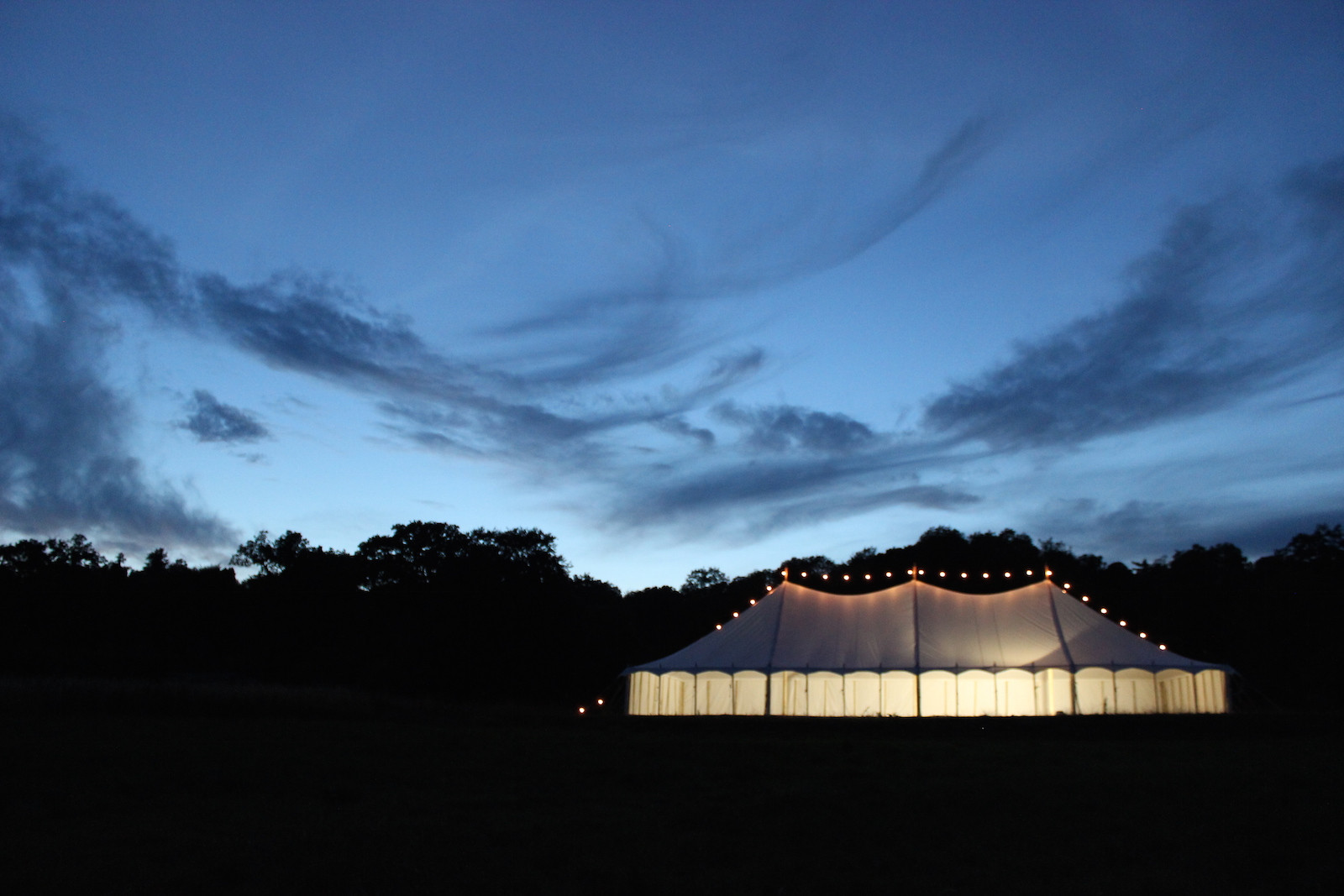 For the unpracticed, it can seem a daunting journey ahead – Where to start? One Six Events have put a few helpful pointers together which may just help you in the initial stages. Caterers and bands are amongst some of the important aspects, but One Six Events outline a few others too.
1. Research
Word of mouth is probably the first place to start. Ask friends and family for recommendations and their experiences. Online reviews are a good idea too. Don't be afraid to use their experience or ask for their views, the chances are you will find out something very useful.
When organizing your marquee wedding, there are many important elements to take into account. Which marquee firm to use, which cater to use. It's difficult to know which way to turn, however, find yourself a good marquee firm, they should be taking the hassle out of so much. Like with everything, it's important to go with your gut instinct, so if you get on with a particular supplier, and feel you can trust them with your important day, probably go for them.
2. Where is the marquee going?
It could be you have the space to have the marquee on your land or your parent's, friends or relatives garden. If these aren't an option, don't worry there are plenty of choices. There is something so special about a marquee wedding, and you can make them so very unique.
From a bit of research, you will find that there will be a number of options out there, such as country houses and farms, which let a area of their land for weekend events and weddings. Fiesta fields is a site where you can find fields to rent. The latter could seem more cost effective on the outset, and quite often you can find some amazing spots with stunning views, but just bear in mind things such as access, power, caterers, water supply, electrics. Dare it be mentioned, this can all be made very tricky if the particular field is prone to getting very soggy. You will more than likely be required by your suppliers to provide overnight security.
Spend some good time looking into the right spot, and ask whoever's land or house it is which supplier have worked there before.
From our time in the industry, we have worked with a number of venues and country houses, so we can talk from experience. This includes caterers also and really anything else you can think of.

One Six Events Traditional Marquee
3. Choose the right marquee for your location
If your chosen location is level lawns with an abundance of space around, then the marquee choice is totally up to you. There may be some limiting factors to your decision however so the following point may help you with this.
4. Which marquee?
This is down to a number of factors. As you will by now be aware, there are a huge number of options out there to choose from. Traditional marquee's, clear span marquees, domes, tipi's and stretch tents are amongst the most favorable. It is of course personal preference, and you might know exactly what you are after, great! But if this doesn't apply to you, then a brief summary on each marquee below. We hope it is helpful.
Traditional Marquees
These are constructed of wooden interior poles with central 'king poles' and can be canvas or PVC. They are secured by guy ropes and stakes, and can be erected on grass. These lend themselves well to vintage, shabby-chic or rustic themed events. You are able to add internal linings to these. The classic English country garden marquee.

One Six Events Traditional Marquee

One Six Events Traditional Marquee
Clear span Metal frame marquees
These can be installed virtually anywhere from a hard standing farm courtyard to a tarmac driveway. Very versatile structures, which once erected, have no internal poles or external guy ropes, so you have a clear room. These lend themselves well for tighter spaces or if you plan to adjoin a building to the marquee. The material is PVC, internally you are able to dress them with linings.

Richardson Marquees
Stretch Tents
A modern structure in design and probably more radical when compared with the traditional pole marquee. These are also very versatile structures and can be installed virtually anywhere. The material is stretched over the metal poles to create the open sided structure. They lend themselves well to summer functions ideally with warm, dry weather, but sides can be added.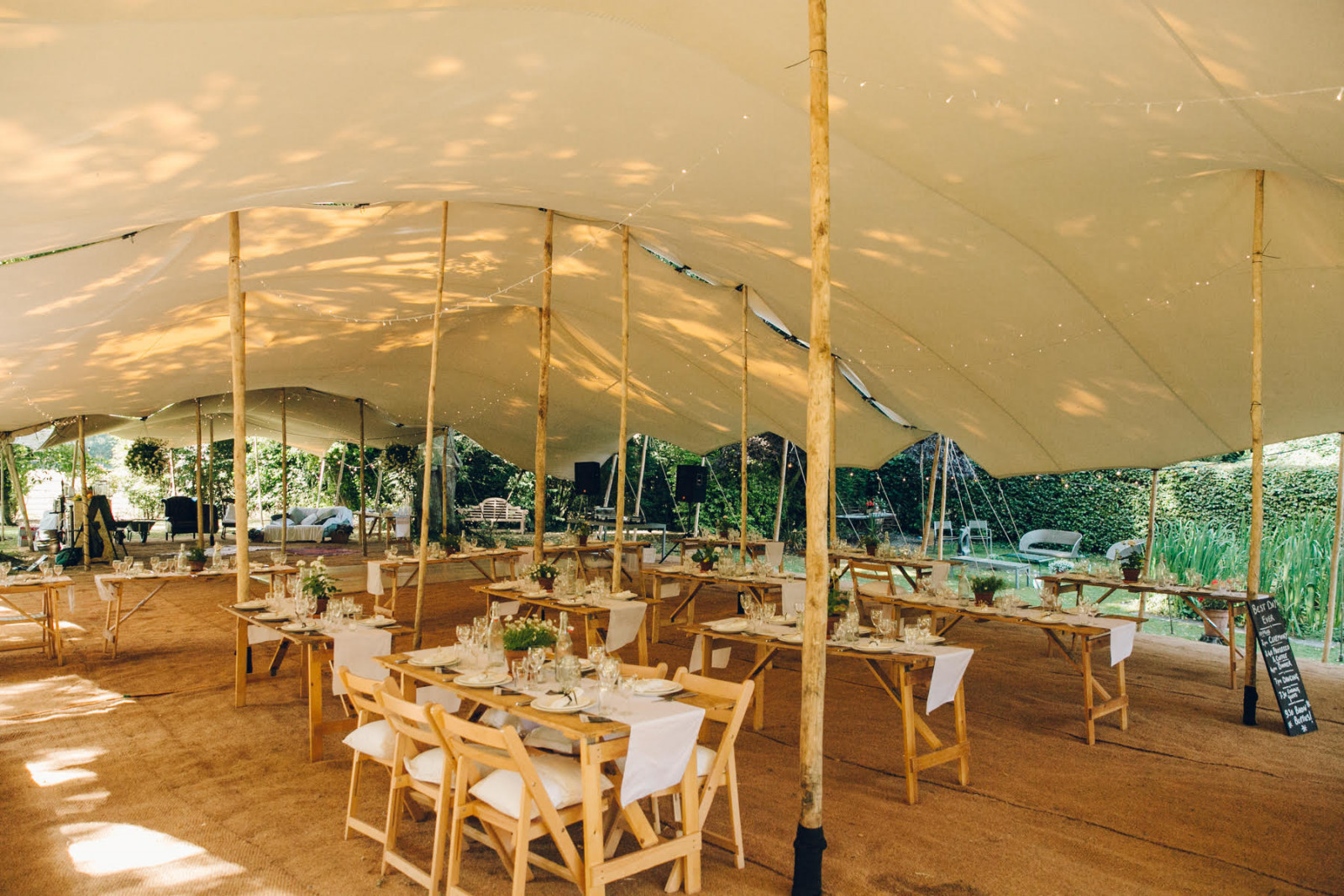 White Rose Tents
Tipi's and Yurts
In terms of design, these have been around for centuries. The designs are well known, and over the last 10 years or so have been increasingly popular as an alternative to the traditional or metal frame marquee. They can be linked together to create different larger areas and

Teepee Tent Hire

5. Lighting
Such an important aspect to any marquee wedding, moreover any event in a marquee. It is vital to get it right so that as the daylight dies, the marquee comes alive. Your marquee firm will guide you. All of our lighting is LED and probably our client's most popular configuration is LED uplighters together with a fairy light canopy and external festoon lighting over the marquee. Circuits can be put on dimmers so the fairy light canopy or uplighters in this instant can be dimmed if they are over powering later in the evening.
Externally, make sure you have enough lighting to the loos, carpark and any gardens and of course outside reception space. This doesn't need to be at vast expense- large lanterns, bamboo touches, or maybe festoon lighting marking these areas at low costs. You might have a particular willow tree or border you want lit. It can denote an area not to pass as well, for example so people don't go wandering around to the caterers.

One Six Events Traditional Marquee

6. What size of marquee do you need
Make sure you have enough space to allow for all the extras you will want inside. - Dining tables, bar, reception space, and enough space for caterers to gain access to all tables. The brits favorite topic – Weather. Yes we know… But really, do be sure to take this into account when booking a marquee. Be sure you have enough space for all of your guests to be inside, should the weather not be looking so good.
7. Power
Many venues will be wired in so you will not need to hire a generator. In circumstances where you do need to hire one, your marquee provider will be able to advise what you need. We liaise with our clients caterers, bands and other suppliers to be sure to get it right. For bigger weddings, consider two generators. It might seem an unnecessary expense, and for forbid it happen to you, but should that power cut, you'll be glad you paid that extra bit.
8. Design
Very important – The layout of the marquee must flow well. Consider when your guests first enter the marquee. You need to decide where the marquee will be positioned, where the entrance will be, do you need a cloak room, will you need a covered smoking area? Will you have elderly relatives who may need comfortable seating away from a dance floor? How much space will your band/ DJ need?
It's always sensible to draw a plan of the entire setup to make sure you are happy with everything.
One Six Events Traditional Marquee
9. Flooring
Is the ground flat and level? If it is your land or a relatives, you might be able to do without the extra cost of wooden flooring, but make sure you make good any dips, bumps etc. If you are worried about heels with matting and the ground is a tad undulating, then it might be sensible to consider wooden flooring, with single use carpet over. Note though, that wooden flooring will level bumpy ground, but it will still follow the grounds contours- An obvious one perhaps.
Any marquee firm will of course advise on this point on the site visit.
10. Heating
Cold guests is never a good thing. Females in dresses cold whilst sat during the wedding breakfast can really spoil the vibe and distract from enjoyment.
Generally speaking you should be fine June – August. Outside of those months we would advise one and it's one you should be able to decide closer to the time, but I would reserve one from the outset to be on the safe side.
To contact One Six Events to discuss a marquee for your own wedding click here.