The Spectrum | Supplier Spotlight
We always tell couples that live music makes a massive difference at any wedding. But finding the right band, who know exactly what to play, when to play it and how to get your guests up and dancing can be tricky. That's why we're pleased to feature The Spectrum below, one of the best party band's in the business. Just watch their videos for proof!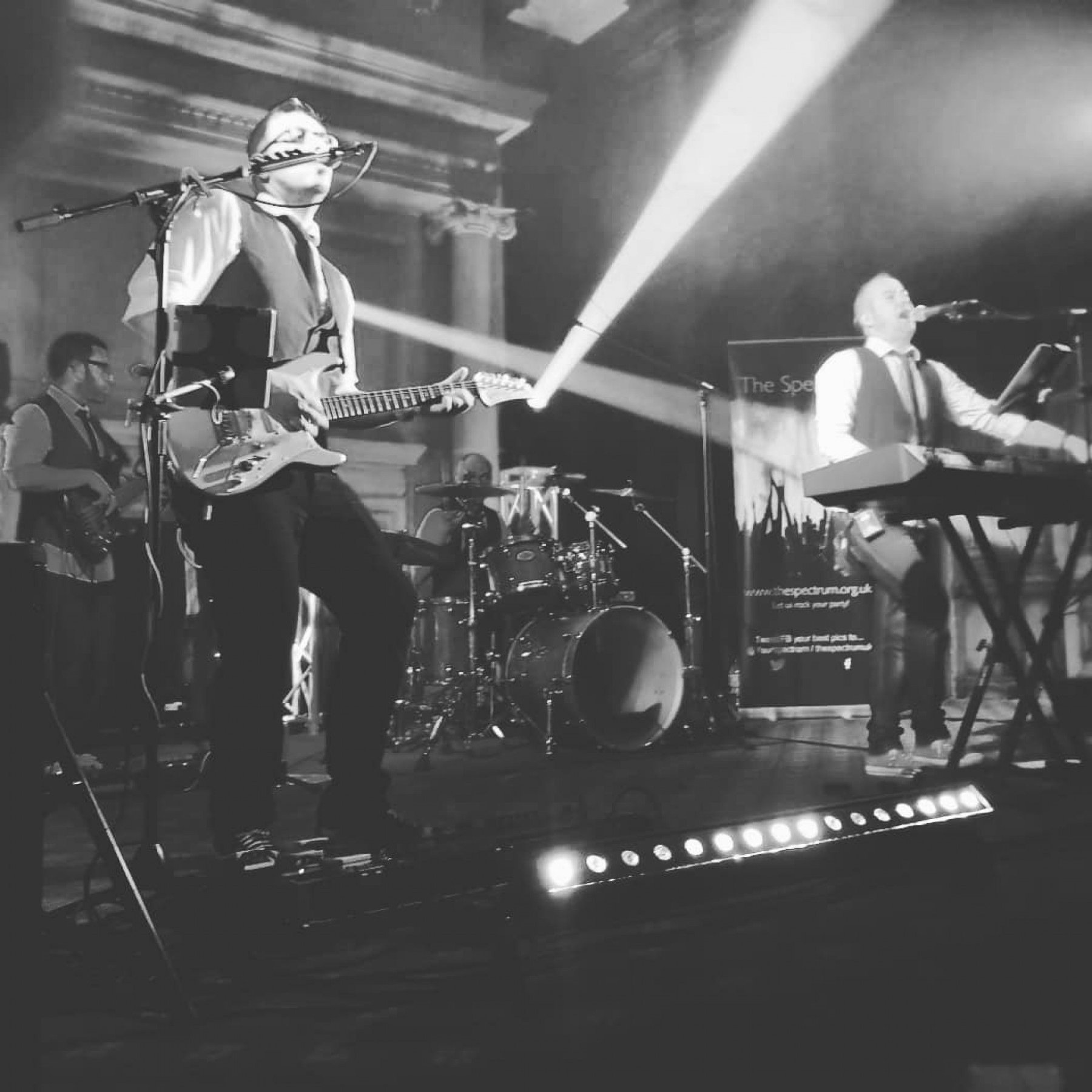 1. Introduce yourself, and the band, how did you guys form?
Hi! I'm James from The Spectrum and we are based in the West Midlands. I deal with all the band's communication, emails, planning and I even print out the sets for each event! We travel all over the UK playing weddings of all sizes.
We are all music professionals and have worked together for many years and as The Spectrum for the past 8 years.
2. What got you into music and playing at weddings? Do you have a favourite song to perform?
We all started to play our instruments from a young age and actually started playing gigs from the age of 12! Although not together…..! We have all been in bands that were trying to play our own music to (usually) uninterested audiences, around 10 years ago wedding bands were deemed to be a bit cheesy and with a setlist that made us shudder with fright! We planned to change that and only play songs that we would have at our own parties or special occasions.
Favourite song is such a difficult one!!!!
We always get asked this before we play at a wedding by guests around us and it usually sparks a big debate. I personally love to play for a couple's first dance and my top choice is Tom Odell's 'Grow old with me'. The piano sounds great and it's one I love to sing. Of course there's the big tunes by Kings of Leon, Oasis etc and of course Mr brightside but the other Killers track that we play that we all love is 'All these things I have done'. When a wedding reception has really got going and you feel the party is ready we play it….not too early, not too late in the set - it goes crazy! I hit the intro chords and the rest of the band just know. That's something you get from playing in a band with the same members for such a long time….everything flows!
3. What makes you stand out from other bands?
Great question! To answer this I would say that when we play our sets for a wedding we understand the audience and most importantly what the couple want from their wedding reception. We also don't give time between songs to let the dance floor fall flat, our songs are almost seamless and we have crafted our sets to 'flow' and give the guests the best time.
Another stand out feature is that we always go out with a professional sound company to mix us when we are playing and supply a complete dj service. When you are onstage playing you have very little ideas on what it sounds like out the front as a guest. When you sound check in an empty room it's completely different! So when we were putting the band together we decided to use Chamberlain events who work with us on every event. Venues, suppliers and guests always comment on our sound quality and clarity.


4. If you could provide entertainment for any celebrity wedding, past or present, who's would it be and why?
We would have loved to have played for the Duke & Duchess of Cambridge's wedding. We reckon Will and Kate would have really gone crazy! Plus we always love rocking a castle!
5. From your industry experience, what's your top tip for couples looking to book a band?
For us it's an easy one - ask to see live video footage. Then check that the band will be the same members, (all bands have dept if someone is ill) but permanent members that are used to playing the set that will rock your wedding!
Oh…..and don't book someone's friend from the pub who 'plays a bit of guitar' for your wedding. It might be cheap but it's the most common reason that one month before a couple's wedding they get let down and you get frantic couples looking to book a band on a Bank Holiday weekend!
6. What can we expect to see from you in the future?
We have been spending quite a lot of time at home recently!!!! So looking at new songs, mash ups and generally building the excitement level for upcoming weddings. We can't wait!