Late Night Wedding Snacks!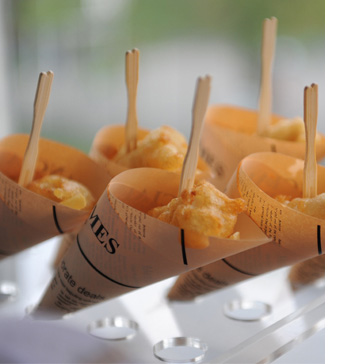 Dinner is over, the cake has been cut and the speeches are over and done with…now the party starts.

Of course, it is important to keep your family and guests entertained and happy for as long as possible they have come a long way and it will probably be the last time you manage to get everyone together for a while.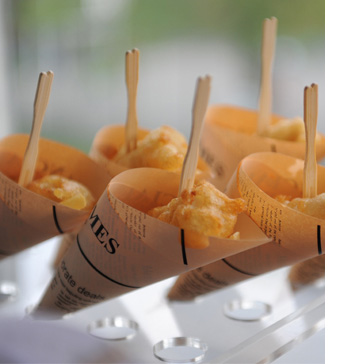 There are few greater moments during a wedding than when you're several gallons of red wine down, at around midnight, and suddenly waitresses appear offering extra nourishment of an unexpected variety. The question is what to serve.

There are loads of pop-up options that tick the box for late night wedding snacking but they need to be really well thought out, combining great food with creative presentation and delivery. It really is no wonder that the late night snack has been growing in popularity in recent months. This will not surprise you after you see some of these delicious ideas.

Our number one rule is to keep it reasonably simple. The food should be comforting, warming, not too big, with lots of choice of both sweet and savoury items. If you have the space, serving the food from a long table is ideal for guests to graze from. So simply a selection of cheeses and charcuterie with chutneys, interesting breads and biscuits and a selection of fruits is easy and always popular. At the same time, waitresses can be circulating with mini portions of your favourite food – bacon and eggs, kedgeree, lobster sliders, mac 'n' cheese with fries, fish and chips, steak baguette or croquet monsieur. A classic combination like tiny grilled cheese sandwiches and a little cup of tomato soup can feed the soul as well as the stomach.

If you have a bit more budget to play with, your caterer could set up various types of stalls. Waffles or crêpes can be made to order with a variety of fillings such as chocolate, cheese and ham or simple lemon and sugar with whipped cream. For a more savoury option a taco bar or Raclette cheese station with delicious new potatoes to dip into the cheese is a great pick me up when you have been dancing for ages.

Coffee and doughnuts anyone? Coffee served from a personalised cup with a mini doughnut on a stick, sitting on top, is a great sweet finish. You can also have mini cinnamon rolls instead of doughnuts.

If you really have a sweet tooth at this time of night then what better to tempt everyone with an usherette tray filled with the most tempting mini desserts such as chocolate mousses, macaroons, salted caramel lollipops, mini lemon meringue pies or sugar cones filled with fruit mousses.

You can have a bit of fun with packaging and personalise your containers with the bride and groom's name on any cones, cups or wrappers.

The main thing to remember is that the possibilities are endless when it comes to choosing what to serve as your late night snacks so just keep it simple, serve what you love and you'll have your guests dancing the night away!