Supplier Spotlight: Live Lounge Music
We've all been there, awkwardly clapping along to an embarrassingly sub-par function band who probably haven't tried any new material for 15 years, and who optimistically believe that they're the next Oasis. A good band can truly make or break a party, and I'm sorry, but that's just not a risk we're willing to take with your wedding (see all our musicians and entertainers here)! That's why we're thrilled to introduce you to the amazingly talented 'Live Lounge Music', a Yorkshire based trio who will blow you away with their innovative and unique arrangements of songs you love. Over to the band to tell you all... http://youtu.be/CIEboL-JyK0 Introduce yourself, and your business, and tell us a little known fact about you! We are Live Lounge acoustic trio from Yorkshire and have recently won Best Newcomers 2013 in the National Entertainment Awards. We are: Michaela Glover (vocals), Howard Nash (violin) and Chris Taylor (guitar and backing vocals). As the name suggests, we like doing unusual or unexpected songs and in a style that is unique to us. That's why we use the line Live Lounge – Dare to be Different! A little known fact about us is that we've written and recorded a special song for the Tour de France in Yorkshire this year, called Le Grand Depart. You can hear it here https://soundcloud.com/liveloungemusic/le-grand-depart Why did you start the band? And how long has it been going? We have only been playing together for two years, and the first year was with a different guitarist. We met at a local pub, doing open mic sessions, realised we had a great sound and developed the business from there. Within a couple of months we had secured an engagement at the Cavern Club in Liverpool, weddings at presitigious venues like Hazlewood Castle and a December/New Year residency at the New Ellington boutique hotel in Leeds.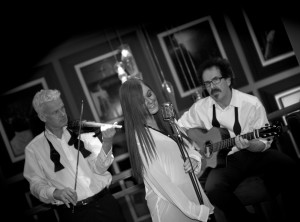 Where do you get your inspiration from? Our musical inspiration is incredibly diverse, not surprising as Michaela is in her early 20s and Howard and Chris are slightly older!! We love songs from the 60s like the Beatles, through Bon Jovi and Van Morrison, to Killers, Gotye and Lorde. Obviously we get special requests from wedding couples for first dances and we enjoy the challenge of those. Some of those songs we like better than others, so they stay in the set and we keep performing them. We've got about 80 songs in our repertoire now and it grows all the time What makes you stand out from other Wedding bands? Almost everyone that books us and hears our music comments on the 'difference' in the sound. Even a Grammy award-winning composer and producer has said so (so it must be true!). It is difficult to put your finger on, but we think it's the combination of Michaela's amazing vocals, sweet violin lines (that often play the parts you'd expect from a lead guitar), and complex guitar backing and vocals from Chris. Some of the arrangements are also so different to the originals – for example, Mr Brightside by the Killers is more like a ballad from us than a heavy rock anthem. We have recently slowed down our version of Use Somebody (Kings of Leon) just to try a different feel to a song we have played for a long time What do you like to do outside of work? We have very different lifestyles away from the music. Michaela has recently bought a new house, so is decorating and improving the garden inbetween doing hair extensions as a sideline. She also has a new day job, so she's busy busy. Howard has a part time job in Enterprise, helping new businesses start up in the Bradford area, has two boys at school, one at university and a partner who lives in Italy, so there's not much spare time for him either. Chris is the only 'full time' musician, and is a very talented songwriter as well as having his own solo career as a guitar/vox performer.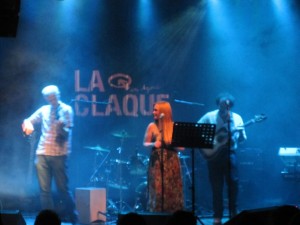 If you could attend any celebrity wedding, past or present, who's would it be and why? It would have to be someone from the music industry who would have had fantastic live music ad performers at their wedding. Someone like Paul, McCartney, Elton John or Jon Bon Jovi. From your industry experience, what's your top tip for couples? Well, we would say this wouldn't we, but our advice would be to spend enough on your entertainment to get quality (and we acknowledge it is not a cheap thing – to have live music at your wedding). Think about the options, we can do instrumental or vocal music to order for a ceremony, drinks reception/meal and evening entertainment. Also, we are a lot busier this summer than last year and are confirming quite a few dates now in 2015, so son't leave it too late. We have had to disappoint several couples this year because we are already booked What can we expect to see from you in the future? Musically, we are developing all the time and we are ambitious to try new songs, styles and technology to enhance the live sound. We already use a harmoniser on the violin (to give the sound of more than one violin or a cello!), and are starting to use vocal effects and looper. We know these things have to be used sparingly, but people are already suprised how full and complex our sound is with just 3 performers, so these will only add to the experience We went on a short tour of Genova in Italy last Autumn and played some amazing gigs in theatres, bars, museums and also busking in beautiful locations. We'd love to do weddings abroad as well! Can we have a listen? Obviously people need to be able to see and hear what we do before they book us, so here's a few links that might be helpful https://www.youtube.com/LiveLoungeMusic https://soundcloud.com/liveloungemusic www.liveloungemusic.co.uk https://twitter.com/LiveLoungeMusic https://www.facebook.com/liveloungewestyorkshire If they live near enough, and there is enough time before the wedding, we also invite couples to come and see us play live at a public performance, like a bar gig. This reassures them they've made the right choice, but also gives us a chance to meet and chat before the wedding day – it's nice to build that relationship before the actual day Here's a taster of what we look and sound like https://www.youtube.com/watch?v=CIEboL-JyK0 https://www.youtube.com/watch?v=1S7JaSX8v80 https://www.youtube.com/watch?v=K4Gxwn2MLdk