Why you should choose artificial flowers for your wedding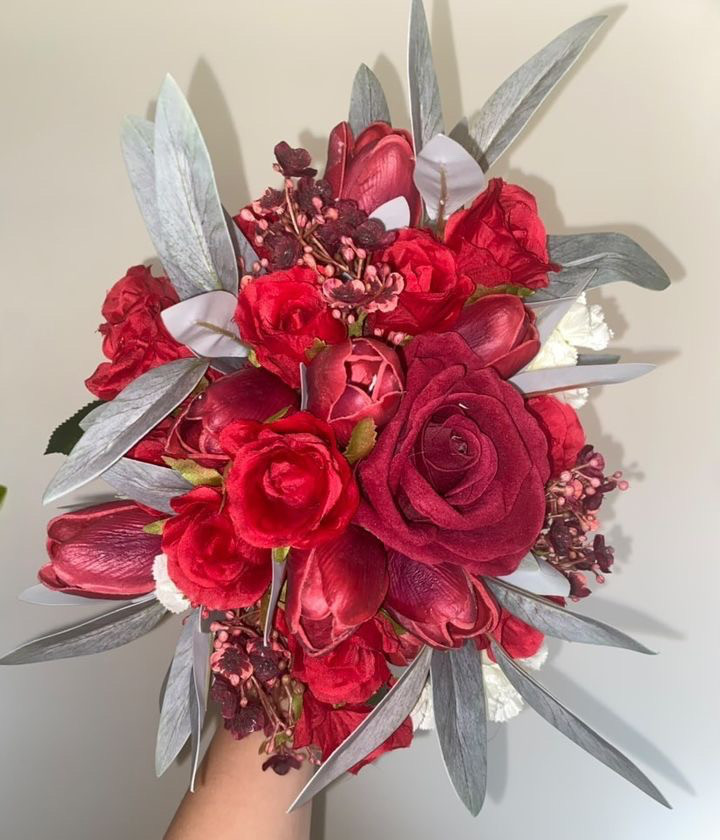 We've spoken to Lucy from The Petal Parlour to find out more about artificial flowers and the advantages of choosing this option for your wedding.
How long have I been working with artificial flowers for weddings and events? And how and why did I get into that space?
I opened The Petal Parlour , in January of 2022, after successfully completing a floristry diploma in 2021. I have aways had a keen eye for detail and was happiest having creative freedom. Planning my own wedding, only surged this interest, and I soon realised that working with flowers was what I wanted to do. Having this knowledge of the floristry industry, opened up my eyes to the gap in the market for artificial flowers. Since starting the business, I have been lucky enough to be booked for many weddings and events.
As I was making decisions for my own wedding, this gap in the market became more apparent by the day. As a December bride, it was aways going to be artificial flowers for us, but I was shocked to be quoted the prices that I was. We all know weddings are expensive, but I don't believe this is fully appreciated until you begin budgeting and all the little costs creep up. It became my aim from that point to create a service where couples didn't need to compromise quality in order to be budget friendly. That is the basics of how The Petal Parlour was created.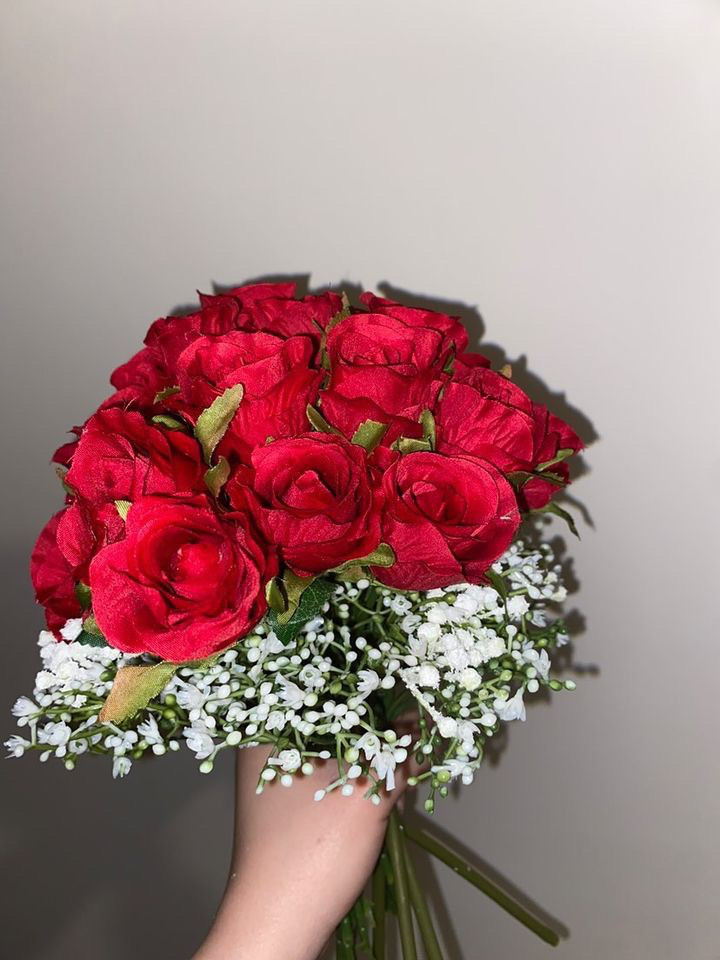 What are the advantages for artificial flowers over real?
When planning your wedding, it is so important to do what is right for you! I think sometimes there is still a lot of skepticism around artificial flowers due to the misunderstanding that they look 'plastic' , 'cheap' , or 'fake'. These are just some misconceptions which have been thrown around , before couples had seen my products in person. Of course there will aways be a difference between artificial and real flowers, but I work incredibly hard to close that gap as much as possible. I constantly try out new products and work closely with my suppliers to provide the best service I can. I use the highest quality silk flowers and foliage. I can also provide you with 'real touch' flowers, which as the label suggests, feel like real petals.
One of the big advantages to using artificial is of course they typically are more budget friendly than real. With the increasing prices of the flower markets and stock, my prices are able to stay at a constant without fluctuation, and this often brings some comfort to couples ,as it alleviates further financial pressures. Not only is it more budget friendly, it also gives some additional choices and freedom to the couples. Artificial flowers are not season dependent, which means, given adequate time, I am able to source pretty much any flower, and of any colour. This allows an increase of creativity and often allows couples to incorporate flowers of meaning into their day. For example a specific coloured flower to represent a loved one. It also allows the flowers to match more closely with the theme set.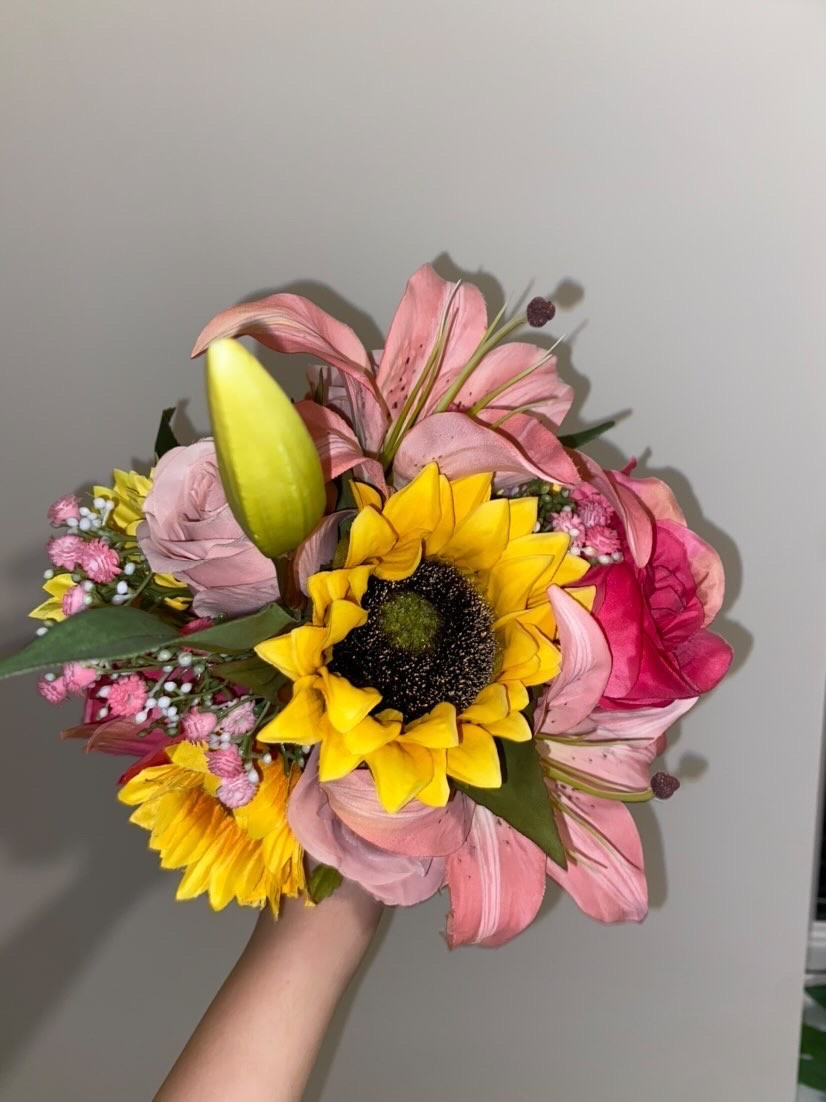 On a more personalised approach, it is great for those who suffer from hay fever , or who are allergic to certain plants or flowers. With them being artificial, they are hypoallergenic , which is a huge benefit. Similarly, they are great for weddings that have animals or children present. Lots of plants/flowers can be poisonous to animals and humans or can make them quite unwell. Having artificial flowers on your big day eliminates this risk. On a more sentimental point, lots of my brides love the idea of having artificial flowers as this means that they can keep their bouquets for years to come. The bouquet holds such special memories, and Brides find it reassuring that they can keep this as a reminder of their day. Some have even kept them safe for their daughters/granddaughters, which I think is so special. Because artificial flowers keep so well, they are ideal for travel and therefore are becoming more and more used for destination-based weddings also. They are lightweight and easily secured, which makes transporting them super accessible
Some of my favourite creations
Please enjoy looking through some of my favourite creations so far. I have tried to pick out designs which highlight different colour schemes and flowers used. Please note that I work closely with my clients to bring their vision to life, whatever the colour scheme or theme of the wedding is.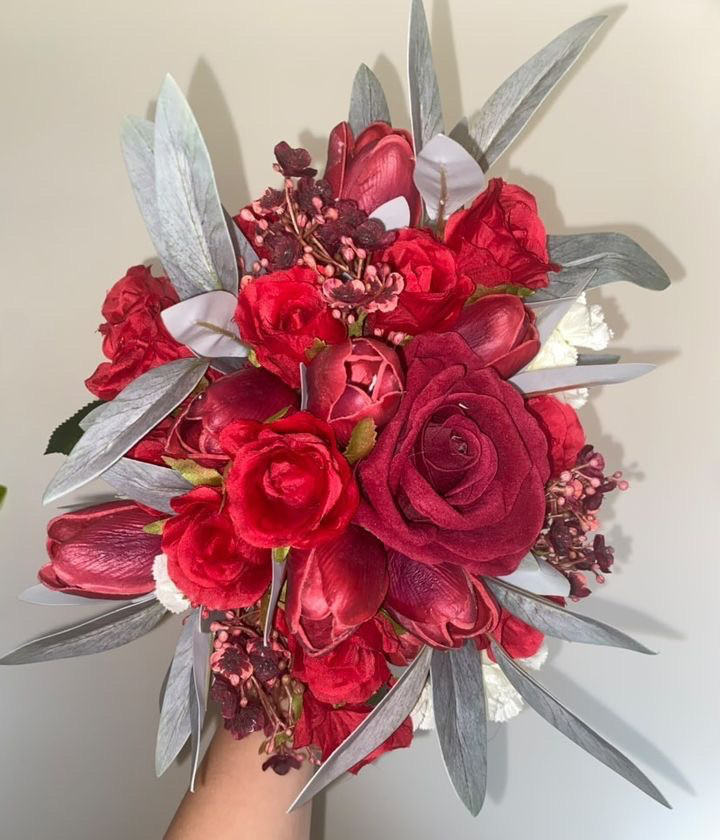 How long in advance should couples look to get in touch if they're considering artificial flowers?
As a rough guide, I would suggest six months before your wedding is the latest you should leave it to get in contact. This is due to my availability, but also to ensure that the couples are able to pay the lowest rate deposit. Having this time, enables me to find the best products for the couples and ensures that the couples can pay via a payment plan rather than one large payment, if they wish to. Ideally, if you enquire 9-12 months before your wedding, you are giving me, and yourself the best possible chance of acquiring all the right flowers and making it most cost-effective on your side. If you are considering artificial flowers, please do get in contact to arrange a telephone consultation/ zoom call to discuss your queries.