Sweet Treats for Your BIG Day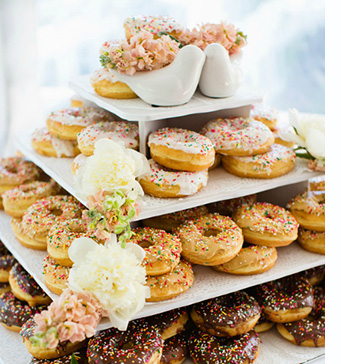 Looking for a fun addition to suit all ages? Chocolate fountains are the must have attraction for weddings. They look great and they taste fantastic! What's not to love? However, it doesn't just stop there… there are plenty of fun and tasty treats, on the market today, that you can incorporate into your wedding.


Warm chocolate is propelled upwards and then cascades down off the tiers while guests dip fruits and other accompaniments in to it. The most popular dips are strawberries, pineapple, cherries, grapes, pretzels, marshmallows, chocolate fingers, fudge and caramel squares. Any food items that go well with chocolate can be dipped! Go crazy!

Be aware, however, that crumbly-type food may fall into the fountain and cause the chocolate to go lumpy- not so tasty.

You could use a chocolate fountain as part of your dessert. However, you could also use it for your evening guests. If you hire somebody to watch over the fountain, you could have it running for the majority of the day. Nobody ever gets tired of chocolate, do they?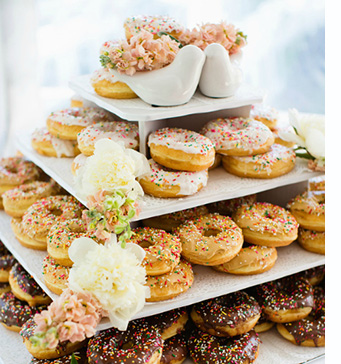 Hiring a chocolate fountain:

Hire includes the services of operatives, who will provide assistance for your guests. They will replenish dips and keep the area clean and presentable.

They will also maintain a warm temperature of the chocolate, which is critical for it to fall in the way that it does. This could be difficult in an outdoor setting and flying creatures are very likely to be attracted to it!

Ask the total cost for the complete package.

Does it include the dips?

What are the dips?

How much chocolate is provided and is there a choice of flavours?

How long will it be available?

How many operators will be provided?

Will they be uniformed?

Are accessories such as tablecloths, wooden skewers, napkins and table decorations included in the price?

Other sweet ideas for your big day


A chocolate fountain works great but there is no need to just stop there. Why not have a 'pic' n 'mix' stand, a fish and chip stall or even a candyfloss machine?

Here are our top 4 sweet treat ideas and one savoury idea:

1 Dessert Table:

If you are trying to save money, consider having a dessert table for your big day. Essentially this is just a table made up of yummy, scrummy food. Think cookies, cupcakes, pies, doughnuts, macaroons, brownies, sweets… really, the list is endless. The way you present your dessert table is important; try keeping the different foods separate. A great way to do this would be to make tiers on your table. Think creatively and try incorporating your table into your theme, if you have one that is. You can pick up some really great cake stands, mix these with some stylish platters and bob's your uncle!

2 Candy Floss Machine:

Candy floss is becoming a main sweet treat for many events, especially weddings. Why not set up a candy floss machine next to your chocolate fountain? YUM! Children will love this option but so would many adults. It's a timeless food that people love and it is also something light enough to snack on, throughout the day.

3 A Candy Buffet:

If you have a sweet tooth then this is definitely for you. This is much the same as a 'pic' n 'mix' stand, however, it's in the style of a buffet. You could have this running all day or maybe, just for your desserts. It's a nice idea to let people have a jar and they can go fill it up during the day- this could even double up as your wedding favours. Many companies will provide jars and pretty ribbons, along with this service.

4 Ice Cream Van:

Last but not least, why not have an ice cream van? This would work best in the summer and again, at an outdoors ceremony. Not only would it appeal to any children at your wedding but it would also satisfy many of your older guests. You can't beat a 99p Flake now, can you?

5 Fish and Chip Van:

A quirky, wonderful idea!, it may not be sweet but it's still fabulous. This would work best if you were having an outdoors event. Imagine this… your ceremony has finished, your guests have eaten their meal and your evening do is about to begin. A few guests are getting hungry again and your evening guests are arriving soon… expecting food! Provide them with a fish and chips van and everyone's going to be happy! You could tie this into a theme quite nicely too… especially a seaside one. But, come on, a chip buttie, late at night, would be a perfect end to the evening!

Think about your wedding day theme and try to incorporate something different and quirky. This can really add to the feel and excitement of the day.

These ideas will work for all ages and can run alongside your chosen menu. You could even just have this in the evening, for any guests who weren't present at your main meal. Talk to your caterers about any ideas they have and try to work it into your wedding day plans. You won't need to break the bank and it will leave your guests with something to remember!

Banner image courtesy of: Doug Miranda Photography - www.Borrowedandblue.com
Article image courtesy of: Brandon Kidd Photography - www.Greenweddingshoes.com