Oh So Perfect Advice: Wedding Day Timings
This month's question for our resident agony aunt, and wedding expert, Samantha, is one which we get asked ALL the time. After all, there are SO many elements involved in a wedding day, and often many different suppliers to coordinate, it's easy to feel very overwhelmed! Today, Samantha helps our bride (and you!) with the tricky task of wedding day timings...
"We're having a DIY marquee wedding this summer, and with the absence of a venue to tell me what to do, I'm really struggling to work out the timings for my own wedding! How long should I leave for dinner and speeches before the evening guests arrive? Will 1 hour be long enough for a drinks reception? Help!"
It can be quite difficult working out the timings for your wedding if you've never planned a big event before, as the last thing you want to do is plan an unrealistic wedding day schedule which your suppliers struggle to keep up with! That, or you might find your guests feelings a little bit lost and forgotten or otherwise rushed at various points in the day.
It is important to keep a good, steady pace throughout your day, and to not attempt to fit too much activity into a short period of time, or indeed leave long empty periods between entertaining points in the day that can really disrupt the party atmosphere.
Fear not though, as below is a rough guide to planning your timings on your wedding day, whatever your plans…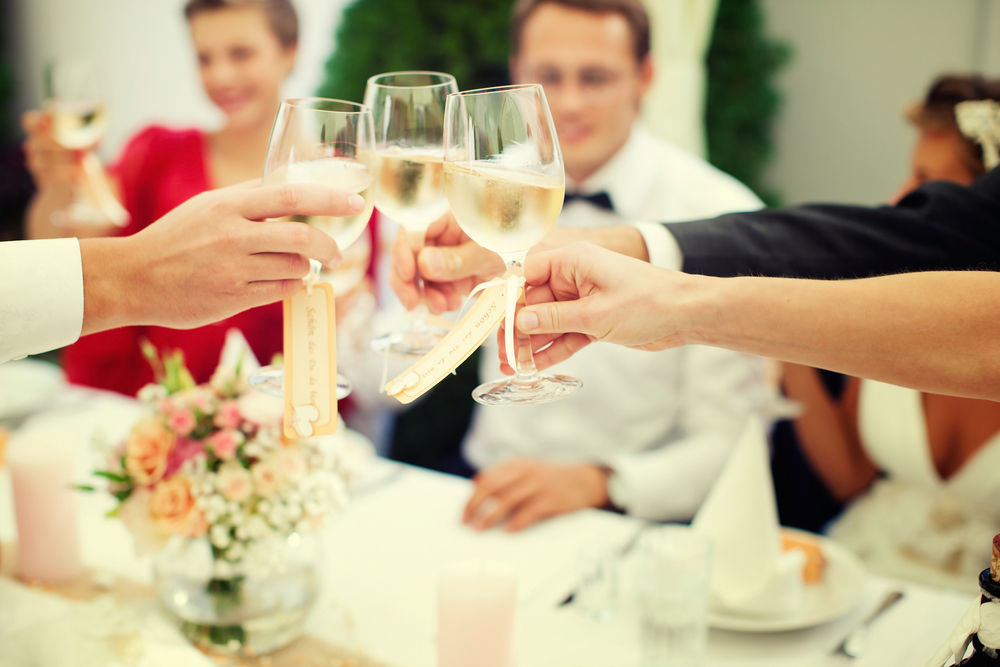 Getting Ready
No matter how low maintenance you may believe yourself to be, it is always important to make sure you give yourself and your party enough time to get ready on the morning of your wedding. It may only take you 30 minutes to do your hair and make up on a normal day, but this definitely isn't any normal day at all! Not only might there be a fair few of you waiting to get hold of the hair tongs, you'll also be busy having fun, sipping champagne, chatting, giggling, and taking photographs, so give yourself a good few hours of getting ready time – it's all part of the fun, after all!
The Dress
At Oh So Perfect, we always make sure our bride is in her wedding dress an hour before the ceremony, to allow time for photographs, make up touch-ups, and for generally getting comfortable and taking some time to breathe and relax under all those layers! It can take up to 30 minutes to put on your dress too, so make sure you give yourself plenty of time, especially if you have a complex set of corsets, laces and buttons to do up at the back.
The Ceremony
Depending on whether you marry in a church, with a registrar, or by using an independent celebrant, your ceremony may differ in its length from anywhere between 20 minutes to one hour. Even so, it is good to get your guests arriving about 30 minutes beforehand, and ensure everyone is seated before the bride arrives. After the ceremony, head straight out into your drinks reception, or on to the waiting transport to move you to your next venue, as any waiting around may confuse your guests as to where they're going next.
Receiving Line
It is traditional to hold a receiving line either at the exit of your church ceremony, or later on in the entrance to the wedding breakfast. Although traditional, most couples now opt to leave this out of their day altogether, and we couldn't recommend this more!
A good receiving line can add around 30-45 minutes to your day, and may cause an uncomfortable queue leaving guests feeling a little bit impatient and bored. It's far better to factor 20 minutes of time into your drinks reception to mingle freely with your welcoming guests, than to have them formally stand and greet you.
The Drinks Reception
Your drinks reception should be no shorter than one hour, but certainly no longer than two! 90 minutes is about right to give your guests plenty of time to drink, laugh, mingle and chat before they begin to get tired on their feet. If you have a smaller party of guests, 60 minutes is ample too.
Plan with your photographer to start your couple portraits as soon as possible after the ceremony as your guests will be eagerly awaiting your return to say their congratulations to you. Ensure group photographs are taken at the start of the drinks reception too, so that your guests are free to mingle afterwards - save trying to round them all up again for photos later once they've already dispersed around the venue.
Aim to finish your couple portraits with at least 20 minutes to spare at the end of the reception, allowing you time to relax, freshen up and spend some time with your guests before the wedding breakfast call through.
Call Through
For bigger parties of 150 guests or more, we recommend you call through to dinner about 30 minutes before food service is scheduled to start. For smaller groups 15-20 minutes is plenty to get everyone freshened up and seated before you are formally announced in to the room.
Ask your ushers to circulate amongst your guests during the drinks reception and remind people to check the table plan ahead of the call through to dinner. Also, position someone next to the table plan to help guests in finding their names and seats, to help speed up their entrance into the dining area.
Dinner
As a general rule for any three course sit down meal, we recommend you allow 30 minutes for a starter, 60 minutes for the main course, and 30 minutes for dessert. These timings include the course being served, guests eating their food, and the plates being taken away afterwards. For exceptionally large weddings, you may need a total time of up to 3 hours for dinner. For smaller weddings, perhaps include a round of tea and coffee into your 90 minutes so as not to keep guests waiting at their tables towards the end of the meal.
In any case, always speak to your catering team to gain a clear idea of how long you should leave for the dinner service. They know their own team and their timing capabilities better than anyone!
Speeches
If ever there is a moment in the wedding day most likely to disrupt your planned schedule, it is the speeches! No matter how simple and short you think they may be, never underestimate the full length of a good speech once a confident speaker gets going!!
So often our brides tell us "don't worry, we're only having a few speeches and I've told my dad/fiancé/best man to keep it short!" but truthfully, we've seen those same brides sat an hour into the proceedings, still listening to Dad wittering on about how proud he is of his little girl, with another 30 minutes of material stuffed up his sleeve yet to come!
We typically advise allowing 45 minutes to one hour for your speeches, as a worst case scenario. Or, 10-15 minutes per person.
If you have lots of speeches planned from multiple speakers, or if you know they'll all likely be long ones once they get going, perhaps consider breaking them up throughout the day. For example, have the Father of the Bride and the Groom give their speech during the drinks reception, with the Best Man going alone after dinner, and anyone else who is contributing saying a few words as you cut the cake, or before your first dance.
Nervous speakers sometimes ask to give their speeches before the meal, so that they can relax and eat afterwards. Whilst we do sympathise with this, we would advise you to carry out your speeches between the main course and dessert, as if your speakers talk for longer than planned, this may disrupt the timings in the kitchen and allow food to go spoiled, and your hungry guests will begin to fidget at their tables in the hope of dinner being served soon!
Evening Guests
If you are inviting evening guests to your wedding, it is best to time their arrival to start approximately one hour after dinner is cleared, as this will allow for any overspill of timings during the wedding breakfast part of the day, and give the venue time to do any clearing-up and moving around of the room.
If possible, have a designated area for your evening guests to arrive in, with access to a bar and some form of entertainment. This way, if your day is running over a little, at least your evening guests won't feel as though they're waiting too long to join you, or even worse, as though they're crashing a part of the wedding they weren't invited to.
First Dance
A first dance usually starts around 8 or 9pm, essentially within the first hour of the evening reception. Even with the DJ spinning the best tunes, many of your guests will feel as though they can't take to the dancefloor until you have, so try to have your first dance as soon as you're ready, as this will allow the party to really get started!
Carriages
It is up to you when you choose to call an end to your wedding day – you may never want it to finish! Guests will typically begin leaving around 11pm though, so midnight is a pretty good formal finish time for most. But remember, if you're staying in a hotel with a night bar, or indeed if you're having your wedding on private property, you're free to carry on your celebrations in to the night with those guests who are staying. Just remember to ensure permission from the venue to party on into the small hours, and be cautious of any noise curfews in the neighbourhood!
Samantha Kelsie is a professional celebrant providing bespoke wedding and commitment ceremonies to couples all over the UK and Internationally.