10 Great Save The Date Ideas
Sending a Save The Date to your wedding guests is a fantastic way to ensure everyone you care about will be able to make the day. Traditionally, formal wedding invites are sent out just 4-6 weeks before the wedding, but leaving it so late to inform your guests of the date runs a risk of them being on holiday or otherwise engaged. Save The Dates are typically sent out out 6-12 months in advance, and carry little other information than the date and location of the wedding.
There are many different ways you can choose to do Save The Dates, from simple and functional, to whacky and fun. Some couples choose to use the Save The Date to hint at the theme of the day, whilst others take the opportunity to do something a little silly!
Click here to find see all wedding stationery
Here are 10 of the best Save The Date ideas:
1. Engagement Photo
Did you manage to take a cute snap when you got engaged? These make fantastic Save The Date cards and can be easily printed from an online printer such as Vistaprint, or emailed as an e-vite, along with the date of your wedding printed underneath.

Source
2. Balloon
'Inflate and Save The Date' balloons are a popular choice for those looking for a bit of fun from their Save The Dates! You can make them yourself (although you should definitely get the balloons printed professionally as writing on them is super tricky!) or you can order them online, like these ones found on Etsy.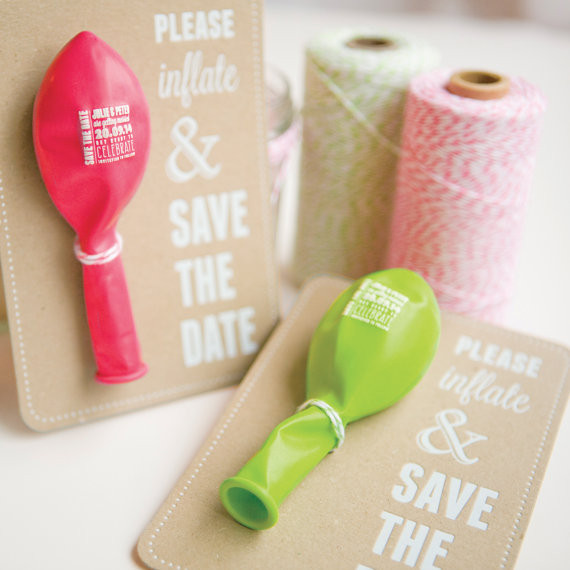 Etsy
3. Online Evite
For those looking for something quick, cheap and easy (not to mention environmentally friendly!) an online evite might be the answer. You either design something yourself using free editing software like Canva.com, or, you can use a website like Paperless Post, which provides hundreds of Save The Date templates you can edit and email out through the platform. We also LOVE that Paperless Post is able to collect postal addresses from your guests by asking them to repsond to your Save The Dates - saving lots of hassle when it comes to sending the formal invites out later!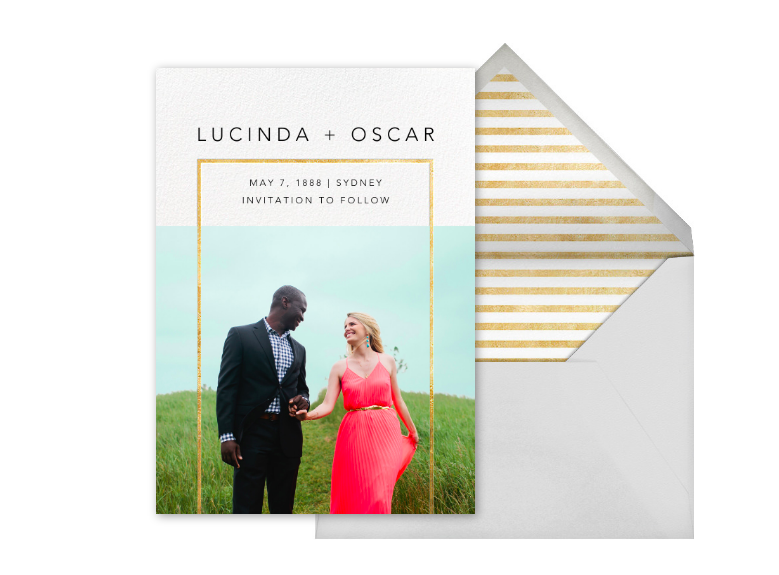 Paperless Post
4. Matching Stationery
This matching stationery suite is a great example of how you can create continuity and show your wedding theme across all your wedding stationery, starting with your Save The Dates and continuing into your wedding invitations. Many stationers, or in this example, Vistaprint, are able to provide a whole stationery suite which matches all the way through to your menu cards and thank you cards!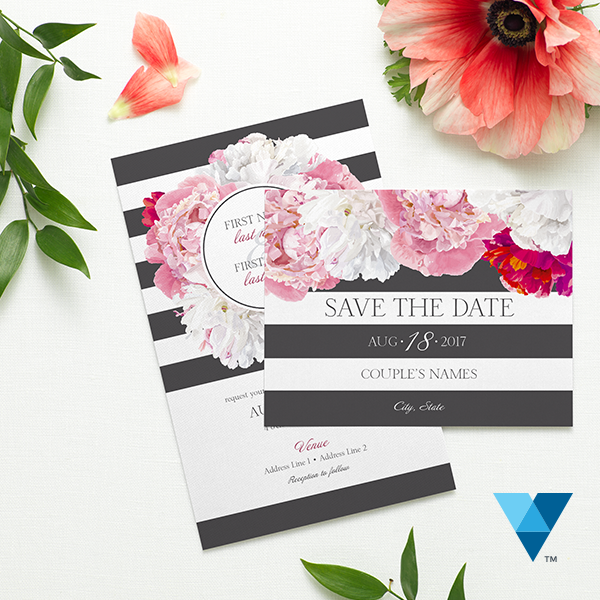 Vistaprint
5. Fridge Magnet
What better way to make sure your guests don't forget your wedding date, than to have it stuck on their fridge?! You could use a photo of you both uploaded to a website like Vistaprint, or you could order bespoke magnets from somewhere like Not On The High Street, as below.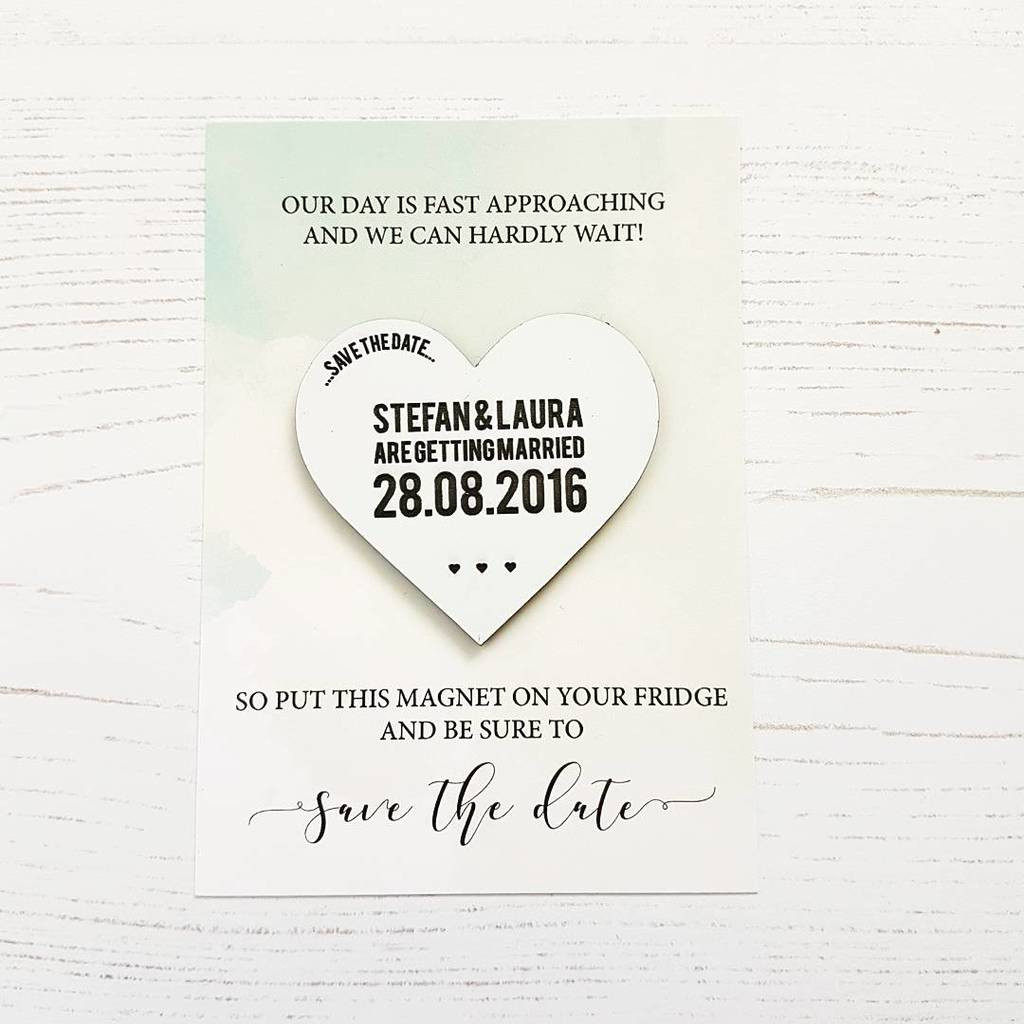 Not On The High Street
6. Postcard
Did you get engaged on holiday? Why not look online and order some post cards from your special holiday, and send them out to guests with a hand written note? It's cheap and super personal! You could also use post cards from the destination of your wedding if it's somewhere exciting! These cute Save The Dates from Etsy combine the two locations for a destination wedding.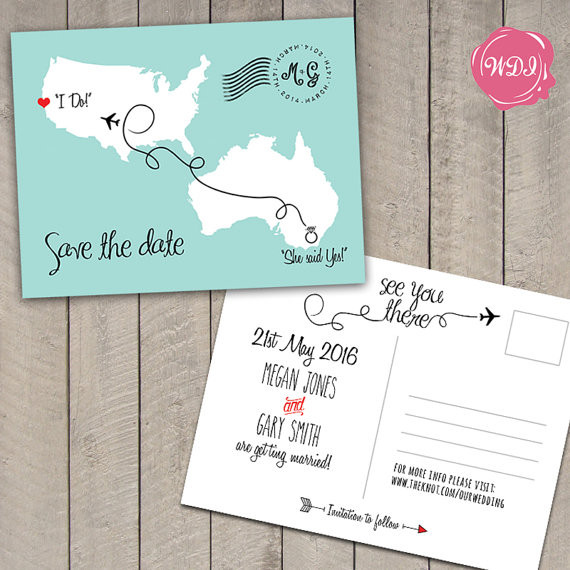 7. Luggage Tag
Another great option if you're planning a destination wedding - and even more reason to send out Save The Dates since flights may need to be booked well in advance.

Not On The High Street
8. Puzzle
If you're looking for a unique and inventive way to share your big news, a little puzzle for your guests is a great idea! Have a go at making your own, or find bespoke options on Etsy.
9. Scratch Card
Another fun and unique way to reveal your wedding date to your guests. It is possible to DIY these if you're a crafty couple (check out this DIY post from Bridal Musings). Or, you'll find plenty of ready made ones on Etsy, as below.

Etsy
10. Edibles
Whilst you'd better hope the guests don't eat the treat before putting the date in their diary, edible Save The Dates are sure to be a big hit! Blackpool rock, chocolate lollipops or biscuits with a personalised stamp if you're a keen baker. We love this personalised stamp from Not On The High Street which is reusable so can be used for other wedding treats such as favours, or for a bridal shower.
Not On The High Street