The Basics - A Guide to Bridal Veils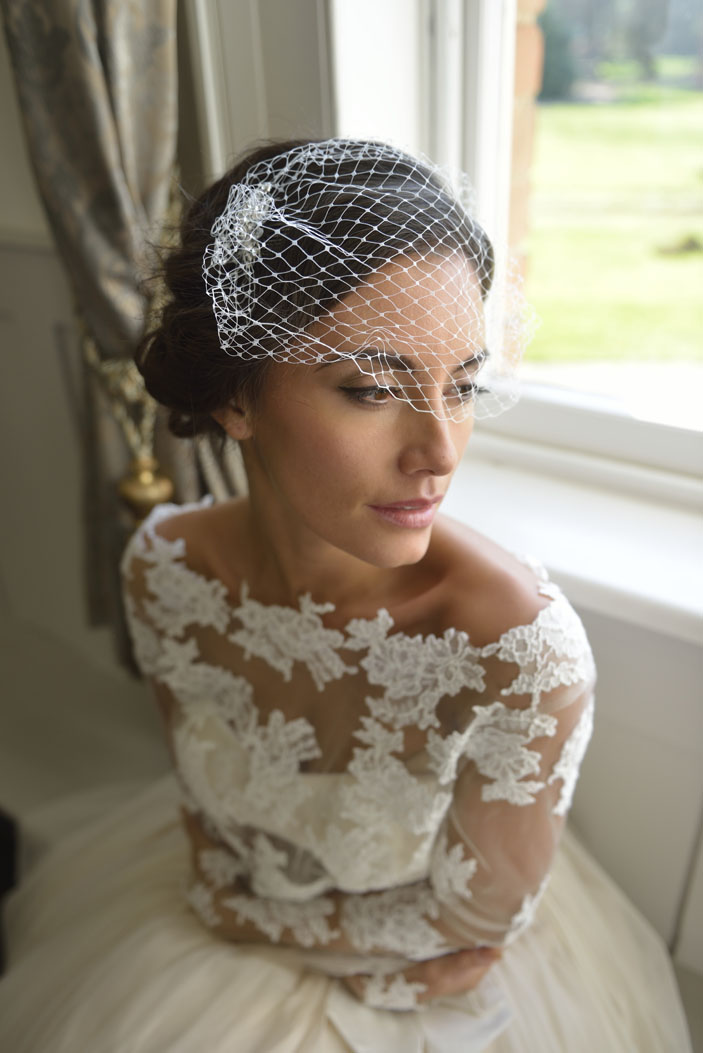 Sometimes when it comes to wedding veils there can be more pitfalls and problems than with choosing a wedding dress!

It's such a part of the wedding tradition ; a veil to cover the brides blushes (hence the front part of the veil worn over the face called a blusher), that so many brides feel they must have one, but can find it hard to pick the right type to match their dress and their own look.

Here is a guide of helpful tips to remember when making a veil purchase.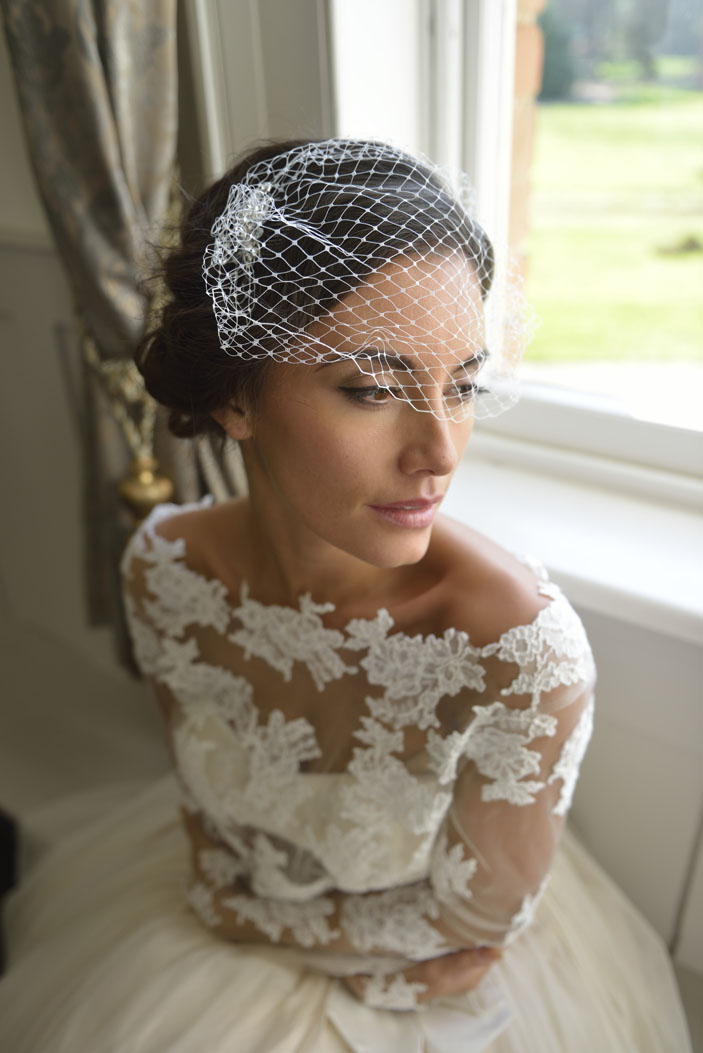 1. Do you need a veil?

The dress that some brides have chosen genuinely look better without a veil, or a veil may not suit the venue or the bride herself, yet so many brides feel under great pressure to have a veil.

Many brides we see at our own showroom are asked to try veils by their mothers and other members of the wedding party simply because it is seen as the done thing.

But take the time to really consider your look for the day, and only buy a veil if you decide it is the look you really want, that it will compliment your dress and suit your venue.

If getting married abroad consider how it will ooh after a journey in a suitcase or if it may blow all around if getting married outside.

In a purely practical sense it is sometimes sensible to forego a veil depending on the type of wedding.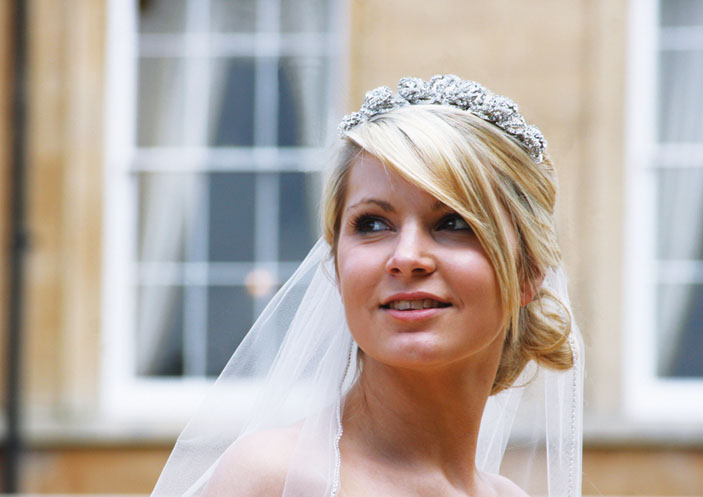 2. Choosing a veil length and style.

If you are a bride who loves veils and knows that you would like a veil to add some elegance to your look on the day then the first step is to choose the right length and style.

As much as the right kind of veil can look stunning - the wrong choice can make a gorgeous dress look not so good - so getting this right is important.

Generally we would advise a bride with a very traditional dress to consider a long Cathedral length veil ; this is because it will lend to the classic look of the gown and look more dramatic.

Shorter veils suit more fitted dresses and will work better for brides who are not comfortable with the idea of a long veil - but I should warm that any bride who has a fuller figure should avoid a very puffy shorter veil as it will give the appearance of being more top heavy - it would be better to consider a fingertip length.

Any slinky 1920's style dresses also look good with a long veil but a single tier as worn in the Jazz age to fit in with their style of dress. 1950's chic style and tea length dresses look great with tiny shoulder length veils or a birdcage style veil worn over the face - they best suit this style of dress.

Any dress with lots of detail on the back that a bride wants everyone to see as they walk down the aisle should be worn with a long sheer single tier veil - that way the detail can be seen through and will not be cut in half by a short double layer veil.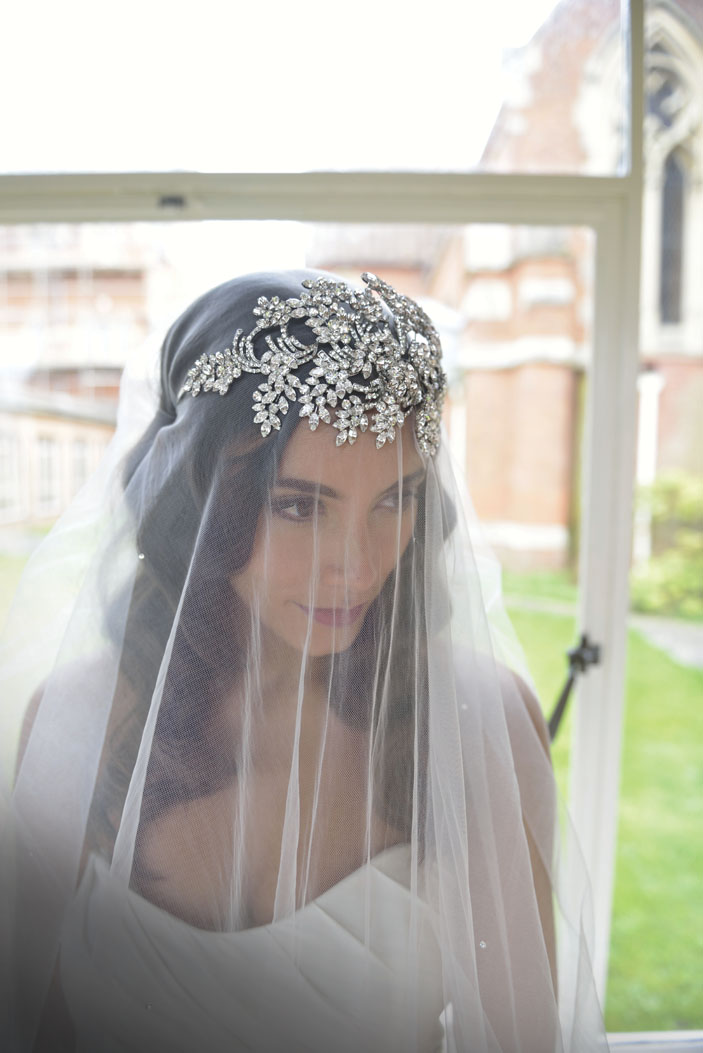 3. Detailing on veils.

Veils vary from simple and understated to very elaborate and decorative and it can be hard to know which will be best for each bride.

As a general rule I advise our brides that if they have chosen a dress with lots of beading or lace detailing or anything which is very fussy in design to go for a very simple veil that will not fight with the detail on the dress. The reverse is also true - the simpler and more understated the dress the more elaborate a veil a bride can get away with.

Advice I would also give on detailing on veils would be if you are opting for a lace edge veil make sure the lace goes with any lace on the dress (sometimes these veils look better when there is no lace on the dress if the different laces will clash).

Any bride considering buying a veil with sparkle should check that the crystals or rhinestones are the same kind of quality and sparkle as any wedding accessories so it will match.


4. Quality of fabric.

Veils are made in all kinds of quality of tulle - everything form fine sheer silk to the kind of tulle which feels more like net curtains.

Be aware that not all veils are the same quality or sheerness.

It may be worth you shopping around if you are looking for a sheer veil that will show a lot of detail of the dress.

Look at all types which are available and be open to sheer tulle as well as silk (silk is gorgeous and luxurious - but very delicate and can be easy to tear if you are planning outside photography and can also be a little more limp than some brides are expecting).

My top tips for choosing the perfect veils would be :

Shop around in person - some veils can look great on the internet but could be a disappointment when it arrives as onscreen you will not be able to feel the quality of the fabric or see properly how sheer it is.


Take the time to try lots of different veils with your wedding dress - try not to chose a veil separately without trying with your dress or you won't know if it actually matches. Have an open mind about what style might go best with your dress - try on all alternatives and get an opinion from your friends as well as the staff who have sold you the dress as to what will best match.


Don't feel you have to keep the veil on all day at your wedding (particularly if you have opted for a long one.

The best time to remove is after the 1st set of photos and before you eat the wedding breakfast to ensure you are comfortable at the table and that you will get photos with the veil on and off.

Good luck choosing the right veil.

It will all be worth it in the end when you have the perfect one as it is one of the unforgettable moments on your wedding day when your groom takes back your blusher and kisses you for the first time as his bride.