Mother of the Bride Top Tips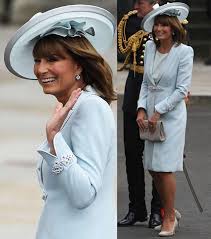 There are a few occasions so full of pride for a mother than the wedding day of her beloved offspring. Naturally, one would want to appear at one's best for such a festivity, whilst letting the bride shine the brightest, of course!
The mother-of-the-brides' outfit is often as hotly anticipated as the bride's dress, especially amongst her own friends and attendees. For a more traditional wedding, the question of 'Will the mother of the bride be wearing a hat?' will be thrown around amongst guests to establish the decorum of the day, just like questions as to the origins of the attire, the colour, the heels, and every possible detail. All eyes will be on the bride, of course, but then on her doting, possibly weeping mother.
Whether you are, or you have, the type of MOTB who will welcome the attention or shy away from the limelight, it's still of up most importance that you look your finest. With that in mind, here are a handful of tips to make sure you get it right!
Spring/Summer 2014 Inspiration
Do's and Don'ts of Mother of the Bride Style...
Do
take into account the general theme of the day. But
Don't
feel tied to it! If your daughter is simply not a fan of florals and has chosen chic, modern alternatives for her wedding, perhaps a floral frock may look a little out of place.
Don't
feel like you have to match the bridesmaids. Yes, a nod to the theme is nice, but you are not expected to dress as a matriarch bridesmaid! Maybe try and choose a colour which won't clash with the bridesmaids' dresses/groomsmens' ties for the sake of the photos and our eyes!
Do
indulge in comfort! It's a long day, so whilst you want to splash out on those Jimmy Choos, if you don't usually wear high heels this may prove painful! That goes for the whole outfit, comfortable underwear, a dress shape that suits you, and hair/make-up you're comfortable with. You need to be on hand to fix a wonky veil, assist with toilet trips and gloss over small mishaps – if you're pre-occupied with your own plasters and uncomfortable underwear you won't be much use!
Don't
feel doomed to dress dowdy! Yes, it's a faux pas to outshine the bride, but that doesn't mean to say you can't look fabulous! There's a hugely outdated myth that states the MOTB should wear a dress which falls below the knee – get your legs out if you like!
Do
liaise with the mother of the groom! Perhaps you're close and could head out on a shopping trip together. The likelihood is, however, that this will be one of the first times you've met! If so, do still give her a call once you've chosen your outfit to let her know the colours, general gist. This will avoid any embarrassment if one party were to 'out-do' the other, and also any awkward colour clashes/similarities.
Do
request to be included in the morning's hair and beauty regimes! There is nothing worse than waking up to a bad hair day on a day of countless photos. Chances are, your daughter will have already booked for professionals to come and make her look beautiful, why not jump on the band wagon?