Lara & Ben's Glamorous 1920's Speakeasy Inspired Wedding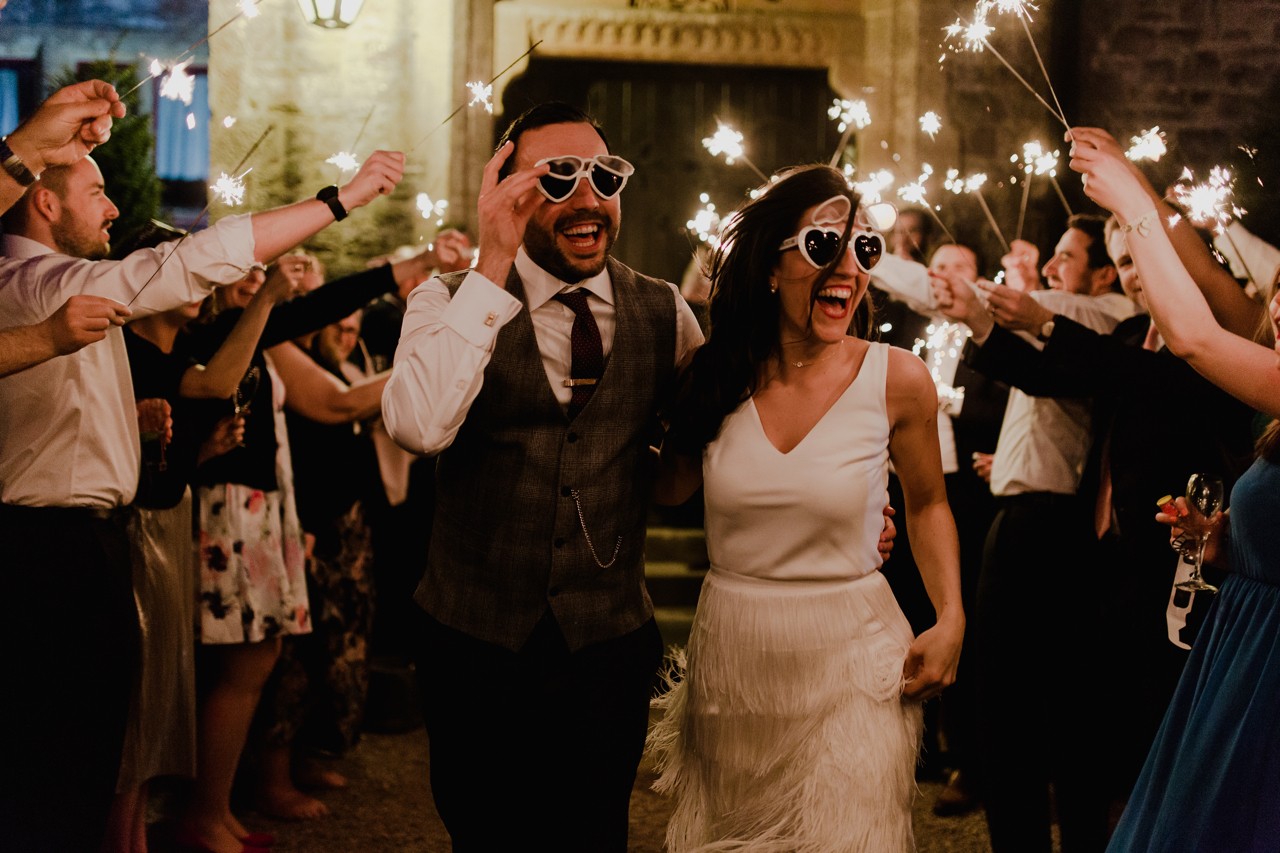 Lara and Ben's wedding features an absolute abundance of gorgeous and thoughtful details, all contributing beautifully to their theme of a DIY speakeasy inspired wedding.
With a love of all things 1920's, Ben set the tone perfectly by proposing to Lara with a vintage 1920's engagement ring that he'd spent many moons trying to find. Add to this a love of gin and whiskey - hence the speakeasy part - and the theme was officially decided. This inspired everything from the golden art deco invites and opulent mirrors featuring F.Scott Fitzgerald and Rat Pack quotes to the fabulous flapper-esque fringed skirt Lara adorned her dress with for the after party, amongst many other things. Add to that the ideal setting for the ultimate house party in the form of Huntsham Court and the stage was set for a truly memorable wedding.
So without revealing any more of this showstopping wedding, read on to hear all about Lara and Ben and their special wedding day and let the video by Mrs Mashup below help you set the scene!
The Couple
"We actually met on Tinder, although this was in the early days before it became full of unwanted photos of a certain male anatomy! We're both journalists so work similarly long and crazy hours, and we immediately bonded over our shared love of food, Christmas and animals. We've just adopted our first pet together, a Siberian kitten called Alfie :)

The Proposal
It was a really unexpected and understated proposal, at home on the sofa. I'd just gotten home from holiday and we were treating ourselves to some prosecco and orange juice with breakfast - our favourite meal of the day! Ben had secretly scoured the internet for the most beautiful 1920s engagement ring while I was away and was planning on saving it for a more "special" occasion, but in the spur of the moment he decided to surprise me (and himself too, I think!) by getting it out from it's hiding place. Instead of popping the question, though, he just nervously handed me the box without saying anything. I really wasn't expecting a ring or a proposal, so I was a bit confused and shocked for a few moments - but it eventually sank in and I said yes!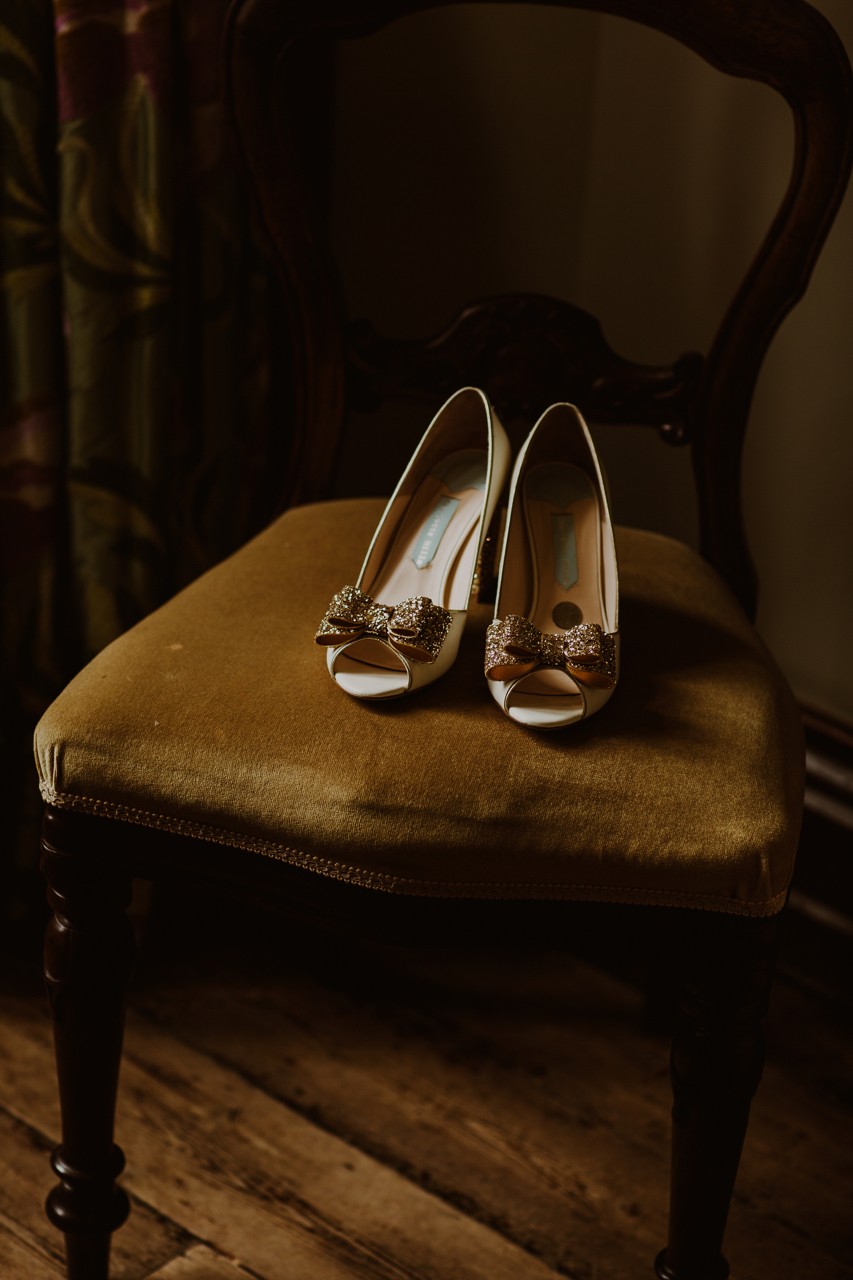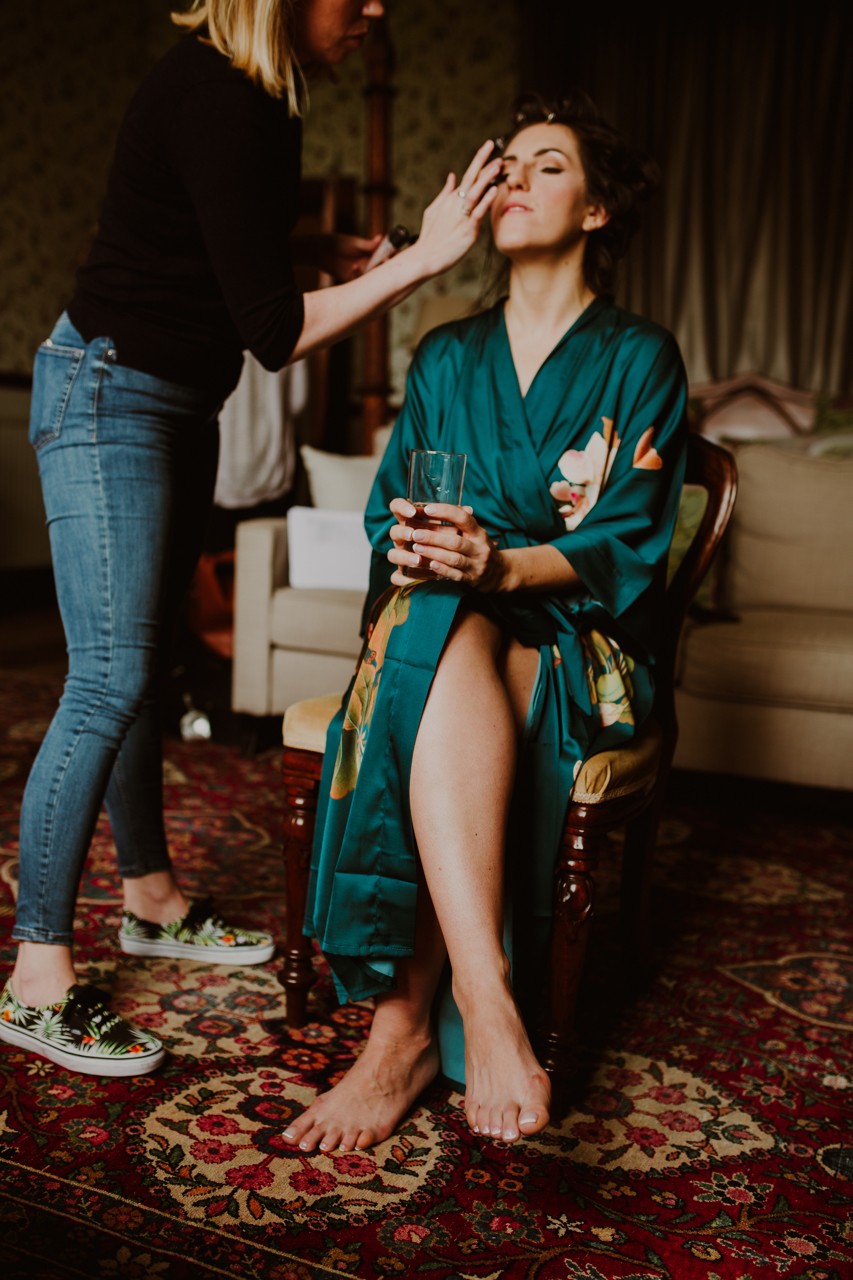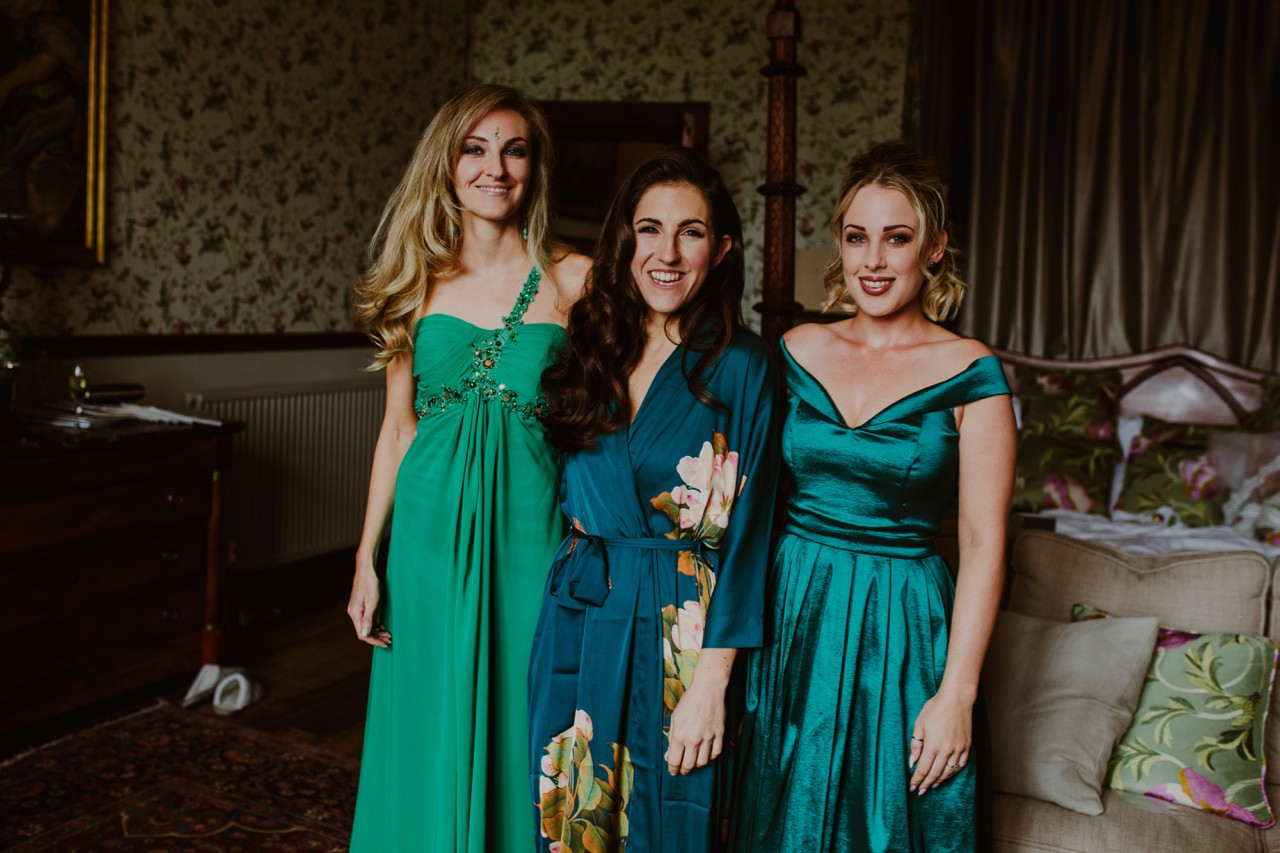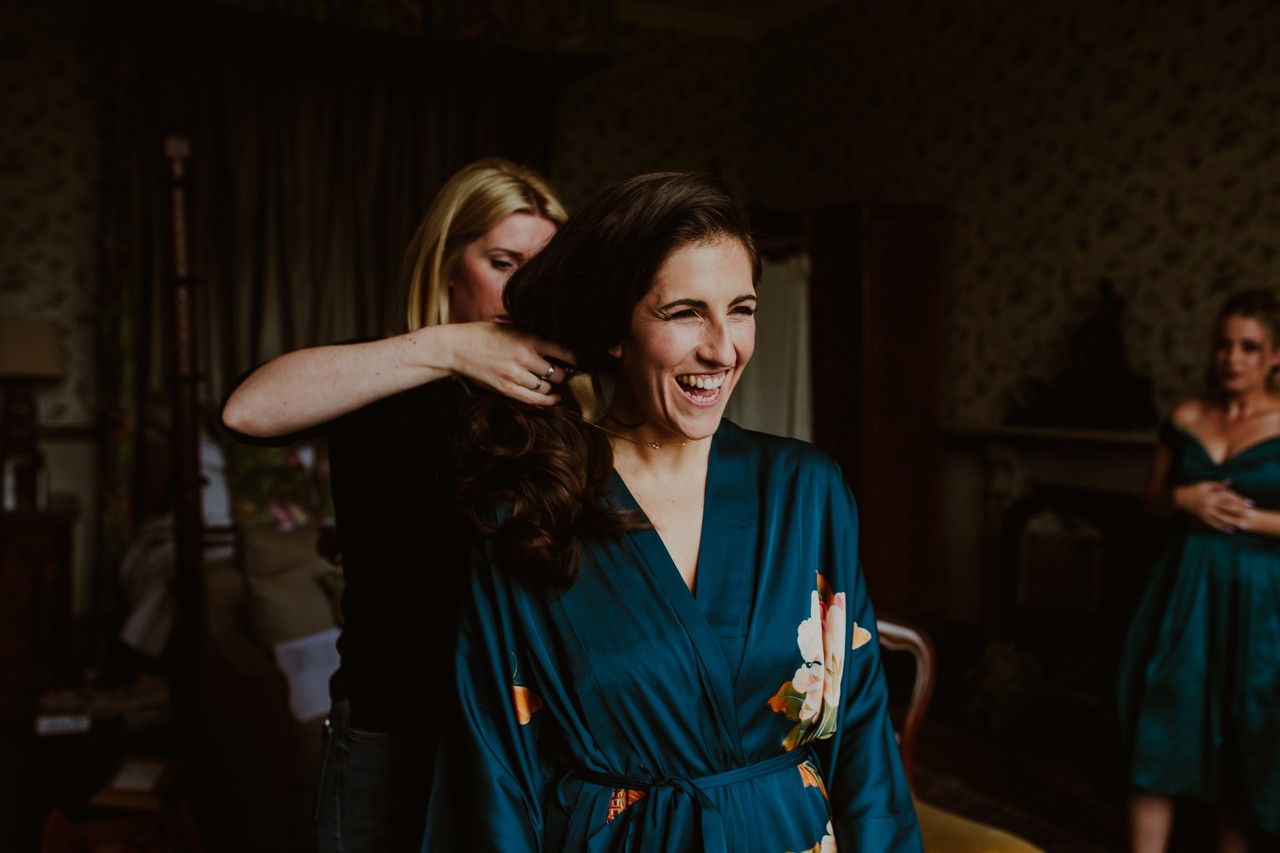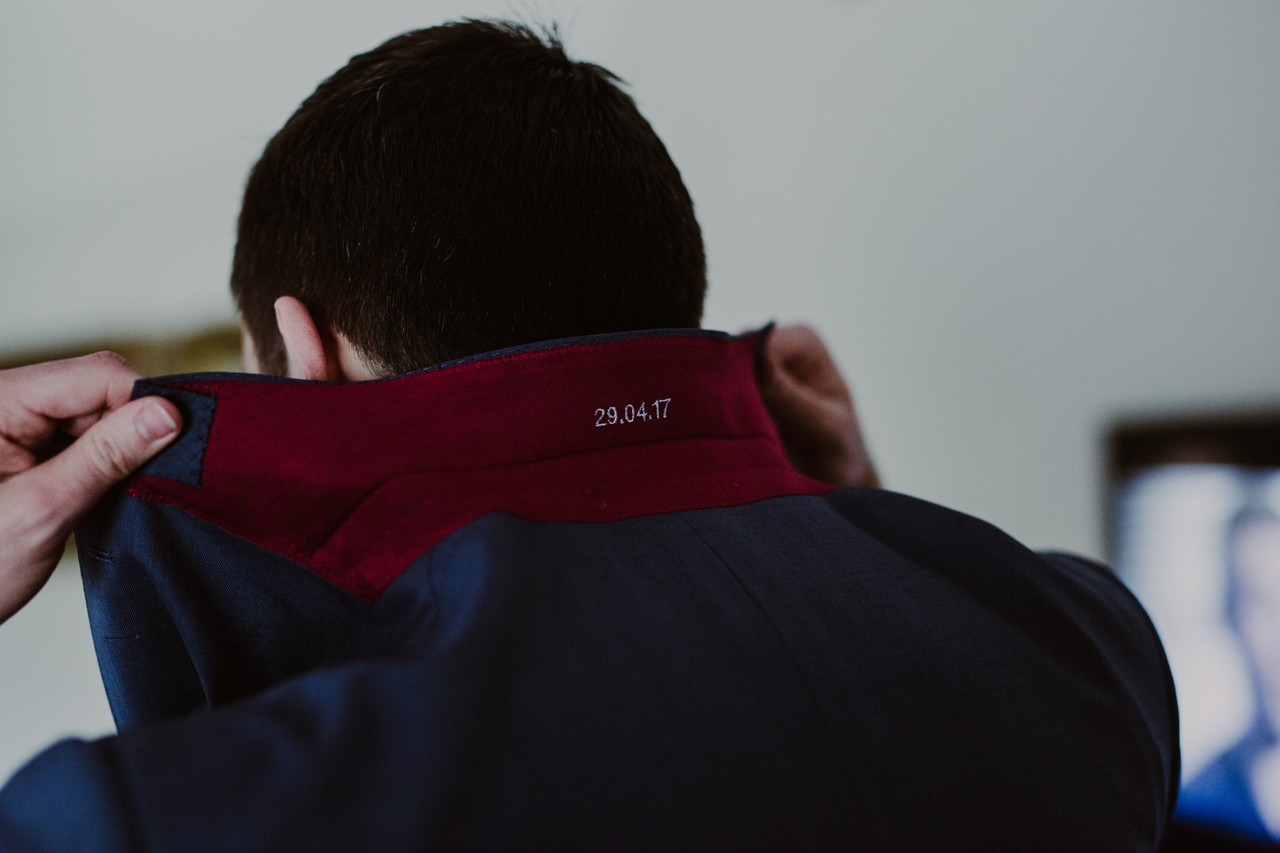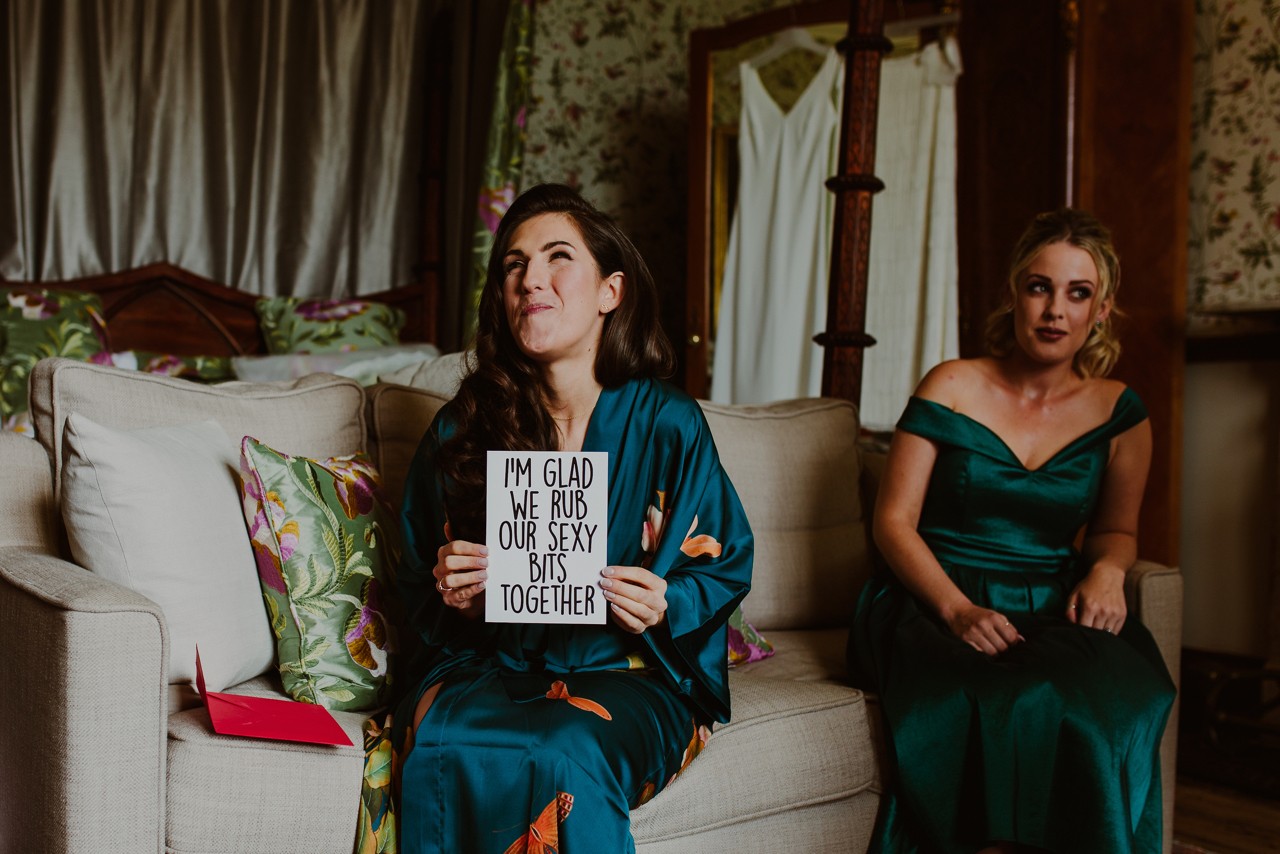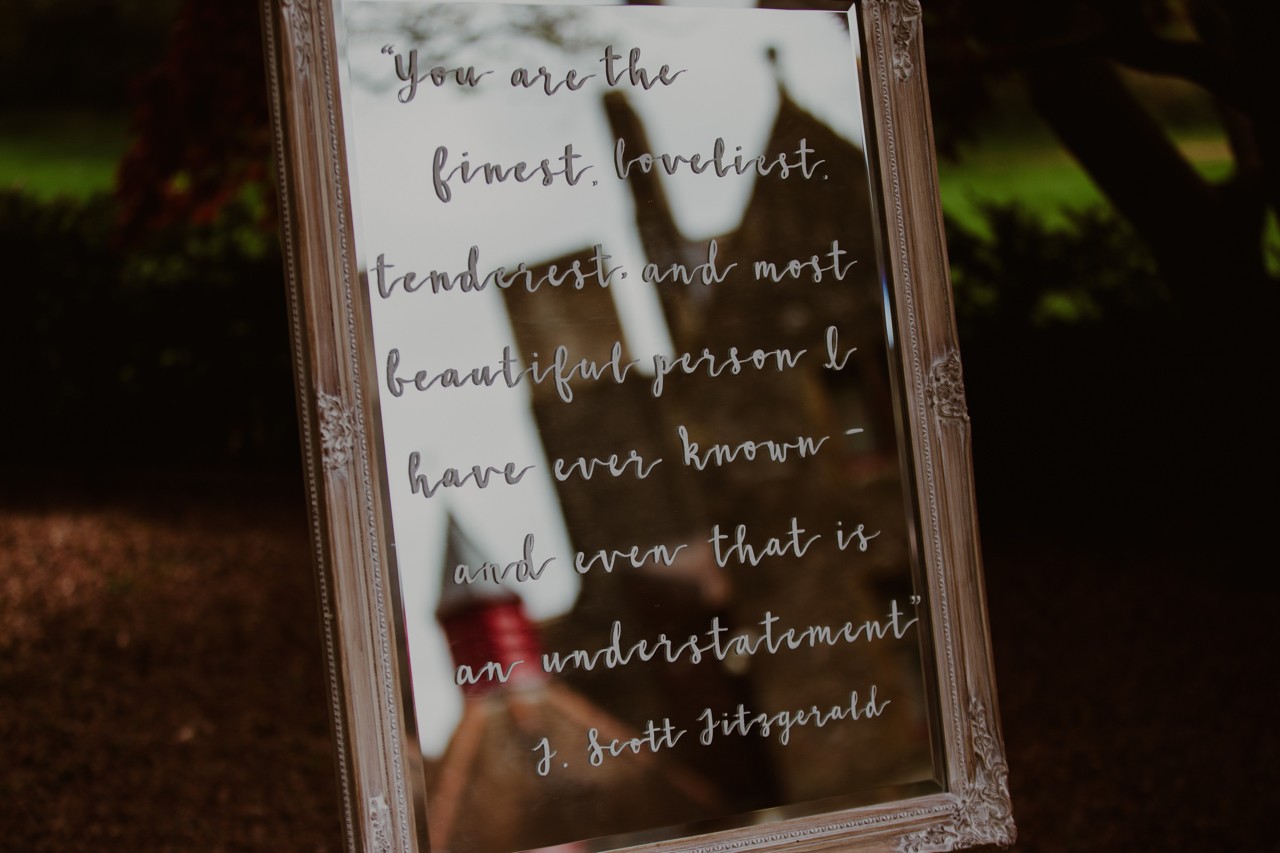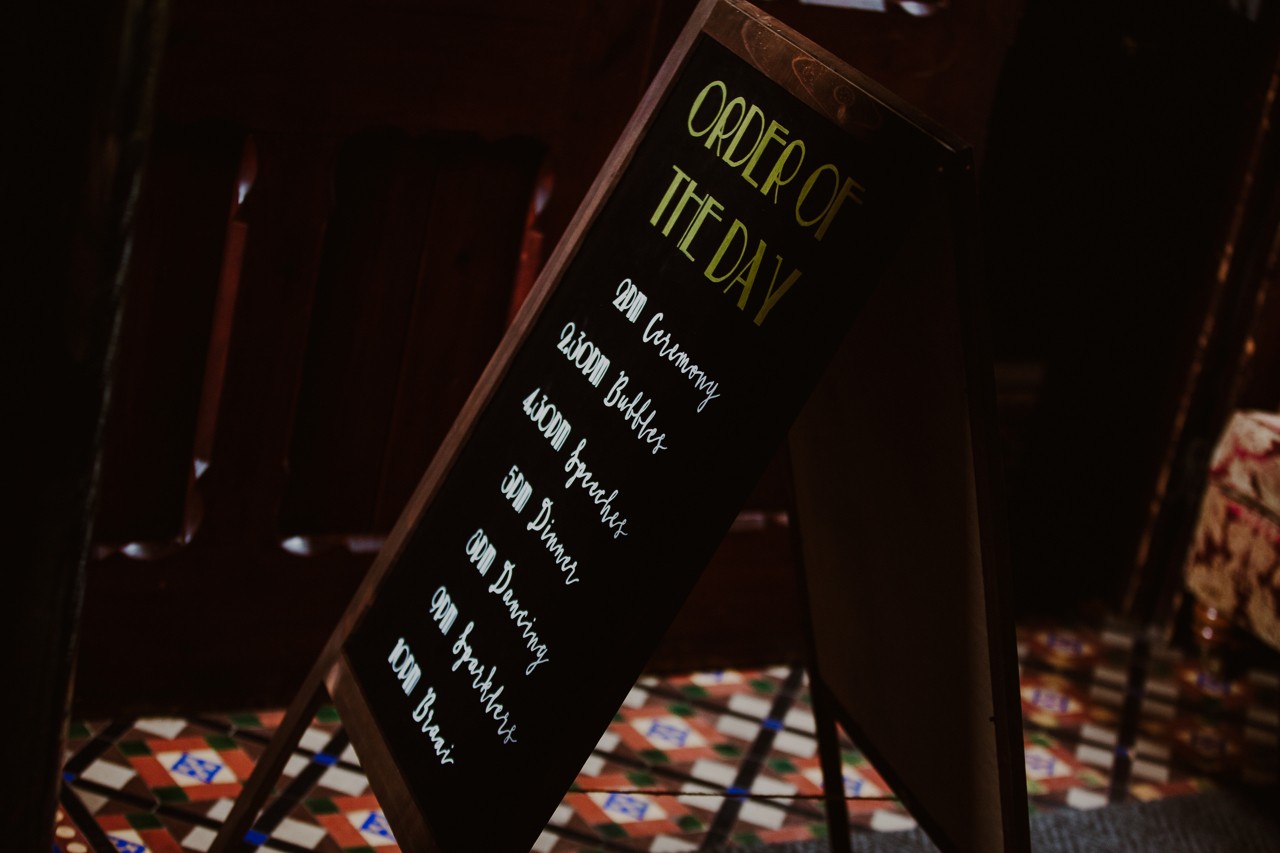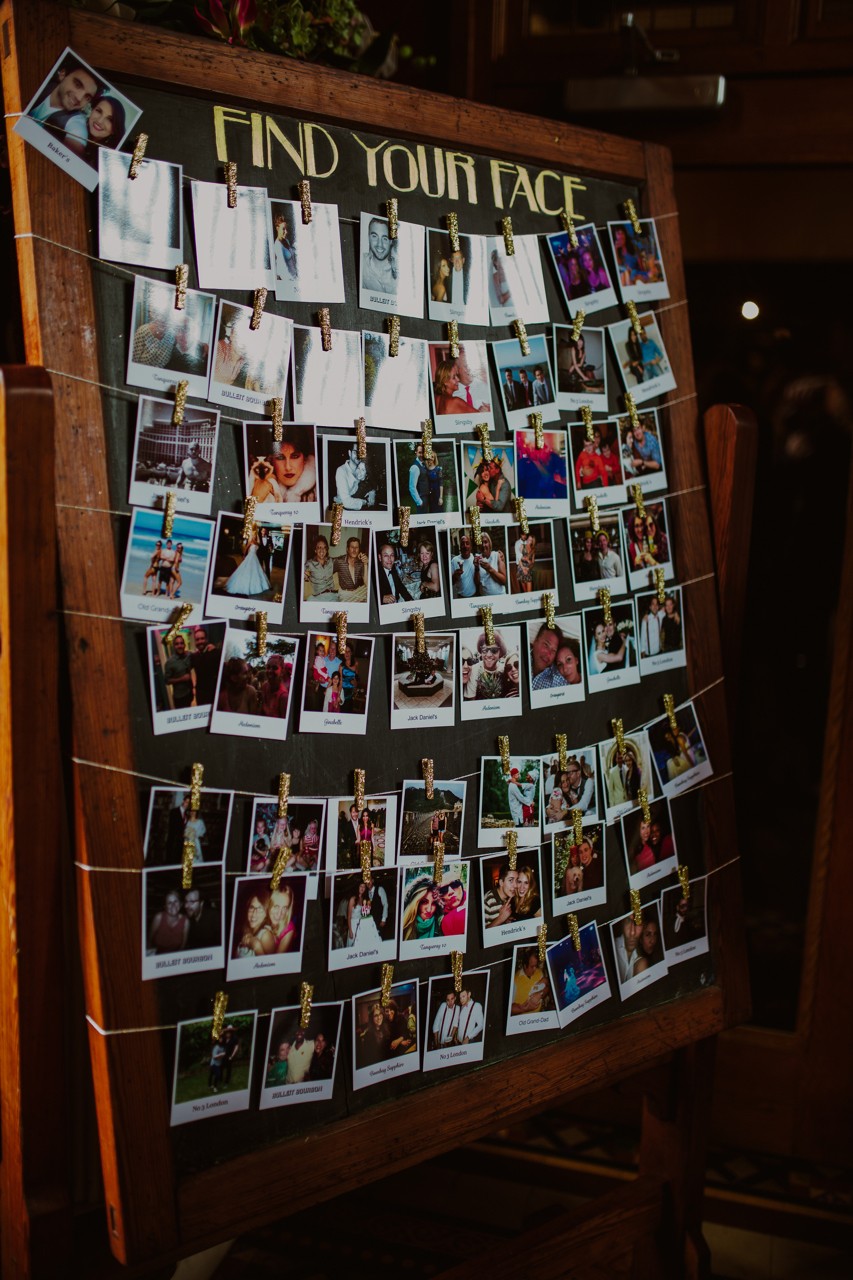 The Venue
Choosing a venue taught us very early on to keep an open mind. We initially thought we wanted a boho barn or teepee style wedding, but our 3 must-haves (no corkage, plenty of on-site accommodation for the whole weekend, and a late license to party into the early hours) led us to the very grand country house Huntsham Court, which we fell in love with the minute we walked through its doors! It could not have been further from what we imagined we'd go for, but not only was every single room (all 32 of them) unique and beautifully decorated, the freedom to plan our wedding exactly how we liked made it a no-brainer. The owners Chris and Damian have really created a dry-hire dream with this gorgeous house, and I don't know what we would have done without our incredible co-ordinator Clair, who went out of her way to make our lives easier and help us create the day we wanted from the huge champagne tower to last-minute guest list changes.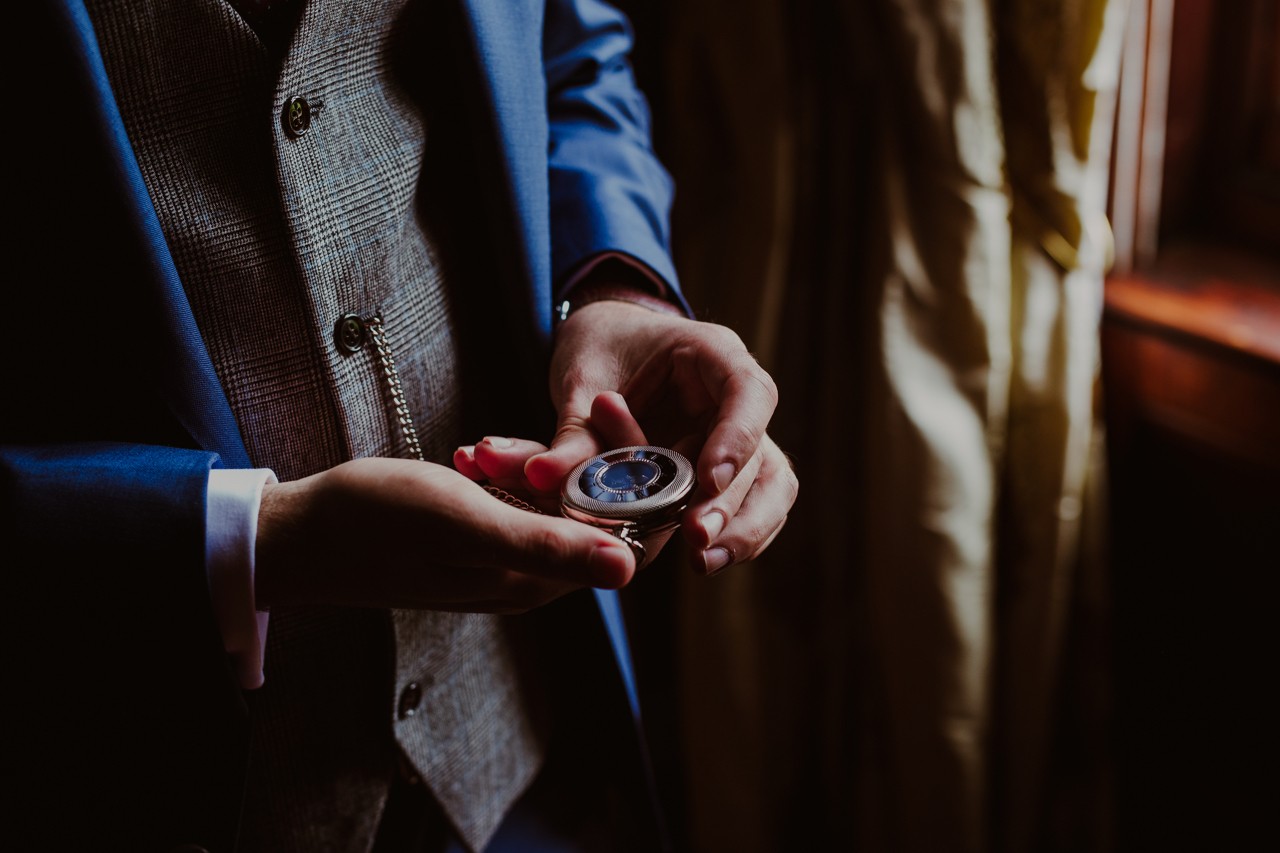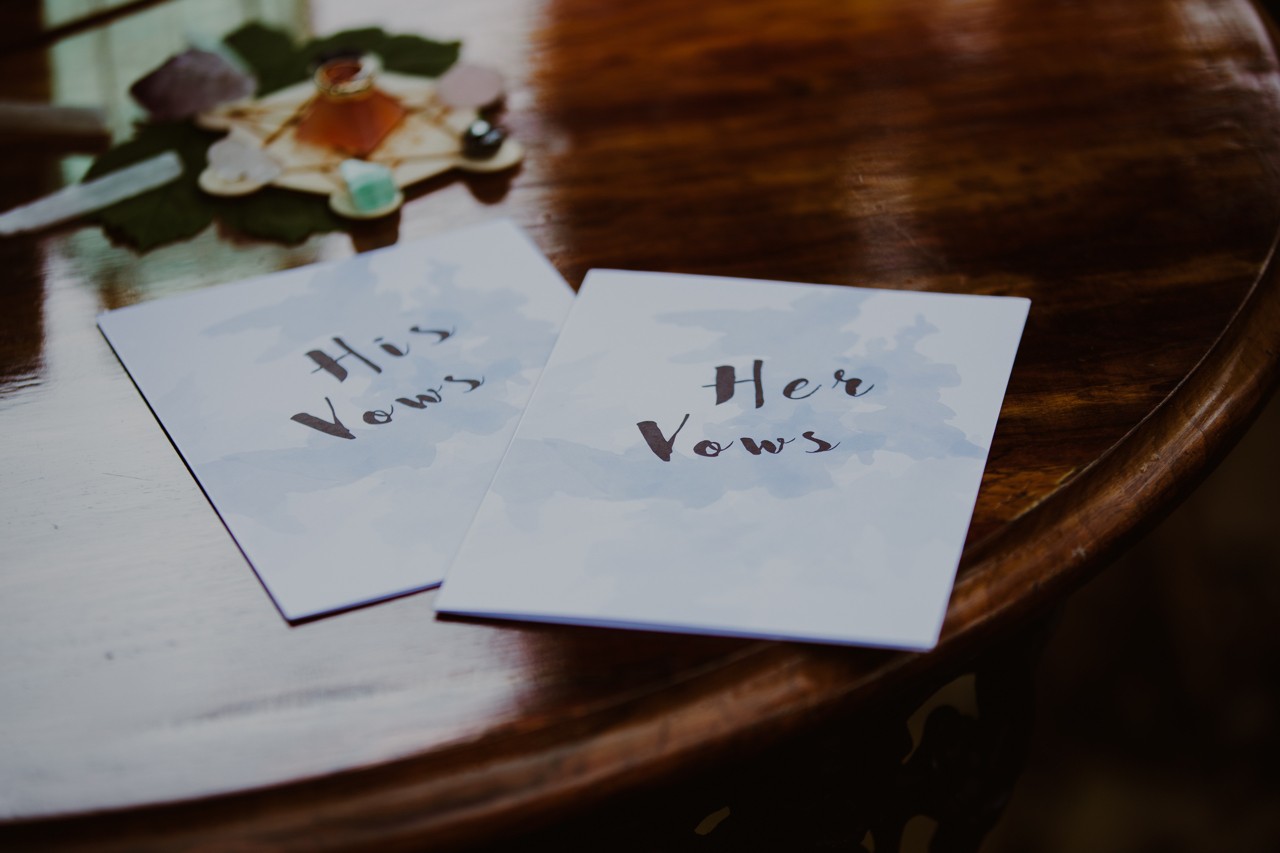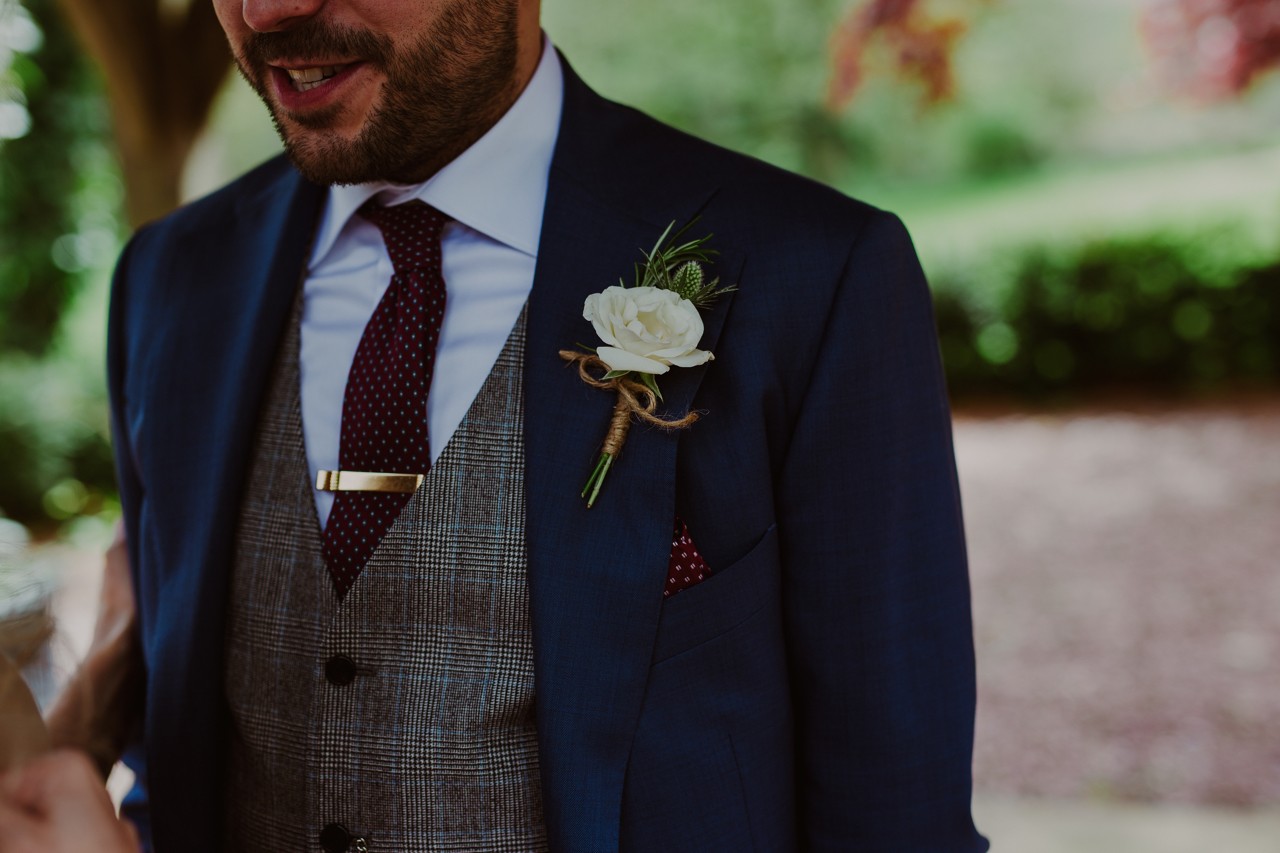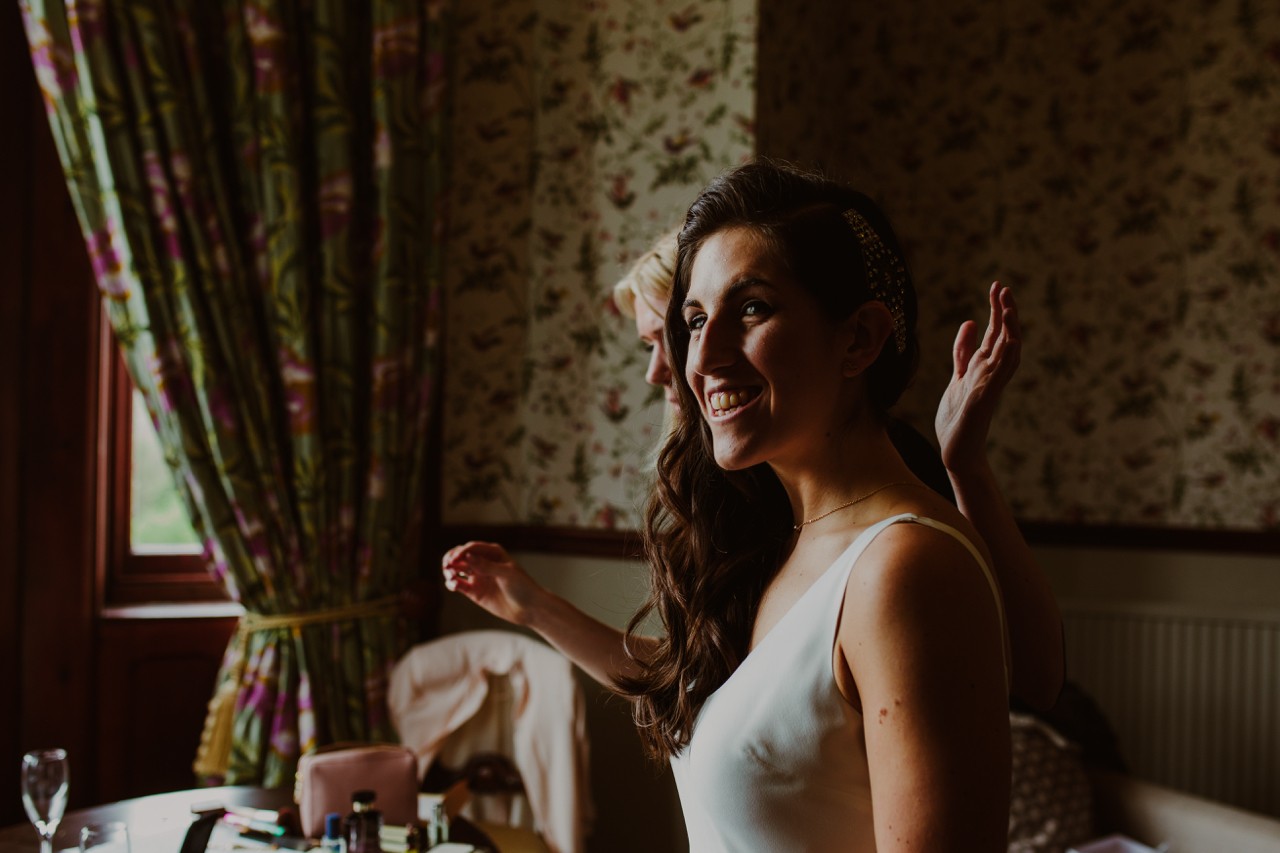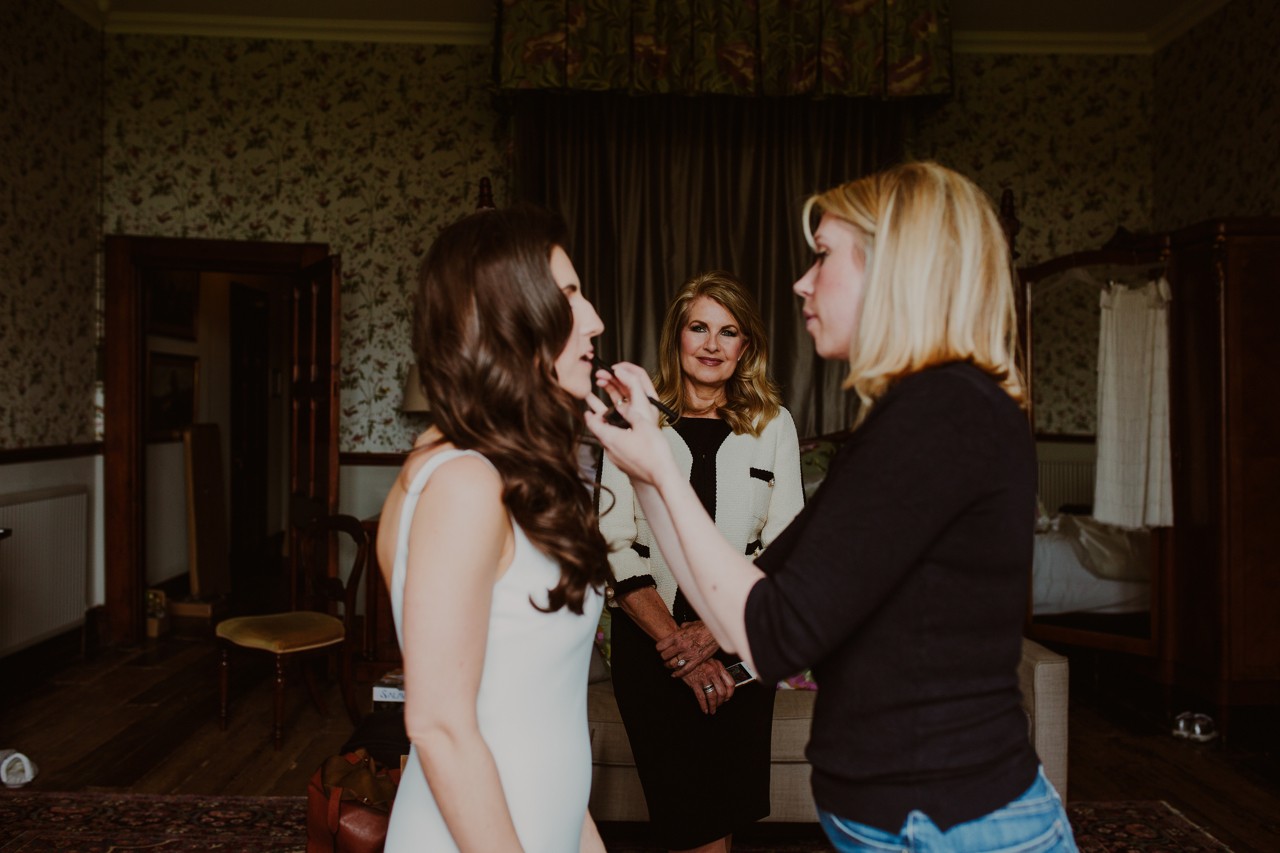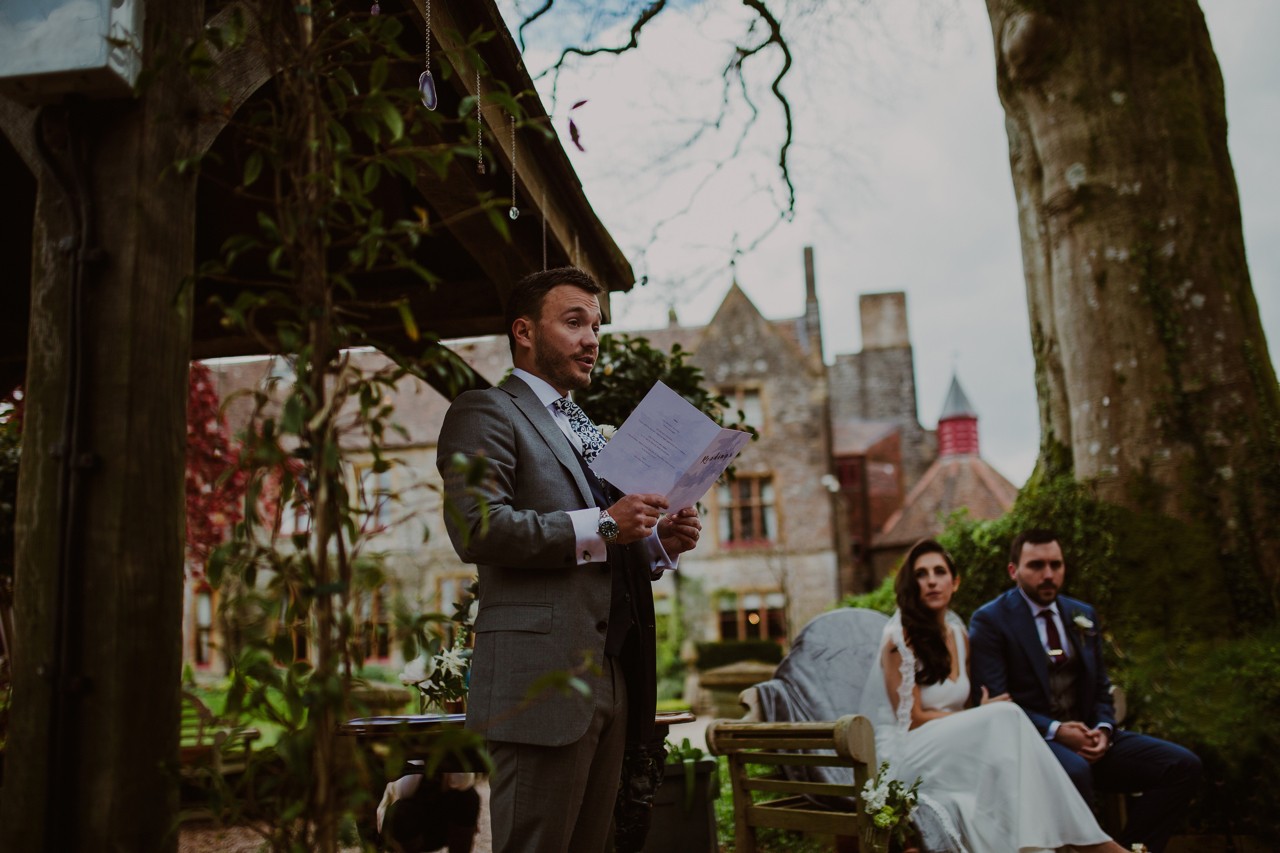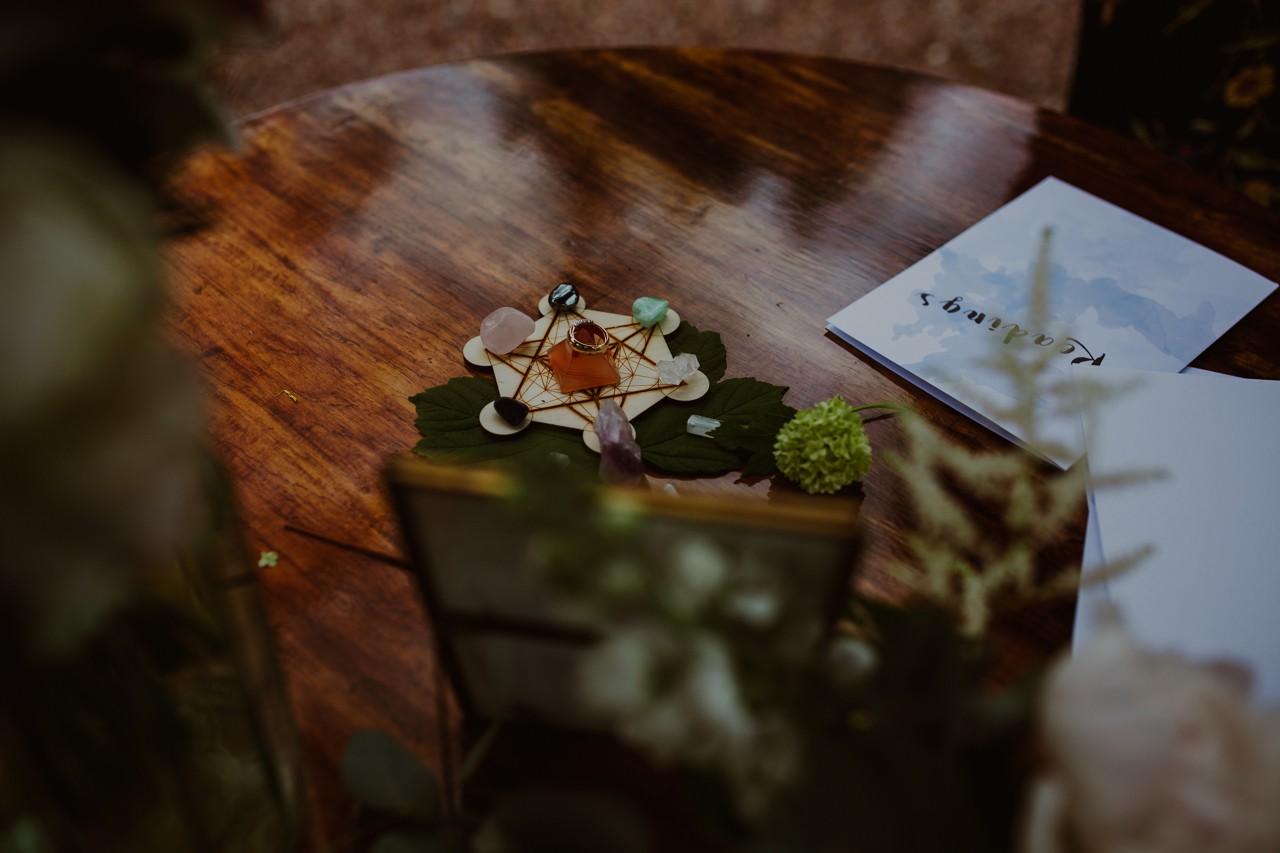 The Ceremony
We held the ceremony outside under Huntsham's lovely dovecote. It's licensed for legal ceremonies, but we wanted a more personal touch so we hired Samantha Kelsie to be our celebrant which was hands down one of the best decisions we made for the whole wedding. She wrote the most wonderful ceremony that really captured our personalities and relationship, hitting exactly the right tone of funny, light-hearted and romantic, and helped us to include a crystal ring blessing for my sister (who makes jewellery out of healing crystals) to perform. We had a framed photo of my late brother on the table with us, and were surrounded by beautifully coloured crystals hanging all around the Dovecote. It was perfect!
We wrote our own vows and had 3 readings. Two were read by my best friends - "What Goes With What" from Nigel Slater's cookbook Appetite (we are serious foodies!) and "Let Me Put It This Way" by my favourite poet Simon Armitage. The third was written by Ben's brother, who has a PhD in physics and was inspired by the astronomer Carl Sagan:
'Shine'
"The size and age of the Cosmos are beyond ordinary human understanding. Lost somewhere between immensity and eternity is our tiny planetary home. And yet our species is young and curious and brave, and shows much promise. In the last few millennia we have made the most astonishing and unexpected discoveries, reminding us that humans have evolved to wonder, that understanding is a joy, that knowledge is prerequisite to survival. Our little planet floats like a mote of dust in the morning sky. All that we can see exploded out of a star billions of years ago, and the particles slowly arranged themselves into living things, including all of us. We are made of star stuff.
Consider the probability that two individuals were created out of this primordial soup, this swirling fondue of energy and matter, to be around at the same moment in the billions of years the universe has existed, and who fit together so well, who make each other better, who make each other laugh and love. It is wonderful to think that the reason for our existence could be love: a mechanism used by the universe to reunite the stars, so that we can once again shine together."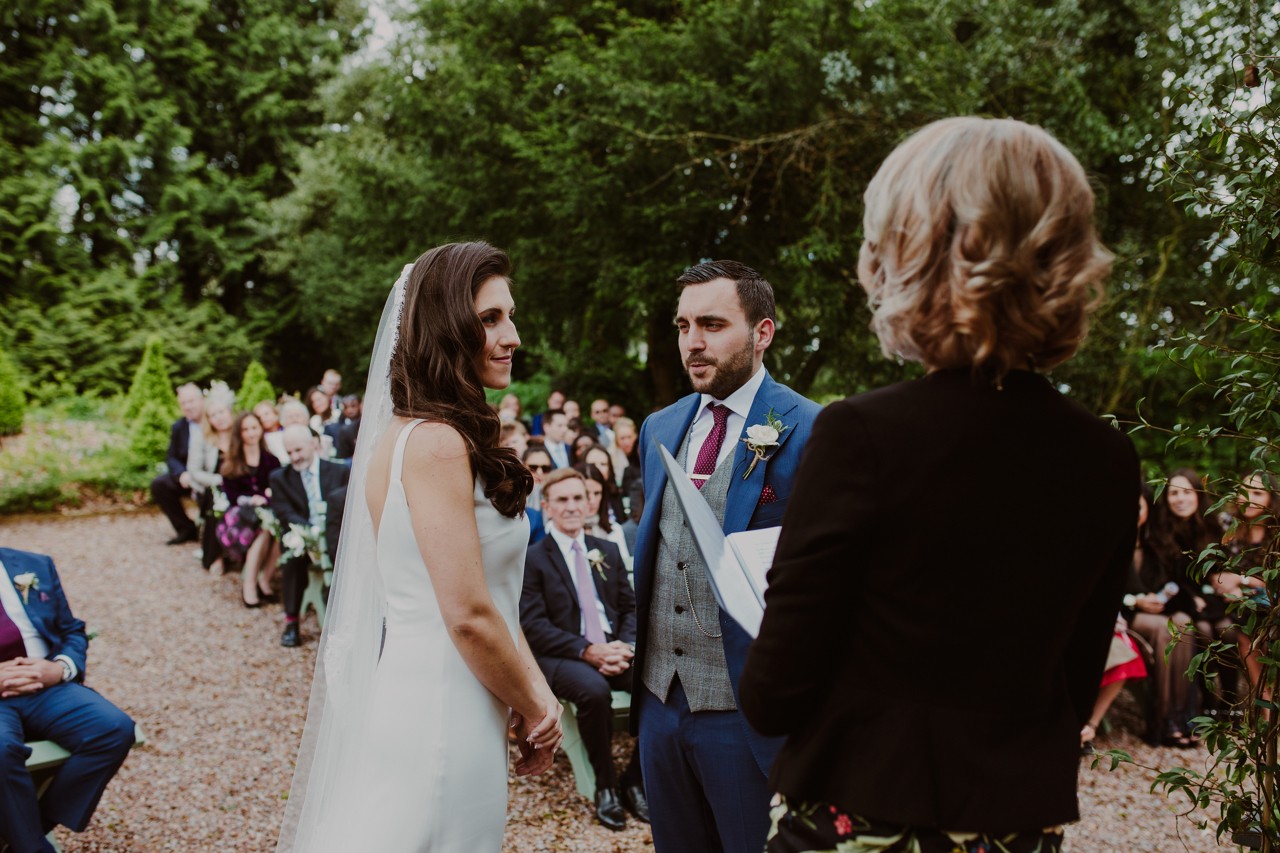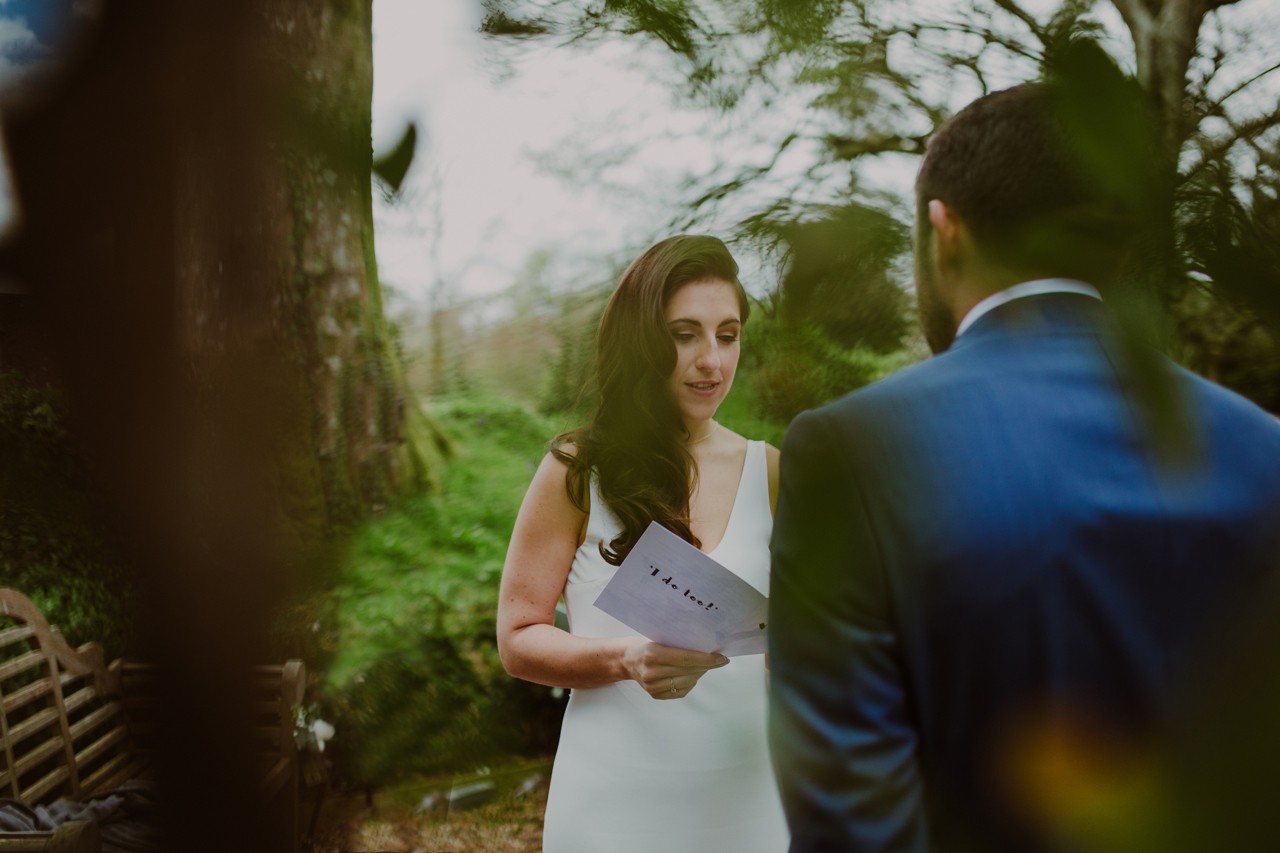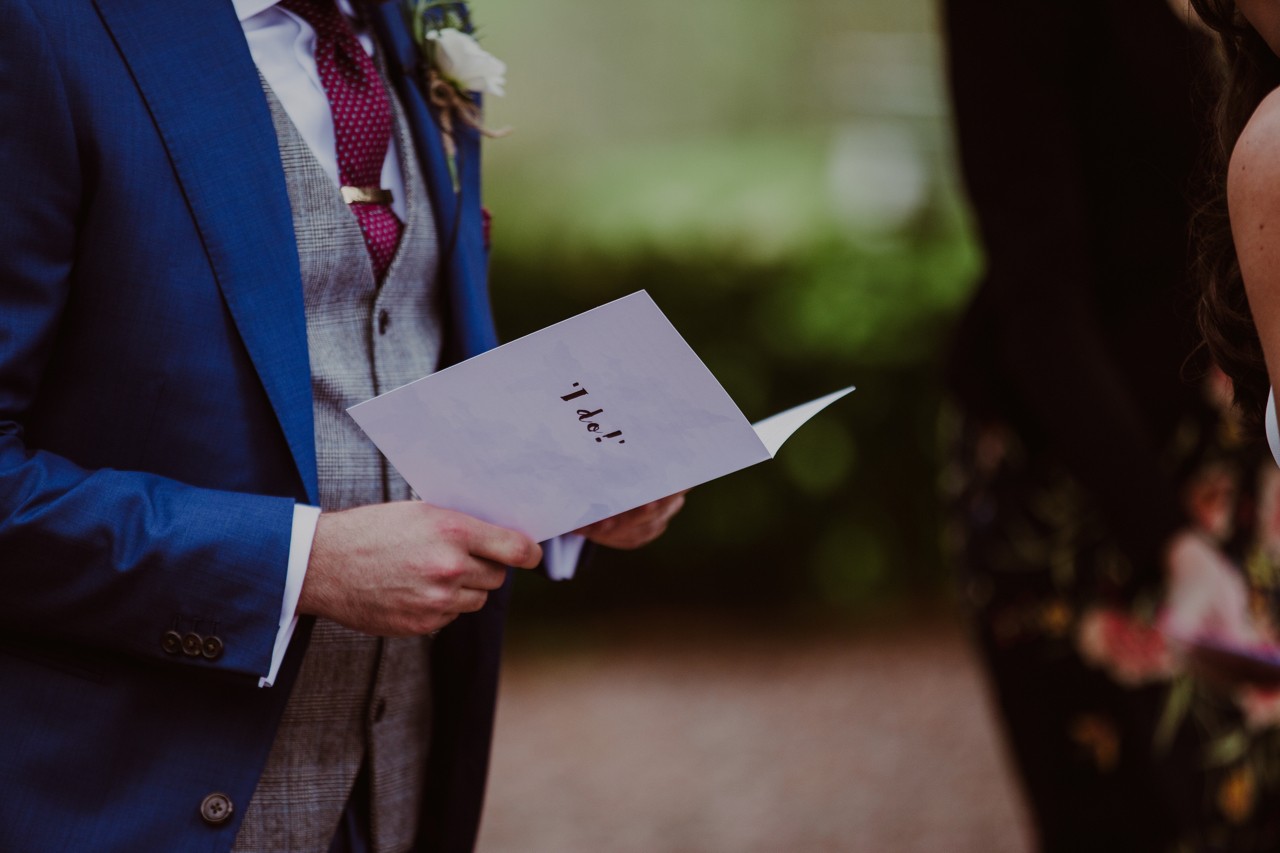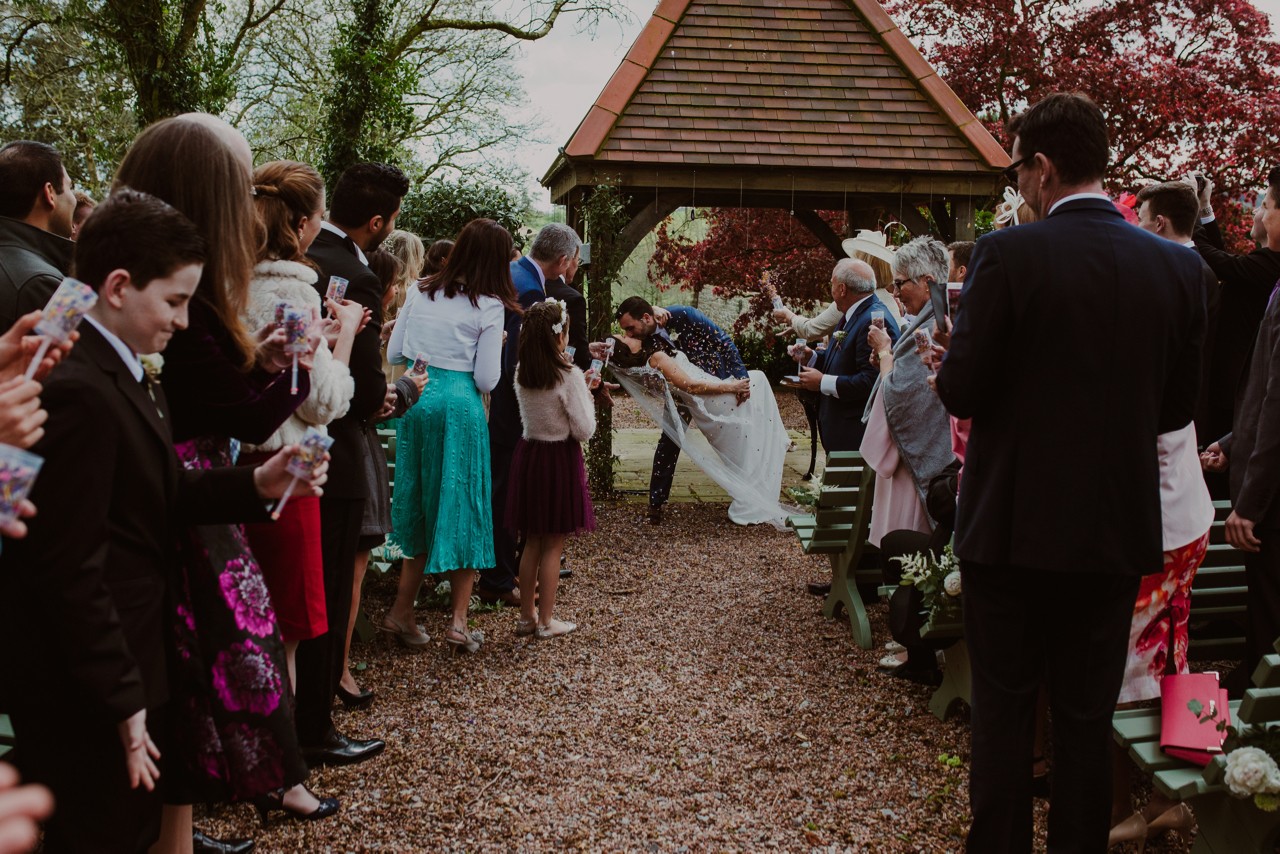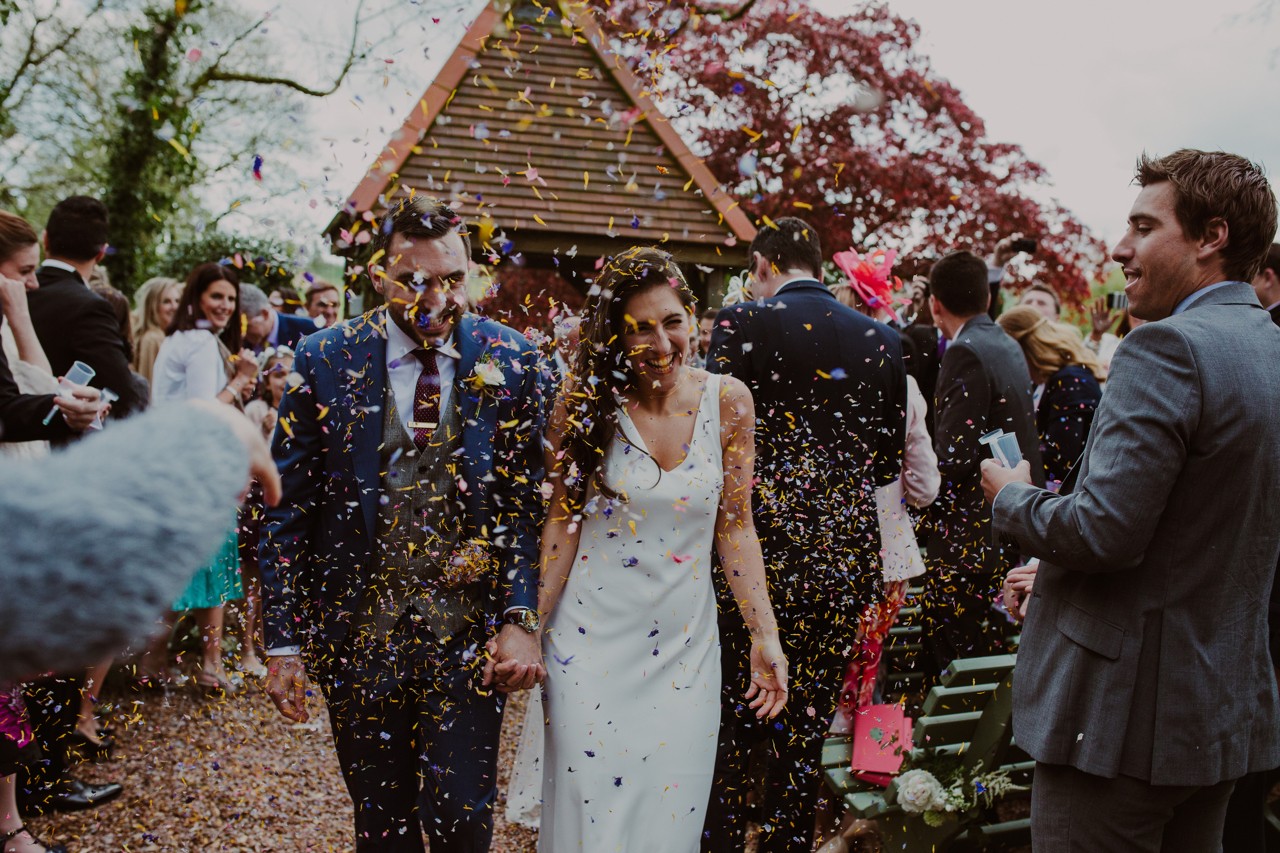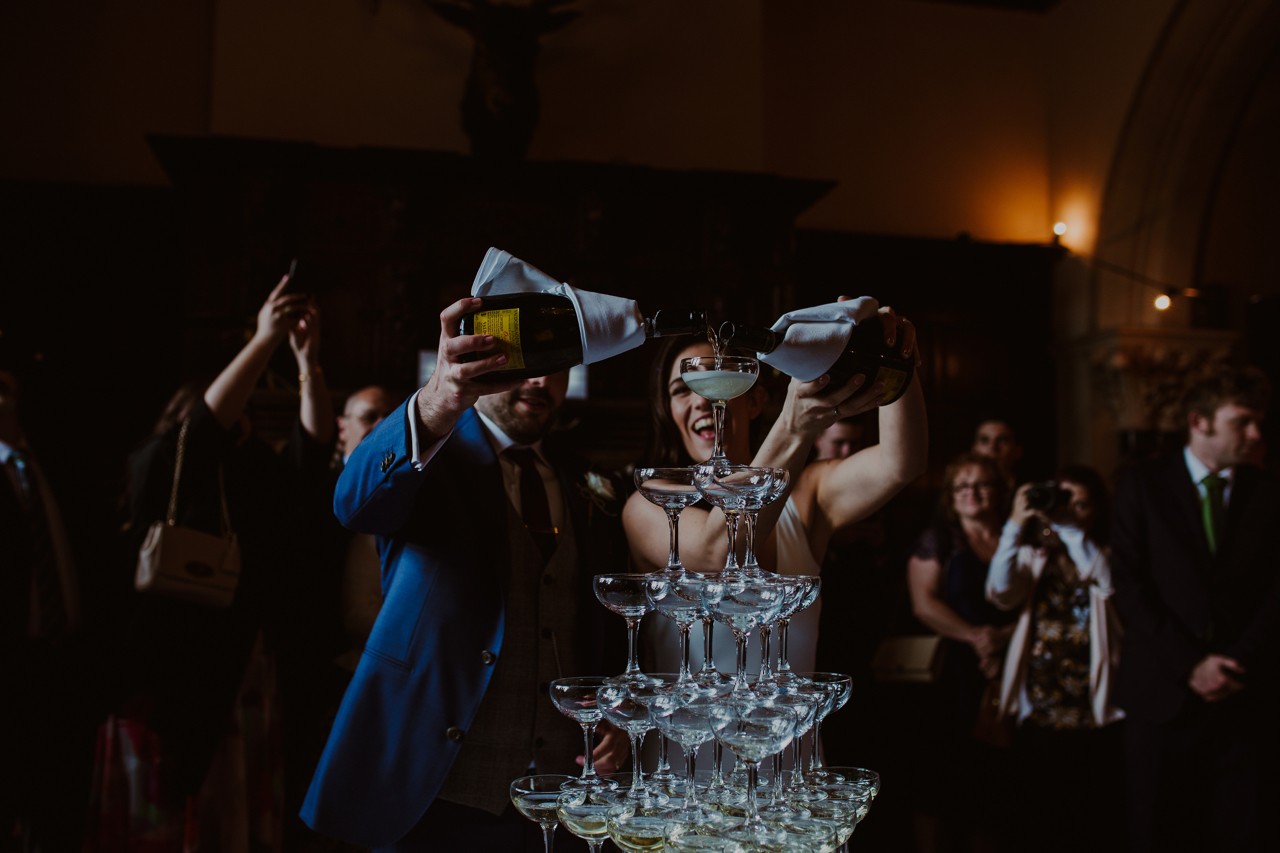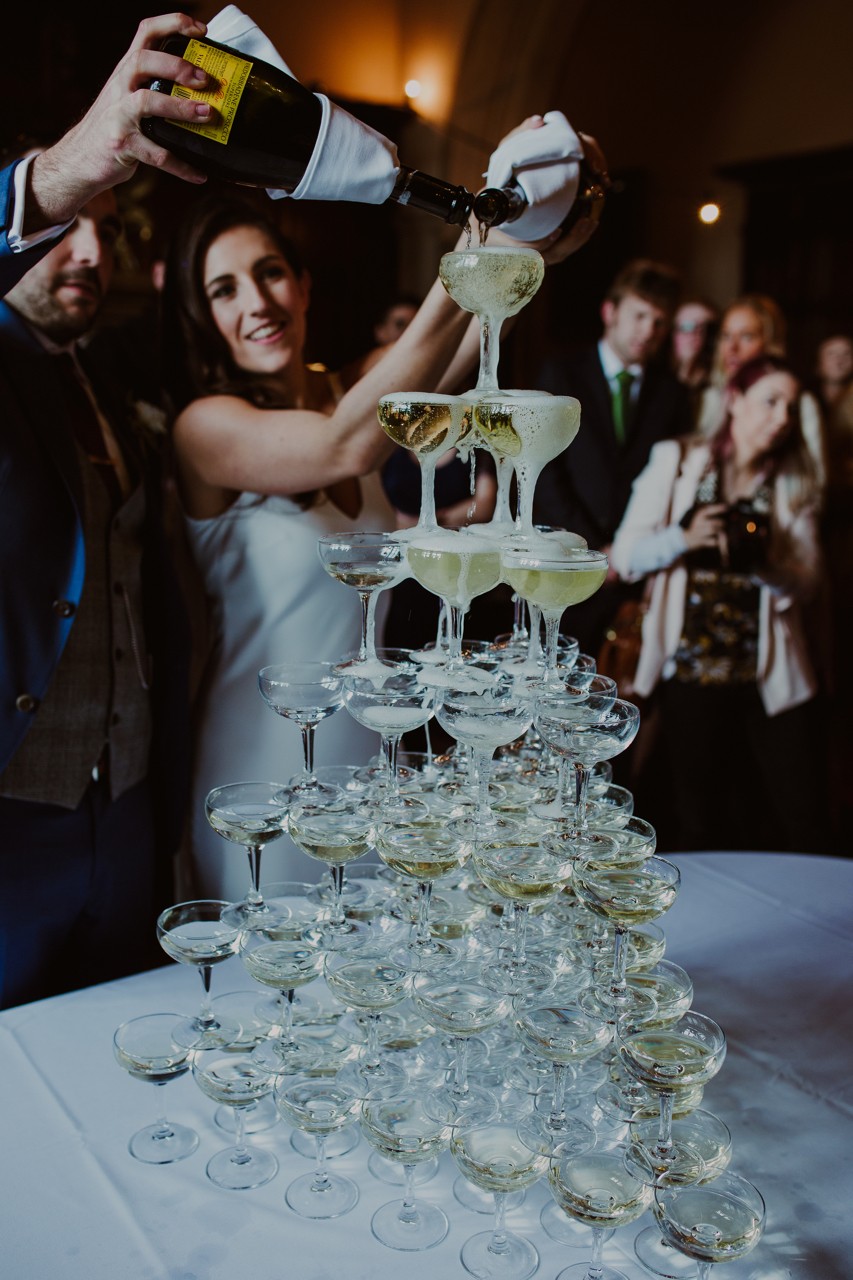 The Vibe
The day was inspired by our favourite drinks - gin and whisky - which we used to create a 1920s Speakeasy feel. All the decor was DIY and we spent months collecting empty bottles for our tables (each one was named after a different gin or whisky, with the bottle used as a centrepiece), making homemade sloe gin and whisky cocktails for favours, and writing our favourite F. Scott Fitzgerald and Rat Pack quotes on mirrors and chalkboards. We had a Gatsby-style champagne tower to kick off the drinks reception, and I found the most beautiful 1920s Paper Moon cake topper on Etsy! Our stationery from Pingle Pie also perfectly captured the Art Deco style we wanted.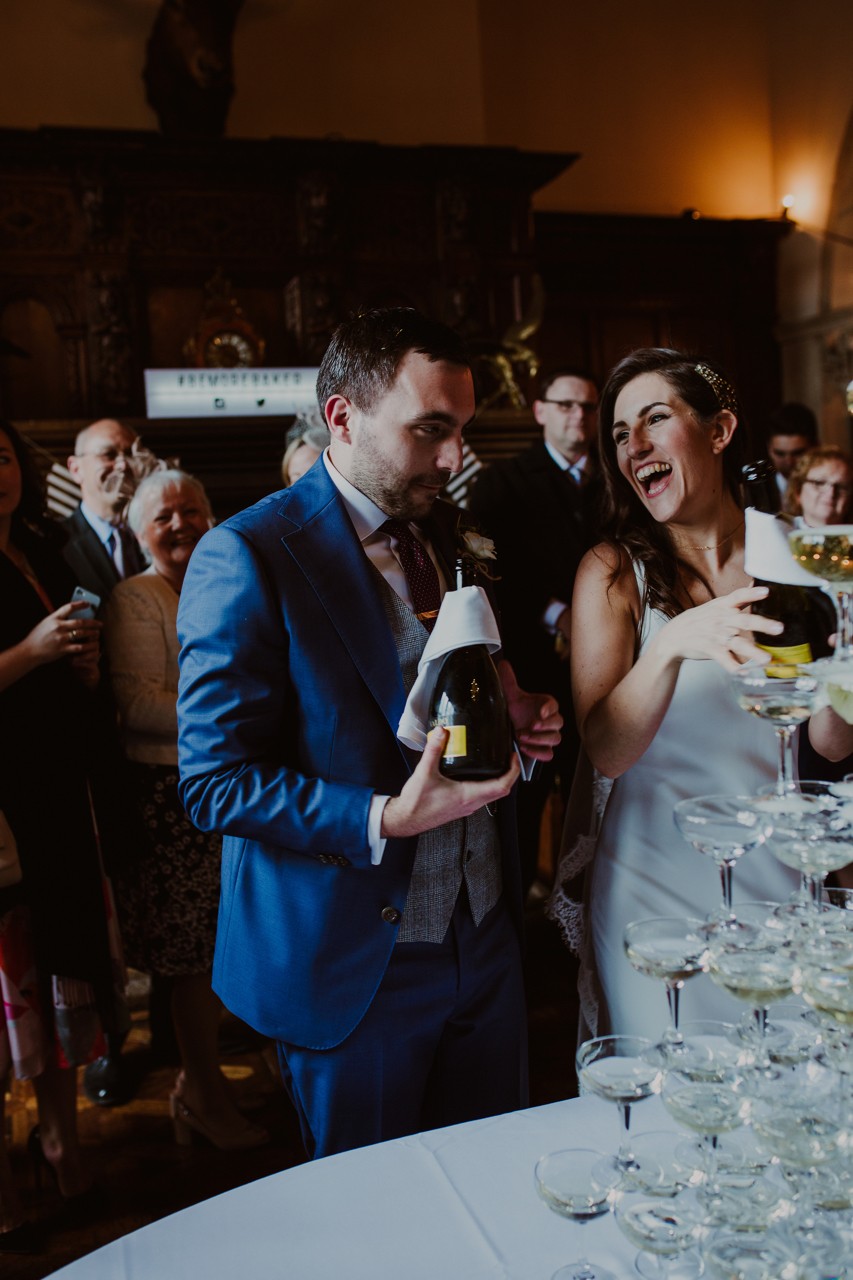 The Flowers
With a venue as grand as Huntsham, we wanted to keep everything else relaxed and informal. To reflect this in the flowers we went for a slightly wild look with mixed posies in jars that were hung on the benches outside for the ceremony, and moved indoors for the reception (doubling up is a great way to save money!) We asked Sophie from Earth Gallery for an all white and green palette with lots of different sized stems from hydrangeas to astilbe, and plenty of foliage like eucalyptus. She also did an amazing job with my bouquet, which had splashes of burgundy to tie in with the vintage feel.
The Outfits
We both love anything vintage so took full advantage of the 1920s style for our outfits. Ben had always wanted to have a bespoke suit made, and we had such fun picking out the material, buttons and all the other little touches at Suit Supply. Ben had his initials and our wedding date embroidered on the inside of the jacket, and wore it with a grey Prince of Charles checked waistcoat (which was a bargain from House of Fraser!), a pocket watch which I gave him as a wedding gift on the day, matching blue and tan Barker shoes and my late grandfather's silk tie.
I'm not a fan of traditional wedding gowns so was dreading dress shopping a bit, but when I came across Charlie Brear I knew the Payton dress ticked all the boxes of what I wanted - a simple bias cut slip dress with a low back. I'd also seen Charlie Brear's incredible tasselled Isere skirt in a magazine and was excited to try it on just for fun - but when I put it on I didn't want to take it off! I decided to wear the slip dress on it's own during the day and add the skirt as a surprise in the evening. I wore it with a delicate yellow-gold back necklace from Etsy, and my mother lent me an art deco cuff and my late grandmother's simple pearl earrings (although I forgot to put them on before the ceremony!) My shoes were my treat to myself - the Becky Gold Bow shoes from Charlotte Mills. They were so comfortable and fun, and I absolutely love that each pair has a silver sixpence and the "Something Old" poem inscribed on the sole.
Grace from Lips and Locks did my hair and make-up. She completely nailed the updated vintage curls I was going for, with a stunning 120-year old vintage headpiece from Crystal Heirlooms on one side, and my make-up stayed on all night. She's a miracle worker!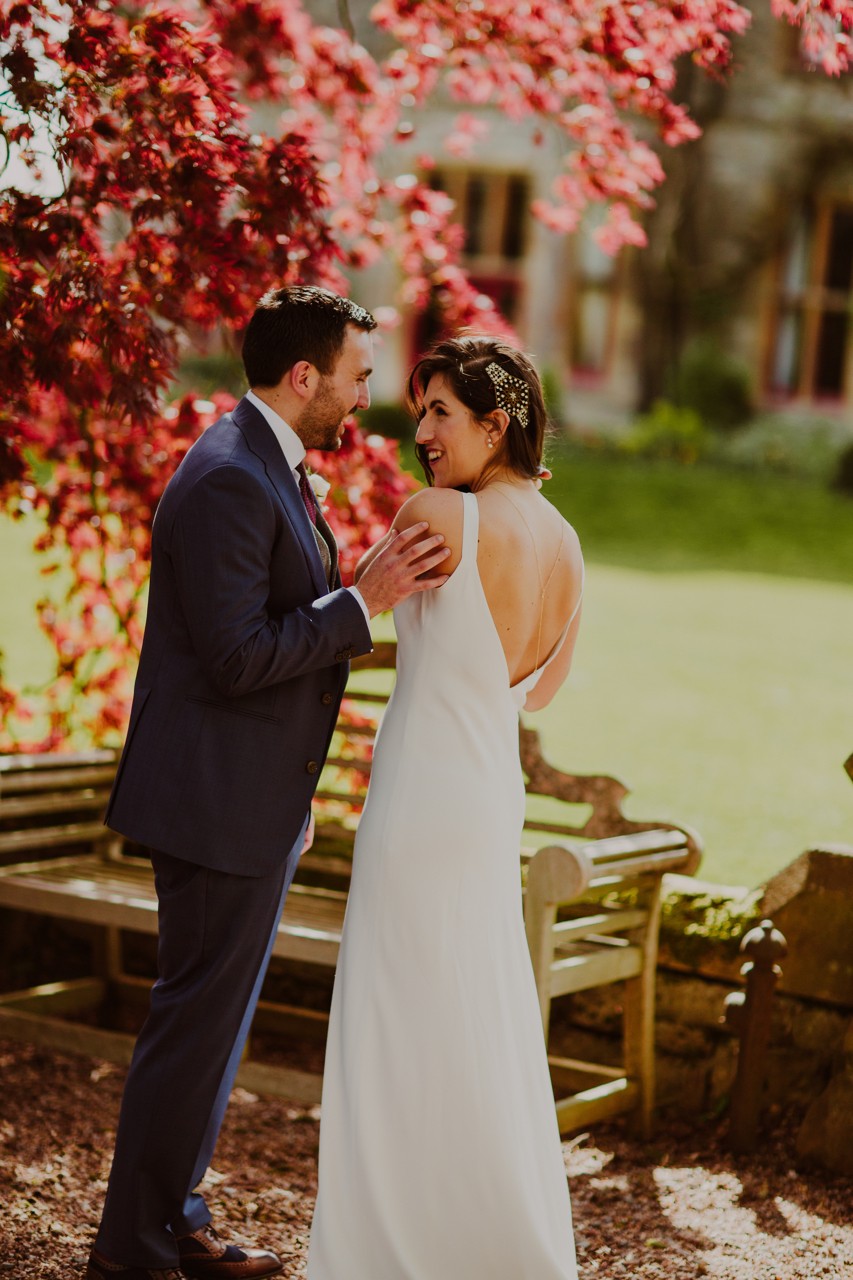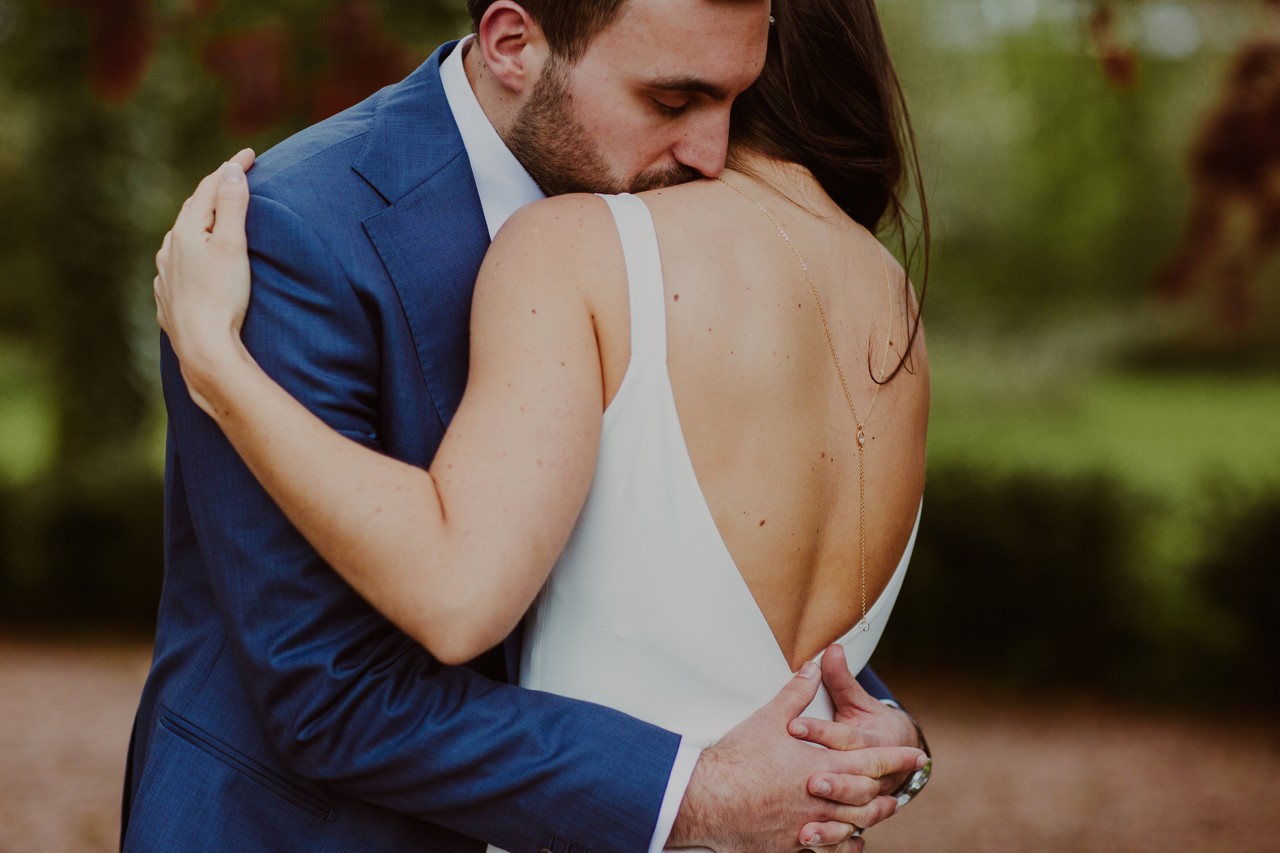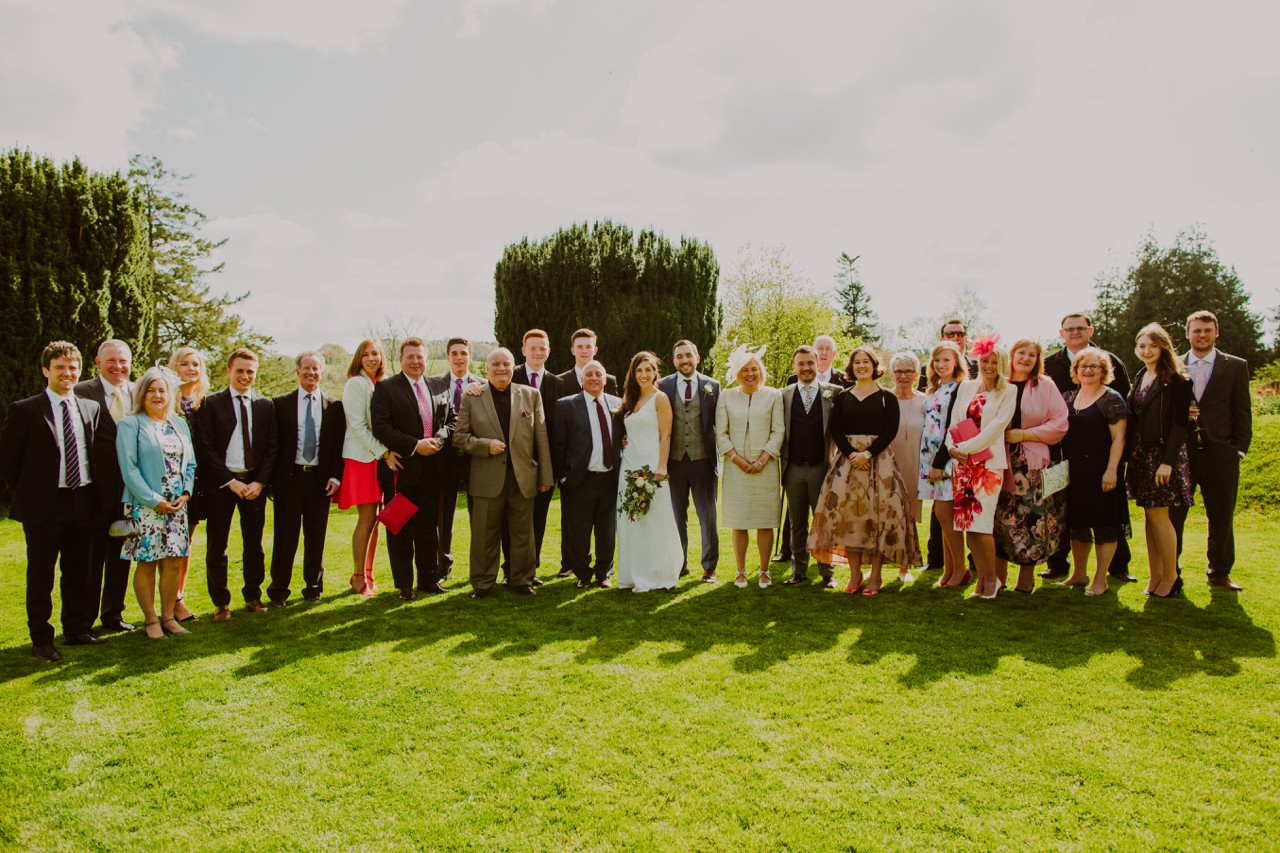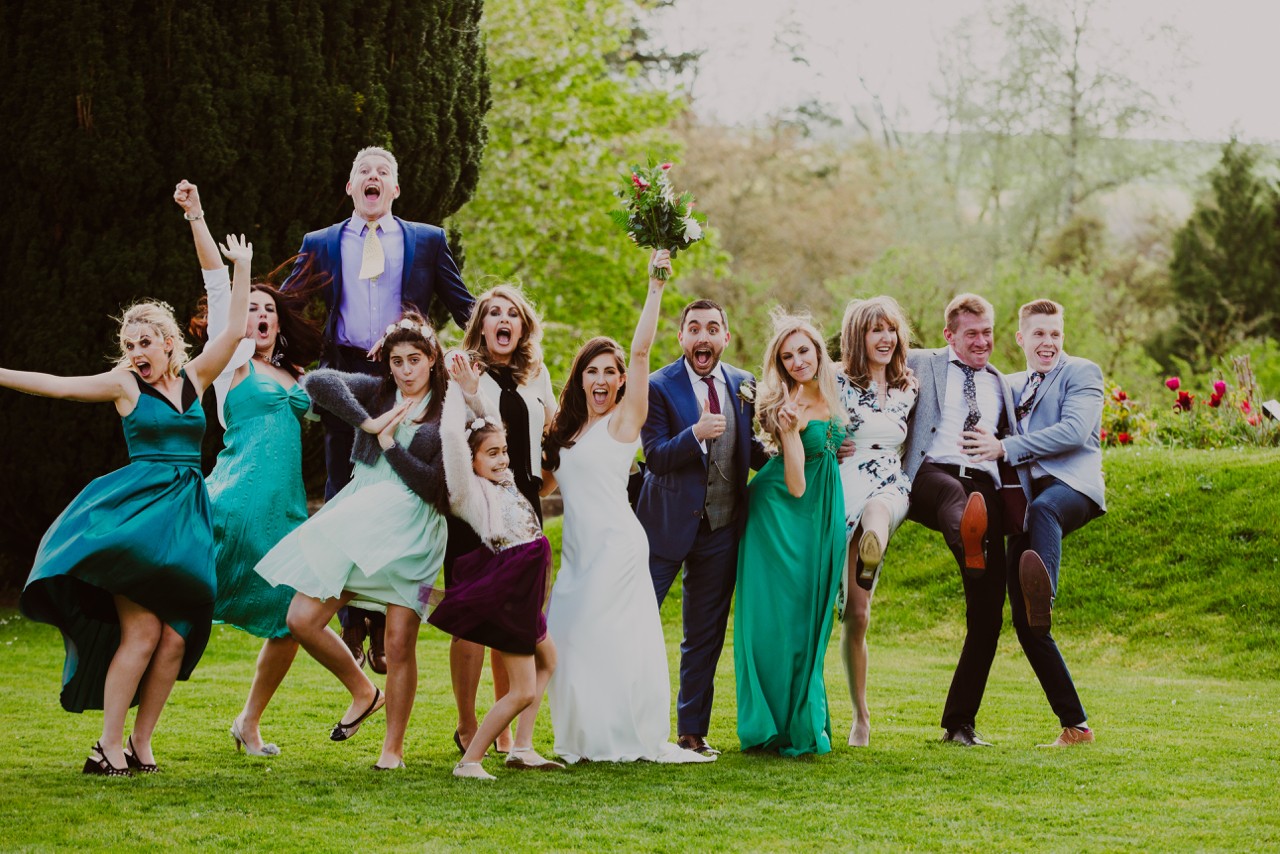 The Food
Food was a huge priority for us as we pretty much revolve our lives around it. Luckily there are some amazing caterers in Devon and we were blown away by the tasting we had at Dartmoor Kitchen. Like our ceremony, we didn't want the meal to feel too formal, so we opted for big shared antipasti platters to start. We loved the idea of continuing the family-style food with a whole beef wellington served to each table, but that ended up being far too expensive so the chef designed his very own take on a wellington for us with a rolled roast sirloin served with pastry shards, mushroom duxelles and dauphinoise potatoes. We also had the most amazing lemon & herb roast chicken or thyme gnocchi for those who don't eat red meat.
We decided to serve our cake as dessert, and ordered a four-tier sponge from Sweet Satisfaction who did an amazing job of tying the cake in with the rest of the wedding with Lemon & Gin Drizzle and Chocolate & Bourbon Ganache flavours. The only complaint we had was that there wasn't enough left for seconds! For those without a sweet tooth, we ordered cheese platters from the Fine Cheese Company after being given possibly the best Christmas gift ever of a cheese subscription and forming a dangerous addiction to their artisan cheeses. In the evening, we hired a popcorn machine and served hotdogs - more of our favourite things!
As Huntsham Court is a dry-hire venue, we were in charge of all the drinks. We arranged a free tasting at Waitrose and were so impressed by how helpful they were. Not only could we pick any bottles we wanted from the shelves to try, they made sure we knew when our wine of choice would be on offer which saved us hundreds. Doing our research (i.e. drinking for free) really paid! We had been hoping to have a few cases of prosecco left over to take home, but our 'Pimp Your Prosecco' trolley with Aperol, Bellini mix, elderflower liquer and limoncello proved so popular we went through nearly 100 bottles!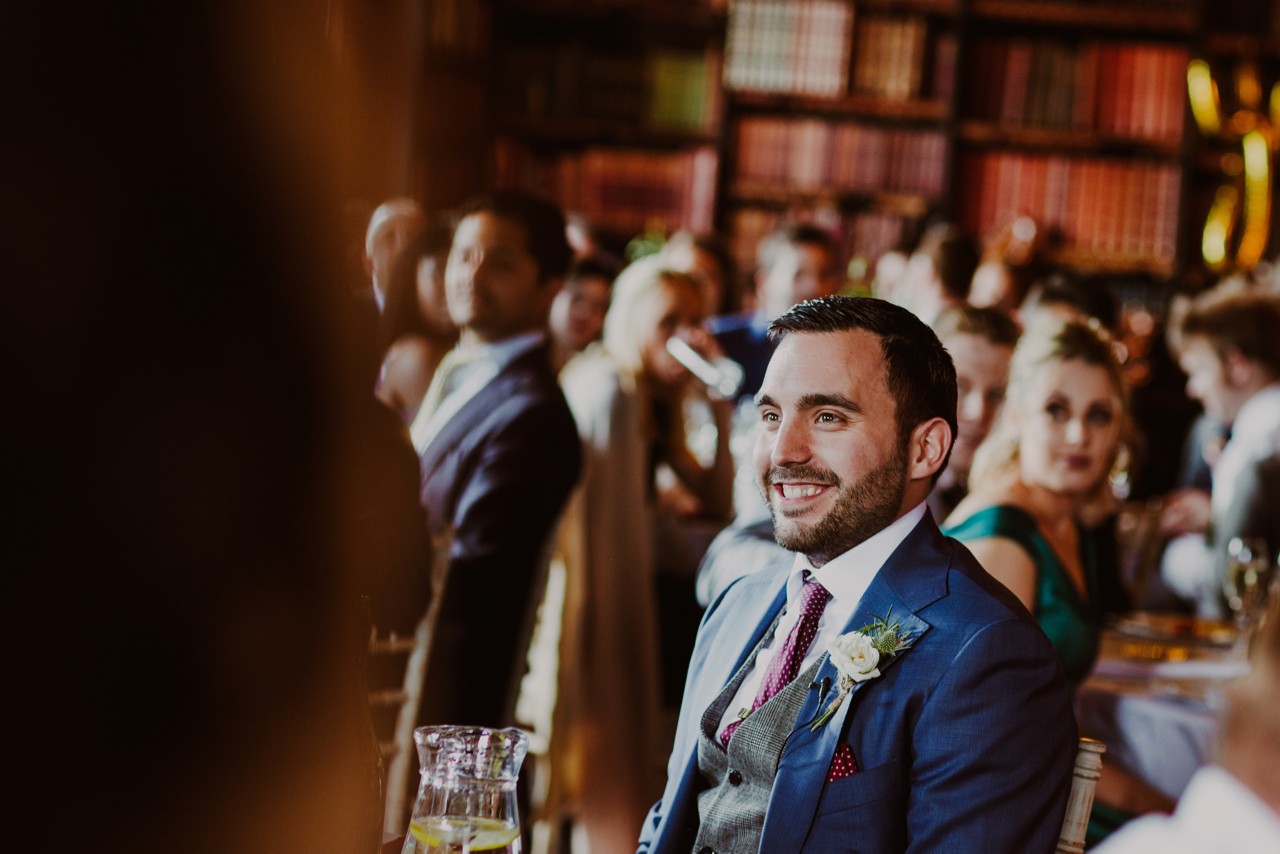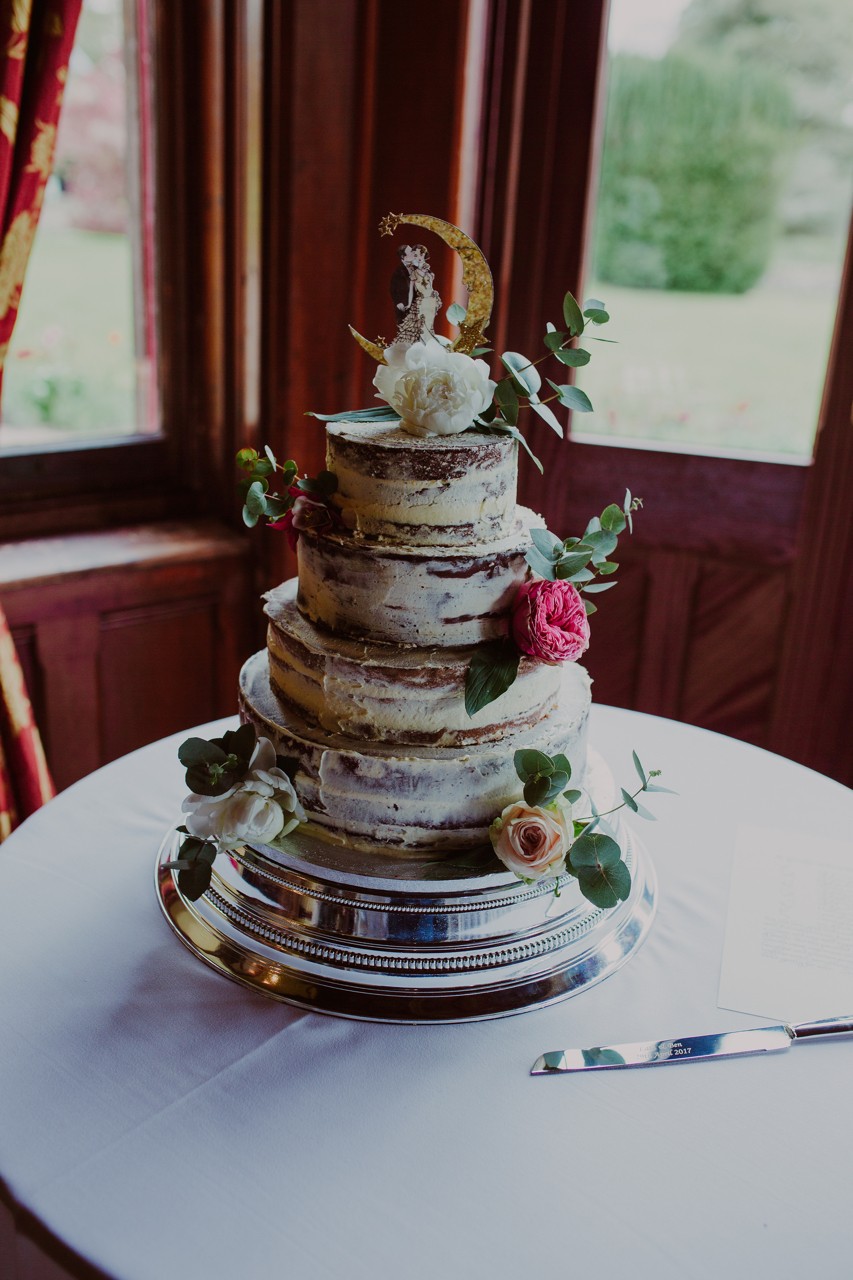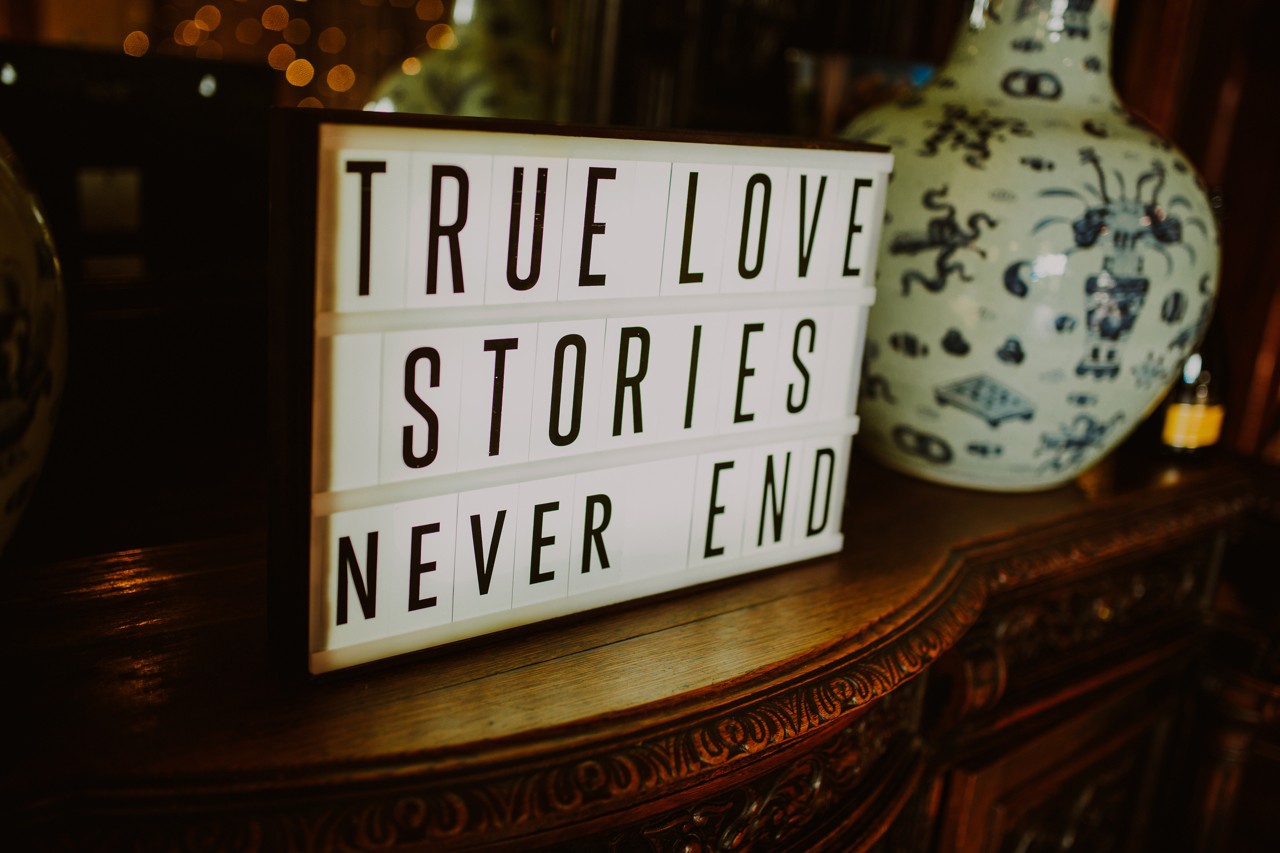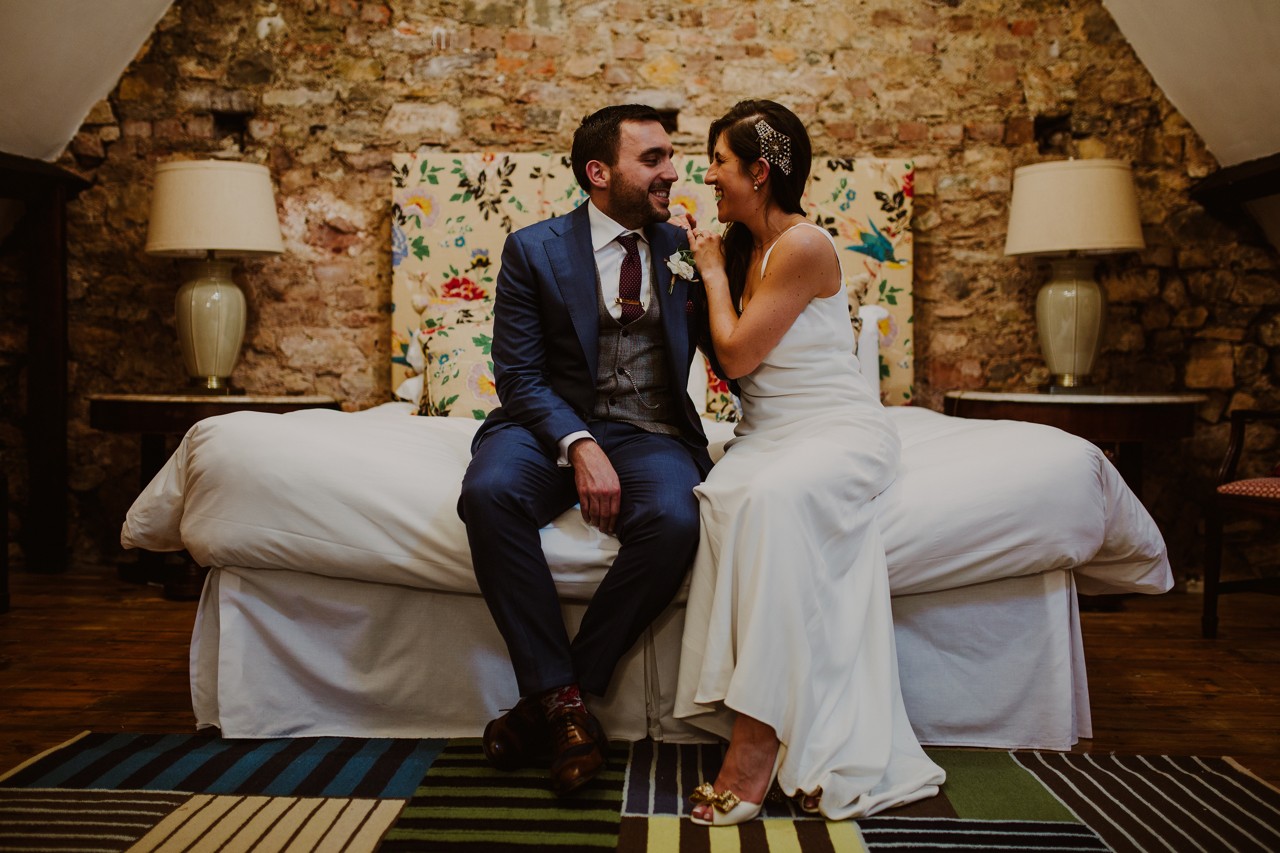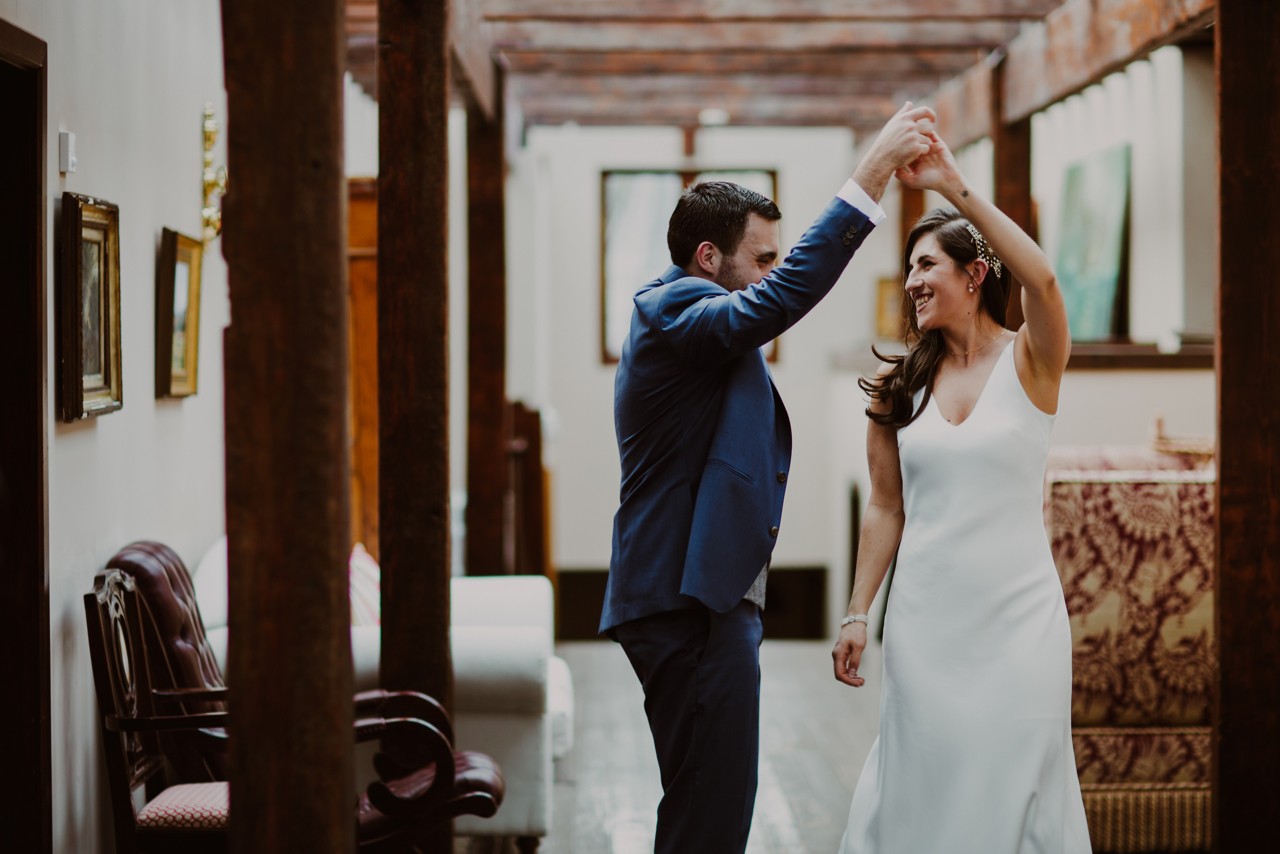 The Photographer + Videographer
Picking a photographer and videographer was such a hard decision as there are so many amazingly talented people out there, and the photos and videos are arguably the most important part as they last forever.
We chose Bears Collective because of their relaxed, natural style and the way they work with light (their sunset shots are particularly gorgeous, although it was too overcast on the day for us to get any) and when we met Karolina and Michal over Skype we felt really comfortable talking to them, which is so important as we'd be spending the whole day together. They were almost as excited about the wedding as we were! It's so hard to pick our favourite photos, from us getting ready or walking through the confetti, to the crazy dancefloor shots and then the sparklers at the end of the night, they're all brilliant!
Mrs Mashup did our videography after I had a last-minute panic about someone we'd already booked and emailed Aymie for a quote. It turned out she had just had a cancellation for our wedding date, so I took that as a sign that it was meant to be! Aymie and Ben are also a husband and wife team, and their videos are not only beautifully shot but so much fun to watch - the timing of their editing is spot on! They were fantastic on the day, making sure they captured every special moment, big or small, and were so easy-going. Aymie even helped my hair stylist when she needed a hand clipping my hairpiece in.
(WP: You can see her amazing video at the top of the blog post!)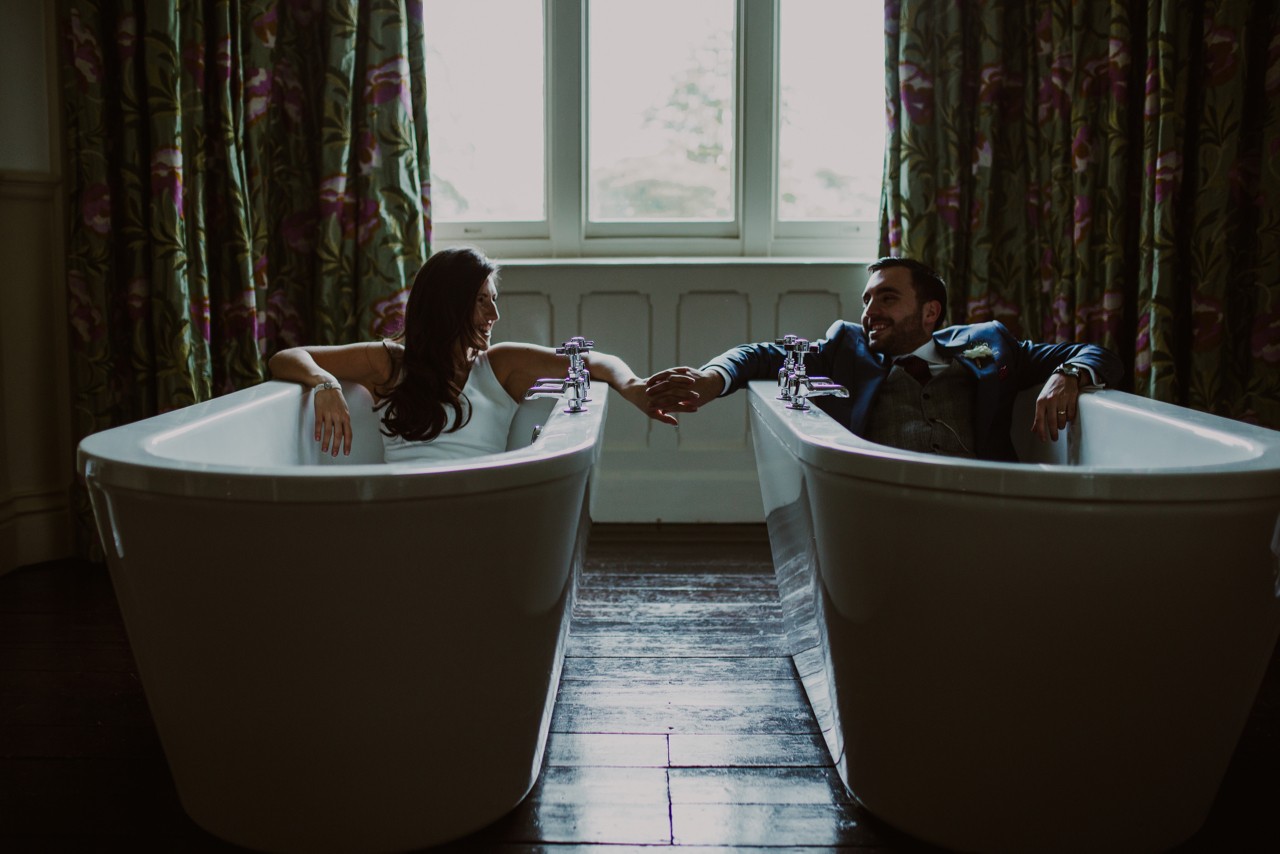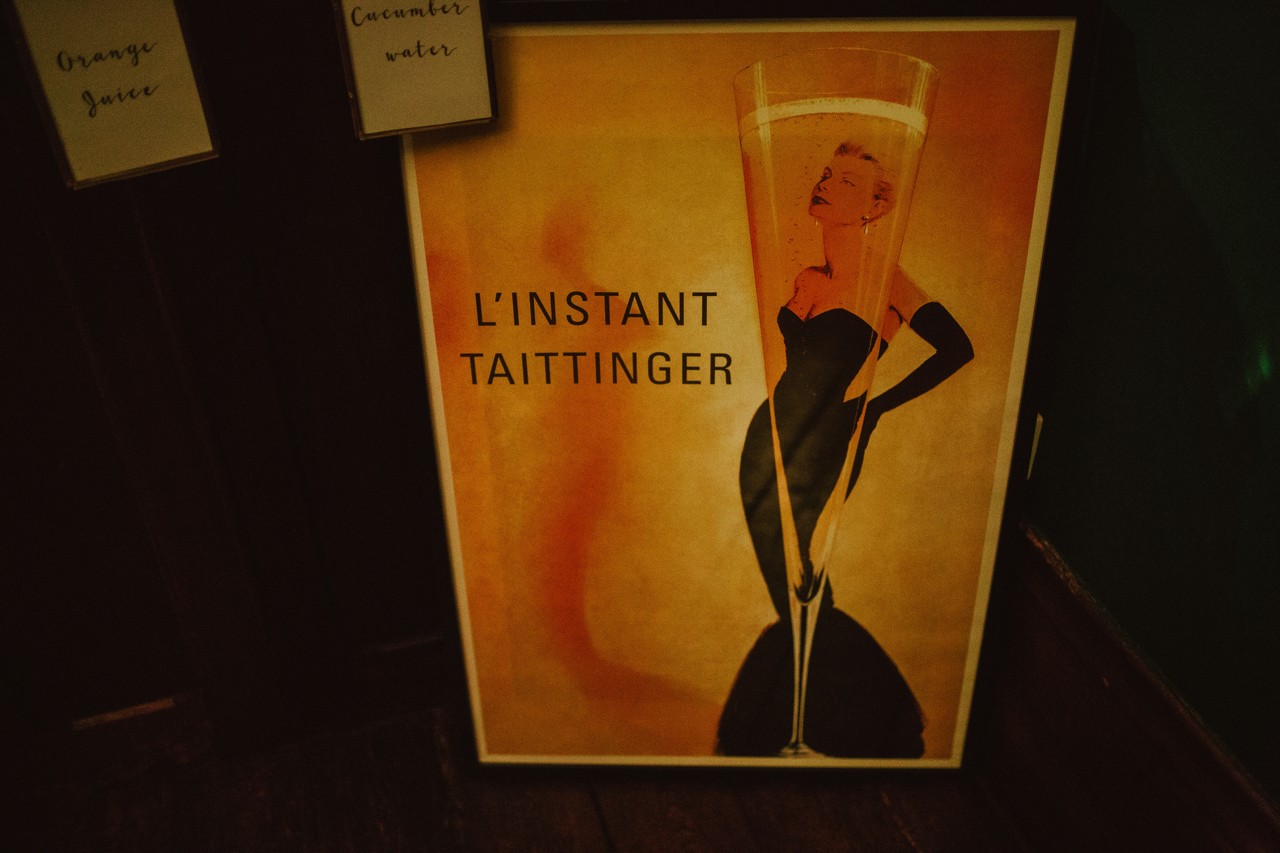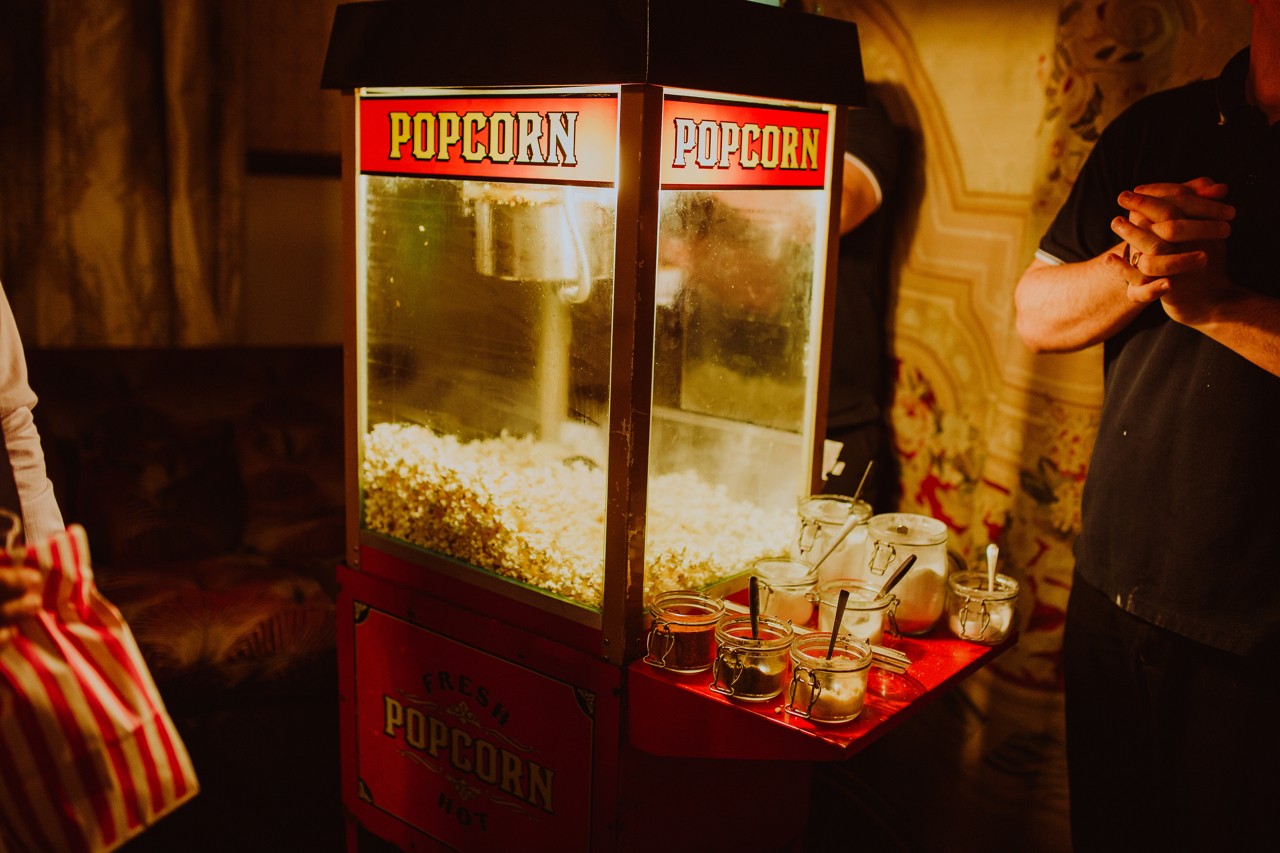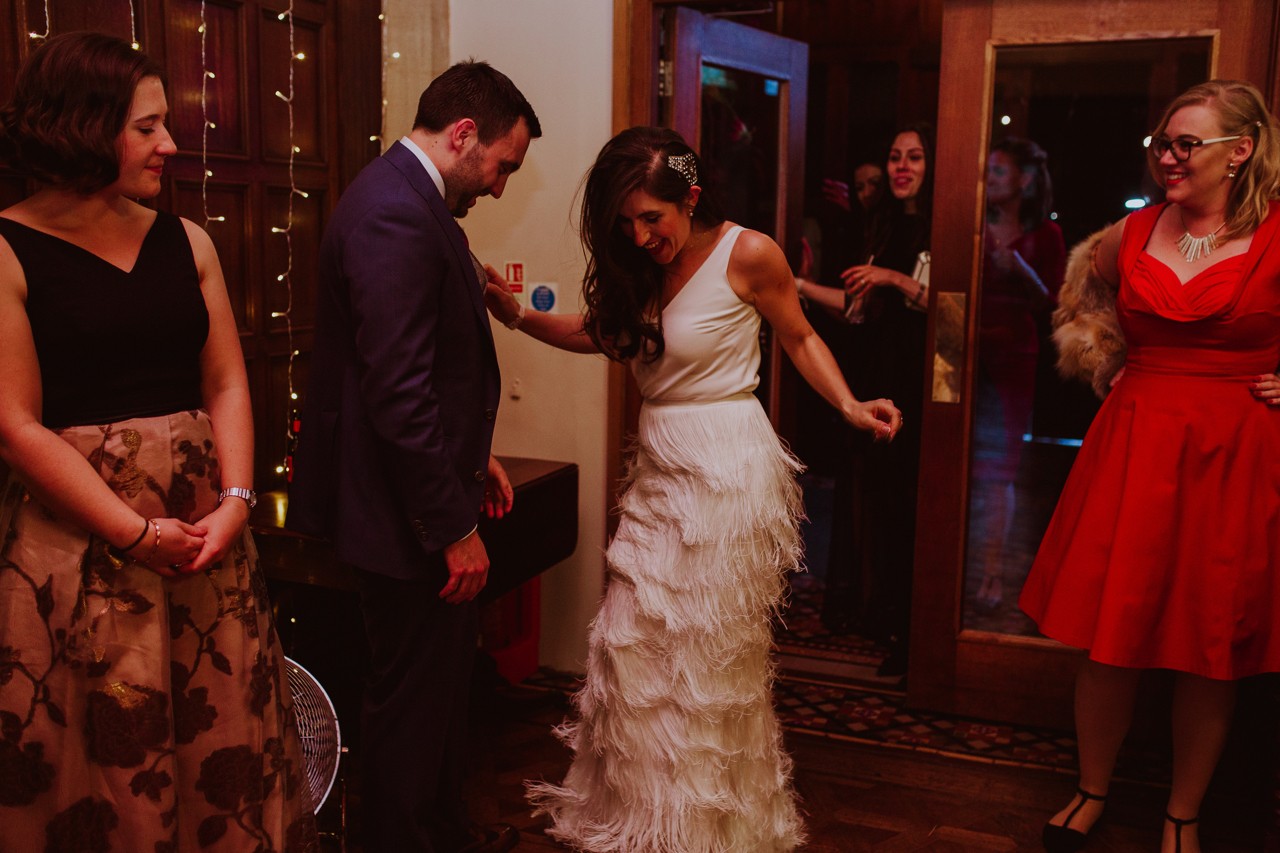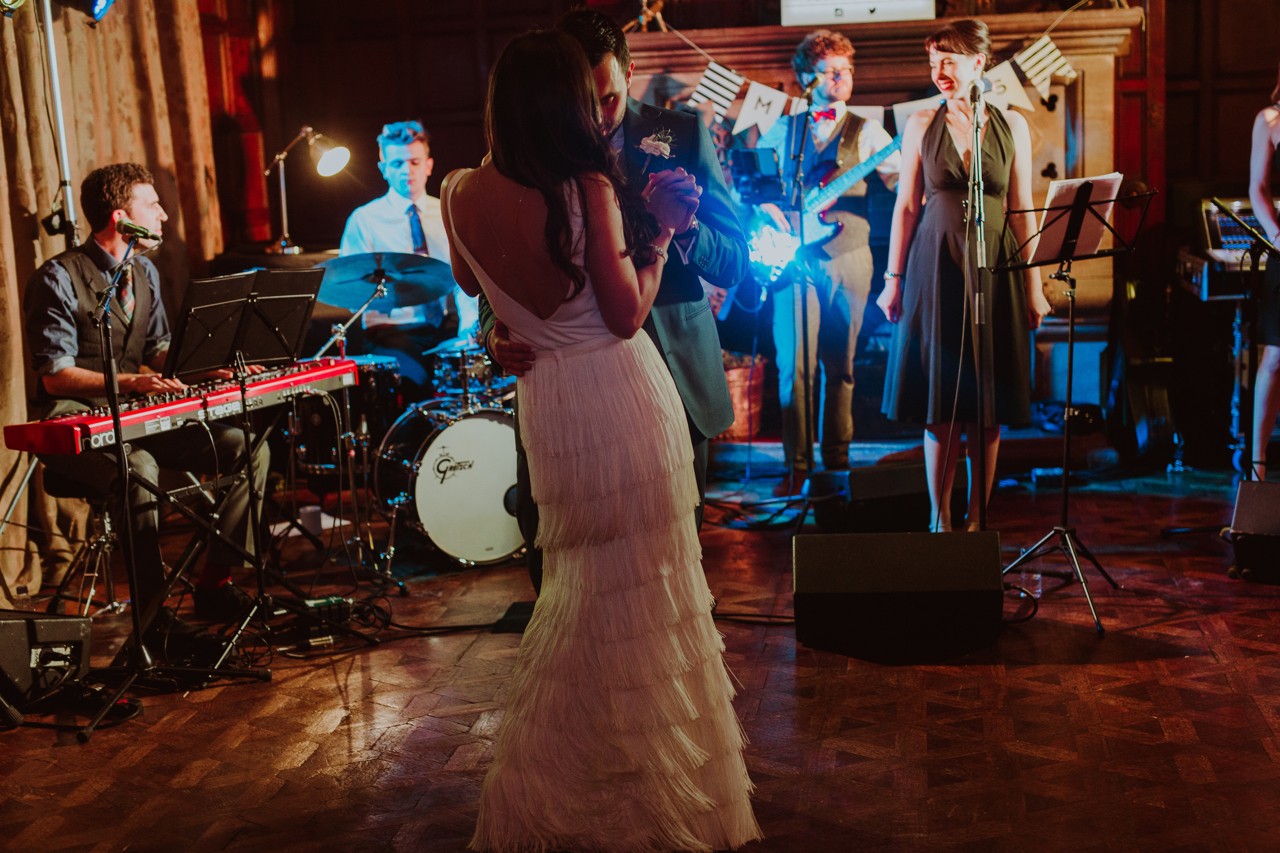 The Entertainment
We both love old school music - anything from Billie Holiday to Frank Sinatra - and one of our earlier dates was to see Scott Bradlee's Postmodern Jukebox, who do vintage arrangements of popular songs (think Beyonce in a 1940s Jazz style). We weren't sure if we could afford a band at first, but then we found Redstone Collective and we are so glad we hired them because I don't think either of us or our guests left the dancefloor the whole night! The lead singer Georgia has a mindblowing voice and Chez the saxophone player was fantastic. They did FOUR encores because the crowd didn't want them to stop, and one of the most special moments of the whole weekend was when they finished with 'Lovely Day' by Bill Withers and all our friends and family formed a huge circle around us and sang along. It was so spontaneous and awesome, I burst into tears!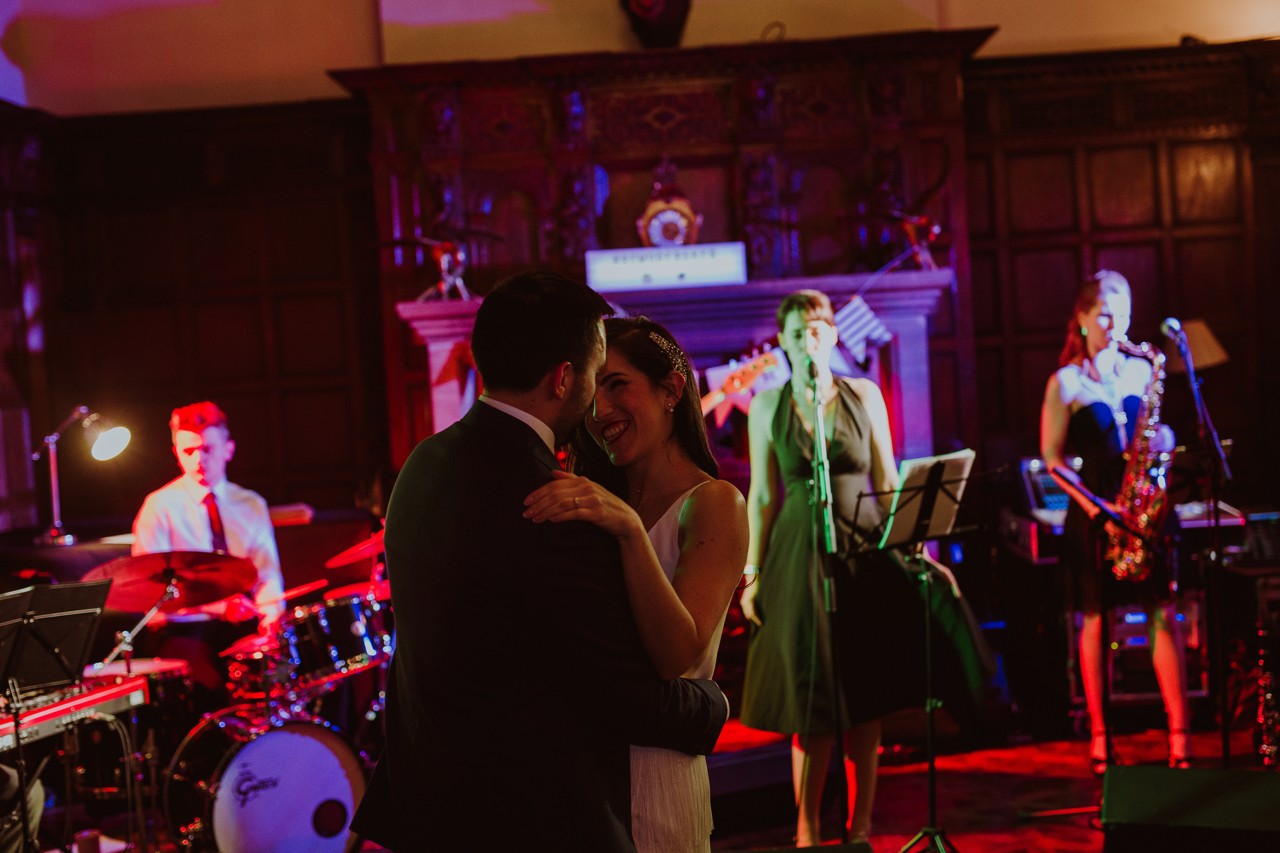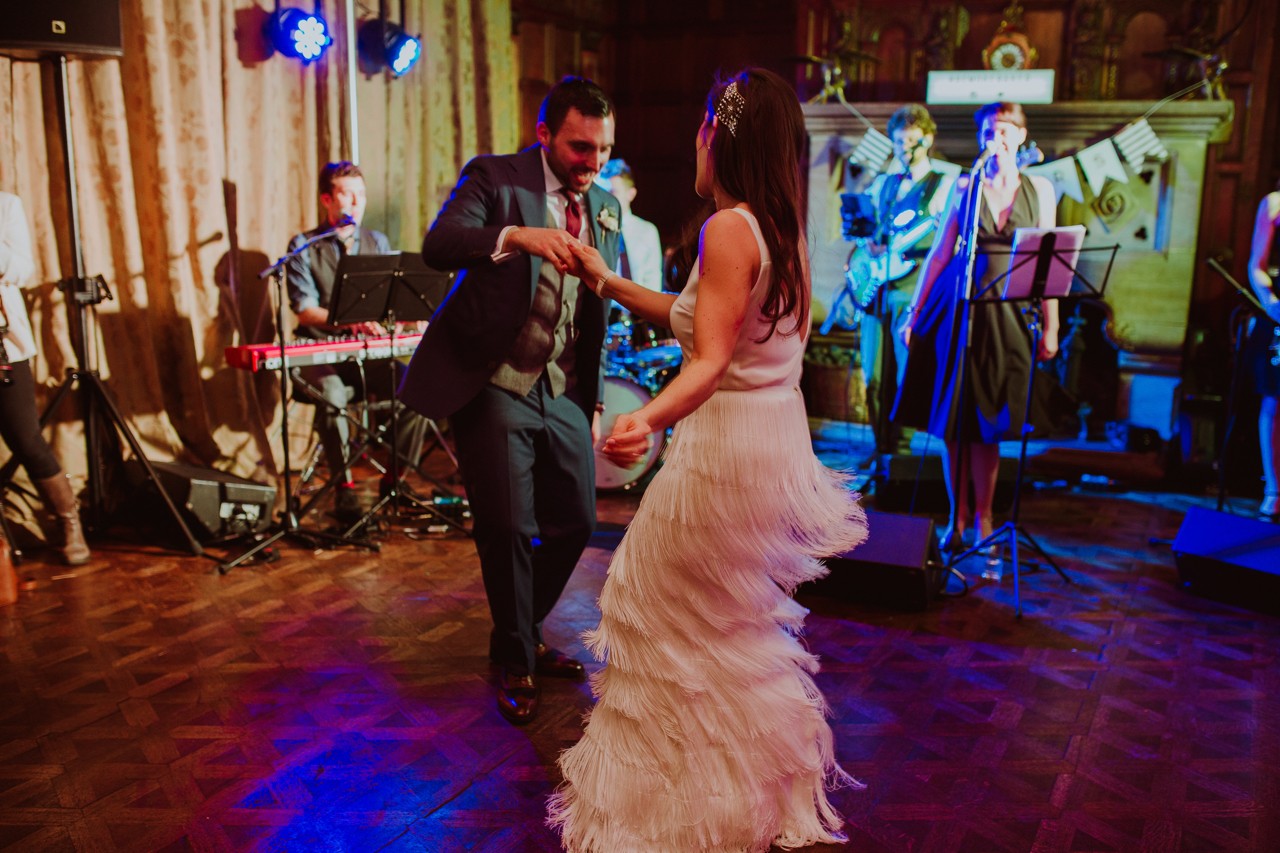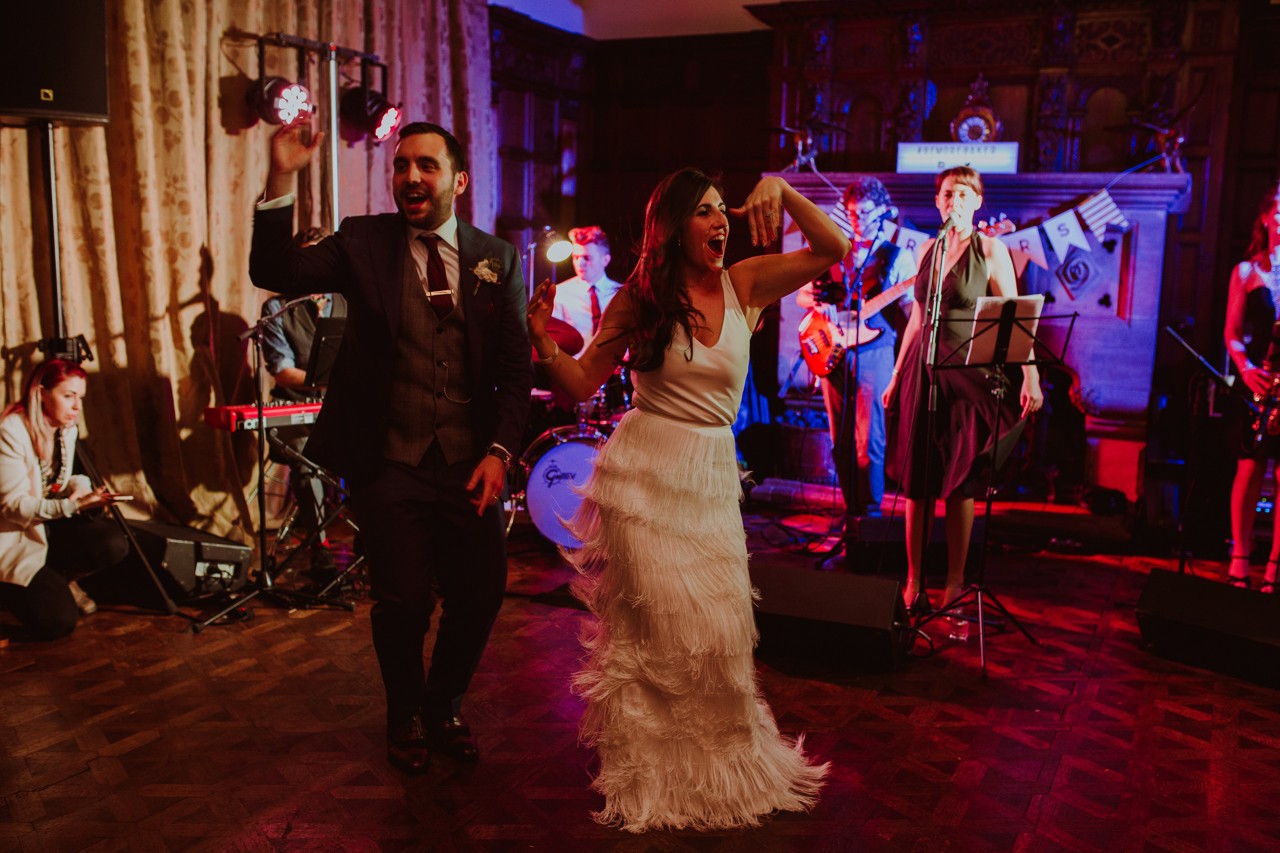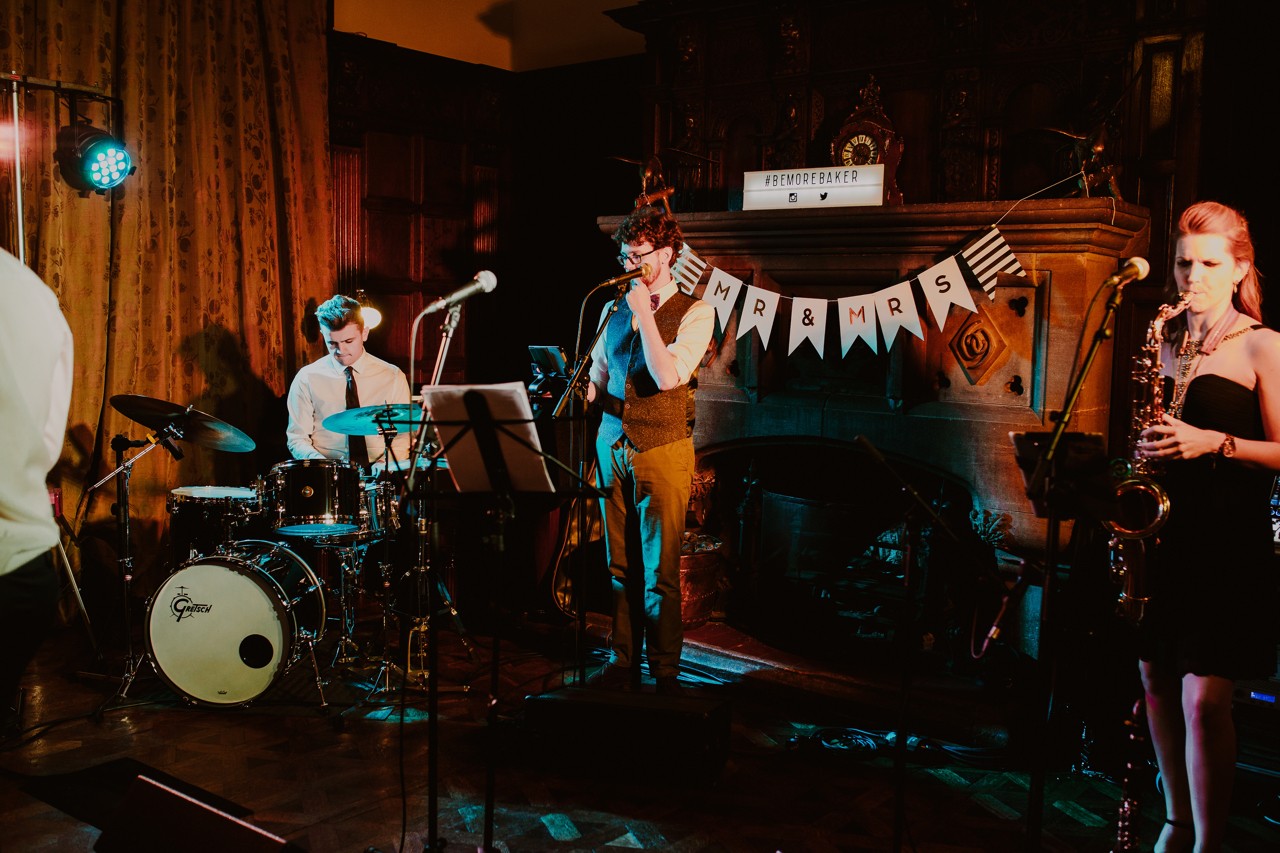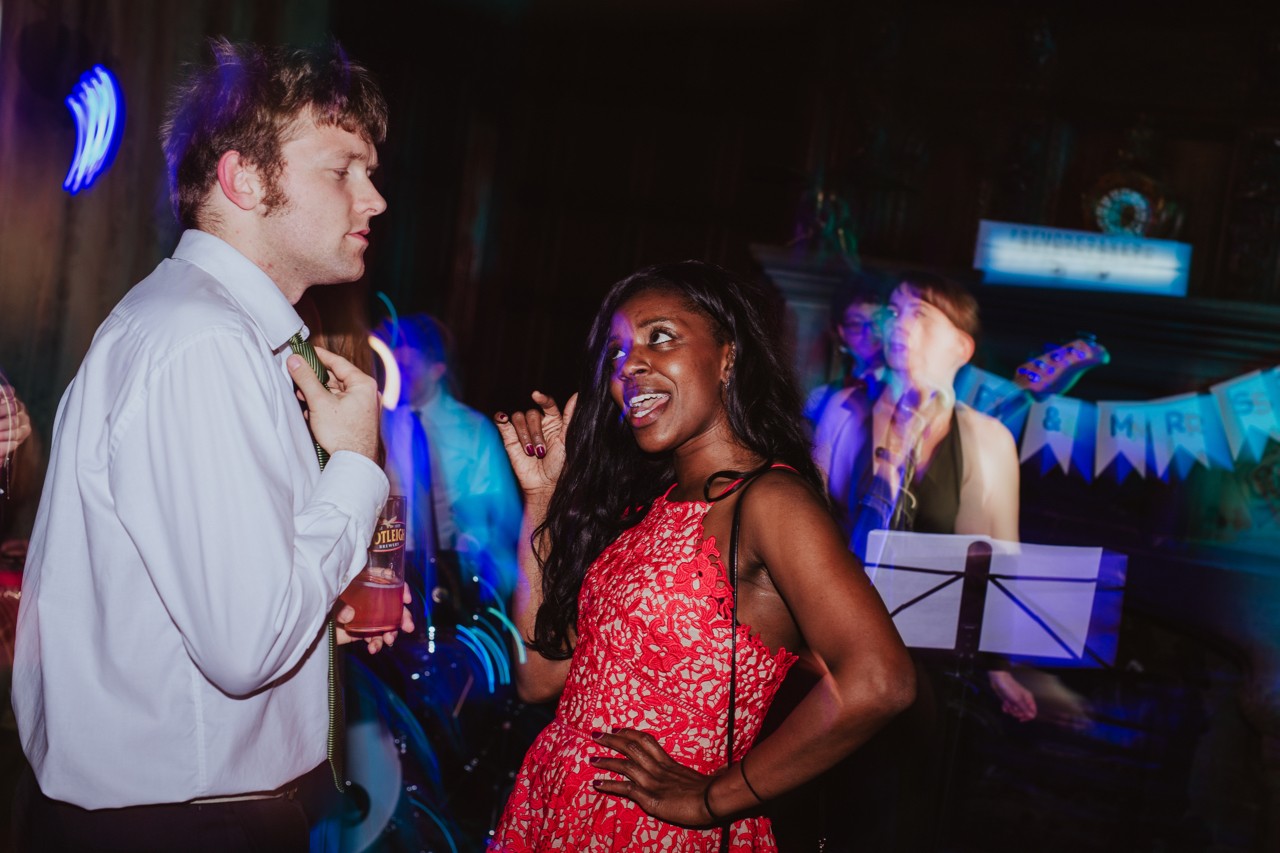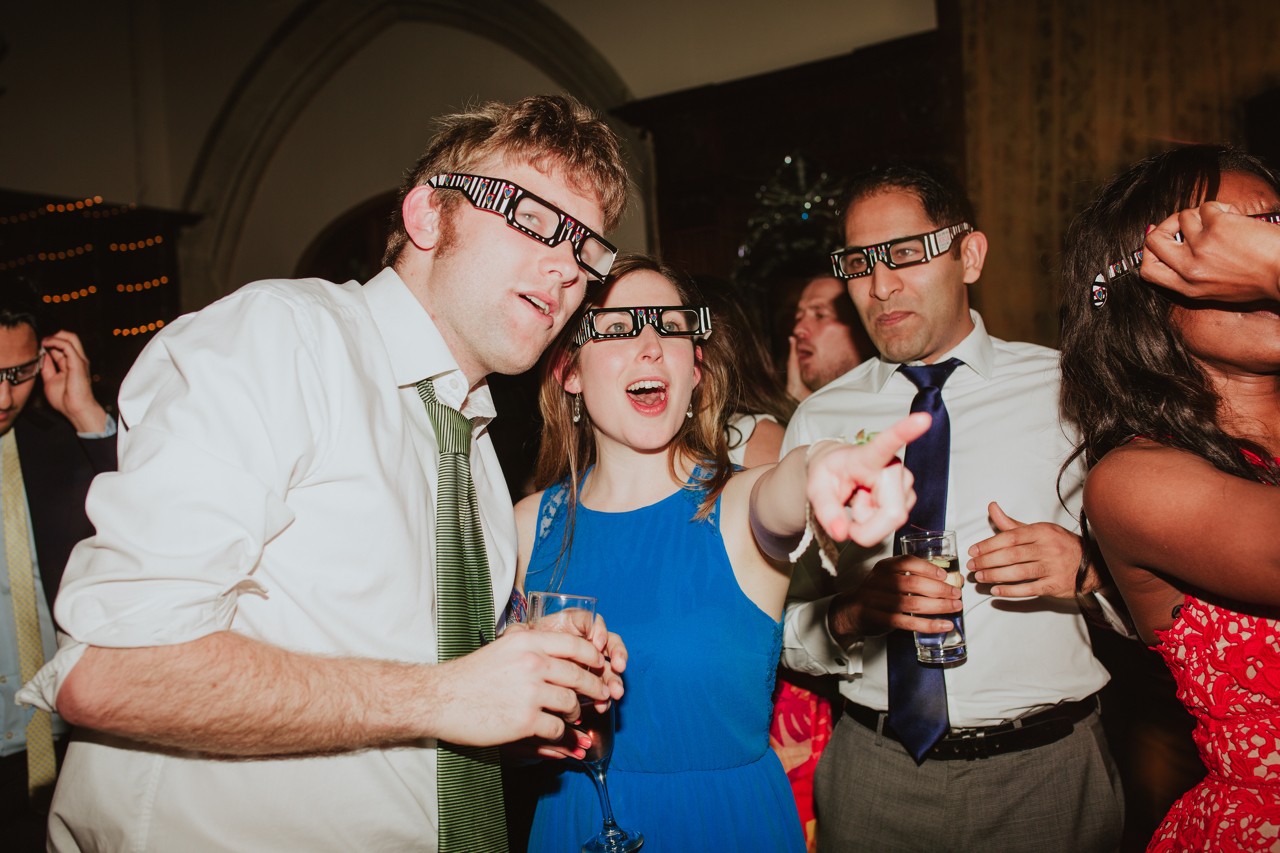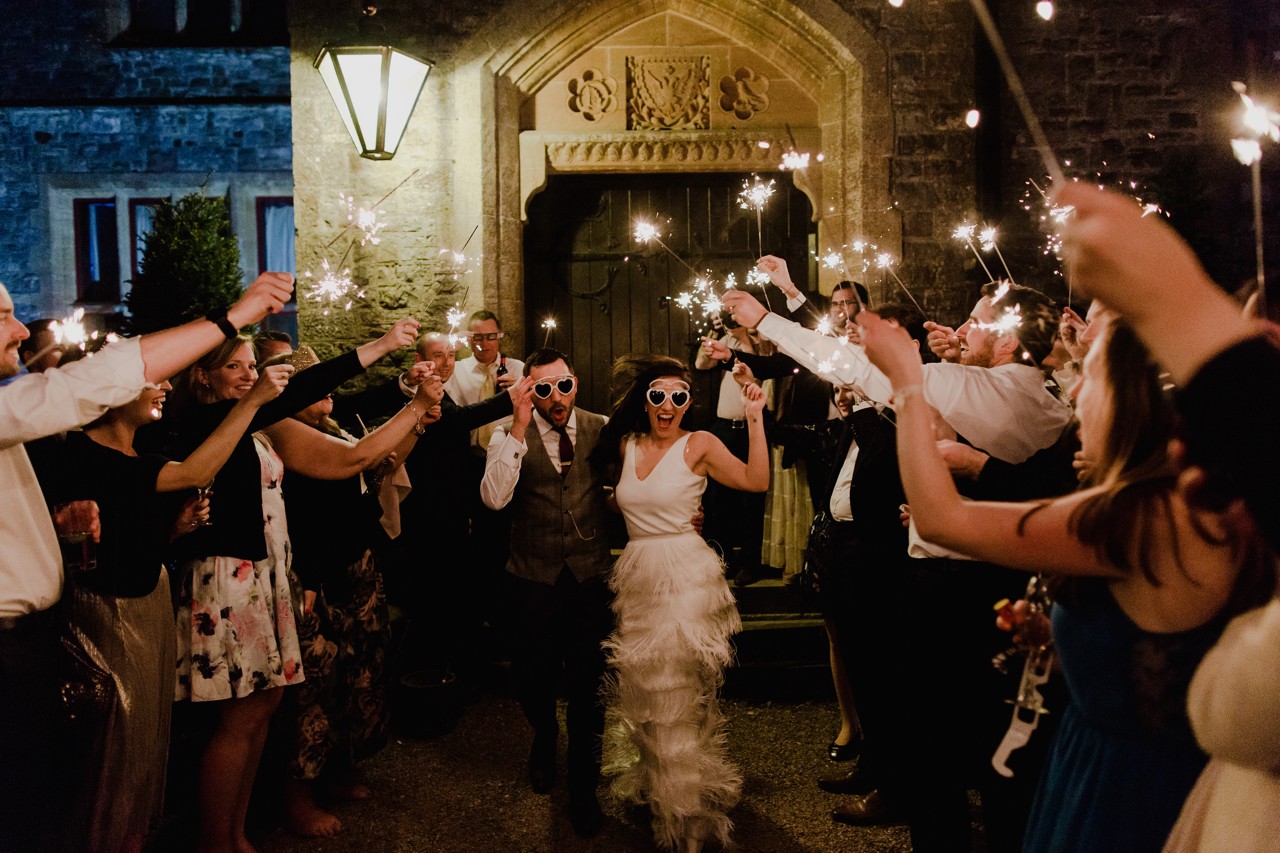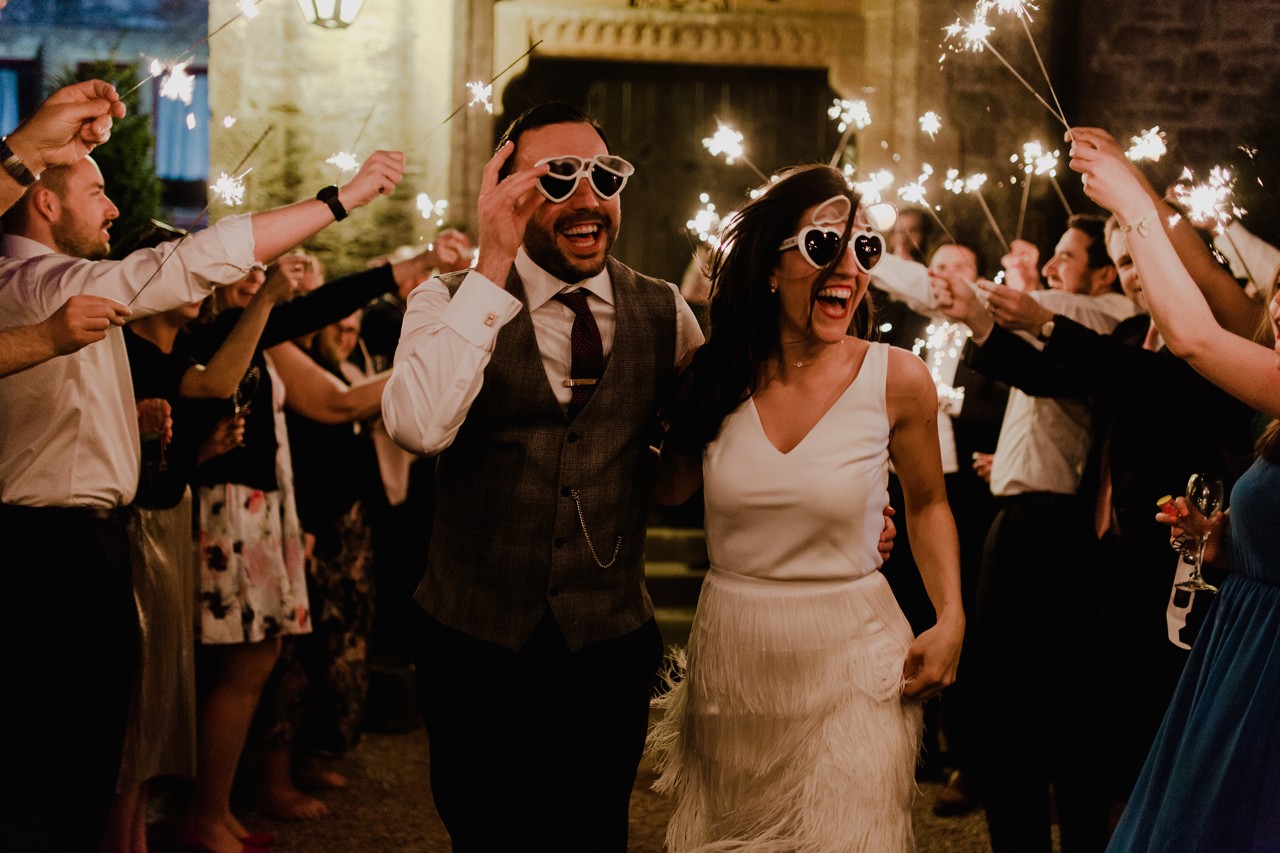 Favourite Moments
We walked down the aisle together instead of having a procession, which gave us the opportunity to have a moment together before the ceremony in private. Ben waited for me at the bottom of the stairs and I just remember telling myself not to fall! All the nerves and stress disappeared when we saw each other, and I felt so excited. Walking through the venue to get to the garden, we got to see what an amazing job Clair (our coordinator) and our friends and family had done decorating all morning, which was good as we wouldn't have had a chance to later!
We'd also bought Love Specs for everyone as a surprise in the evening. They are hologram glasses that turn sources of light into hearts (I know, amazing right!?), and it was so much fun handing them out and seeing people's reactions when they put them on. We each had our own special wedding pair which we wore as we danced under the sparklers outside and it was the most amazing sight and feeling. Love Specs are part of a charity which develops community projects in Africa, so they help a very good cause too!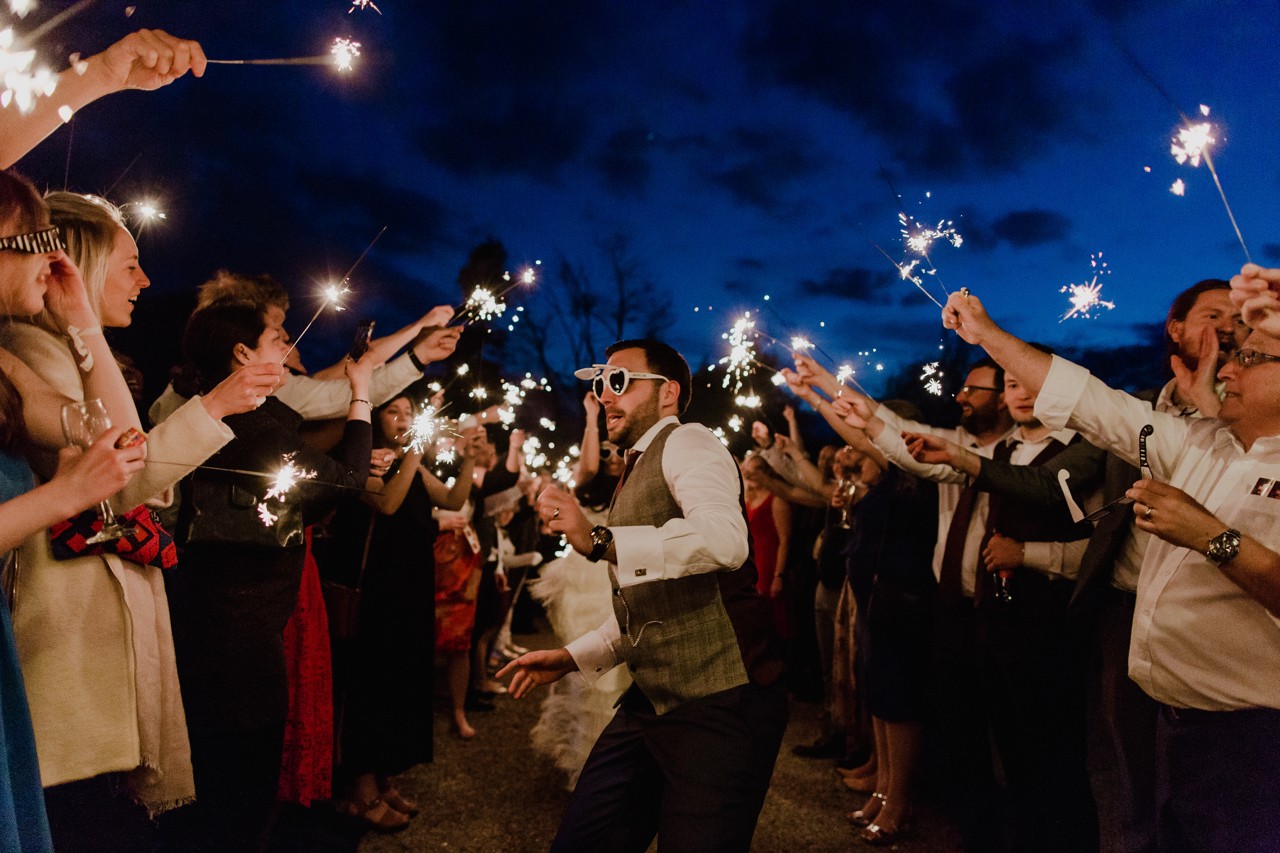 Advice For Future Newlyweds
1. Don't do anything you don't want to, the day is for and about you both. Every decision we made reflected who we are and things we love, and it made it all so much more meaningful on the day.
2. Spend as much time together before and during the wedding as possible - those stolen moments and shared memories will be the best!
3. Write a last-minute "On the Morning" to do list and lay everything out ready to go. I didn't expect to be so overwhelmed by emotions on the day, and even though I am almost obsessively organised I still forgot to do a few last-minute things like changing my earrings - I had to run upstairs after the ceremony to put them on!
4. Have an engagement or pre-wedding shoot - photographers recommend them for a reason! I don't think we really knew what to do in front of the camera for our couple shots or had even thought about it, and although Karolina and Michal were very patient we definitely would have felt more comfortable with a bit of practice.
5. Hire a videographer! It really helps you relive the day. Even though it's an extra expense, it absolutely makes all the hard work and money spent worth it by making it last forever.
For more photos of Lara & Ben's big day check out LuxuryWeddings.co.uk
The Suppliers
Venue – Huntsham Court
Celebrant – Samantha Kelsie
Photographer – Bears Collective
Videographer – Mrs Mashup
Florist – Earth Gallery
Dress – Charlie Brear with alterations by Bride and Alter
Shoes – Charlotte Mills
Jewellery – Necklace by HedgehogProject at Etsy
Hairpiece – Crystal Heirlooms
Hair and Make Up Stylist – Lips and Locks
Groom's Outfit – Suit Supply and Barkers Shoes
Stationery – Pingle Pie and website from Appy Couple
Cake – Sweet Satisfaction and cake topper by Jolie En Rose at Etsy
Favours – Love Specs
Catering – Dartmoor Kitchen, The Fine Cheese Company and popcorn machine hire from Pop Goes The Weasel
Entertainment – Redstone Collective
Photobooth – Beach Hut Booth
Décor and Styling – DIY