James & Nicola's Elegant Woodland Barn Wedding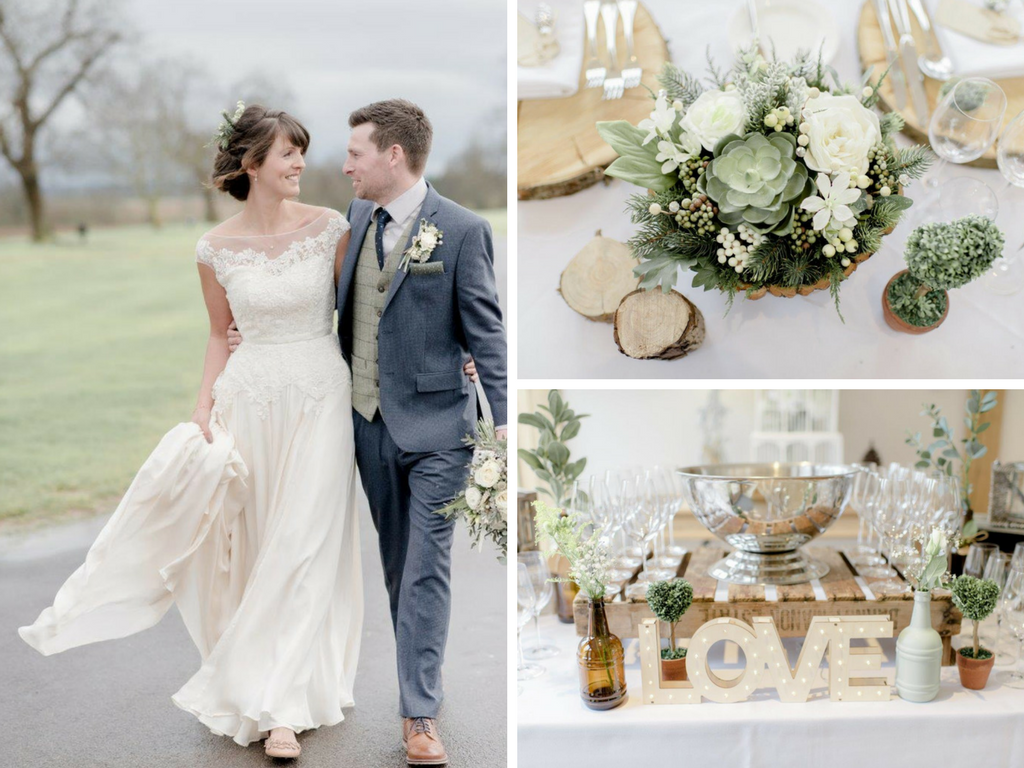 If you're into effortless countryside elegance then prepare to swoon. And whilst you're at it, maybe grab a cup of tea and a couple of biscuits because this is a long one - but oh so worth it.
When we received this real weddings from one of our gorgeous wedding venues Bassmead Manor Barns, we couldn't get over just how much detail and effort the couple had gone to when decorating their wedding, adding so many different and unique touches. Check out our full selection of barn wedding venues here
With the lovely rustic barn as their setting, the couple Nicola and James filled the whole venue with elegant woodland inspired touches to make the whole space feel cosy and curated. For them, the main priority for their wedding day was to have all their friends and family around them, in a decorated location they felt reflected the two of them wholeheartedly. They opted for a fairly intimate wedding with just over 60 guests and around 20 extra joining them for the evening. It felt crucial to them that the wedding was just the right size so they could spend the right amount of time with all the people they love. By choosing a venue that could be used for both the ceremony and the reception, the whole day felt really intimate and perfect for family and friends of all ages who could stay on site.

The Venue
With James being a carpenter and Nicola's love of interior design and the countryside, a barn just felt like the ideal venue to satisfy both their interests and tastes. The couple were captured by Bassmead Manor Barns as soon as they saw it. From the exposed beams and brickwork to the twinkly fairy lights, it just felt so warm and welcoming and had everything they needed to create the ultimate wedding day for them. The surrounding countryside provided endless numbers of photograph opportunities too and the ability for it to be all in one place just meant all their boxes were instantly ticked.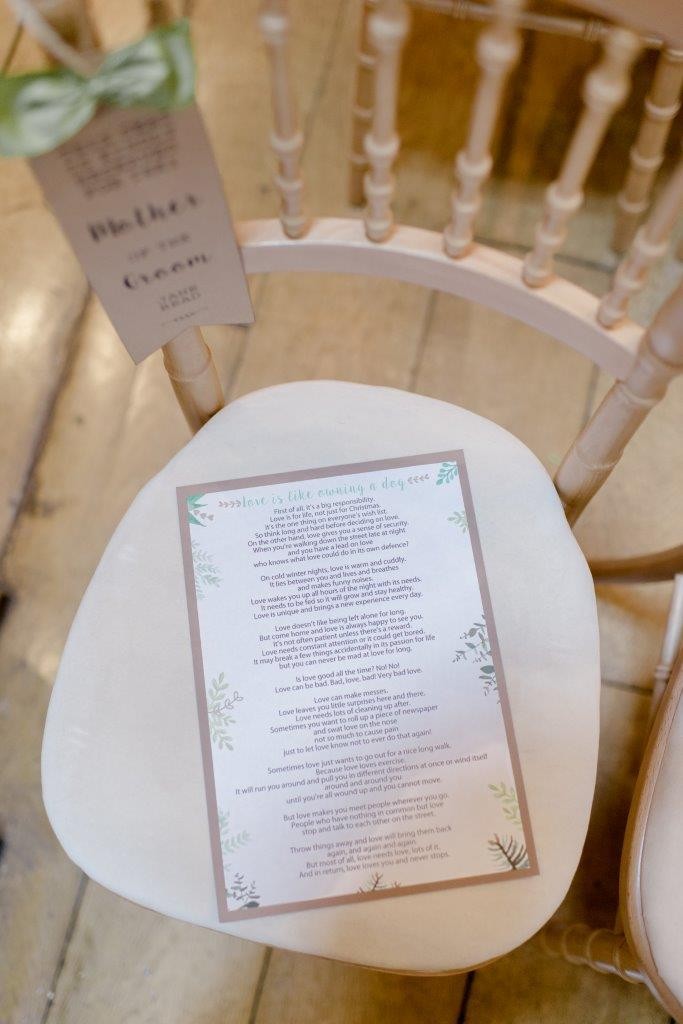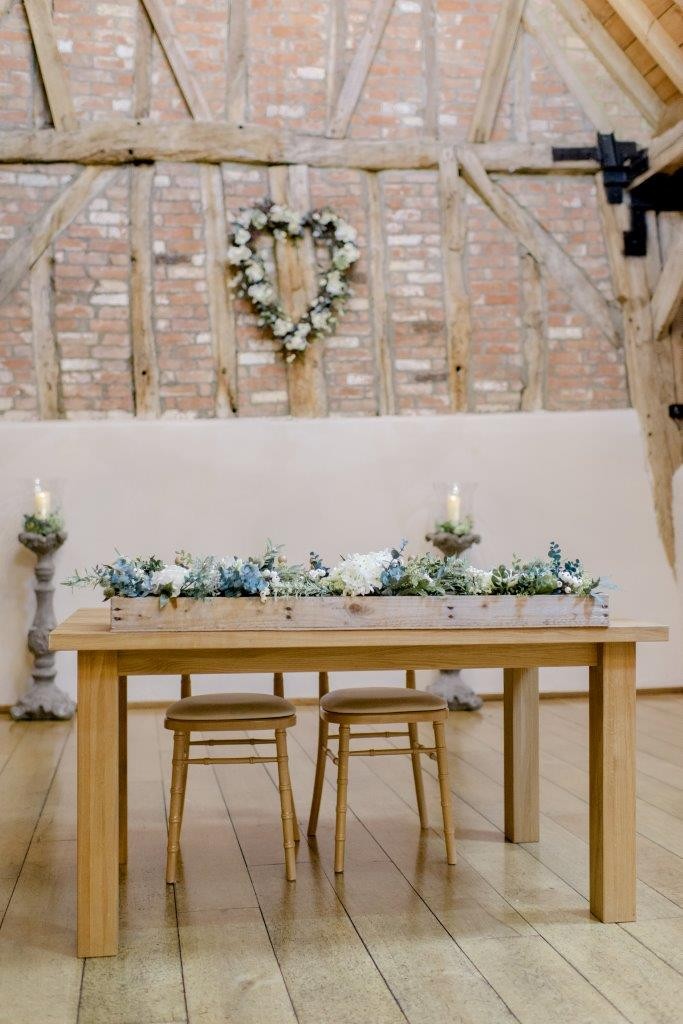 The Decor
The couple decided to go for a woodland inspired theme due to Nicola's work at a Country Park and James working as a carpenter along with their mutual love of the countryside. The theme defines who they are as people and with Nicola creating everything for the wedding herself, it was very personal to them how they styled the wedding. Despite the wedding actually being in March, Nicola also chose the woodland theme because of how much she loved Christmas, aiming to strike the balance between winter woodland and a Spring wedding.
It goes without saying that the décor of this wedding is truly beautiful, with a huge amount of care and attention woven through everything from the table displays and signs to even the displaying of the food. So it comes as no surprise that the bride in fact has a very creative background and has worked in craft, event décor and cake decoration for a number of years. It was always a dream of hers to get the opportunity to style her own wedding so when it came to it, she spent the best part of a year collecting and making decorations alongside planning every single area that would be decorated. Given his skillset, Nicola had James get involved with the décor too creating the tree slice cake stands and even creating the top table flower arrangements using sanded down wood pallets filled with flowers. Everywhere you look in the wedding you will see Nicola's masterpieces, from the wedding cake and dessert table, to the place settings, centrepieces and table plan and so much more.
Nicola explains "I wanted all of our friends and family to be able to walk into each room and see James and I reflected in everything they could see. In the main drinks reception area we had a memory table of photographs of James and I since we first met, our dog, family who could not be with us and quotes that symbolised our relationship. We wanted people to smile at everything they saw and see that all of the personal touches were to make them feel special too. We think the intimate atmosphere that was created made our day even more special."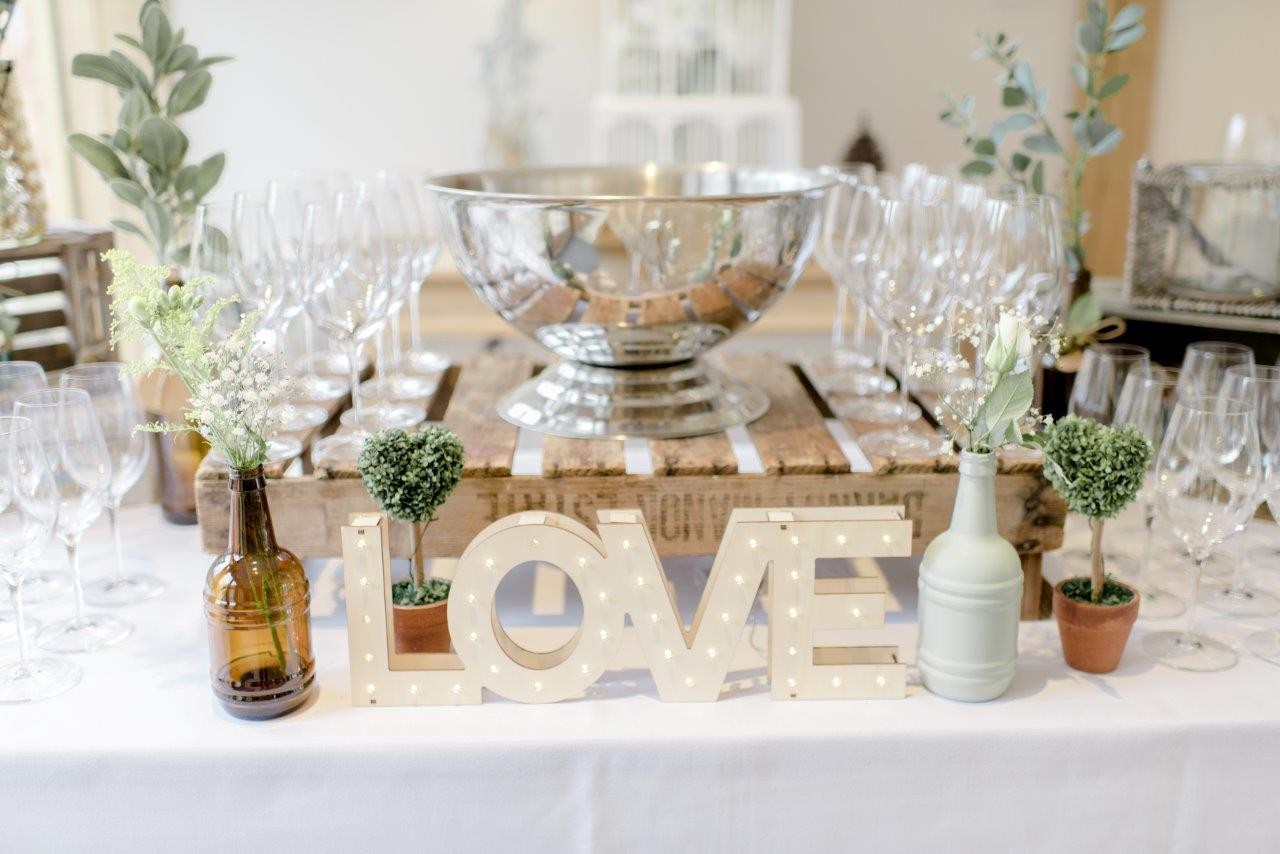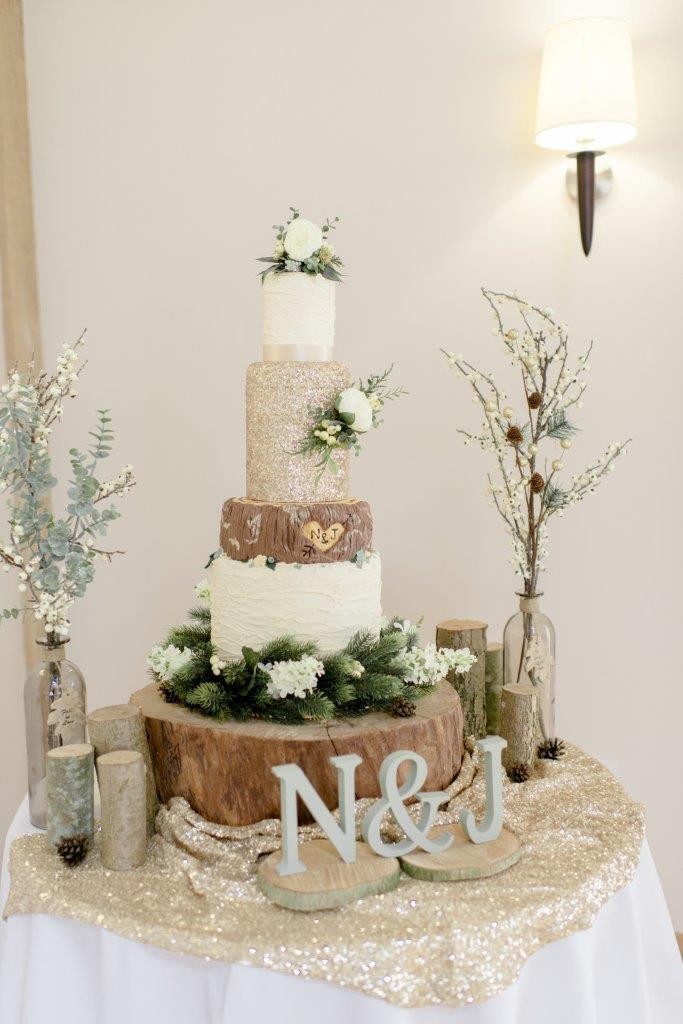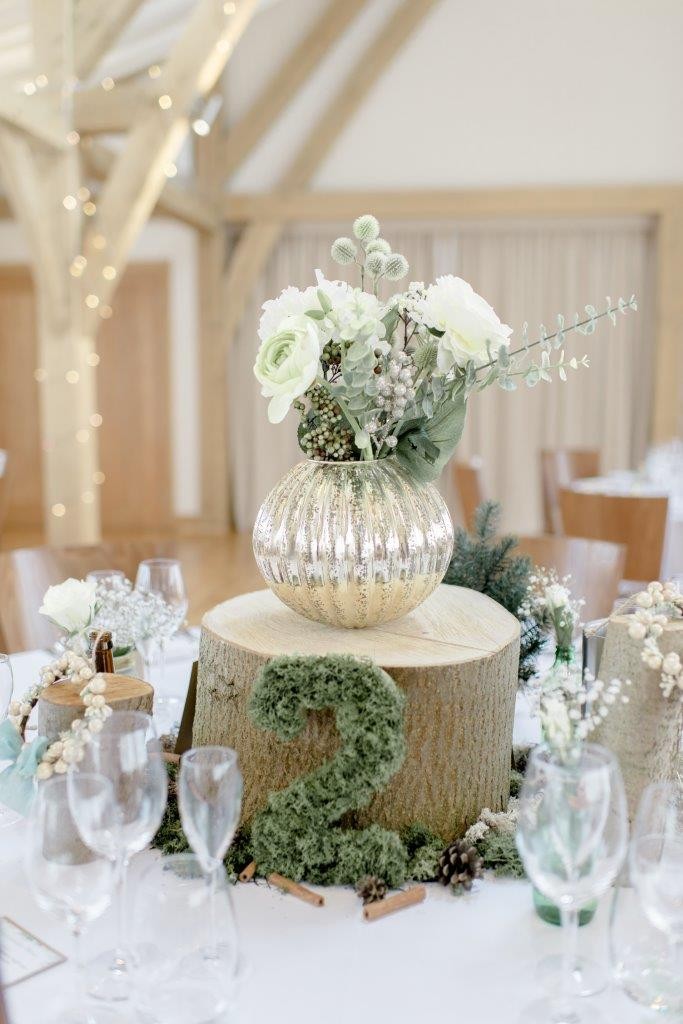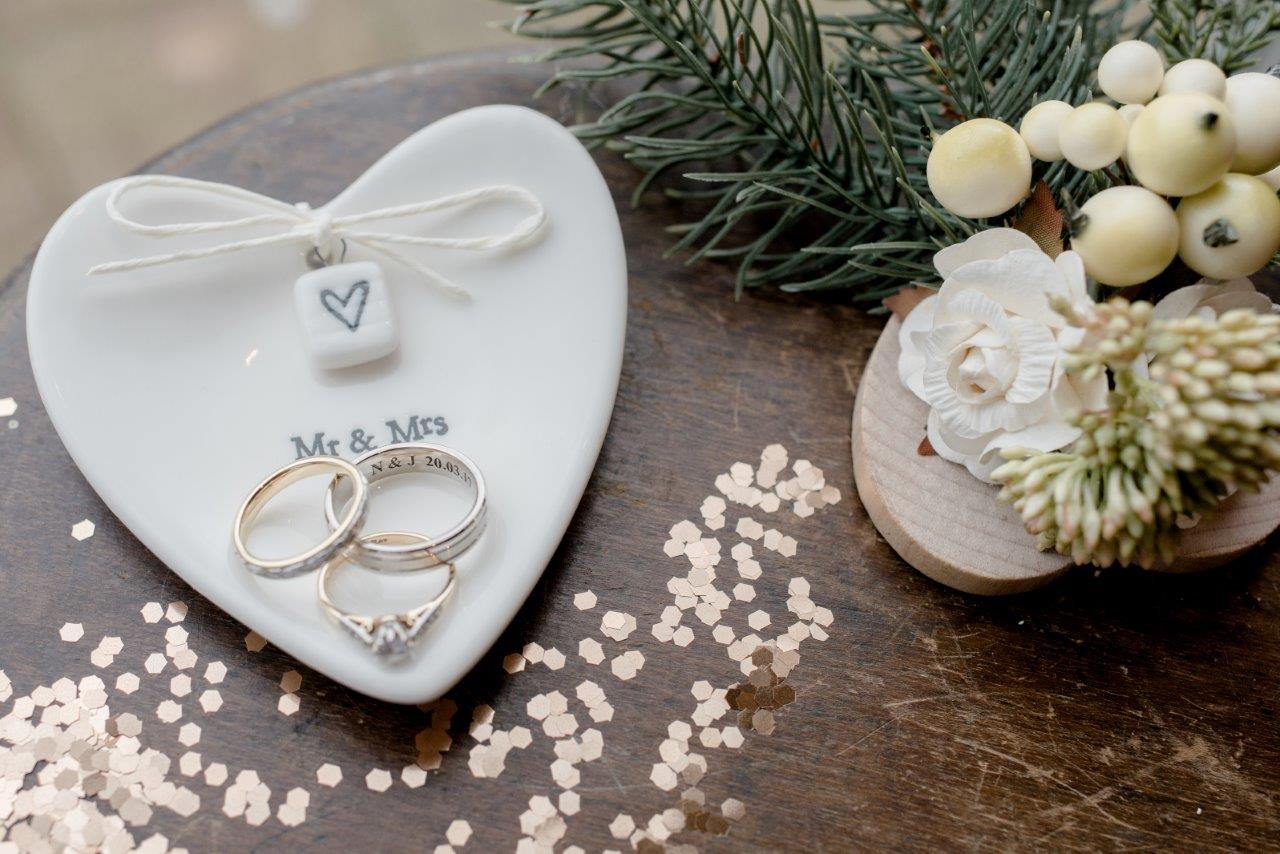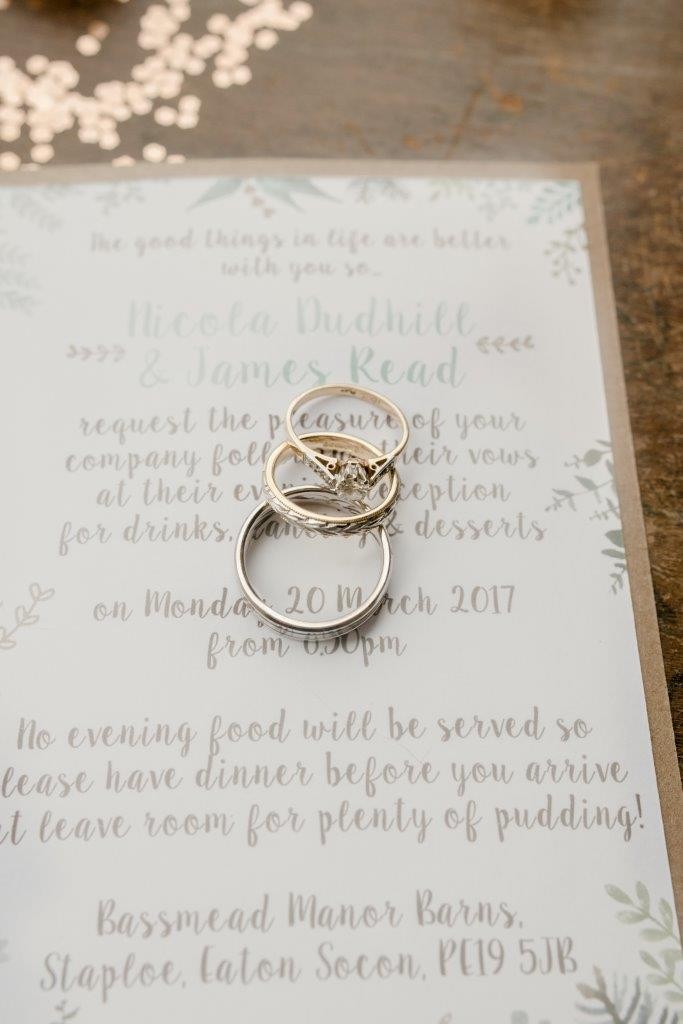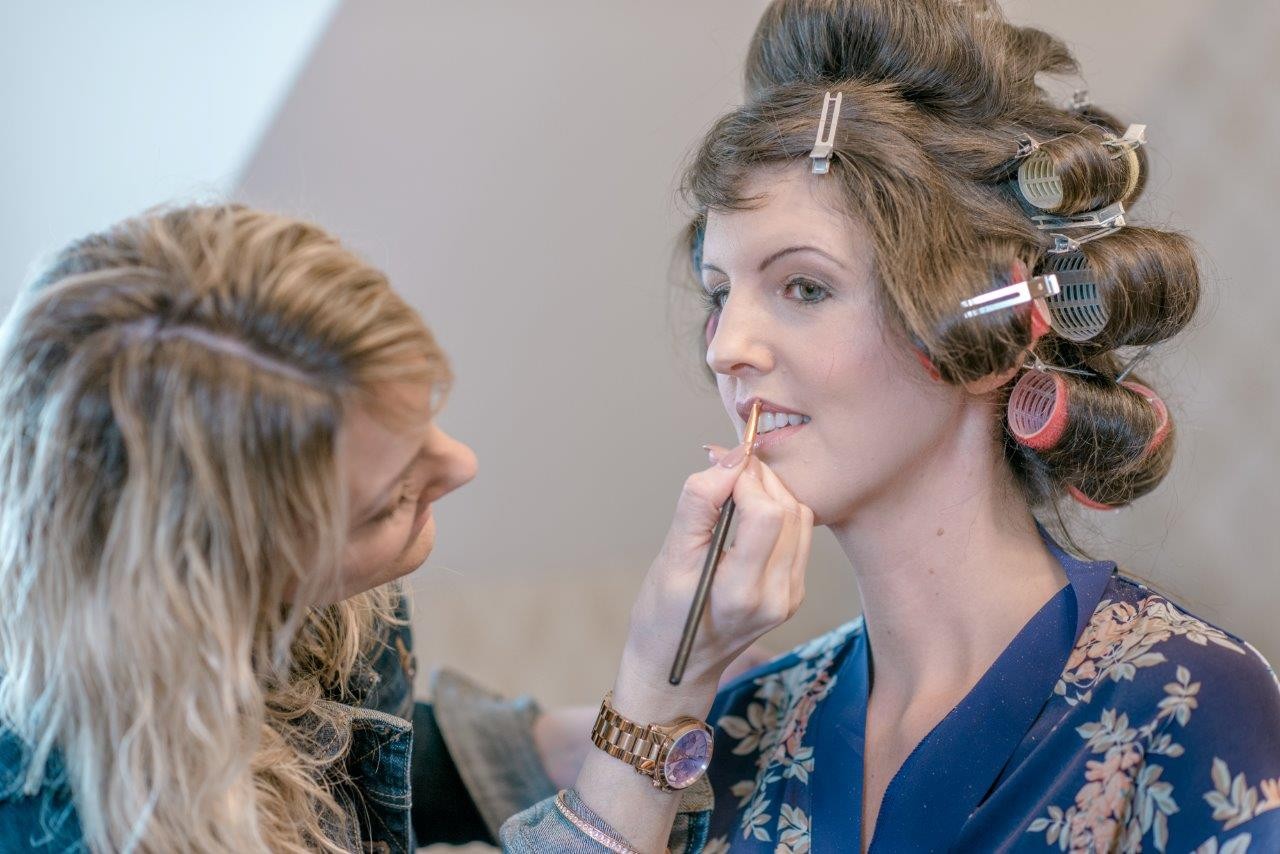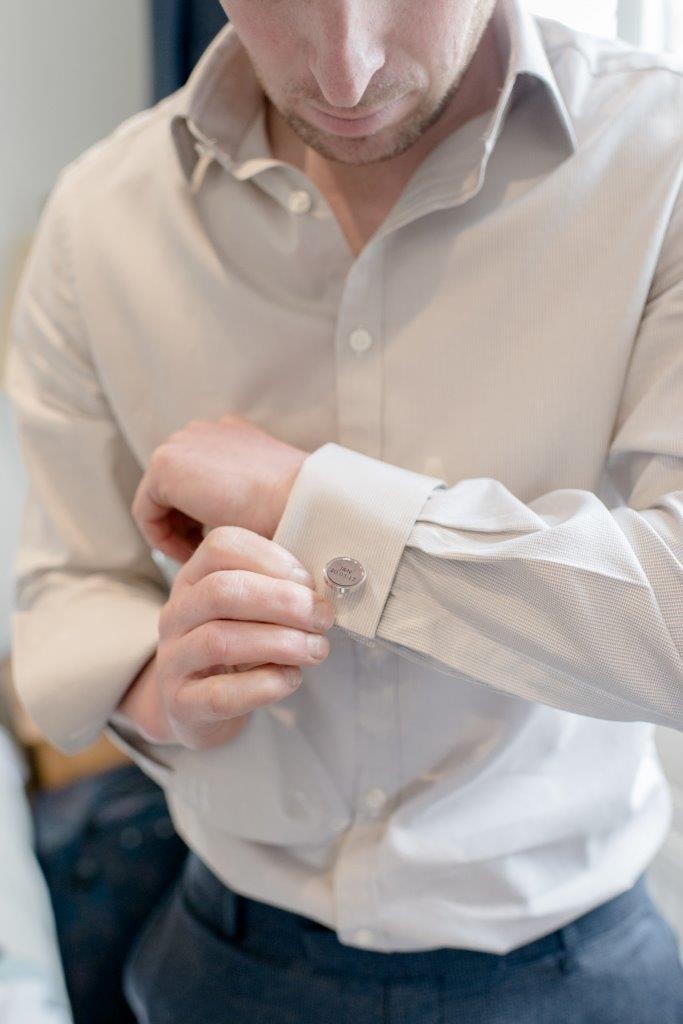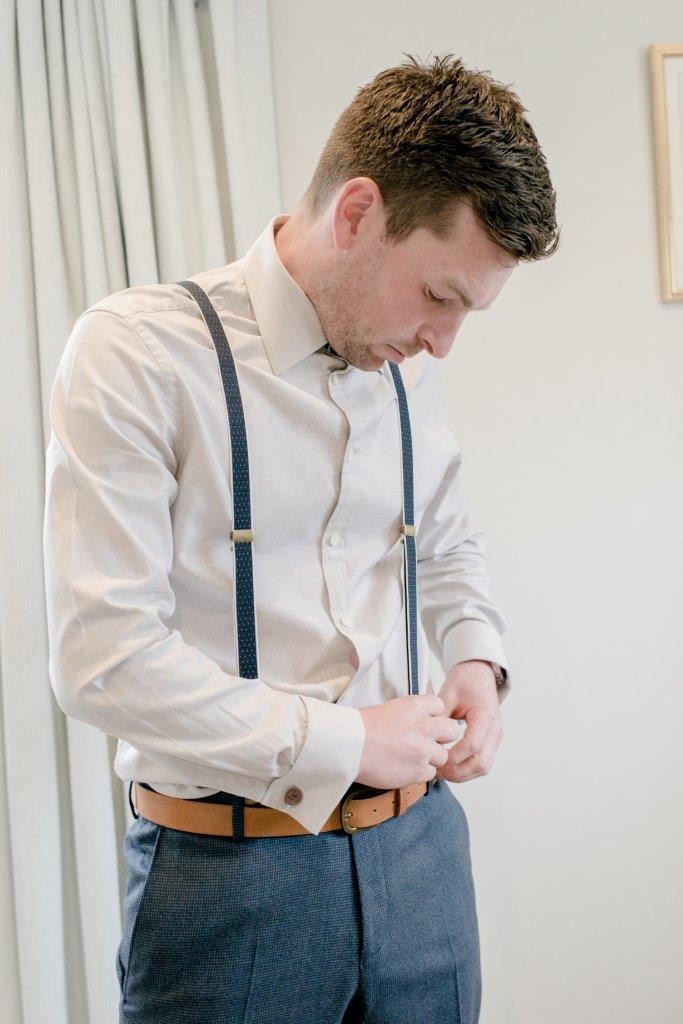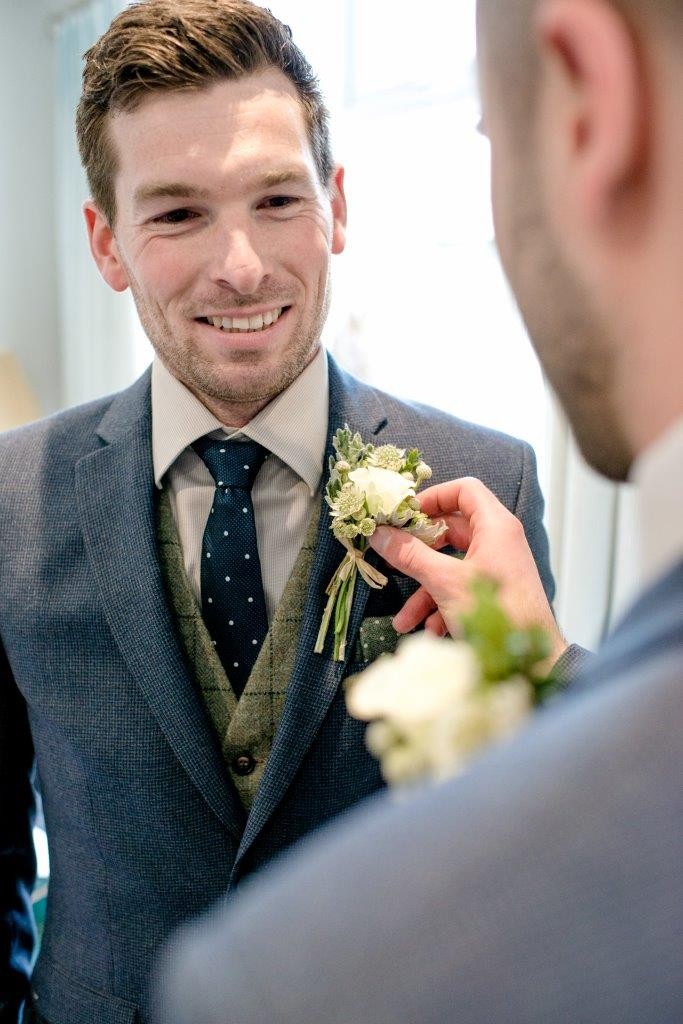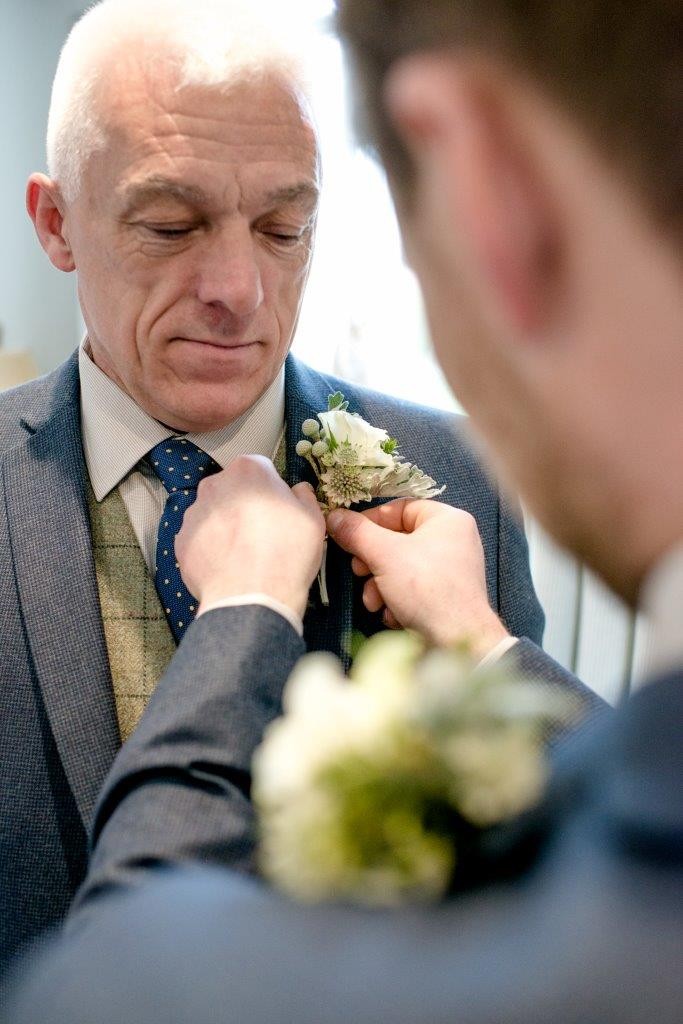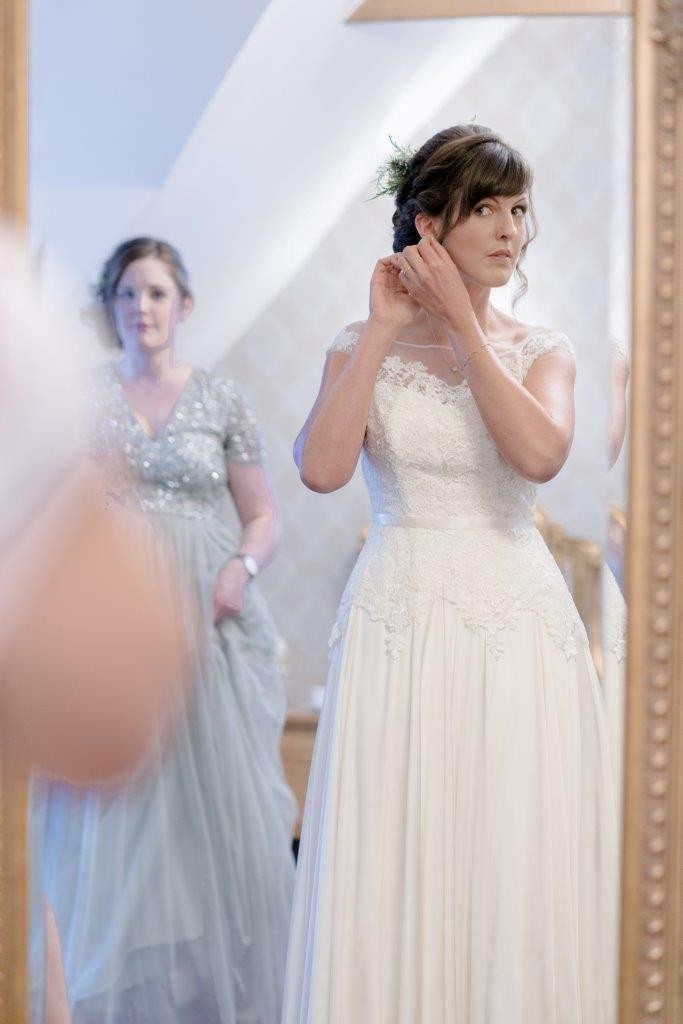 The Outfits
Nicola's dress turned out to be a bit of a strike of luck. After one of her bridesmaids managed to find a closing down sale event on Facebook for a nearby area, the decision was made to head over there early the next day with her mum in tow. This was the first time she had tried on any dresses so she wanted to make sure she tried on a fair few, taking every dress in her size to the side to try on. After initially wanting a strapless dress, she ended up falling in love with a strapped number with a gorgeous skirt that was sold as seen. Nicole took the plunge and bought the dress as she knew using her university degree in Costume Production she would be able to alter it to strapless. But the more she looked at it, the more she fell in love with it just the way it was and decided to stick with it as is was!
The groom and groomsmen all decided on matching suits from Aston and Gunn at House of Fraser. With the tailor being from their area in Stamford, it felt like a really ideal choice for them. They loved the colour of the suits and the countryside-esque houndstooth effect. They teamed with the suits shirts from Charles Tyrwhitt, ties from T.M Lewin and hired green tweed waiscoats from Colin Bell, with James wearing personalised wooden cufflinks as a lovely personal nod.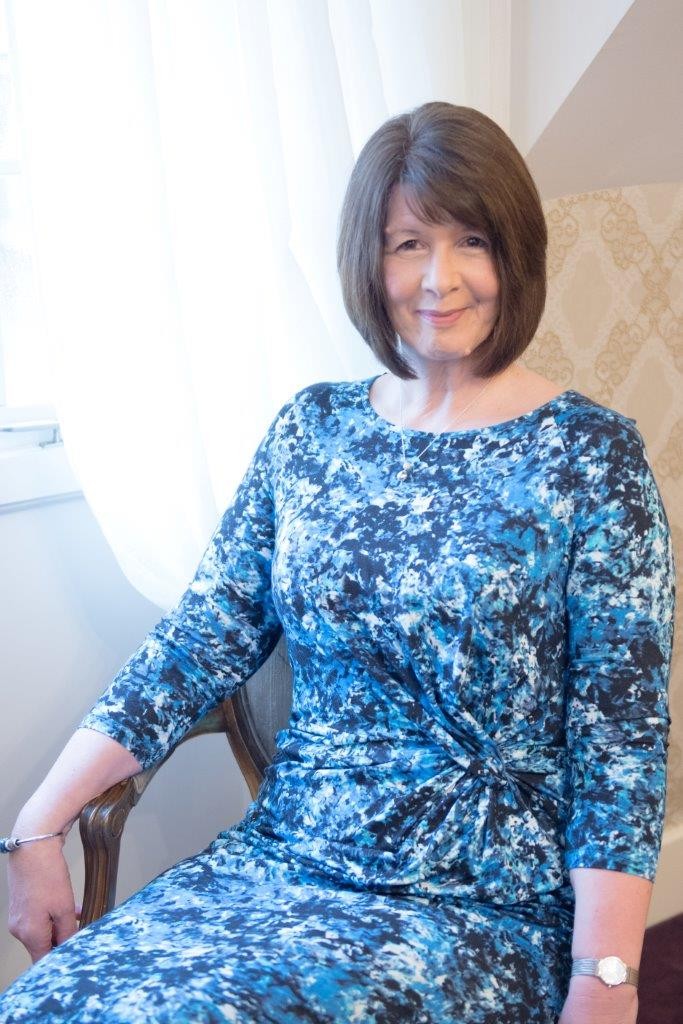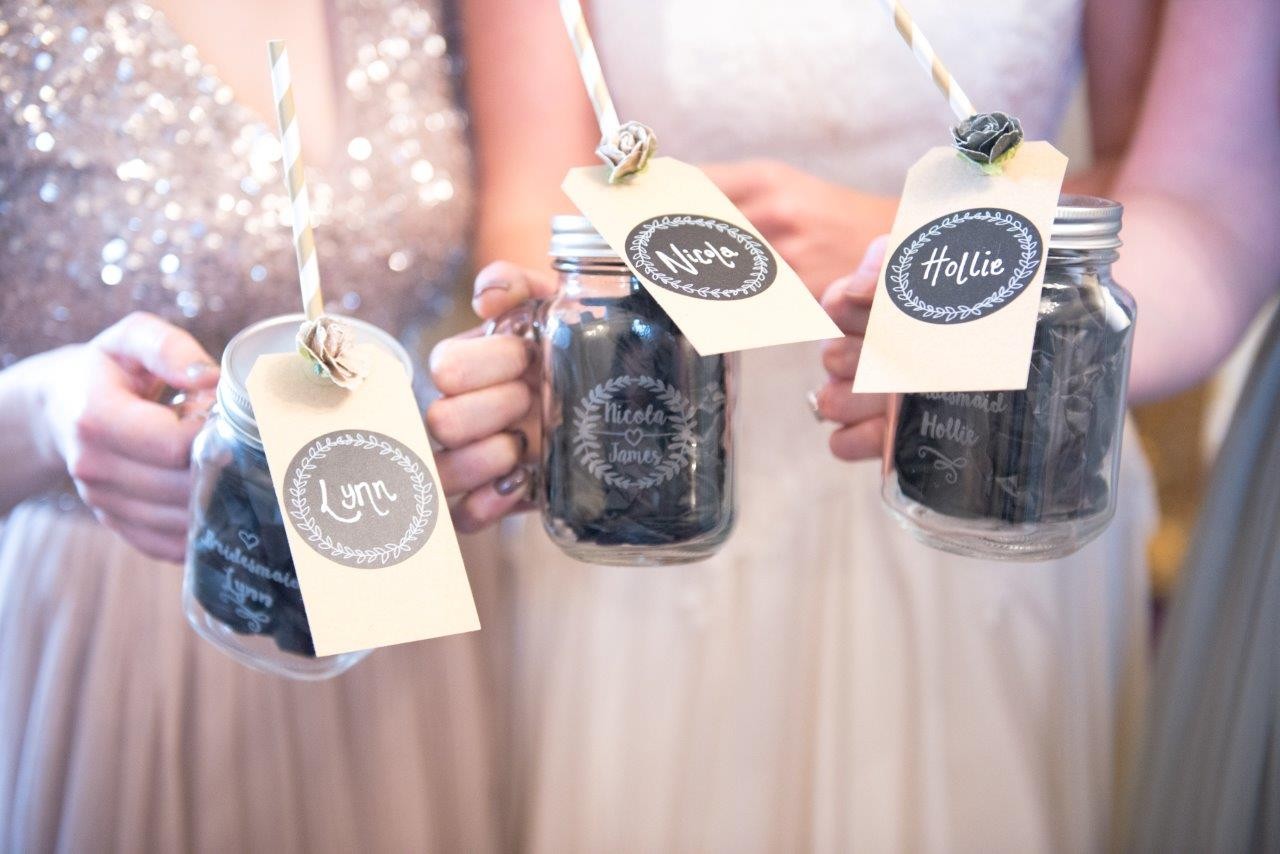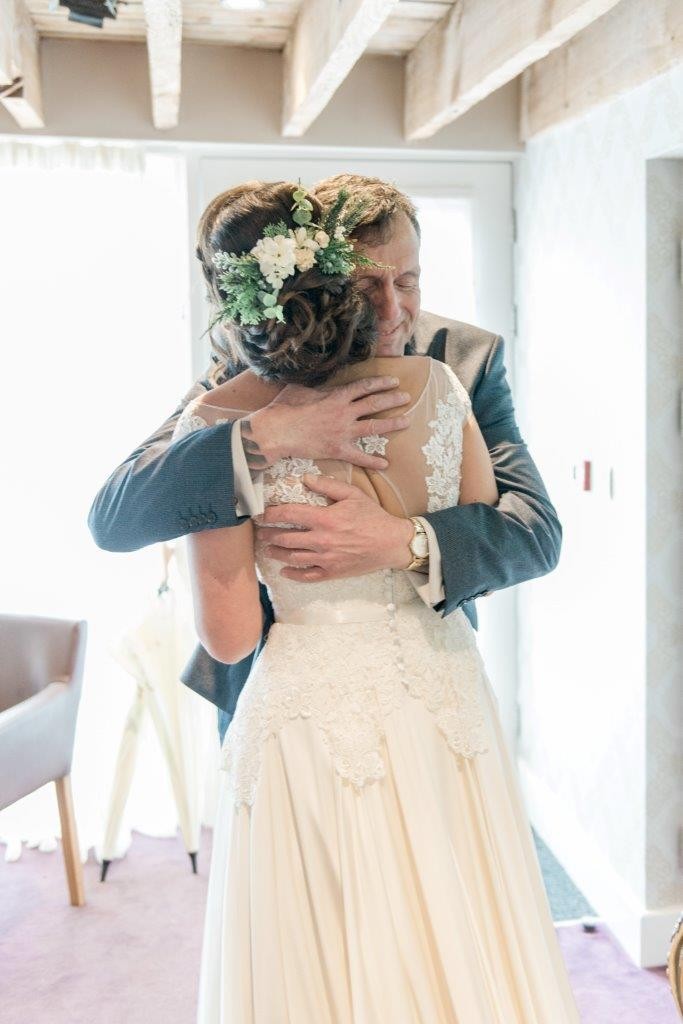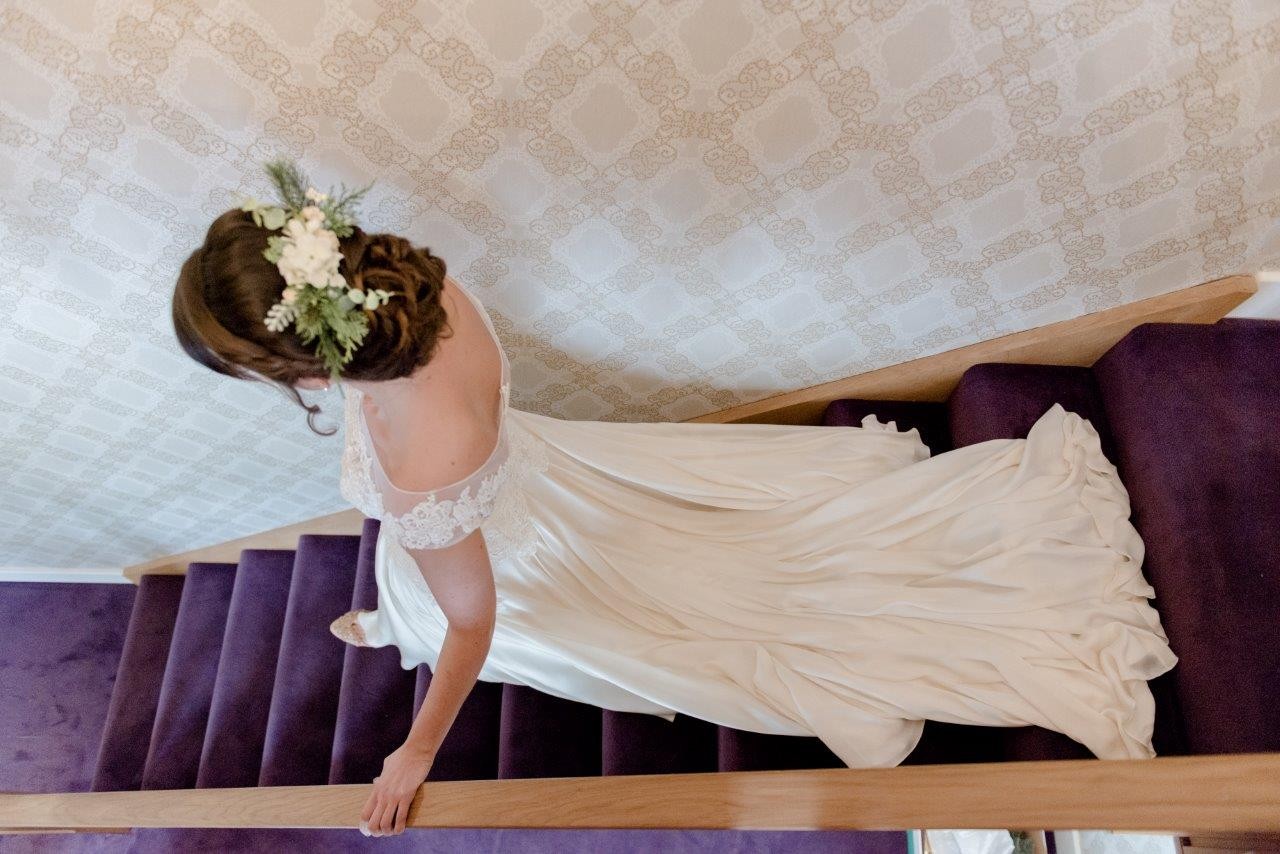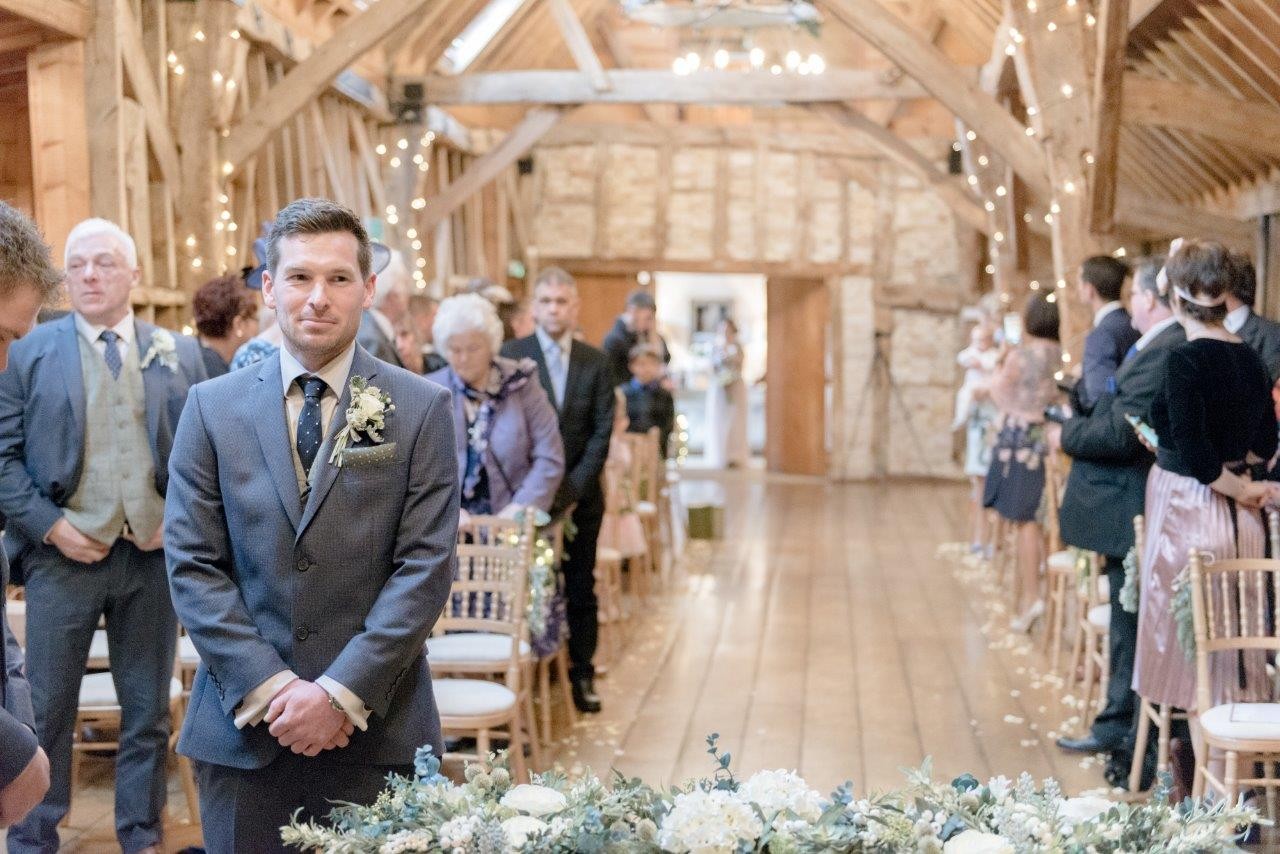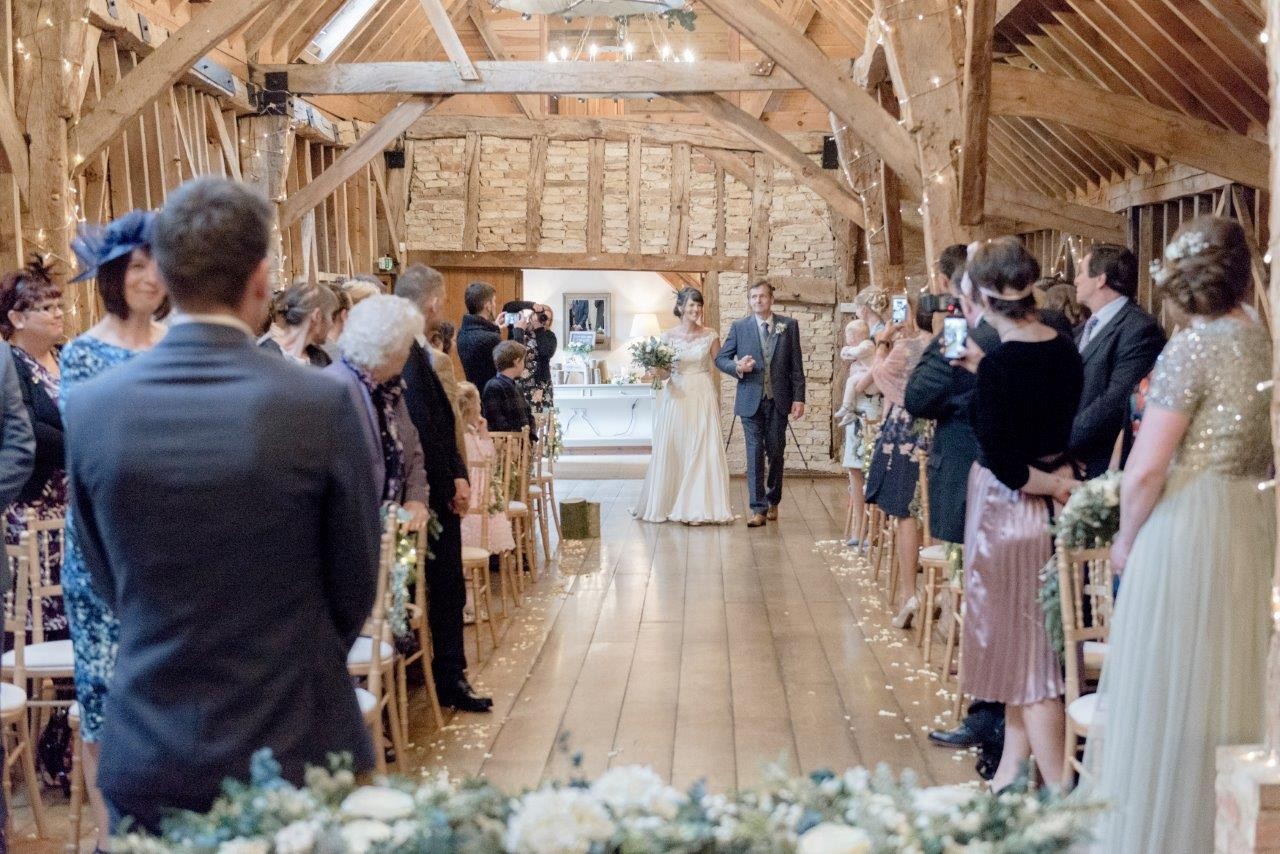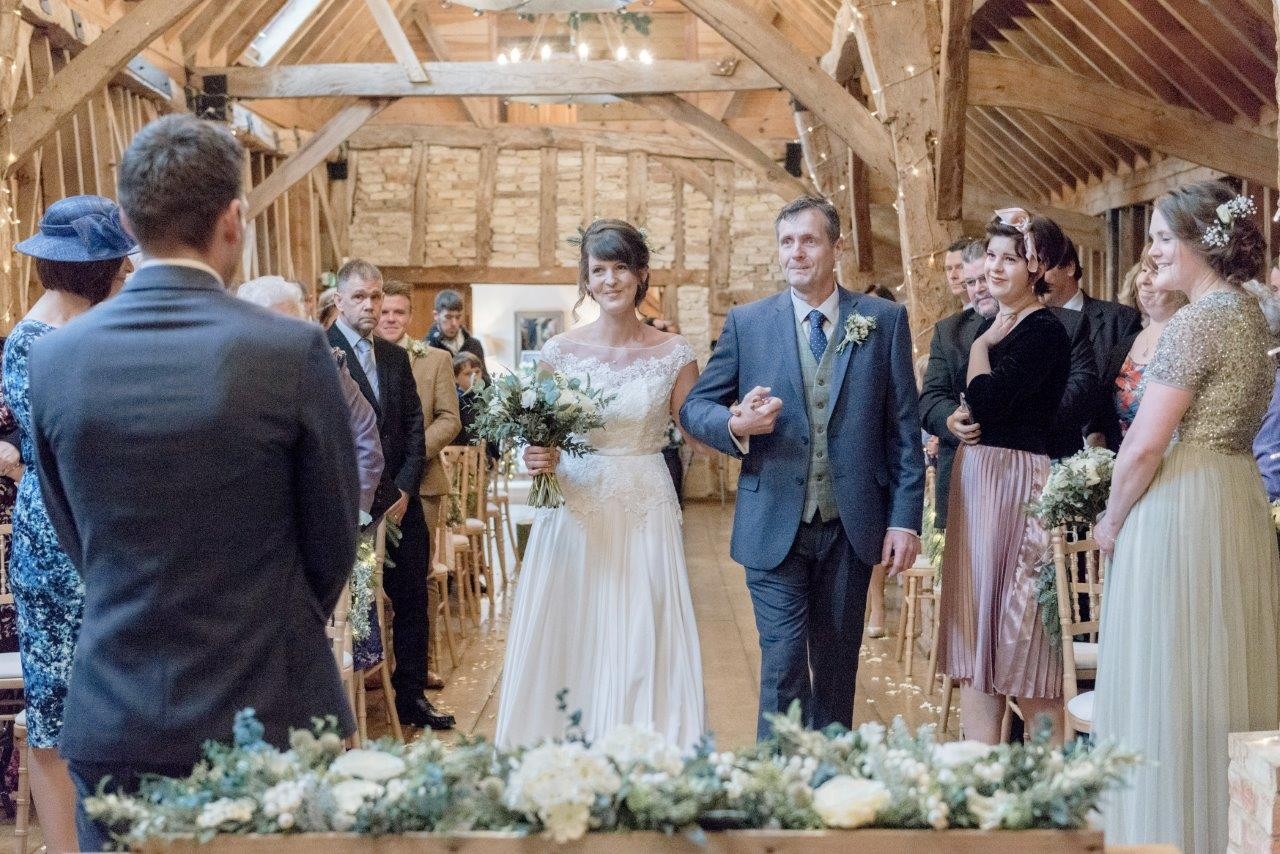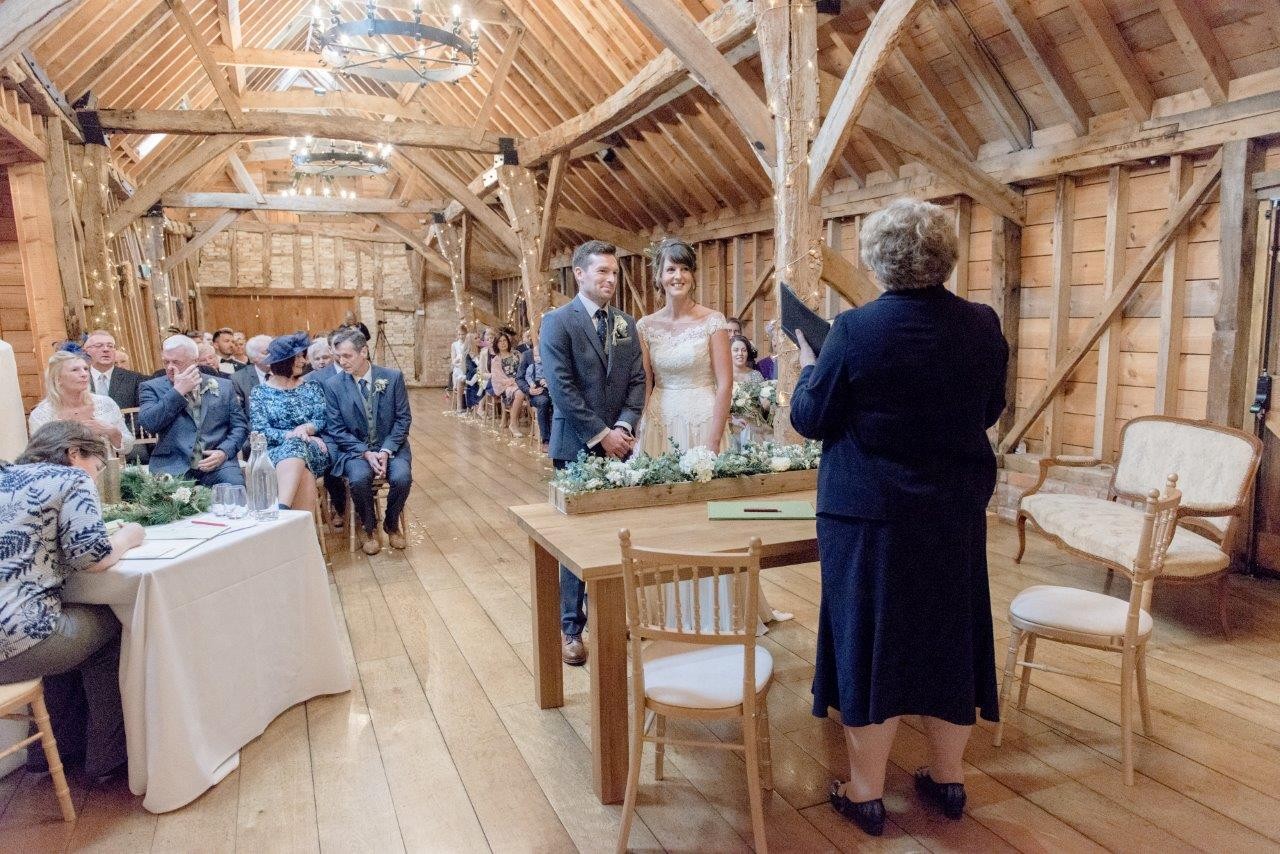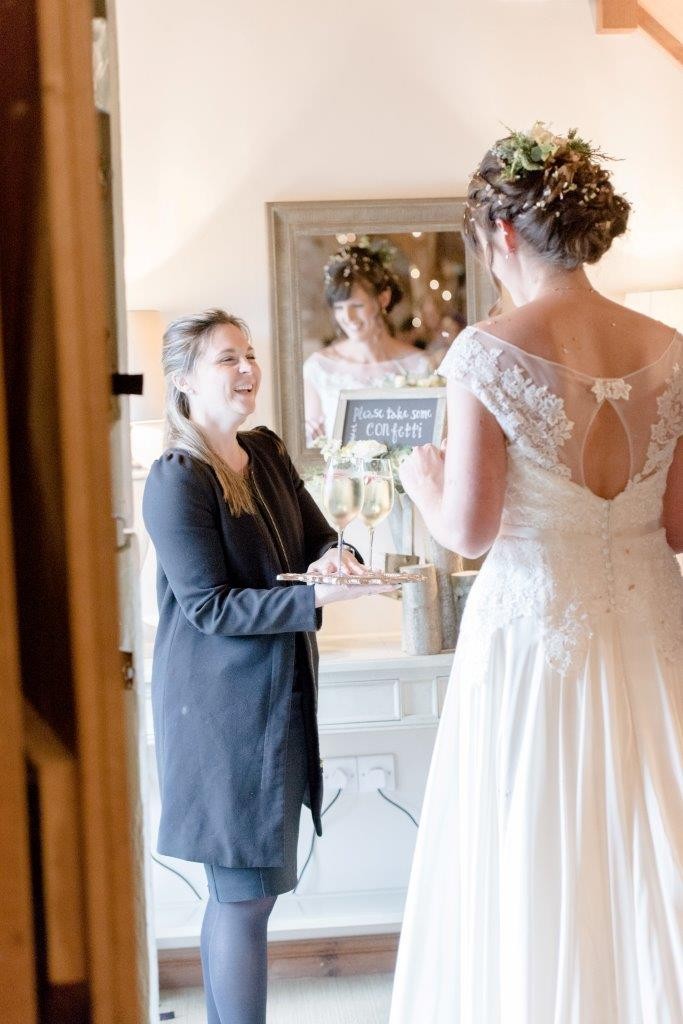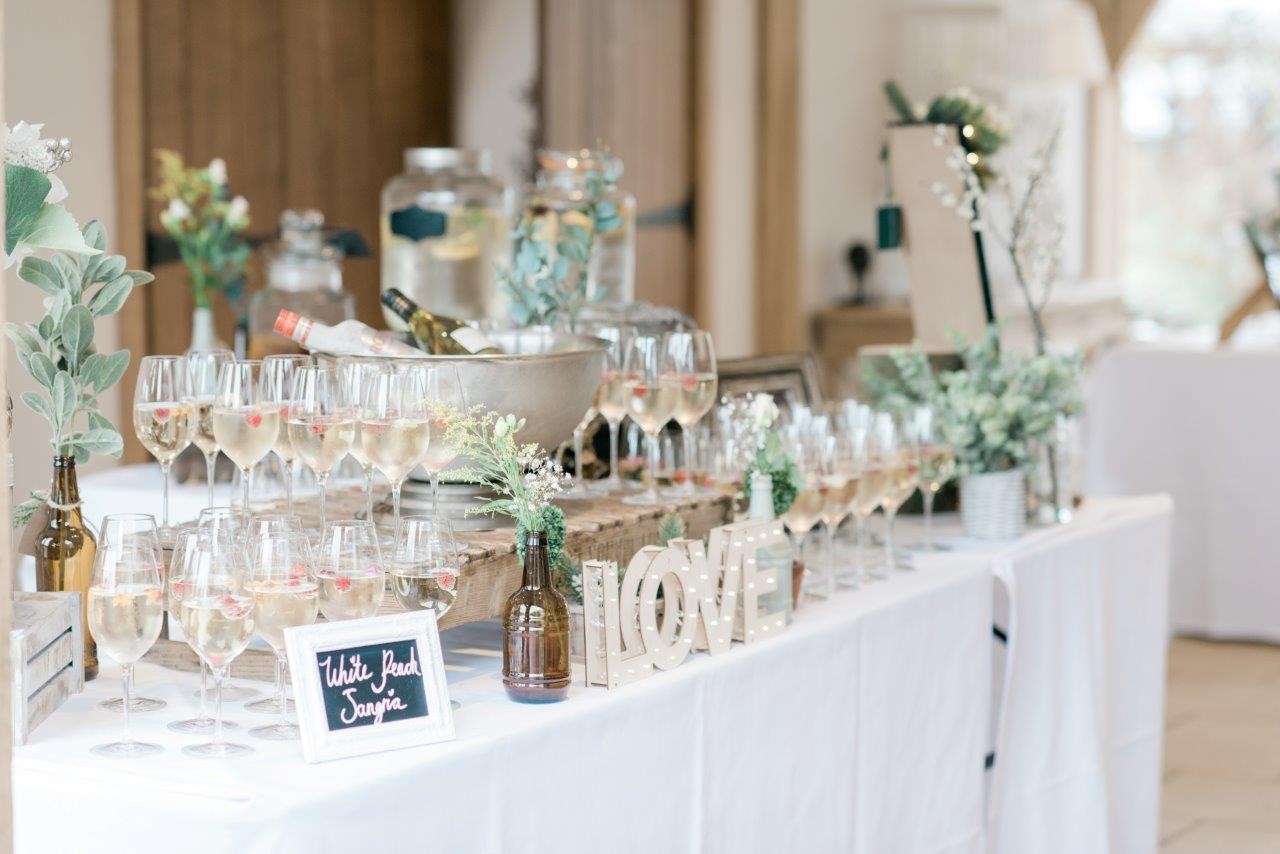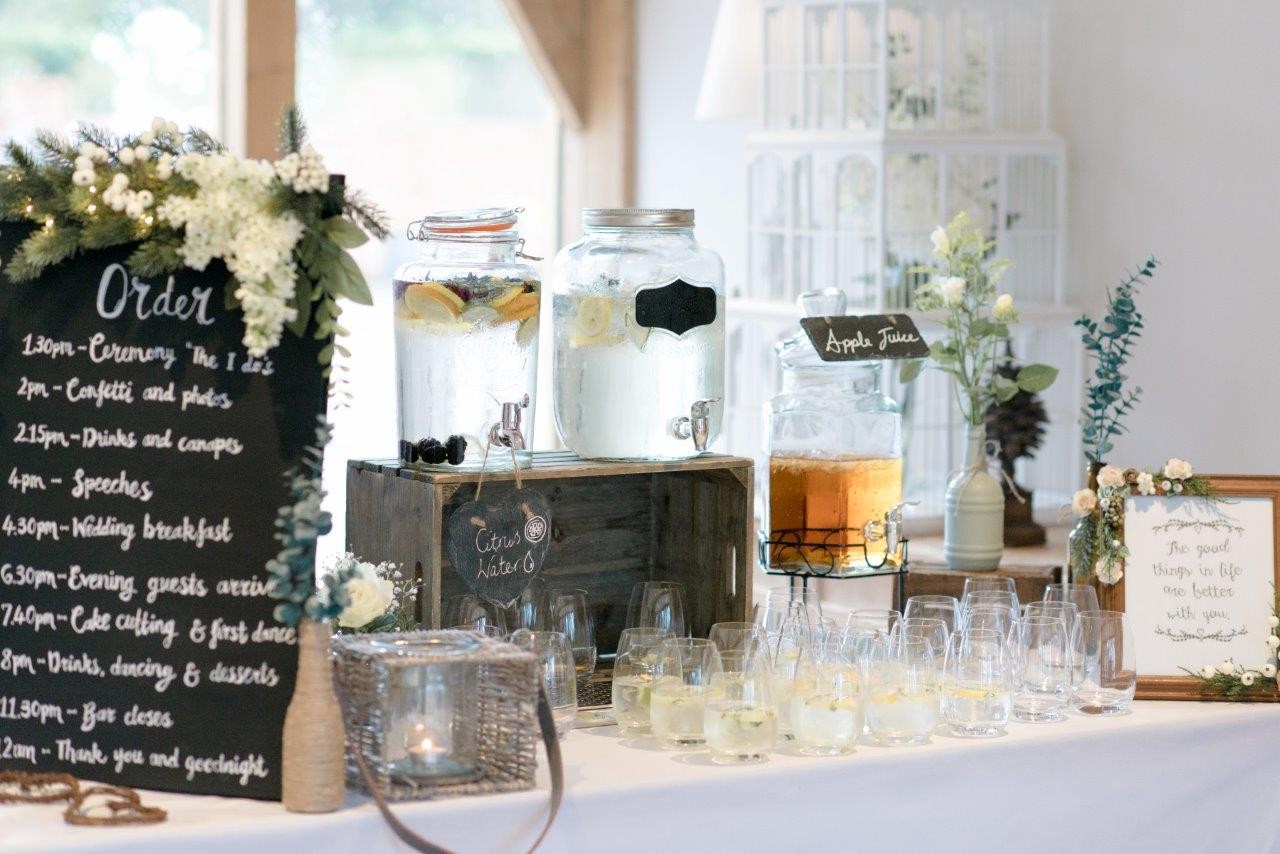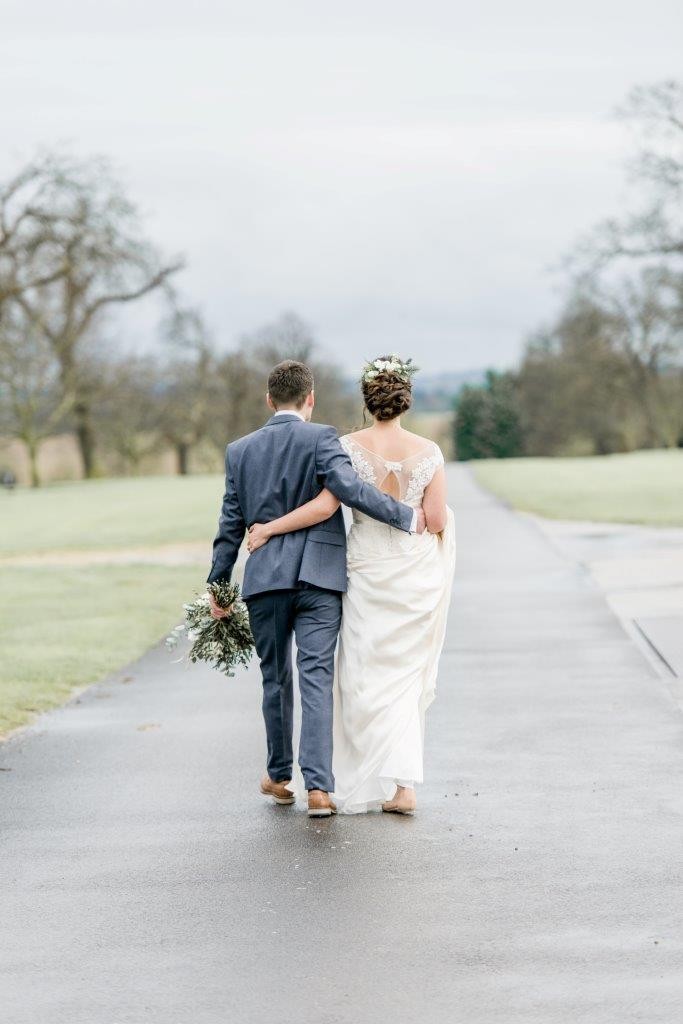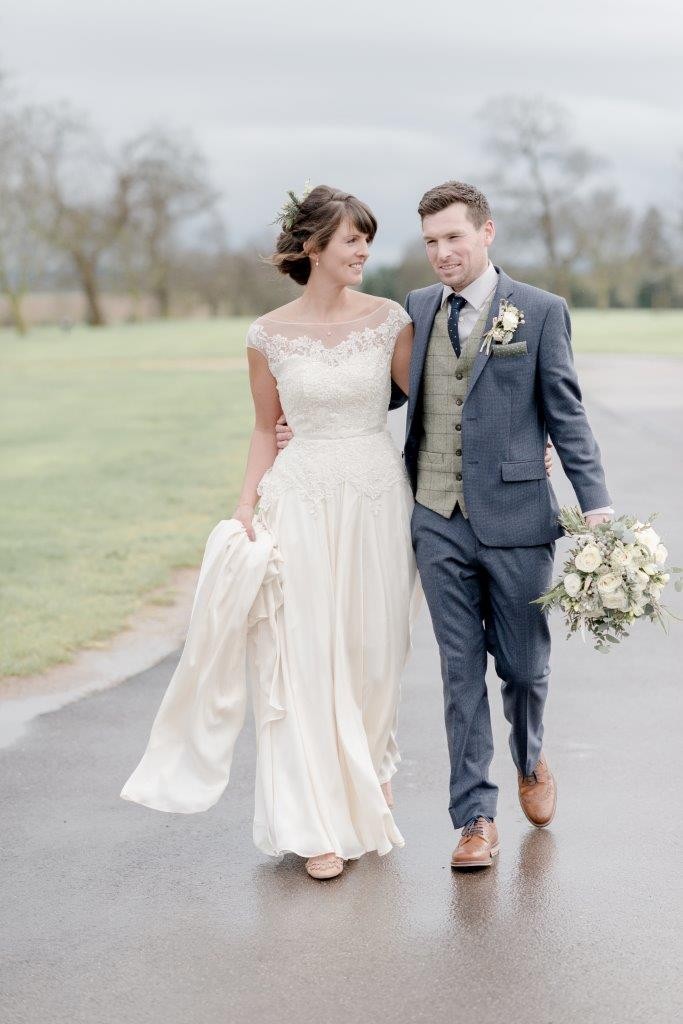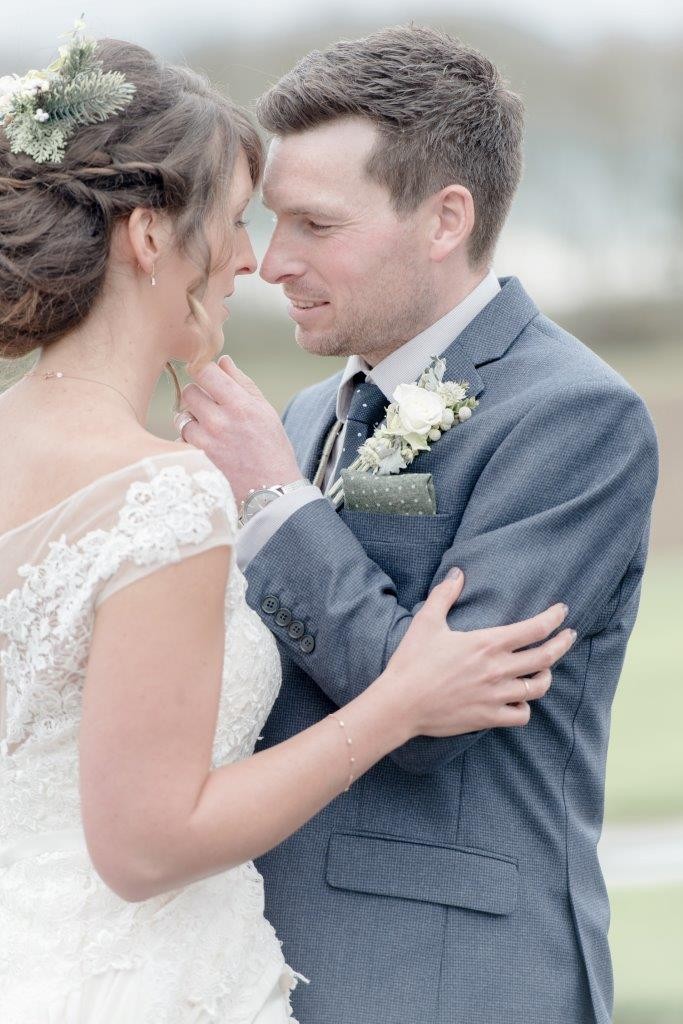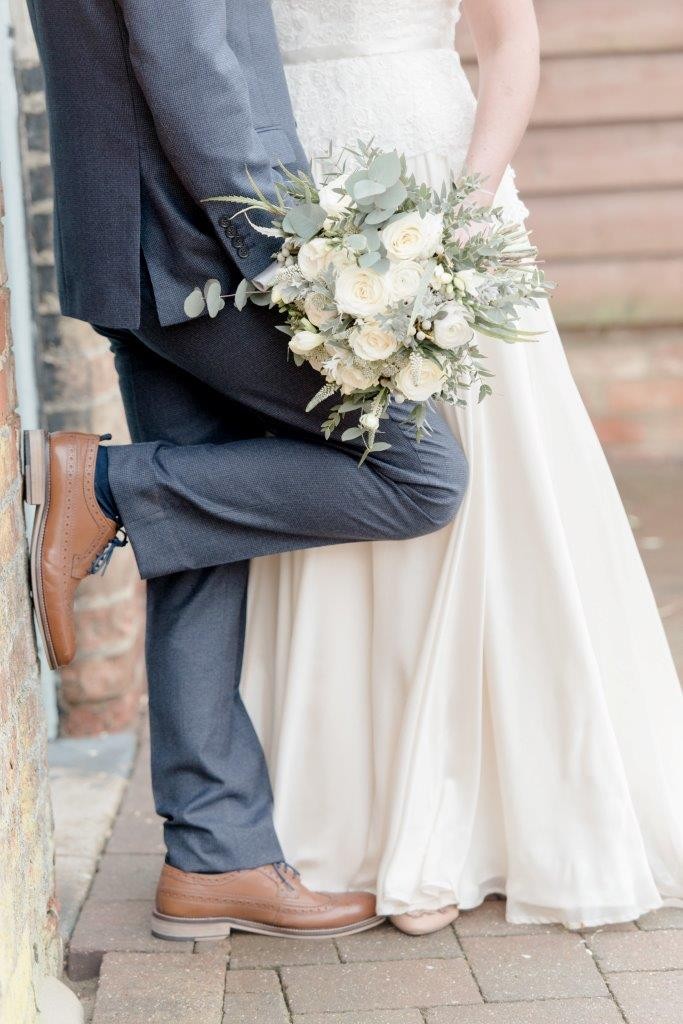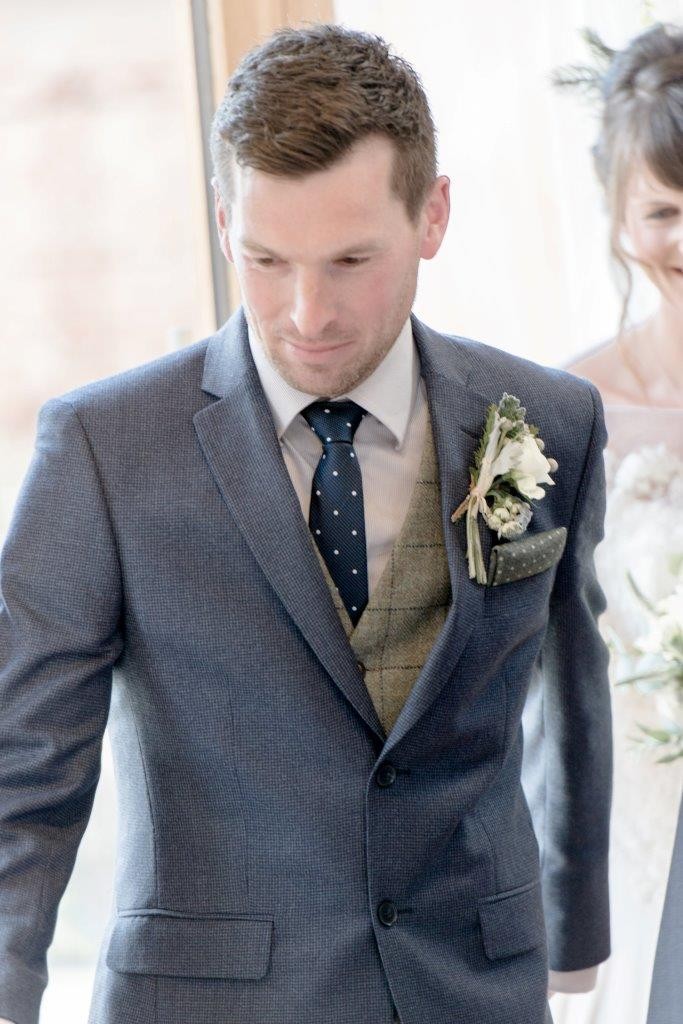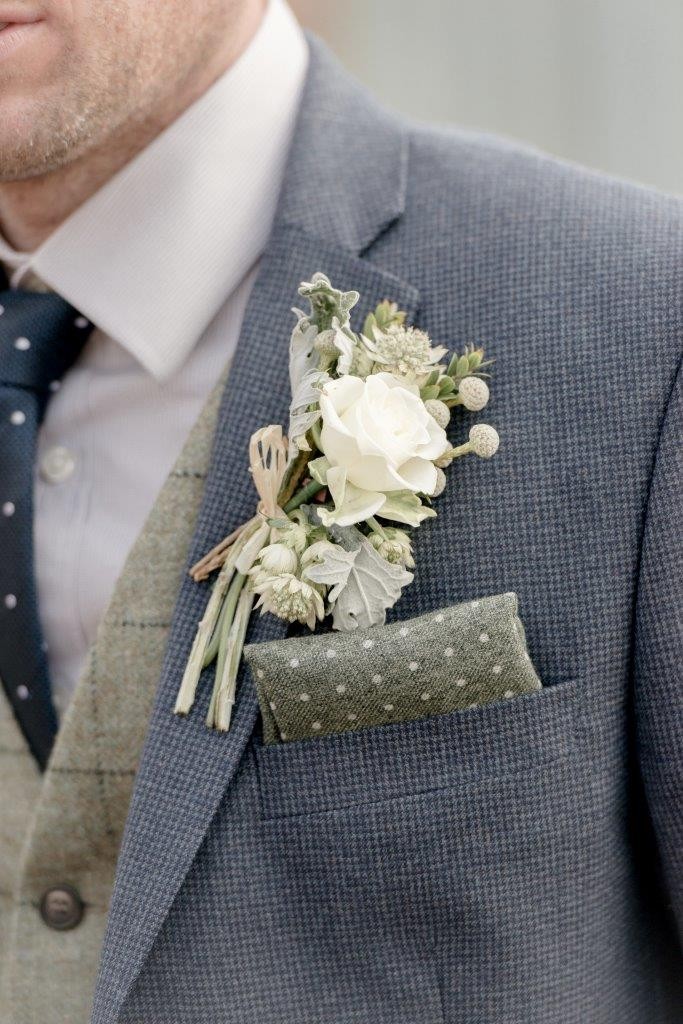 The Flowers
Striking the balance between wintery whites and spring blooms, the flower choices are wonderfully varied and work so beautifully in the venue. The couple used white flowers including roses, hydrangeas, ranunculus, hypericum, astrantia, freesia and veronica teamed with grey and green toned foliage including eucalyptus, asparagus fern, brunia and French ruscus. The florist they chose, Mulberries, did a wonderful job of creating rustic bride and bridesmaid bouquets that were the perfect size so they wouldn't cover or take away from the dresses. With the foliage bouncing off at different lengths, it gave it a loose and wild feel that suited the style perfectly.
For the reception, Nicola actually bought a range of different artificial flowers, foliages and berries that she could place on top of wooden logs on each table. The selection included peonies, hydrangea, roses, eucalyptus, berries and lots of other foliages. She also popped jars and bottles of fresh roses, gypsophilia and freesias around the venue too.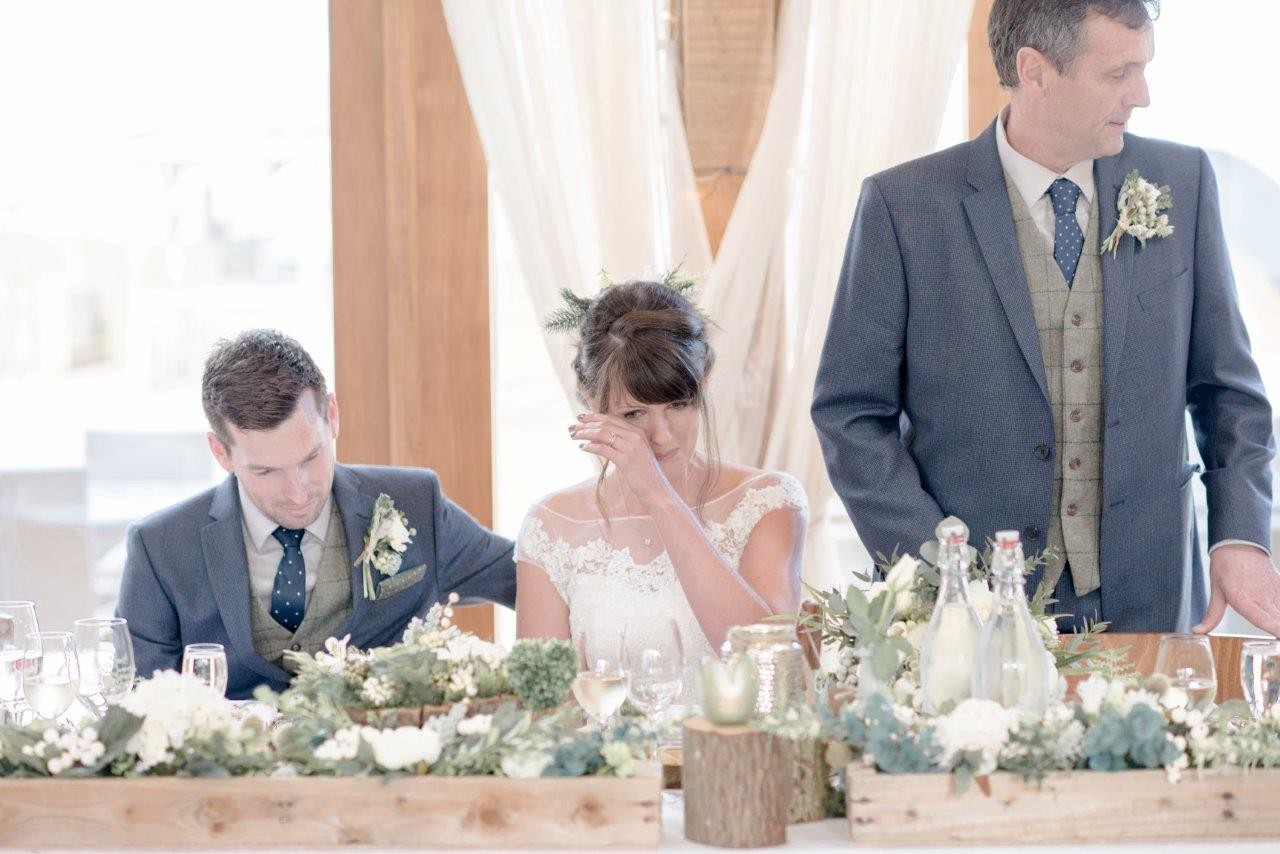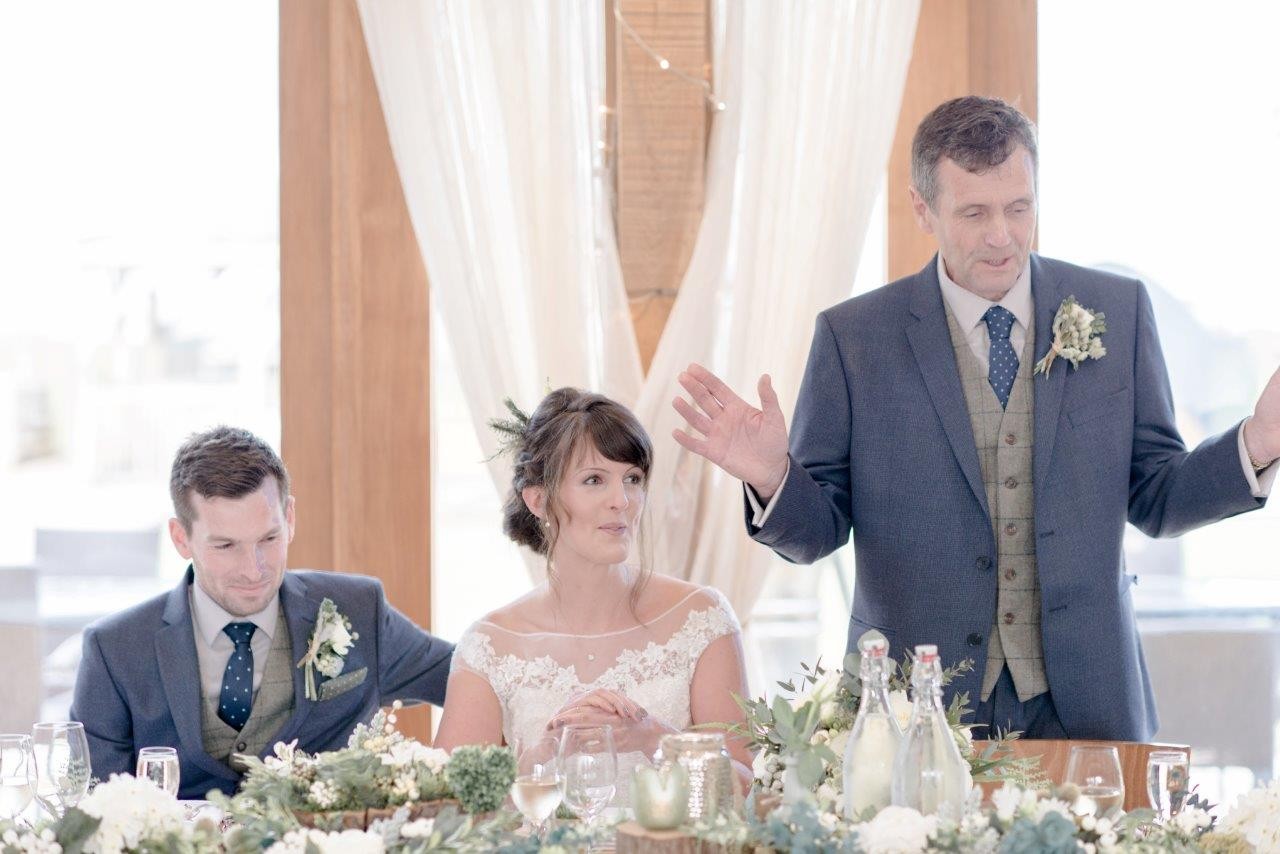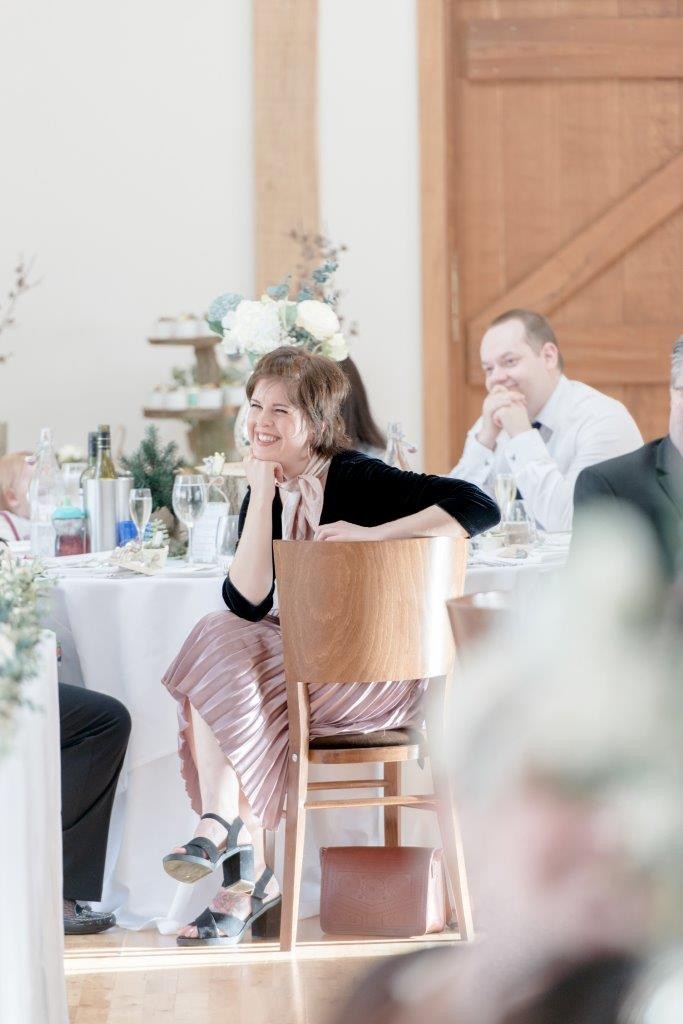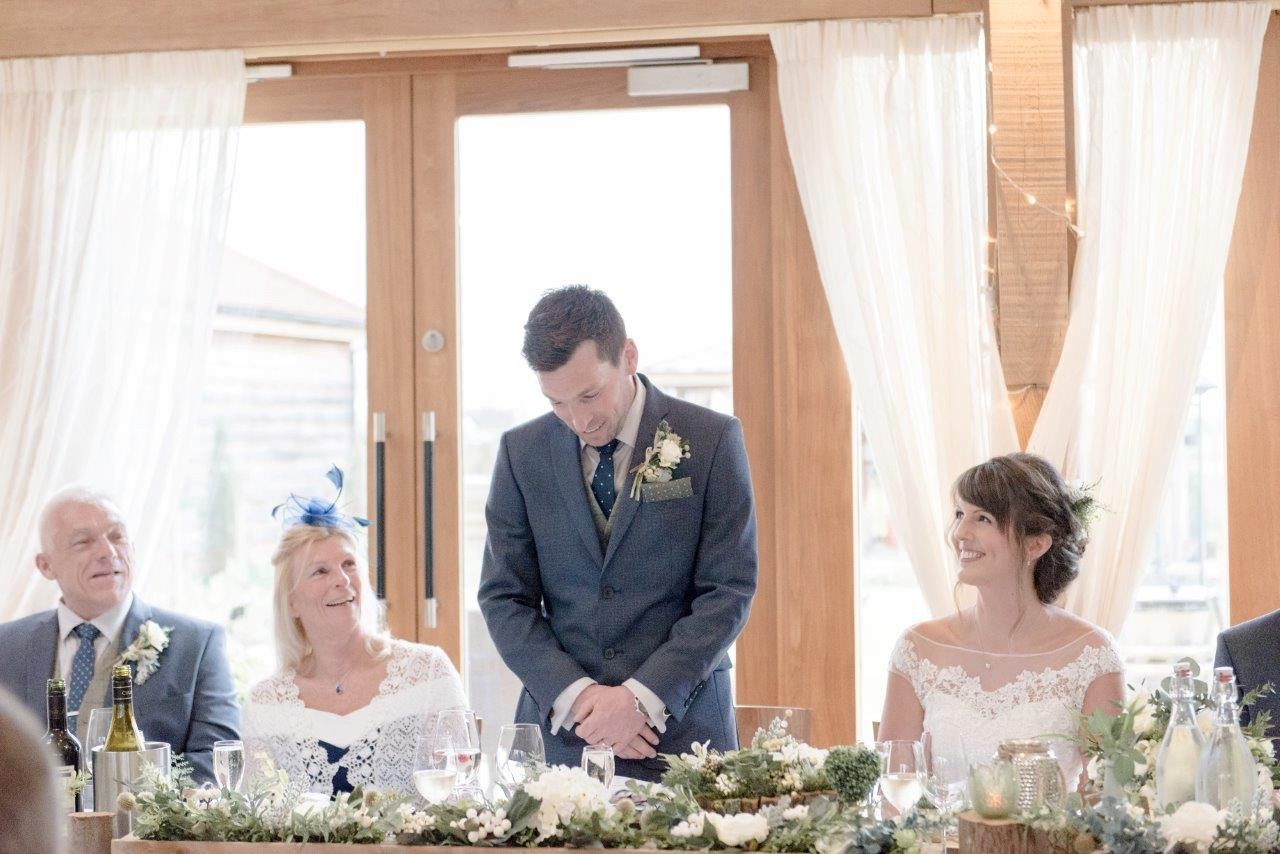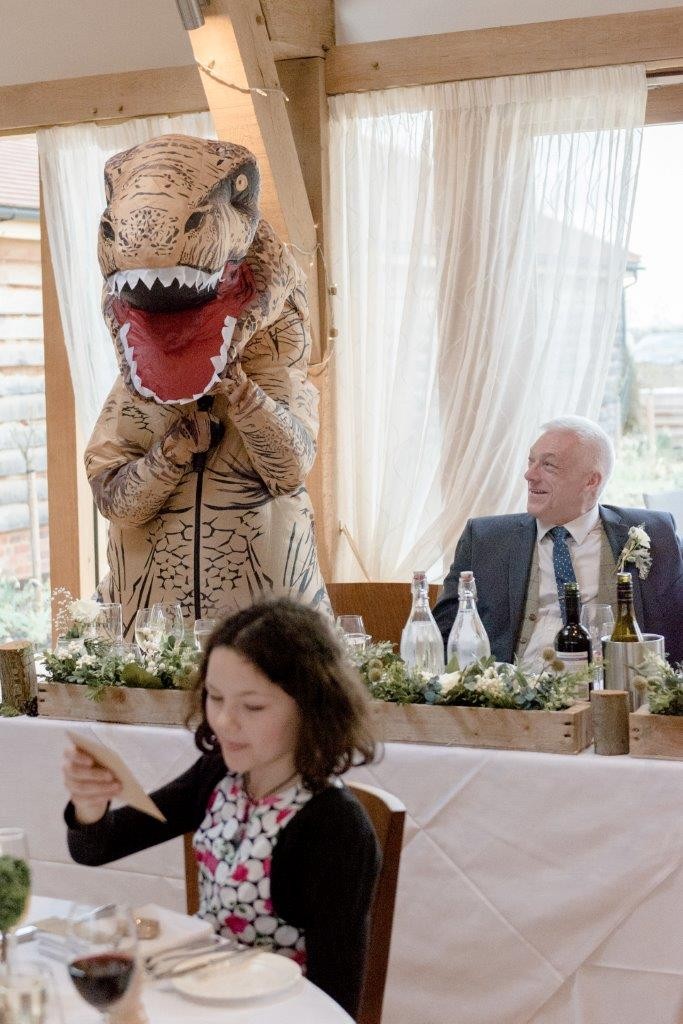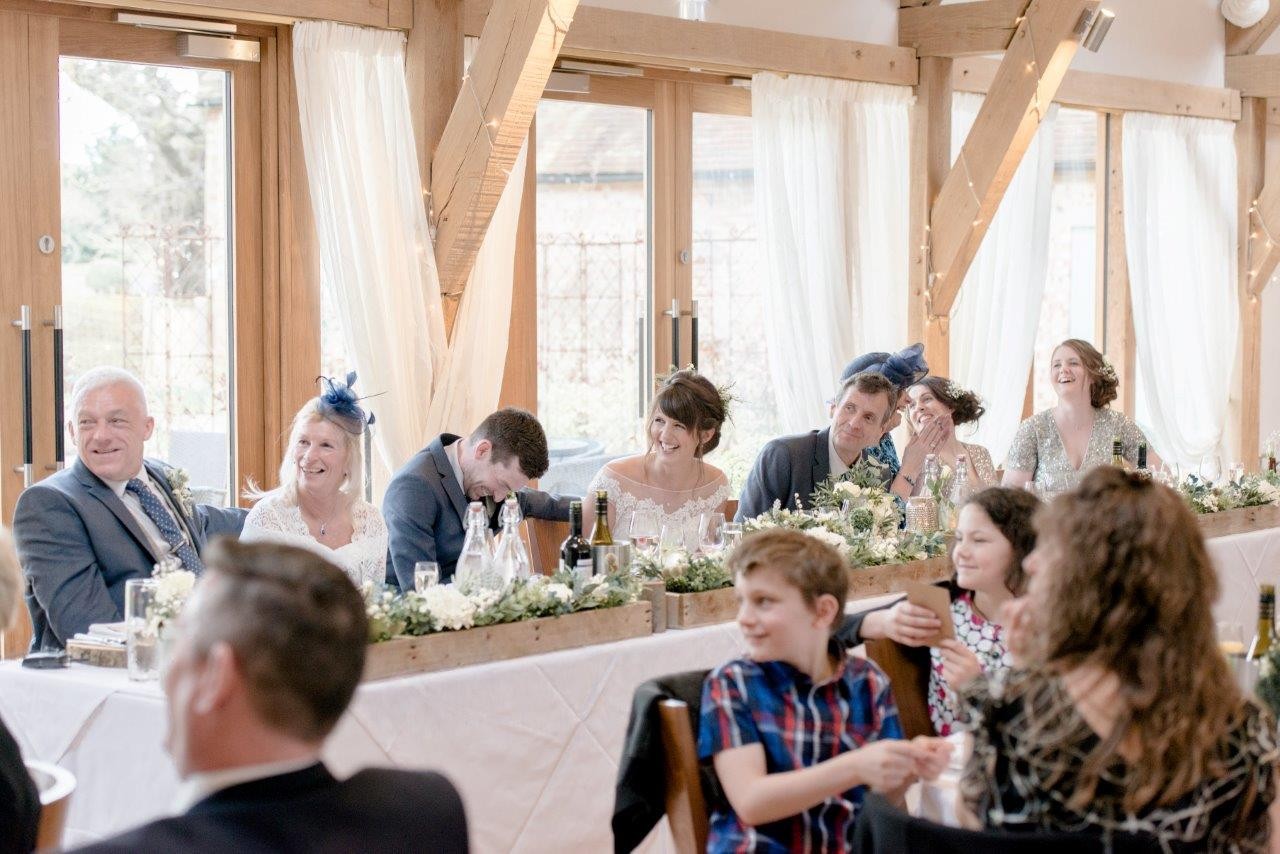 Favourite Moment
With the whole day being a bit of a whirlwind, Nicola knew there was one moment that stuck out to her in particular. She explains "I loved sitting at the top table during the wedding breakfast and being able to look out and see all of my family and friends who I love. The rest of the day goes by so fast and you are moving about from room to room following the schedule. This gave me the chance to take it all in, how the room looked, the food and to see everyone enjoy themselves. I got up between each course to chat to people too. I also spent a long time carefully selecting the playlist to play throughout the meal, so those songs are now associated with such a happy time."
So after such a triumphant, busy and sentiment filled wedding – what would be the couple's advice be others due to be getting married soon?
"No matter how organized you are and no matter how many lists have been written, everything still gets hectic towards the end. It's inevitable – go with it and don't stress about it. Enjoy every moment of the planning process because it then becomes so much more than just the wedding day. I would recommend trying to get as many things done in advance as possible, it's never too early!"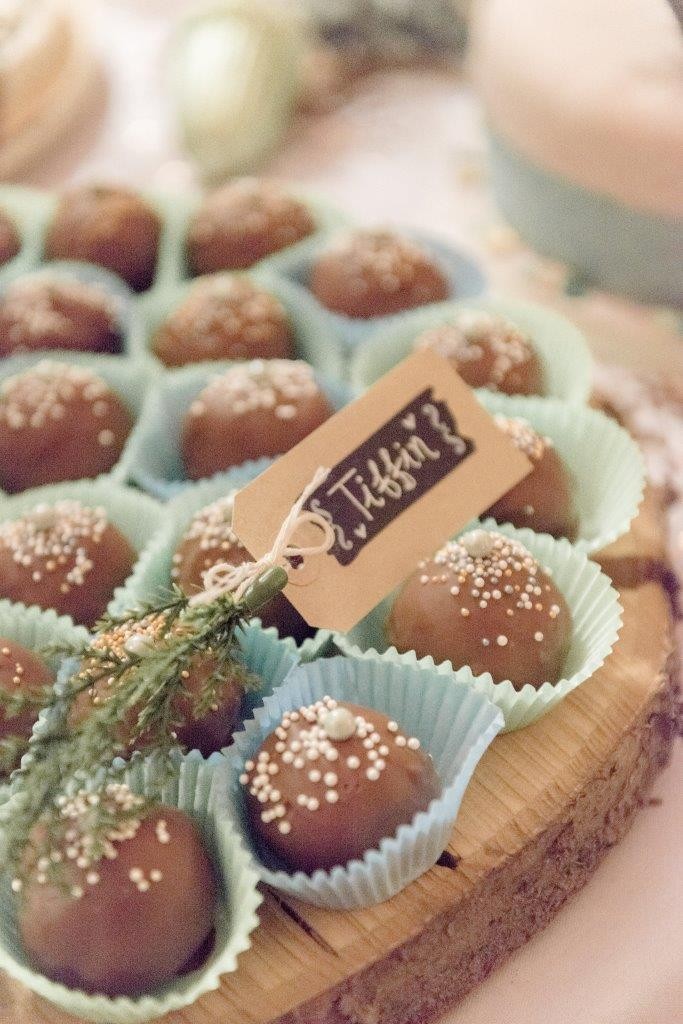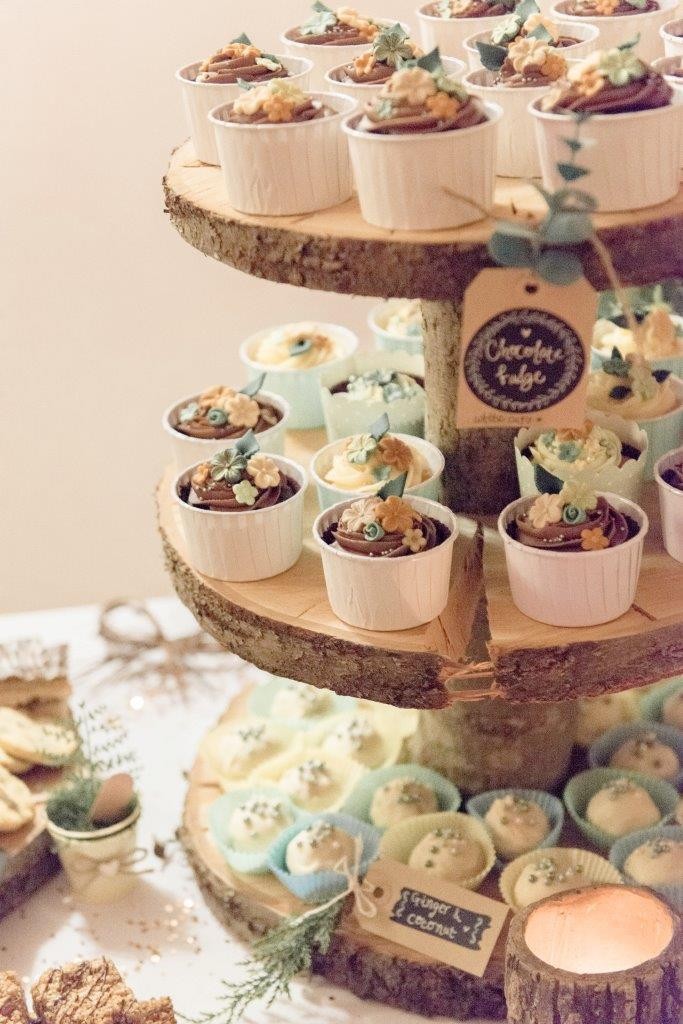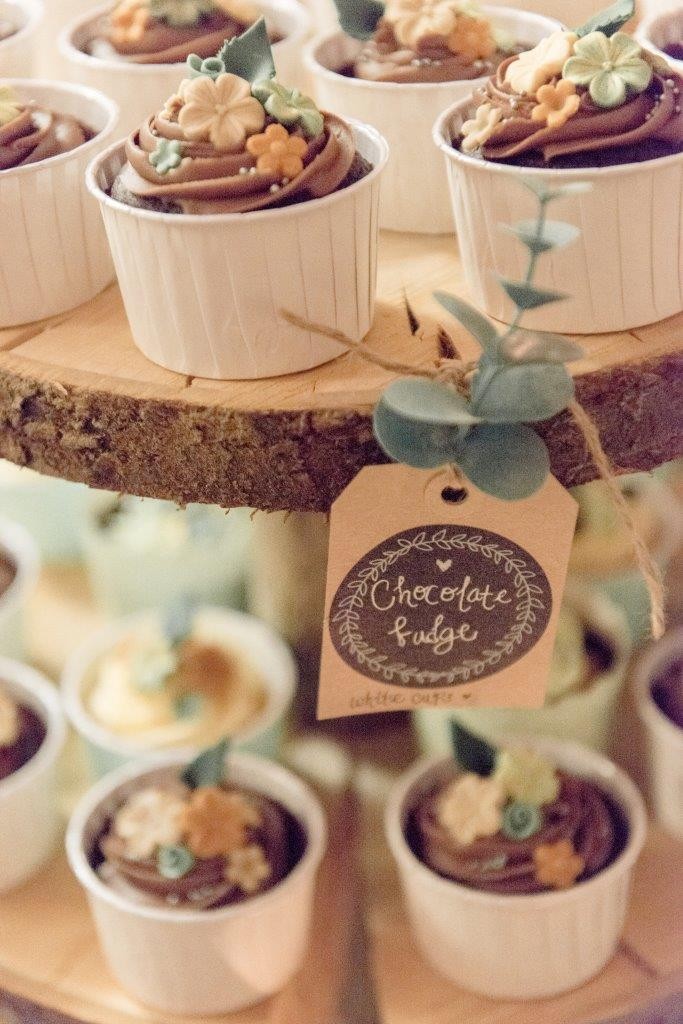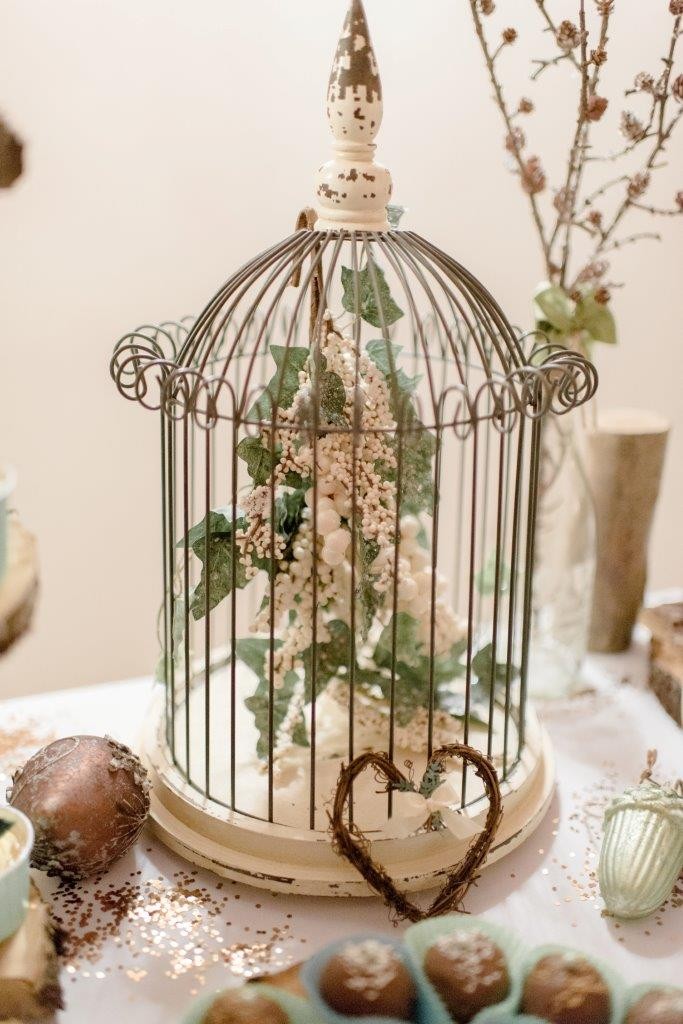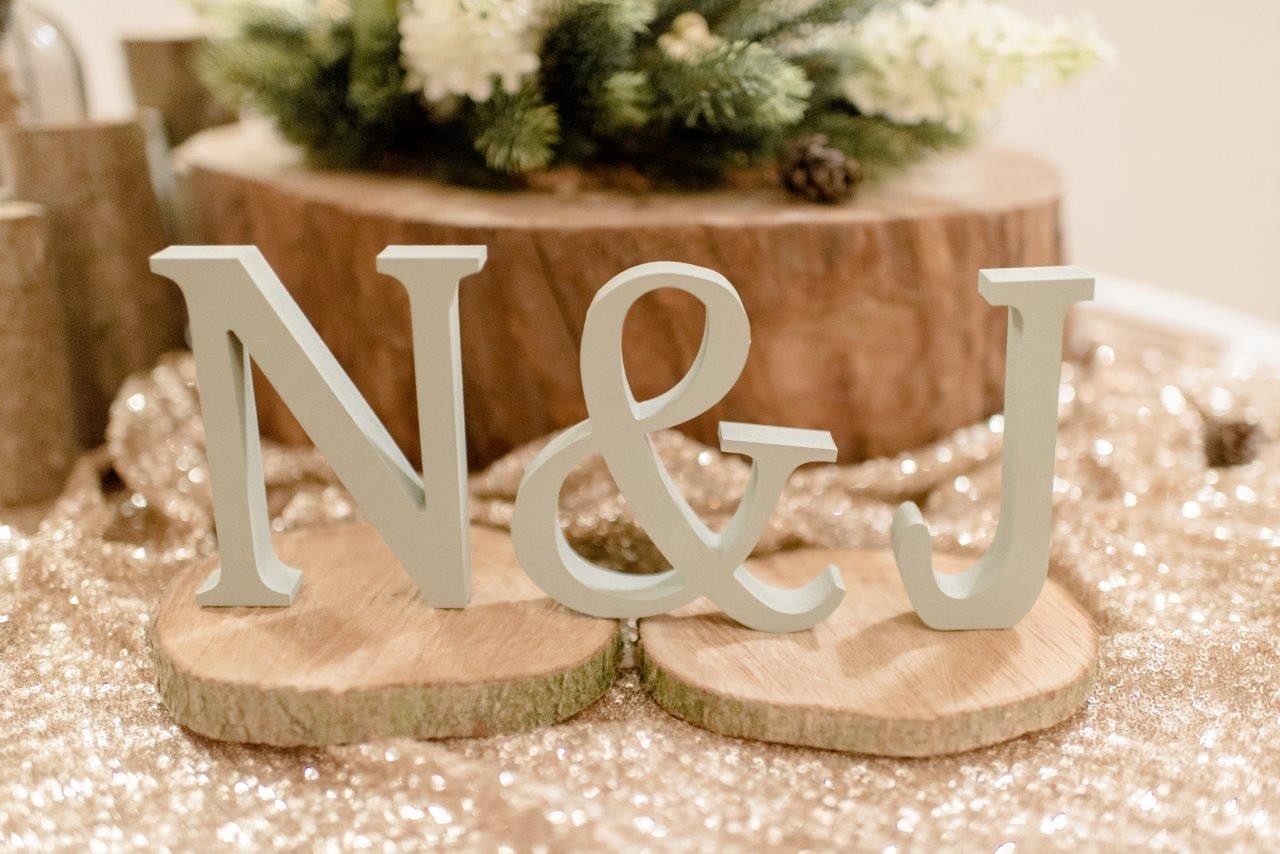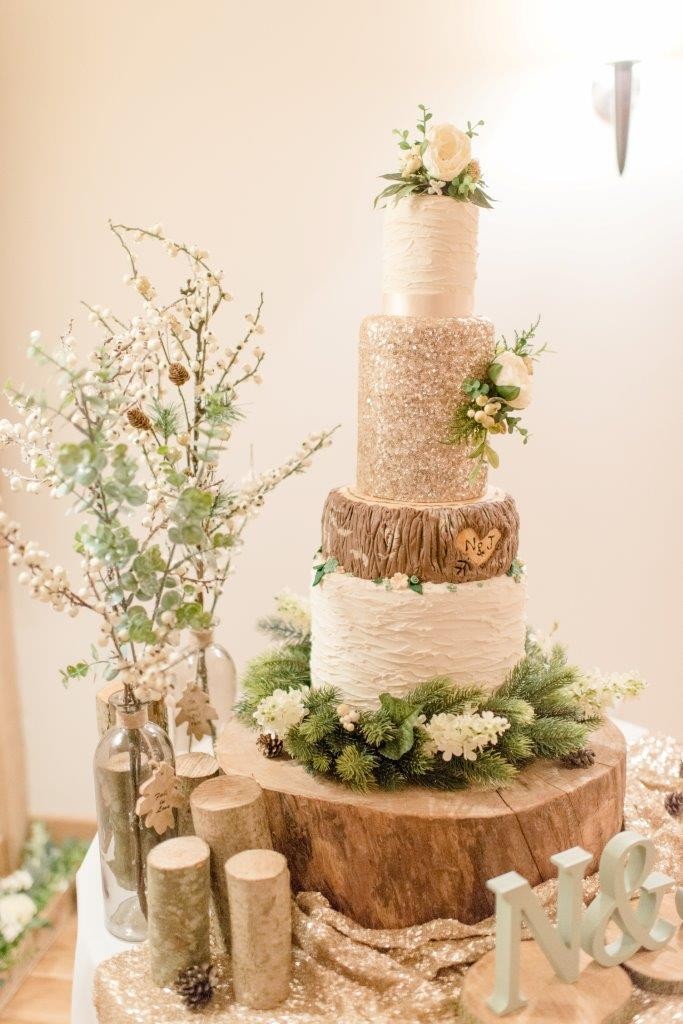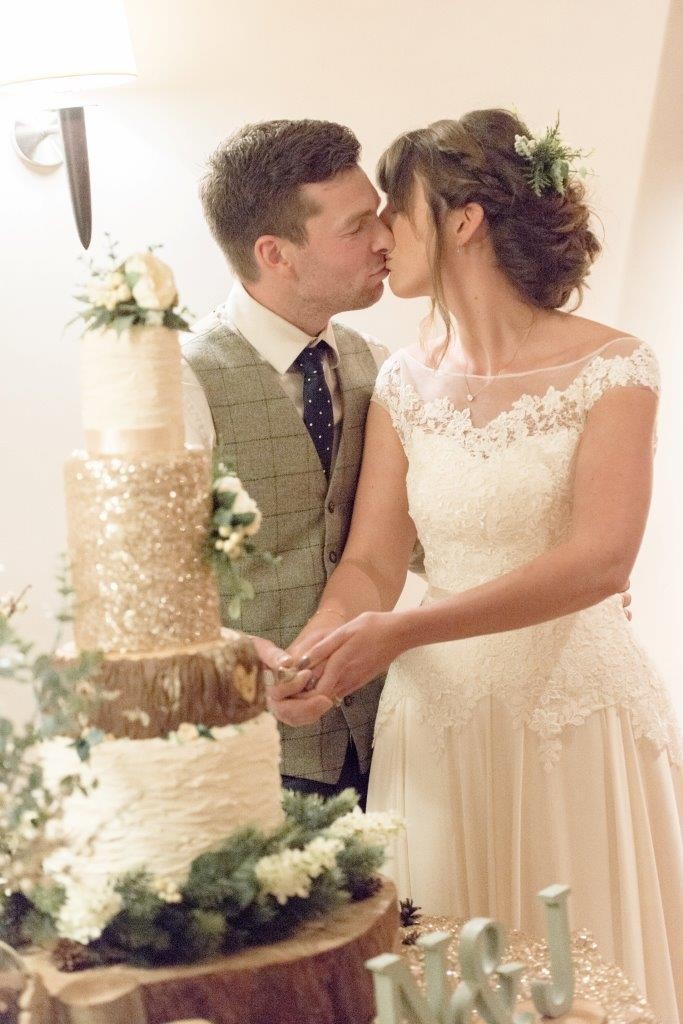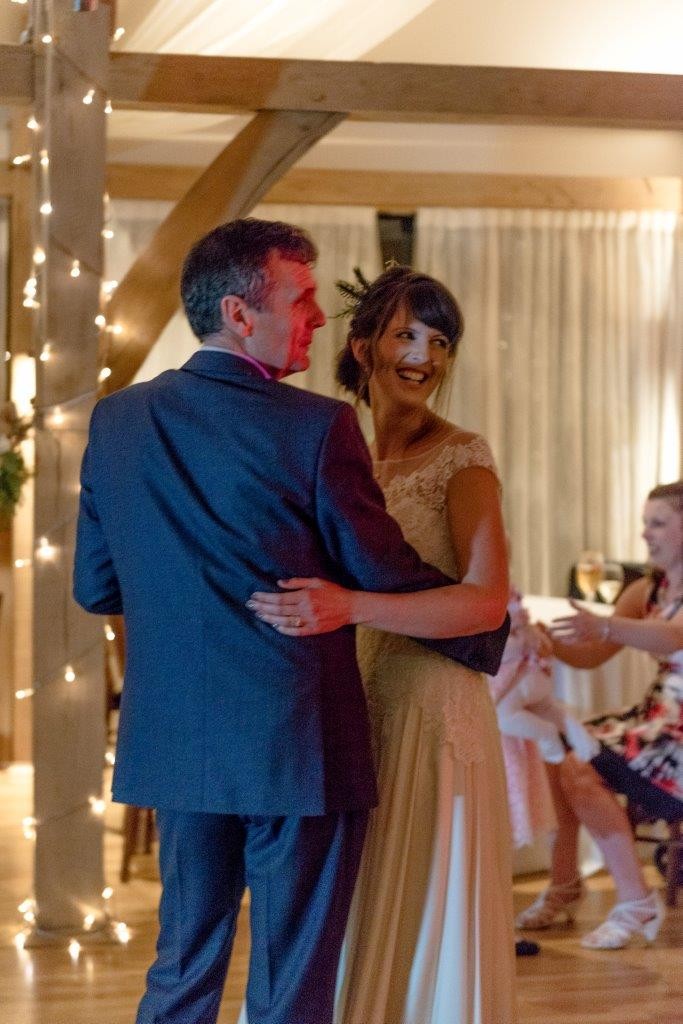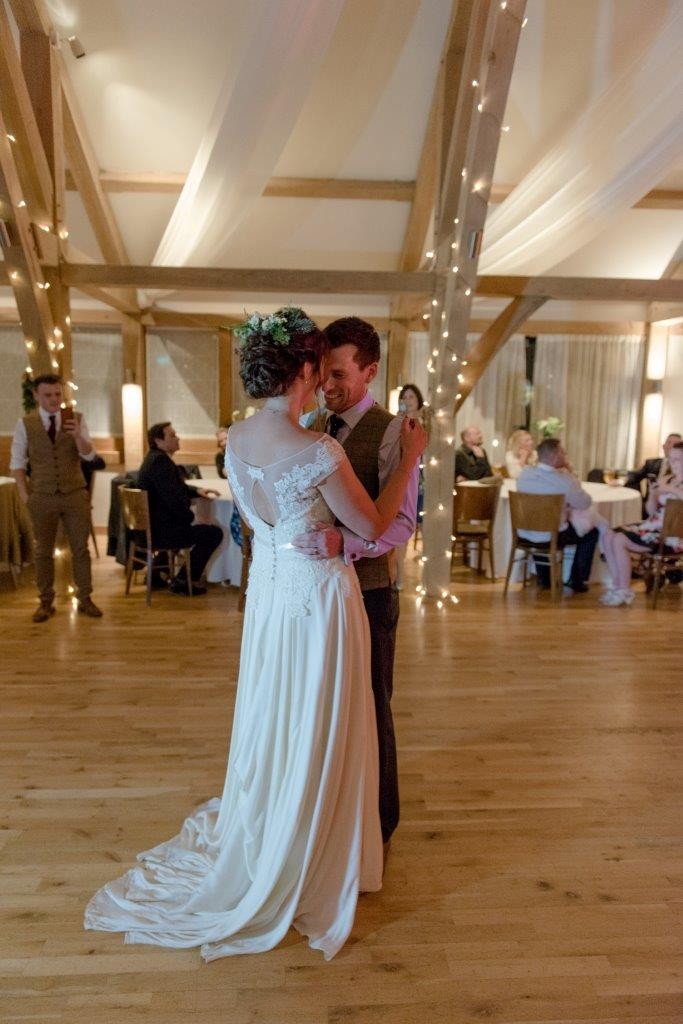 Suppliers
Photographer name and website: Rebekah Robert Photography
Planner/stylist: The Bride, Nicola
Florist: Mulberries the Florist
Dress: Naomi Neoh
Bridesmaids: ASOS
Groomswear: Purchased from House of Fraser, waistcoats hired from Colin Bell
Cake: The Bride, Nicola
Videographer – Ellen Jackson Weddings
Hair and make-up – Kerry Curl, Cambridge Make Up Artist