Chloe and Ross's Powder Blue Wedding at The Compasses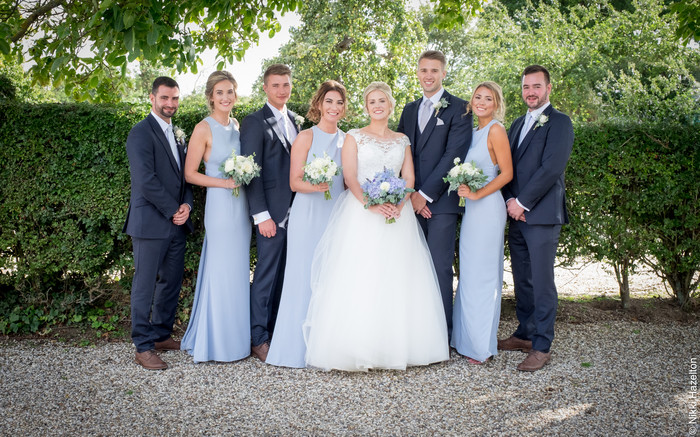 Celebrating a day that felt like it was destined for many, many years, Chloe and Ross's wedding at The Compasses in Pattiswick features the prettiest of colour palettes and some rather gorgeous countryside surrounding (just wait until you see the golden hour photographs!) If you have a penchant for the colour blue, you will love the wonderful tones that appear throughout their wedding styling, from striking periwinkle blue bridesmaid dresses to vibrant cornflowers and delphinium wedding flowers. Balanced with creamy touches, it is a blue and cream colour palette done wonderfully. With finishing touches such as the vintage touches of an old school pic n' mix stand, Winnie the Vintage Campervan photobooth and touching photos of both their parents on their wedding day beside the cake, the whole day feels classic, personal and wonderfully pretty. To find out more, we spoke to bride Chloe to get all the lovely details...
The Couple
"You could say that Ross and I were destined to be together. Our paths crossed many times over 10 years, same college, same university, same gyms and I was even the first on the scene at a car accident Ross had, all while hardly knowing each other and never really speaking. We both were always in long-term relationships and when one was single the other wasn't. We then found ourselves at the same gym, both single and Ross plucked up the courage to talk to me, after trying for quite some time. We bonded over workouts and this is where our relationship started.
Our first date was at the gym where Ross put me through my paces, surviving this, we went on a more "normal" date where Ross took me out for dinner. We saw each other quite a lot in a short period of time; we would sit in our cars talking until 4.30am, knowing we had work the next morning but just didn't want to go home. As time moved on, so did our relationship and as did our feelings. Each year has bought about a new chapter of our lives. Having met in 2014, we bought our first home together in 2015, Ross got down on one knee a year later and finally, we tied the knot this year. We look forward to what the next year will have instore for us.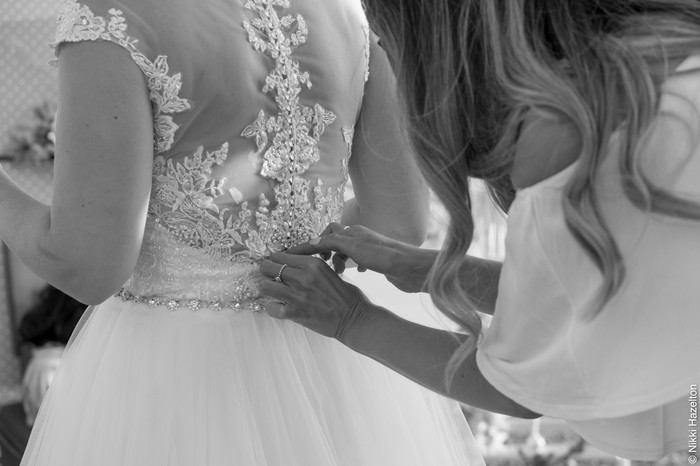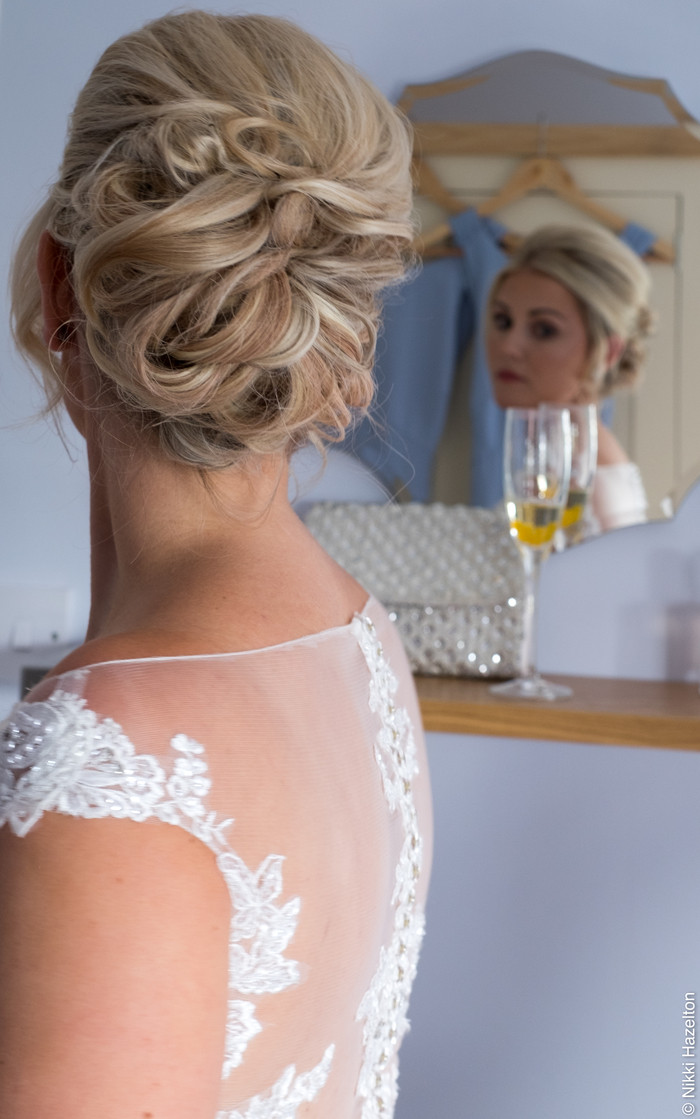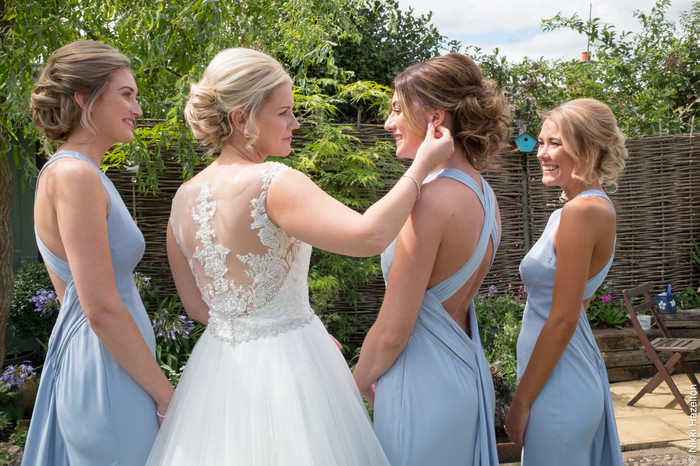 The Proposal
Ross proposed to me on holiday in Fuerteventura. Leading up to the moment Ross got down on one knee I was questioning how Ross was behaving. He was protective of his phone, his bags and even certain places in our apartment. The last thing on my mind was that he was going to propose, I know it should've been obvious, but I just thought 'this isn't the Ross I know – what is going on!!' I did not make proposing easy for Ross.
One day we went to this beautiful beach, with white sands and crystal-clear water, I suppose the perfect place for it to happen and that's what Ross thought. Ross started what was supposed to be his proposal speech. However, I didn't manage to let him get a word in edge ways (common theme in our relationship – oops!!). Everything he started to say, I had a response or answer for. In the end he gave up, luckily, he still wanted to marry me and kept trying.
One night we went for a stroll along a beach at sunset, it had been a place we had been to previously and I had commented on how beautiful it was. We sat on this bench looking out over what looked like a mountain in the sea while watching the sunset and it was here he got down on one knee and said those infamous words that every girl dreams of hearing – 'Will you marry me?' Obviously, I said yes otherwise I would not be writing this now. I could not stop smiling, the ring was beautiful and I didn't put my hand down, I just stared at it for the rest of the evening. Ross was relieved it was over and he didn't have to hide anything from me anymore.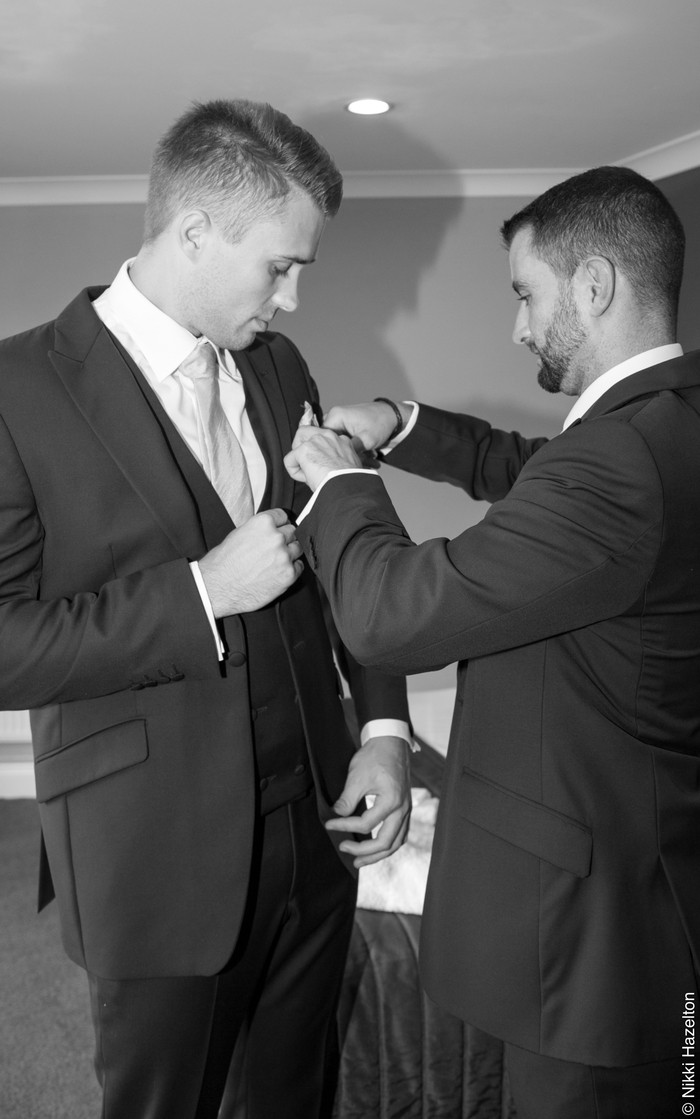 The Venue
We had seen The Compasses online, however at this time it was a pub during the week and wedding venue at weekends but we thought we might as well go and take a look as all other venues we had looked at were just not right for us. We wanted our wedding day to feel special, like everyone does I know, but we didn't want to feel like we were just another couple getting married, where you choose what colour sash you would like on your chairs and get the same package as the bride and groom who got married the day before.
We turned up at The Compasses and it had this warm feel. We met the owner, Jane and we were completely sold, they made us feel as though we were the only people getting married there and they could make a bespoke package for us which could include anything we wanted. The venue worked for us, from the first moment we walked in we could imagine our friends and family at the venue and we could envisage how our day would look.
We couldn't have asked for more from the venue on the day. Paul made us feel like we were the only wedding they have ever had there, he was relaxed but professional and ensured our day ran smoothly, dealing with any hiccups that may have arisen quickly and efficiently without us even knowing. The day wasn't scheduled to a particular routine, Paul ensure that the plan moved with how the day was going and how both Ross and I and our guests were instead of rushing through it. I would recommend the venue to anyone who is looking for relaxed but well organised wedding where you can put your own stamp on the day. It was perfect for us.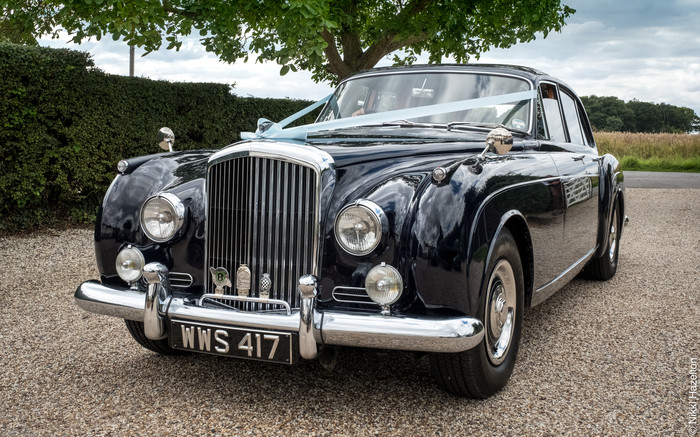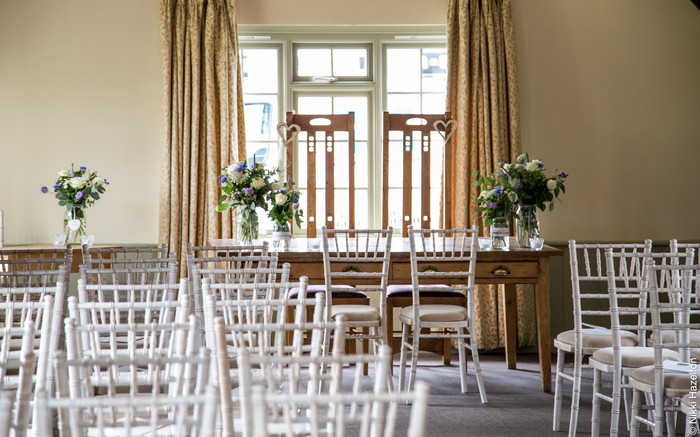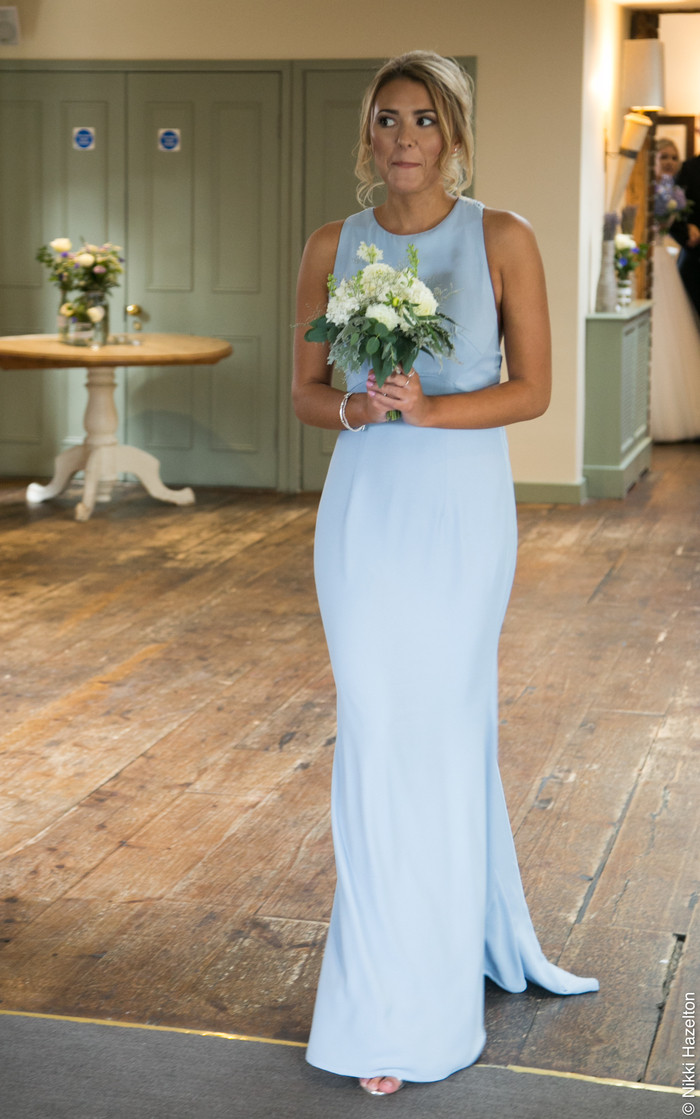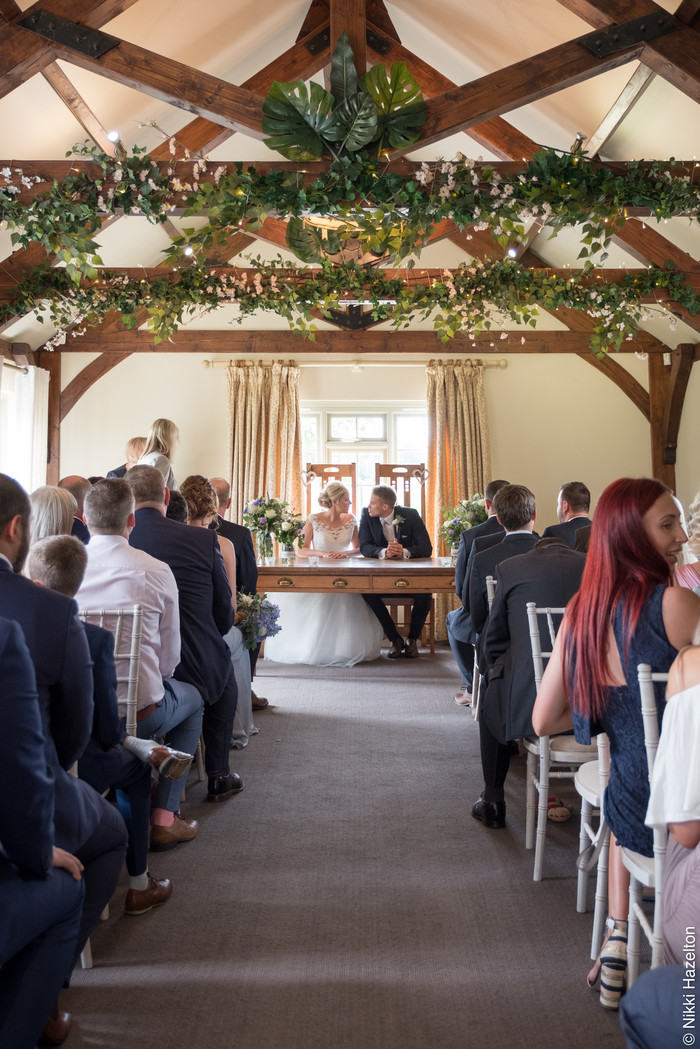 The Decor and Styling
The general vibe of the wedding was simple, classy but relaxed. We wanted our friends and family to feel at ease and have a great time. All the extra touches we chose with careful consideration and the overall feel of the day in mind. We used a local florist in the village Ross's parents live in, the photographer was someone we knew, who we knew would document the relax feeling of the day and my Nan decorated the cake. Standing either side of our cake were pictures of our parents when they got married. This year both sets of parents have been married for 30 years – who could have asked for better role models? We wanted everything that was part of our day to be special and part of our lives.
We have been to many weddings where when photographs are being taken the guests are just standing around, which can feel like a long time. During this time, we supplied our guest with food and alcohol - what's not to like? We also had someone playing acoustic music on the guitar to keep everyone entertain.
There is a joke about me that 'I love love' which I can't deny!! So, it would be no surprise that the theme of our wedding was love. The table names were qualities that Ross and I believe are important to any marriage: passion, respect, commitment, promise, trust, friendship, laughter, kindness, cherish and of course love. The favours were little bags of mints for everyone to have after dinner with 'mint to be' on the label. This is something that we were aware was quite common at weddings but we felt it encompassed the idea of how we got together.
With all this in mind we were aware we didn't want to fill the day with too many unnecessary bits and pieces because the most important part of the day was for Ross and I to declare our love for each other in front of the people in our lives who we love the most.
However, Winnie the Vintage Caravan (Photo booth in a caravan) was a real hit and we love being able to take silly pictures with everyone. We would recommend her!!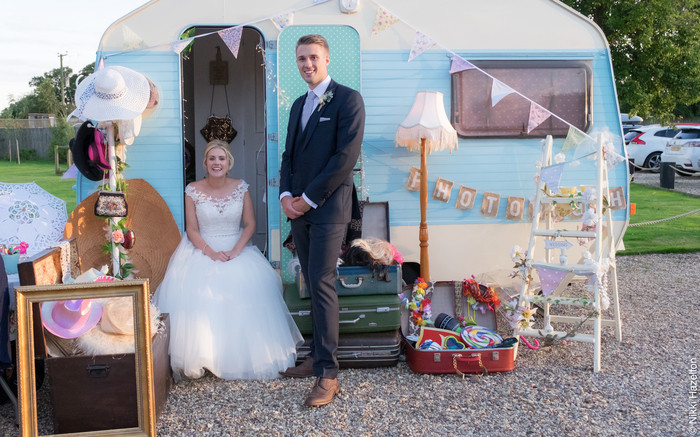 The Outfits
I would be lying if I said I hadn't dreamt about what I was going to be wearing on my wedding day and that I hadn't been researching dresses on Pinterest a long time before Ross proposed. I had walked past Grace & Lace many times when I was younger and thought to myself one day I will buy my wedding dress from this shop. I had this idea I wanted something simple, classic and understated but when I took my mum and sister shopping for my perfect dress I came back with something quite different.
I tried on 5 dresses and I put on what was my 'perfect' dress that I had dreamt about but I just didn't get that feeling that this was the dress I was going to get married in. And then…I put on MY dress and you could not wipe the smile off my face, it was slightly bigger (puffy) than I was expecting and Swarovski jewels all around it. This wasn't the understated dress I went in searching for but it was so much more and everything I could have wished for. The back had gorgeous detailing and I just felt amazing in it. When I walked down the aisle Ross said I could not look more perfect and everyone commented it was not the dress they expected me to wear but it was so much more.
Ross went to choose the suits with his best men, he chose navy as grey is not his colour…he does know this, I am not just saying it!! They had ties matching the bridesmaids which were a powder blue, complimenting the navy blue well.
The bridesmaid dresses were classic and simple but a slight pain to get right as the sizing was slightly off as I had order them online. However, all 3 bridesmaids look stunning in them and really worked with the overall look of the day.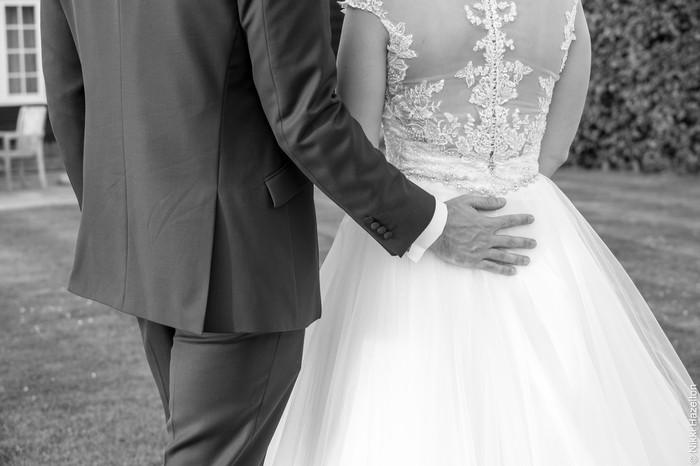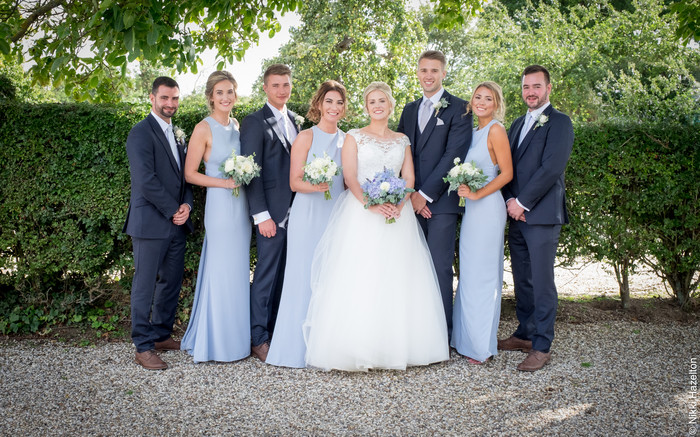 The Food
We were lucky enough to have 2 food tasting sessions at the venue, we are not people who will turn down an opportunity to try food, especially as it was free! On a serious note, we did want to ensure we chose the yummiest food for the day as it is a very important part for both ourselves and our guests. However, when it came to eat it, due to the adrenaline, I struggled to eat it all which is so unlike me! We had canapés for when the photographs were being taken, we had a starter of pork terrine with sourdough bread (they say it's healthy), the main course was chicken wellington and finally, there was a trio of desserts (Eton mess, lemon posset & chocolate brownie) – a little bit of everything people love. In the evening, to soak up the copious amount of alcohol (mainly gin!) that was consumed, there were fish finger, sausage and bacon sandwiches. We can safely say everyone was well and truly fed.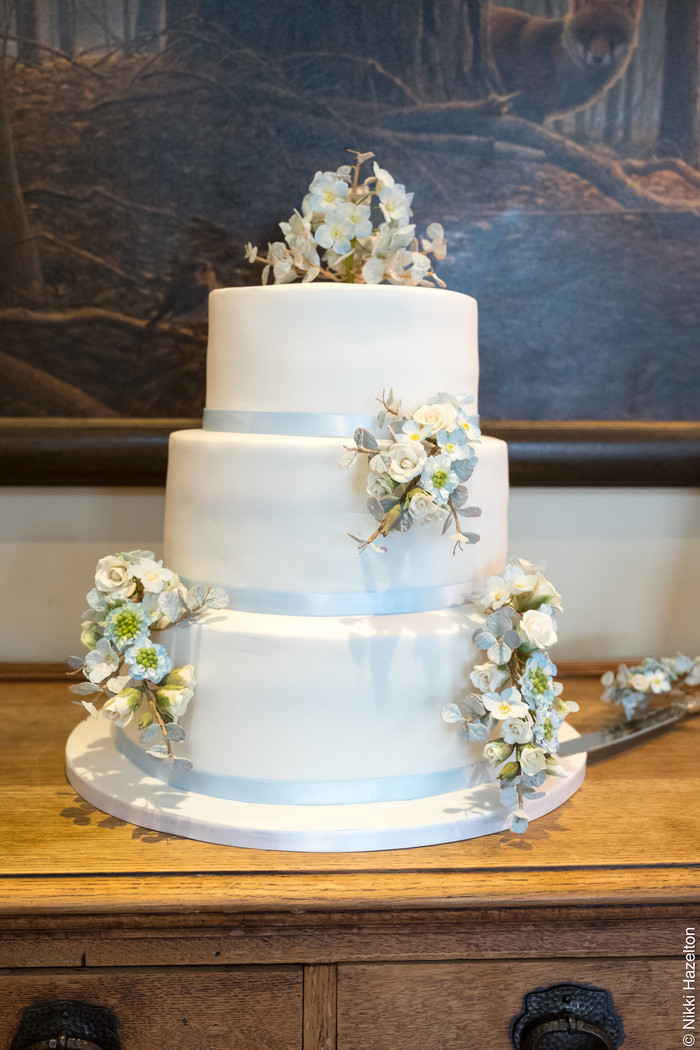 The Entertainment
We chose two local guys from a band who played their guitars acoustically while photos were being taken and we also had a local DJ for the evening. Both sides of the family love to dance and from the moment the music started the dance floor was full, with us all having to be dragged off at the end of the evening! The DJ commented on how it was the best wedding he had ever done and he had never seen so many people up dancing. We knew this was a record we could set as I knew how much we loved to dance!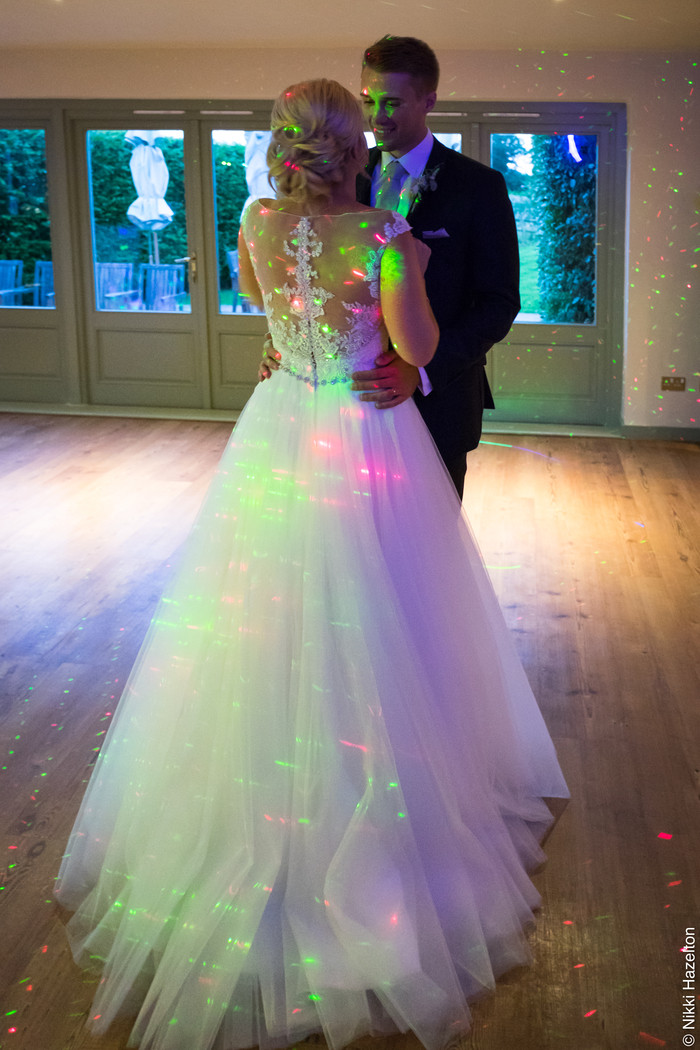 The Flowers
We chose a florist who is local to us, where the flowers are grown nearby and when we went to have a talk with them about choosing our flowers we were taken into a beautiful converted barn, the log burner was on and a pot of tea had been made. The colour theme of the wedding was powder blue which meant it restricted flower choice. However, I have been in love with hydrangeas for quite a while and they come in blue. My bouquet was made up with Hydrangeas, David Austin Roses, Scabiosas, Delphiniums and Eucalyptus foliage. The bridesmaids had exactly the same but only white/cream flowers, with no blue to ensure they stood out against their blue dresses. The men wore a David Austin Rose with Eucalyptus foliage for button holes which complimented their blue suits.
The table flowers were put together by Jane at the venue but were ordered from the same florist. They were put together casually in a Kilner jar. We didn't want them to look too formal or have too much on the table. They were also dotted around the venue to bring it all together.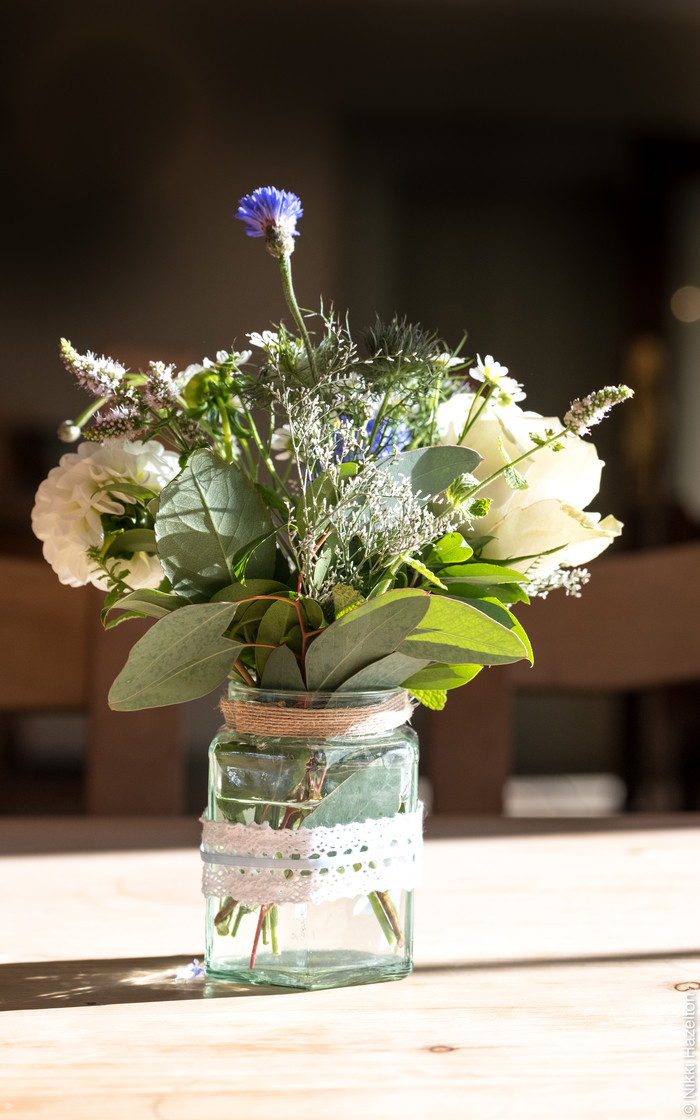 The Photographer
We chose our photographer because they were someone we knew. We saw quite a bit of her work before the day and loved her professional but relaxed style which is what we wanted from our day. We didn't want hours of formal photos, we wanted a couple of nice ones which we could have framed and then the rest natural. We had an engagement shoot prior to the wedding which was mainly for practise as we aren't ones to have our photos taken. This allowed both of us and photographer to get acquainted in a photographic way and allowed us to relax more on our wedding day.
The photos arrived a few weeks after our wedding, in the form of a memory stick but in a lovely box, beautifully wrapped and we sat down to watch them together. It was lovely being able to reminisce over the day and see parts of the day that we didn't get to see. We have since shared them with our families and we are just waiting for our wedding book to arrive, which is on its way. The whole experience was great, the photographs were just part of our day rather than something we felt we had to do and didn't take us away from our guests as we didn't want to miss parts of the day.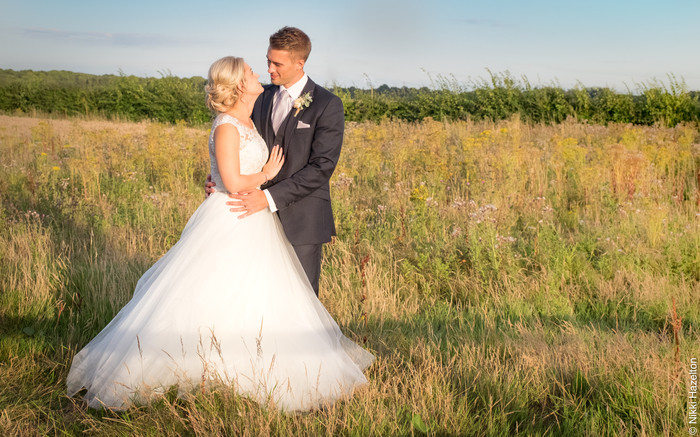 Funny Moments
Whether it was Ross's 80+ year old grandparent dancing to Def Leppard being propped up by two young men, a bridesmaid stealing the grandparents walking sticks to dance round with or myself in my glittery converse, jumping, as if I was an Olympian doing the long jump to the Time Warp - the day was full of funny moments. Obviously, fuelled by alcohol as the venue quite quickly watched their extensive and particularly long shelf displaying many bottles of gin be whittled down to only a few. Finally, Ross decided to take everybody on the dance floor out by dancing to Mr Blue sky (his favourite song), arms stretched out as an aeroplane.
Favourite Moments
As I am sat here writing this I asked Ross what his favourite moment of our wedding day was. He said that his favourite moment was seeing me walk down the aisle and the ceremony as a whole because it was just really lovely. It sounds a cliché thing to say but for me it was marrying Ross, celebrating with our friends and family and obviously wearing my dress (I am so sad I will not be wearing it again!). It truly was an amazing day and more than we ever had thought or hoped for. It was what it was because of the people who helped us plan it (especially our mums), the people who came and made it the day it was, and obviously the love that me and Ross have for each other.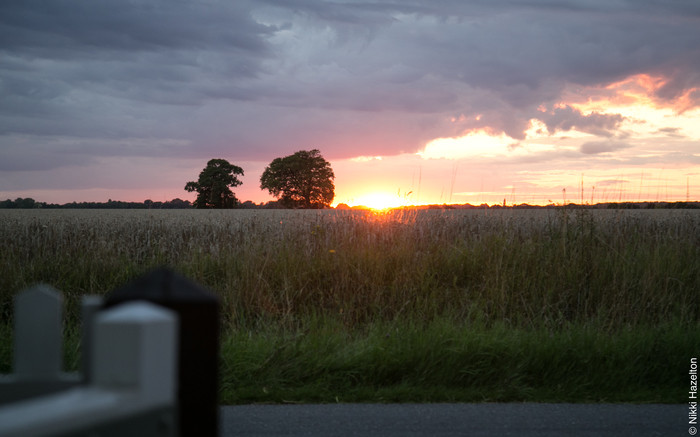 Words of Wisdom
If we could say anything to the soon to be bride and grooms who are planning their big day it would be don't let it stress you out, enjoy the process of planning because the day is over so quickly and if things go wrong it's ok. Just remember the reason you are getting married and the little things that may go wrong don't matter as long as you get to marry the one you love. We would have not changed anything because our day was perfect for us.
The Suppliers
Photographer – Nikki Hazelton
Florist – The Country Flower Company & Jane from The Compasses
Outfit – Grace & Lace - Colchester
Bridesmaids – ASOS
Groomsmen – Anthony's - Colchester
Hair and Make Up Stylist – Caramel Browne – Colchester
Stationery – Inprint and Ourselves
Cake and Favours – DriftAway Cakes (made cake), Chloe's Nan (decorated cake) & Ourselves
Catering – The venue – The Compasses
Entertainment – Cushti (Acoustic band) & DJ Andy Richard
Décor and Styling – Ourselves