How to Style an Outdoor Wedding Ceremony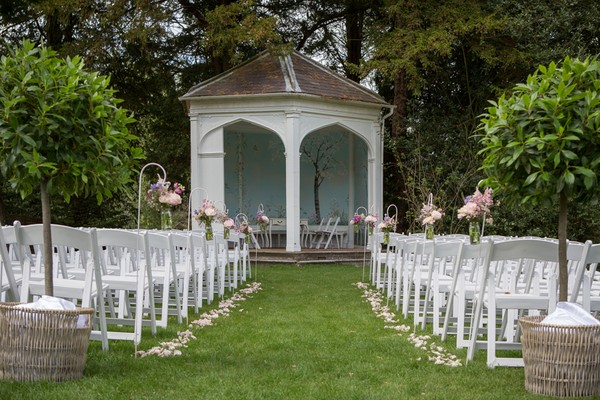 For pure romance, it's hard to beat an outdoor wedding ceremony on a beautiful day. Think gorgeous gardens with immaculate lawns, fabulous flowers plus lots of on-trend foliage and it's easy to see why more and more couples are saying their vows in the great outdoors. But Country House Wedding Venues know that you'll still want to bring your own style to your wedding so here are their must-read tips for styling outdoor wedding ceremonies…
Source: Ben Roberts
Start with the practicalities
This might not sound like the most enjoyable way to start planning but trust us when we say it's oh-so necessary. For your styling to work, it needs to be practical AND pretty otherwise all those beautiful decorations won't have their chance to shine.
Source: Helen Warner
Start by spending some time at your venue and survey the ceremony area with a critical eye. What will guests see when they arrive? What will be behind you during your ceremony? Are there steps, tall trees, pathways or ornaments already in place? Take photos of the area if possible because these visual reminders will really help you as you start to plan the look of your ceremony.
Source: Love Day Photo
While you're at your venue, why not ask them if they've got photos from real weddings that you can look at too. Seeing what's worked for other couples is a great starting point.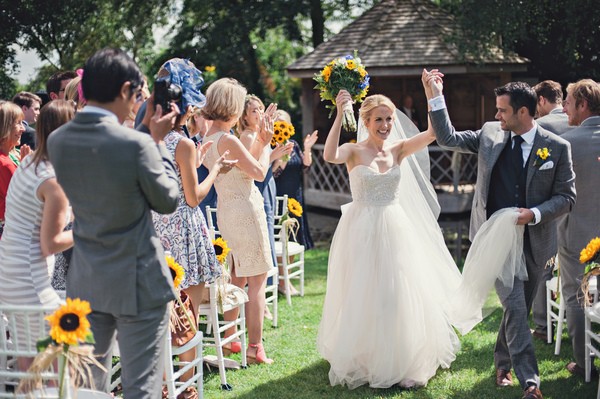 Source: Photography by Bea
Floral decorations for outdoor wedding ceremonies
Weddings and flowers are the perfect partnership and even if your ceremony is taking place outdoors, floral arrangements should still be on your list of styling essentials. One or two large, stunning arrangements will create fantastic focal points and provide a lovely backdrop for your ceremony photos. These could be traditional arrangements on pedestals or arrangements sat on rustic wooden barrels. Hanging floral hoops look spectacular too and we're still so in love with masses of jam jars – fill them with flowers and group them together for maximum impact.
Source: Bridealore.com
Source: Les Amis Photography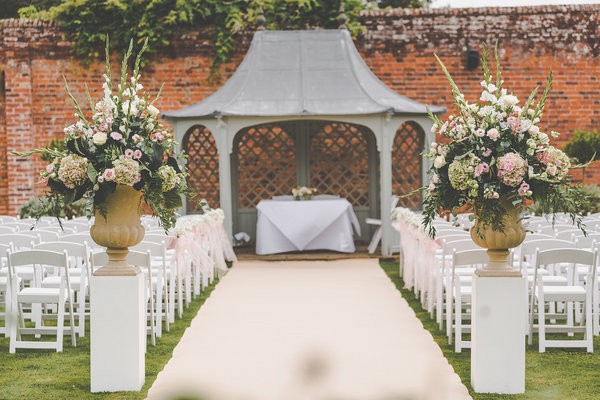 Source: Sam and Louise Photography
The charming gazebo at Mythe Barn looks even more delightful when flowers are added and don't forget that arrangements can be moved after your ceremony to flank your top table for example. The Victorian summerhouse at Wasing Park, on the other hand, needs little decoration inside thanks to the amazing painted mural so you might want to consider arrangements welcoming guests to the ceremony area instead.
Source: CP Photography
Flowers lining the aisle are also really popular for outdoor ceremonies but go for practical arrangements rather than petals, which might blow away or candles, which might blow out! If you don't want too many flowers, little posies in mini vases or simply attached to the chairs nearest the aisle look wonderful too.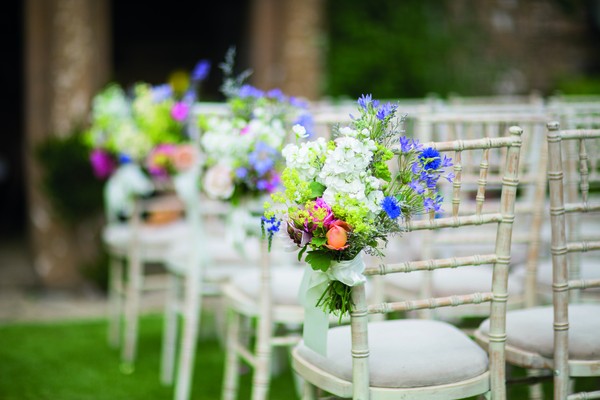 Source: Gareth RIchards

Source: Ben Ball Photography
Fabulous finishing touches
Of course, there's more to outdoor decoration than flowers and, with your venue's permission, you can let your imagination run wild. Lengths of bunting strung between trees, trees wrapped with fairy lights, rustic signs, decorations hanging from branches, stunning fabric backdrops, oversized balloons (weighted down of course!) or even hired in props such as big pieces of furniture all contribute to the look of your wedding and everything you do brings your personality to the proceedings.
Source: Rochelle Cheever and Brit and Co
Finally, think of a few finishing touches that your guests will really appreciate during your outdoor wedding ceremony. You could make orders of ceremony that double up as fans or provide plenty of white umbrellas 'for rain or shine'. If the weather's not as kind as you'd hoped, a basket full of fleecy wraps will keep guests warm or if temperatures are soaring, how about setting out lots of cute sunglasses that can double as wedding favours?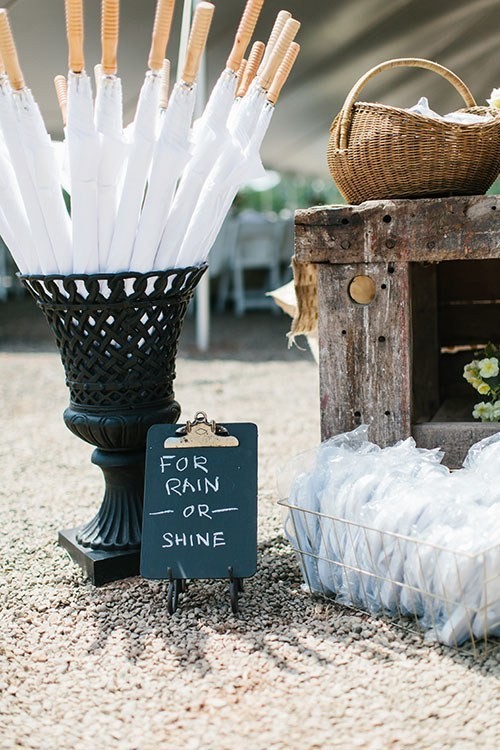 Source: Colette Kulig Photography
Whatever you choose to do, enjoy your outdoor wedding ceremony and here's to a fabulous day!