Gifts for the Bridal Party and Favours for the Guests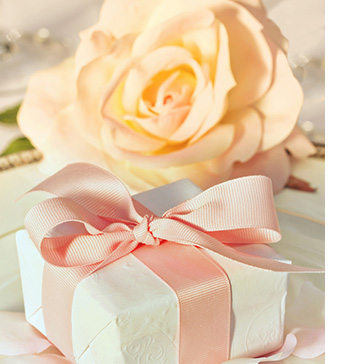 It is customary for the bride and groom to exchange gifts on their big day but also for them to share gifts with their parents and their bridal party! Alongside this, the couple often leave a gift for all their guests, this is known as a favour!

Gifts for the Bridal Party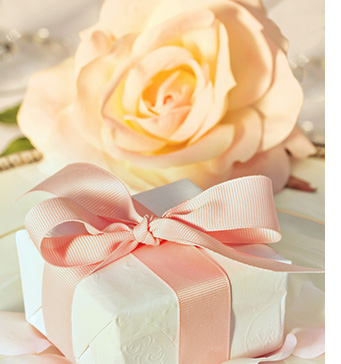 You give gifts to the bridal party as a way of saying thank you for all the hard work. They have helped you throughout the wedding planning and again on your big day, therefore a little gift from you is a lovely way of saying you appreciate all their hard work! The gifts are usually given out during or at the end of the groom's speech. The bride is usually involved when it comes to handing out gifts to both your mums!

For your parents, maybe think along the lines of theatre tickets, dinner out at a posh restaurant or a day at the races. You will know what they like, try getting something that they may not be able to buy themselves, like a special occasion or day out. Another lovely touch is to arrange for a gift to be sent to each set of parents a day or two after the wedding - a tree/plant for the garden or a framed print from the wedding with a hand-written note from you both.

For your mothers, it is traditional to present them both with a large bouquet or flower arrangement.

For your bridesmaids, your local jewellers and specialist gift shops will be able to help you choose items. It is often nice to give them a personalised, unique, memento of your wedding day. Maybe a bracelet, necklace or trinket box! If this is not suitable, then maybe you could treat them to a weekend away, a handbag, perfume or a day at the spa?

The best man and the ushers… maybe a silver, engraved hip flask, something again unique and personalised. This often means a lot to people and is a great way to say thank you. If this is not a suitable suggestion, then try thinking about different days out you could do together or as a group.

For the younger bridesmaids and pageboys, maybe tickets to a theme park or even a teddy bear! Just a small gesture to show you are really happy they are there and helping.

Favours for the guests


A favour is your chance to give a little gift or keepsake to your guests as a way of saying thank you. After all, your guests help to make your day as special as they can!

The traditional favour is made up of five sweet almonds representing, health, wealth, happiness, fertility and luck. They are often wrapped in a net of lace in a design and colour of your choice. If you have a wedding theme, for instance, you could incorporate the two.

However, nowadays, there are all sorts of ideas for favours! You could personalise chocolate, hand make soap… the options are endless. It is a fab opportunity to get really creative!

Whatever the gift you choose on, your guest will really appreciate the thought!

Disposable cameras


It is the fly-on-the wall shots of your reception that will give you the most surprises. You are sure to miss things going on, but someone quick enough will capture it for you!

Leaving a disposable camera on each table gives your guests the opportunity to add their contribution to your special day. Always nominate someone to be responsible for collecting them up at the end of the day and arrange processing whilst you are on honeymoon, it'll be another treat to look forward to on your return!