Destination weddings… How far would you go to get the wedding day you really want? Would you change your religion?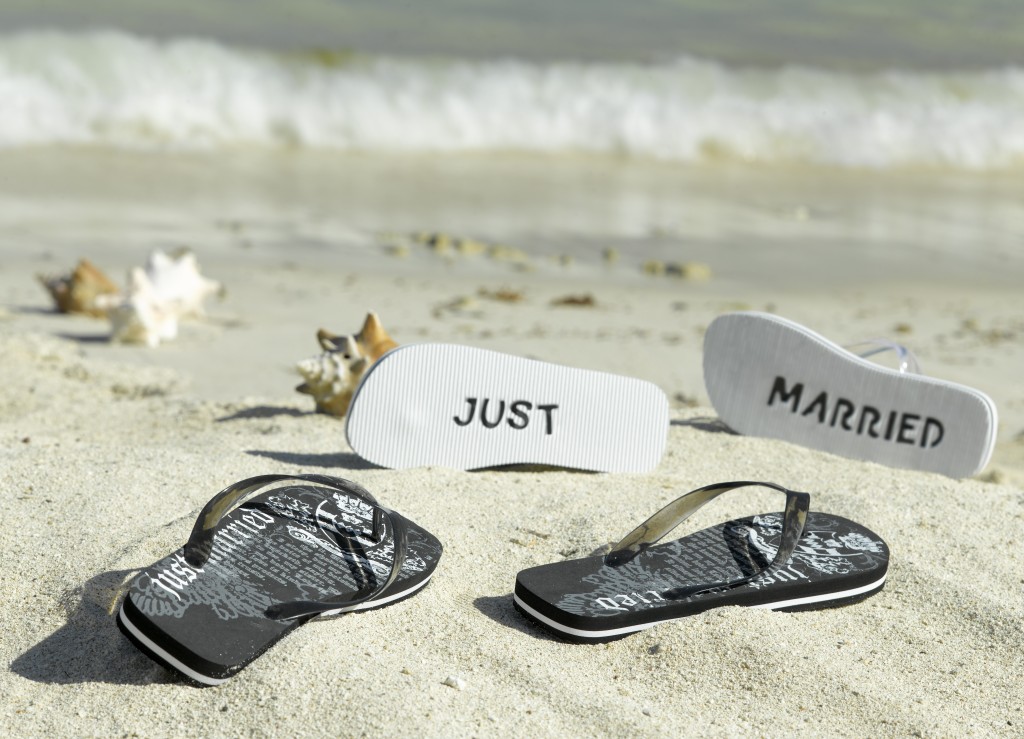 Oh, what we'd give to be on those perfect sandy beaches right now! Today's post comes to you from the dynamic duo that is Perfect Travel Club, luxury, bespoke honeymoon and destination wedding providers, and also their partner in crime, Dress In Love Bridal Wear. Over to you, Rebbeca!
It was just another Saturday in the boutique, we were almost fully booked with back-to-back brides to be on the hunt for their dream wedding dress, high pitched yelps and sighs from bridesmaid were a plenty and the tissue box needed refilling once again.
We had a free hour to plump up the gowns, polish the mirrors, rearrange the sparkling tiaras and gaze at the crystal embellished Louboutins or so we thought. Our day was just about to change…
Four ladies cautiously popped their heads around the door and almost whispered "We don't have an appointment, can we just have a little look?" well of course they could, unless we have an appointment in progress our doors are always open. These glamorous ladies had just been to a bridal appointment not too far from where we are, it hadn't been a success, they were going to drown their sorrows over lunch and prosecco when they stumbled accross us.
Almost immediately two gowns were held tightly by the bride and she pleaded with us to try them on, we had the time so we welcomed her in and the "little look" had become an appointment. We opened the champagne and went through all the unique services that this bridal party had just walked into.
They were happy to hear about the dress insurance, excited to hear about the bridal styling, impressed to hear that all our gowns are made by British designers and absolutely over the moon to hear that they receive instant membership to Perfectmoon Travel Club.
The bride explained how she and her fiance wanted to get married abroad but having been advised that it would not be legal they decided against it and gave up on the dream wedding they had always imagined.
I immediately stood up and without realising did a perfect bridzilla impression "No, no, no, who told you such false information?" I then apologised for my outburst and explained there is not much I don't know about all things travel, honeymoon and destination weddings.
Getting married abroad is a big step to take there is a lot to consider, one being the legalities and then you have to think of your guests and the financial implications, in fact the list can be very long. There are pros and cons and it is either the absolutely right thing for you to do or not.
The lovely bride we had with us today had decided it was the right thing for them to do but did not want to do it twice, thinking that to make it legal they would have to have a ceremony in the UK as well as their chosen destination.
There are some countries that British citizens cannot legally get married but there are also many many that they can legally wed.
This bride and her fiance had chosen a beautiful and exotic island less than 3 hours from the UK, with sunsets to rival those of the Indian Ocean. Crystal-clear waters, social scene beaches, boho bars and superstars. An Island that is a World heritage site for its architecture, coastline and sea life, not forgetting the legendary nightlife.
We are talking Ibiza, beautiful Ibiza.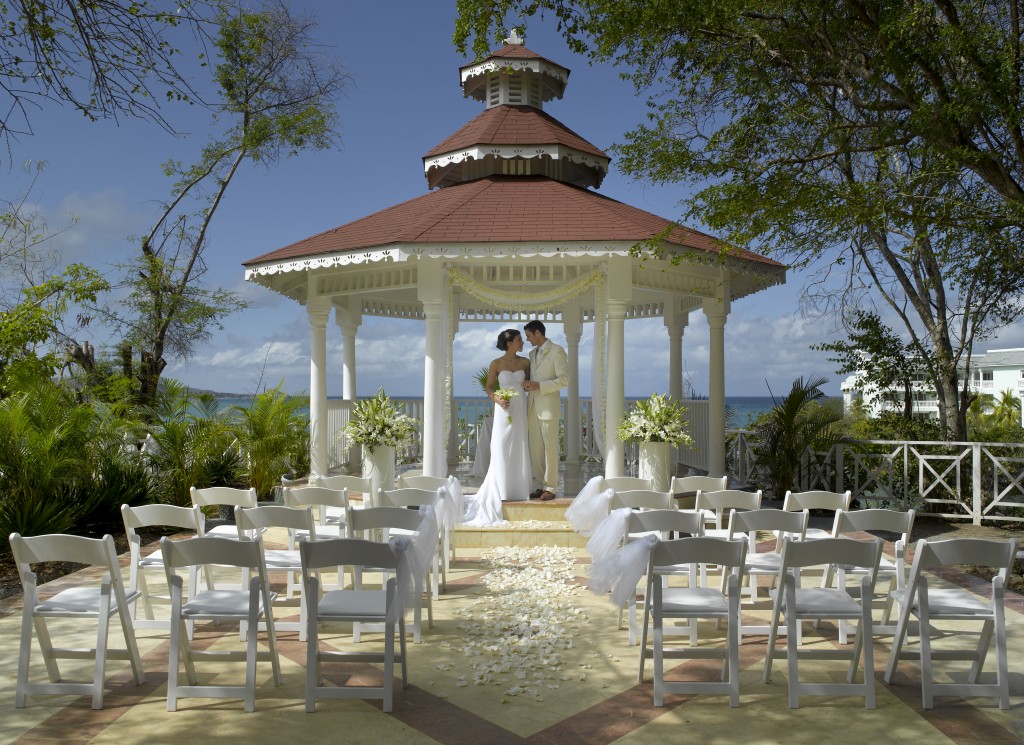 As beautiful as it may be, this destination is not so straight forward when it comes to tying the knot legally, the long and short of it is unless you are an Ibizan resident or Catholic you cannot legally marry on the island.
There are three types of wedding ceremonies available to the non-residents, and couples need to decide which option is the most suitable one for them.
Only Ibiza residents, or non-resident Catholic couples can legally marry in Ibiza – for all others, they have to be legally married in their home country.
If either the bride or groom are Catholic they can legally marry in one of the many white washed Roman Catholic Churches that are dotted all over the island. A local English speaking priest will conduct the ceremony and mass. This option requires completion of a marriage preparation course and paperwork to be completed before the ceremony can be performed, so couples wishing to take up this option must allow plenty of time to gather and submit all the necessary documents. You will need to contact your local priest in the UK to ask for their help in arranging this, it is your local priest that will get in contact with a local priest in Ibiza who will conduct the ceremony. At the very least, you will need the following documents: a valid 10-year passport, baptism certificate, a confrimation certificate, certificate of no impediments, and certificate of completion of pre-marriage course. These are not all the documents you will need, the local priest will advise of the rest.
Another religious option is a blessing at an interdenominational English-speaking church, which requires the couple to be legally married in the UK first, and then to come to Ibiza for their blessing ceremony.
The third option is to have your ceremony at a hotel, on the beach, in a restaurant or on a cliff top. The ceremony will be hosted by a non-clergy host and the wedding will not be legally recognised. You will need to marry in the UK before or after your Ibiza ceremony to be legally wed in the UK.
The latter option is the most popular, with the fabulous beach bars and hotels on offer in Ibiza, many couples see the Ibiza ceremony as a blessing of their love for one another and then sign on the dotted line in a local registry office when they return to the UK.
For my bride, this was not an option, she wanted to do it once and do it legally. Also, not being an Ibizan resident meant the only option would be to get married in a Catholic church hosted by a priest. But neither this bride or her groom were Catholic.
That was about to change… "I'll become Catholic" she gasped, "my mum is Catholic" she looked at her sister for reassurance, "We have been raised as Catholic" still waiting for a response from her younger sister who sat with her mouth wide open, "I feel like I am Catholic it's just not on paper". Then there were tears.
Myself and Lindsay, owner of Dress in Love Weddings, were a little unsure of what the tears were for, was she happy? was she sad? had the champers gone to her head? we pondered and suggested trying on a dress to change the mood slightly.
First dress we tried was "The one" but as usual we tried on another 5 dresses just to be sure and yes, the first dress was perfect in every way, it was even perfect for a beach wedding in Ibiza. I don't like to say too much about our brides dresses before the wedding but this one was a dreamy sweetheart gown, very girly, understated yet very Carrie Bradshaw.
This was not the first time we have seen someone take drastic actions in order to get their perfect day. We worked with a bride getting married in Capri in July, she found her dream dress in the boutique but it was not what she was expecting to fall in love with. Due to the size and weight of the dress she cancelled the wedding, changed the date, the destination and her colour scheme and re-booked for Sicily in April!
If you would like to be an "In Love Bride" and experience the VIP package at our boutique in Hertfordshire please contact us on 01992 582705 or
contact us here
. Your appointment will include dress, tiara and veil trials, honeymoon planning, bubbly and a whole host of bridal benefits.
If you want to get married abroad there is a lot to arrange and think about for example, your guests, the date, the destination and the legalities. The legalities can be one of the most stressful tasks for a couple to manage. At Perfectmoon we will advise and help you at every step, whether it be arranging a blood test in Mexico (yes this is a legal requirement before your ceremony) or helping you fill in paperwork.
You can find more information on destination legalities, requirements and commonly asked questions on our website
http://www.perfectmoon.co.uk/destination-weddings/
or you can
get in touch with us here.
If you have chosen to tie the knot abroad here a few things to think about ...
Destination
- If you are not normally a beach person, then don't get married on the beach, if you don't like long flights, make sure you pick a short haul destination. Happily ever after needs to start happy so don't feel pressured by guests or by curiosity to tie the knot somewhere that is not usually your style.
The world is big place, we can find somewhere to suit both bride and groom.
At the same time, work with your destination, there is no point travelling all the way to Jamaica if you are having a very British menu, service, cake etc. How about having some rum cake? Or if you are getting married in Italy how about a Prosecco reception? Or if its Mexico how about fajitas on the menu?
The dress
- The dress doesn't need to suit the destination style wise but it almost certainly does need to suit the destination comfort wise.
Think about temperature, the last thing you want is to be uncomfortable on your big day, if it is hot go for a lightweight dress, if you have always dreamed of a big princess gown then make sure the skirt has hoops to hold the fabric away from your skin.
Undershirts can be worn by men to soak up the sweat and stop any embarrassing sweat patches, we think all grooms are likely to sweat let alone in 35 degree heat too.
If you are getting married in a city think about walking on cobbles and a car journey to the venue, will your dress crumple easily? Can you walk in it? Can you comfortably walk in your shoes?
Take your dress with you in the cabin on the aircraft, very occasionally luggage does go missing and a wedding without the most important piece of clothing would be a disaster. Dress in Love bridal boutique can package your bridal dress in a suitable box to take into the cabin, that way it will never leave your side.
Sunbathing pre-wedding
- All destinations require you to be in resort for a few days before the wedding, unless you are staying behind closed doors in the hotel make sure you avoid sun tan lines. Easier said than done we know. Sun cream, loose cover-up clothing, suitable swimwear and possibly some fake tan will help you.
Hair & Make up
- Take note of the predicted forecast at your chosen destination, think about humidity, temperature, wind and lighting. There is nothing worse than working up a sweat in the sun and your wedding photos looking as if your face has melted. Perhaps change your products, if you normally use a foundation a tinted moisturiser may be more suitable, think about waterproofing your eyes - not for tears, for splashing in the sea or pool or even snow flakes if you are getting married in a winter wonderland.
If you are in resort for a few days before the wedding your skin colour will change and your usual makeup may not blend in as well.
Humidity hair is a nightmare at the best of times let alone on your wedding day, take suitable products to control frizz and think about how you would like your hairstyled.
Gifts
- You certainly won't want a suitcase full of gifts to bring back with you nor will your guests want to cart them out. Advise guests beforehand, perhaps in the invites, of what you would like them to do. Some couples like to open a gift list in a department store, they can then arrange for them to be delivered on a suitable date once returned.
Loved ones
- Before you confirm the destination have a think about your nearest and dearest, can they travel OK? Is the climate suitable for them? Are they OK with the length of flight? Do they have medical needs?
Many hotels have live web cams, with a little pre-organisation we could arrange for loved ones unable to travel to watch live on the internet.
Many hotels allow non resident guests to visit the hotel for the wedding, if your chosen hotel is out of budget for some guests they could stay at an alternative and still attend the wedding.
Rebbeca Kingston -
Perfectmoon