Choosing your Ceremony: Church, Civil Registrar or Celebrant?
Often when couples are asked about their wedding day, the ceremony is the last thing on their mind to be mentioned. Many couples view this part of the day as something they have little control of and don't realise just how many personal touches can be added to their nuptials if they wish…
One of the first things to decide when you plan your wedding is what kind of ceremony you might like to have; and these days there are so many options to consider, yet most couples aren't even aware of the choices!
As a celebrant, I could talk to you all day about the possibilities available to help you make your ceremony your own. But I'm here today to simply give a rough guide to the basics; helping you to decide whether you wish to have a Church Wedding, a Registrar Marriage, or a Celebrant Ceremony on your wedding day – and the pros and cons of each!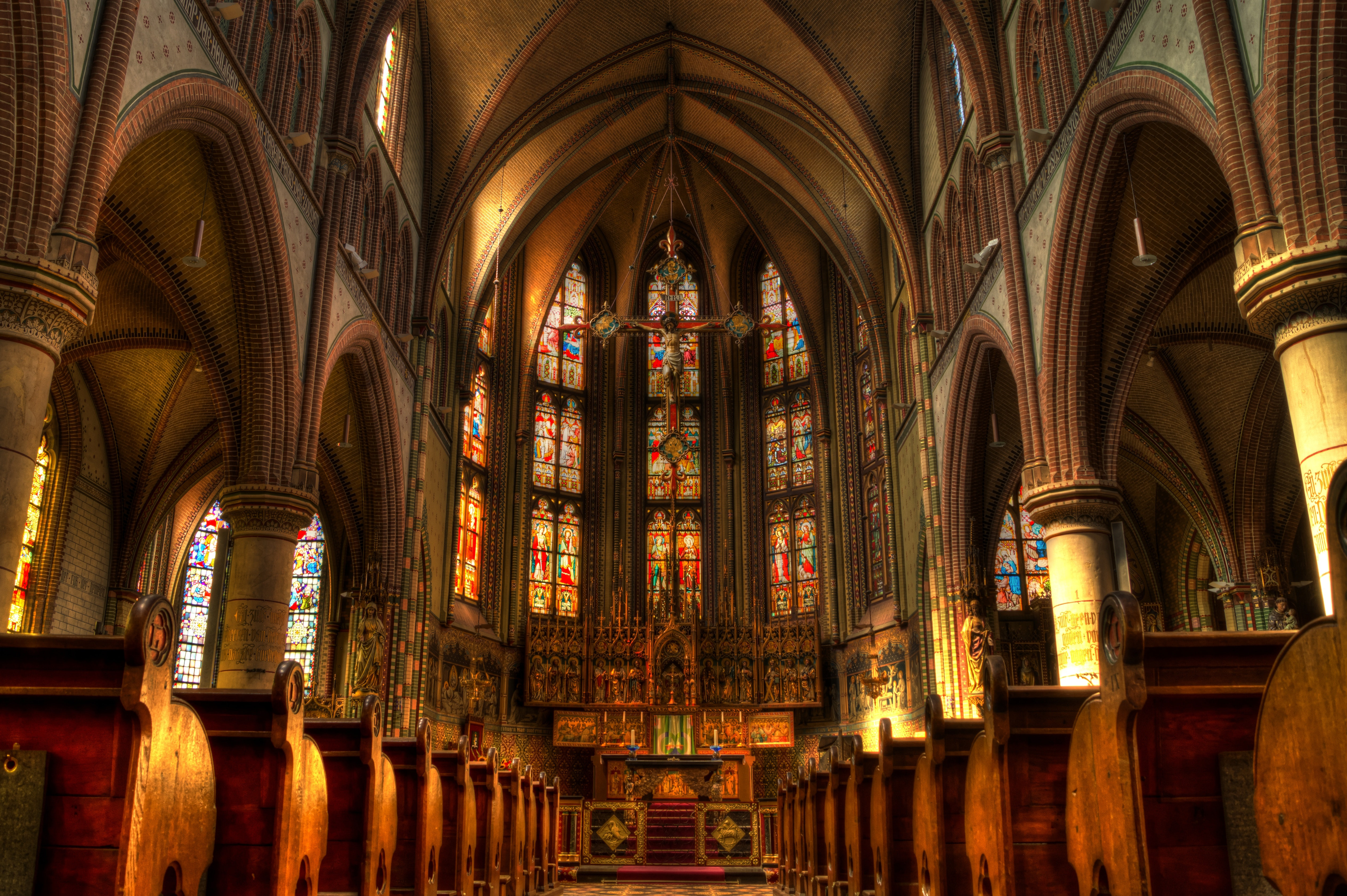 Wedding in a Church*
Although many couples are now moving away from the decision to involve God in their marriage, the church wedding is still a popular, traditional choice for wedding ceremonies in the UK - and with good reason!
The church offers not only a beautiful venue for your marriage, but it is also a religious institution allowing you to celebrate your union in harmony with trusted Christian traditions. Your service will typically include a sermon, hymns, prayers, and bible readings, all of which are not available in the option of having a civil ceremony with a government registrar.
However, if you do opt to have a church wedding, you will be required to include at least one bible reading in your service, and to adhere to the parish rules for church attendance in the lead up to your day – so it's not the ideal choice if religious value really isn't your thing!
The Church of England does encourage couples to celebrate their love with personal touches too. You can include your own choice of music and additional readings outside of those that are religious and your parish vicar will spend time with you before the day getting to know you both to become familiar with your personality and lifestyle. He or she will also guide you in a church wedding rehearsal, and will give advice for marriage before the big day itself.
Many modern clergy do recognise that not all couples today are necessarily united in the same faith and background, or are regular in their worship; but a good minister will work with you to find an appropriate balance for celebrating your beliefs in conjunction with your lifestyle, whilst still honouring the values of the church in your ceremony.
Your marriage will also be made legal on the day of your wedding, as you can sign the legal marriage register in a specified section of the church building with the vicar as your registrar. However, please note that same sex marriages are not currently allowed to take place within the Church of England, although some vicars may offer to give a blessing at their own discretion.
Length of ceremony: Typically 45 minutes – 1 hour
Cost: £517 for couples living outside the Parish / £474 for couples living inside the Parish (2018 costs according to https://www.yourchurchwedding.org/ to include officiant, venue, calling of banns and certificate of banns, marriage certificate.)
*For the purpose of this article, I have used the Church of England as a popular example for a choice of religious wedding ceremony. However, for more information about religious services appropriate to your own faith or culture, please refer to your local minister or place of worship for details.
Licensed Marriage with a Registrar
In order for your marriage to be recognised by UK law, it is vital that you sign the legal marriage register. This can be done either in church, in a register office, or in a registered venue licensed for marriage, and only in the presence of a licensed registrar.
Many venues in the UK are now licensed for legal marriage. These include hotels, historic sites, country houses, tourist venues, restaurants, and many more venues who also typically offer full wedding packages. Holding your ceremony in one of these venues is often the preferred choice for couples who wish to hold their full ceremony and wedding day under one roof or in one location.
However, the ceremony itself is quite restrictive in its content. Due to government law, the registrar ceremony can NOT include ANY element of religion, cultural tradition, or spiritual symbolism – so you can not include hymns, religious readings or prayers, or anything recognised as being a symbolic ceremony such as a Hand Fasting, Unity Candles, Sand Blending, Glass Smashing, Tea Ceremony, cultural blessing… you name it, it's a no-no!
Timings are also under restriction as often the registrar will only allow up to 30 minutes for your ceremony, due to further bookings to attend on the same day. Location can be an issue to, as you must sign the register itself under a solid, permanent structure which has been licensed for marriage – so your ceremony can not take place in the open air, or in any venue (or area of the current venue) which isn't covered by a license. This includes having your wedding at home, or in a public or private unlicensed venue.
Whilst most registrars are incredibly engaging and personable in their delivery of the service, they are equally restricted to a one-ceremony-fits-all approach to the wording and content. Although they will allow you to personalise your ceremony with your own wedding vows and an exchange of rings, the words surrounding this are pre-selected from a choice of three script options given prior to the day, and are the same words used for each and every couple.
Unfortunately, there is usually no opportunity to meet your registrar in advance or hold a rehearsal before the day, but you will be interviewed by the super intendent registrar just before the ceremony as per legal requirement, who will ensure you are relaxed and ready for the ceremony to begin.
Alternatively, many couples now also opt to legalise their marriage prior to the wedding day in what is known as a 'Statutory Ceremony.' This is a very basic legal ceremony held at a local register office for a minimum fee, where the couple (with two witnesses) make their required legal declarations and sign the marriage register. This option then allows the couple to have a more personal or bespoke ceremony in any location on the wedding day itself with an independent celebrant or minister who is not governed by any legal restriction officiating the ceremony. This method allows you to make your wedding day itself completely your own.
Length of Ceremony: Average 20 mins
Cost: Each office of registration will have its own set of fees which can be found on the relevant council websites. As a guide, a registrar marriage ceremony taking place at a licensed venue (not at a register office) can cost on average around £450-£550.
A 'Statutory Ceremony' has a current set fee across England and Wales of £46 (+ £4 for the marriage certificate).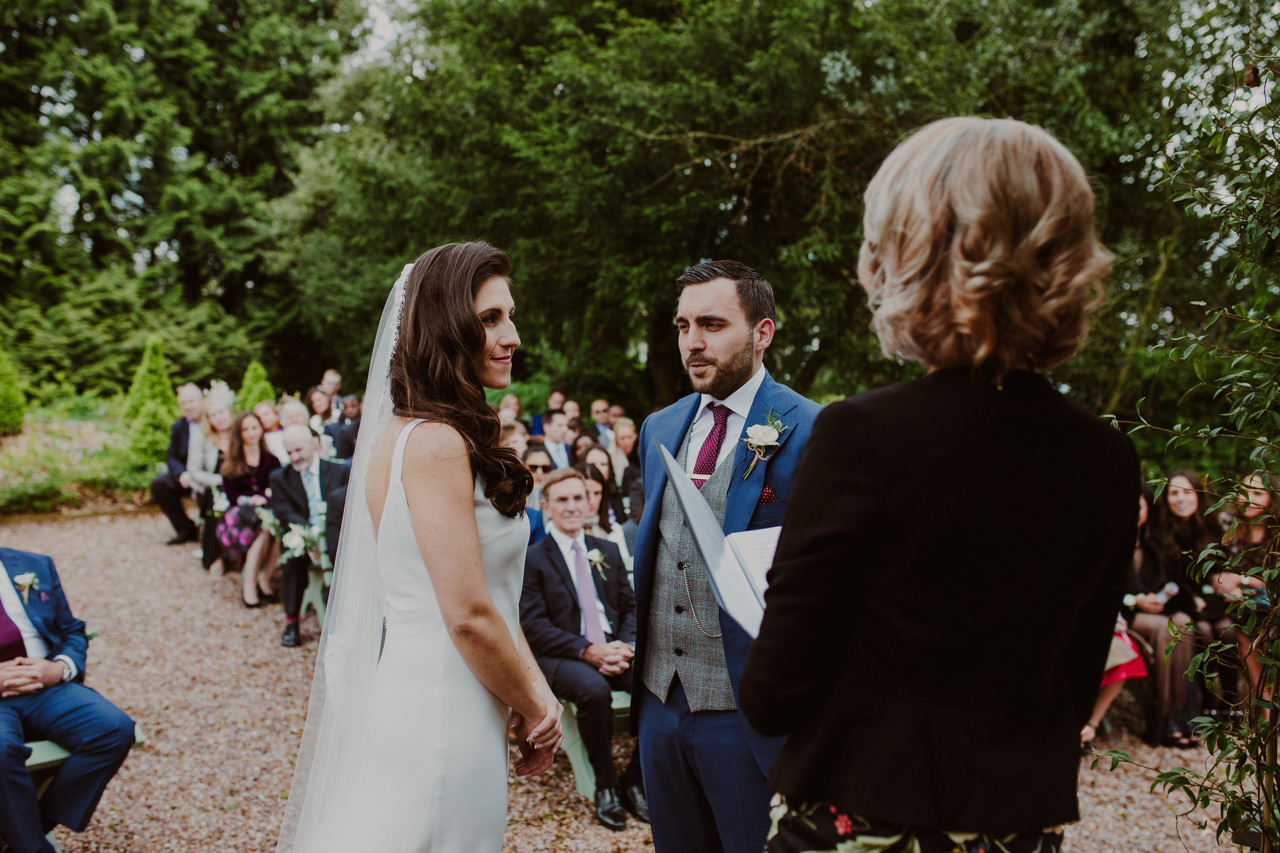 Celebrant Ceremony
Here's where the fun really begins! A popular growing choice amongst couples planning their wedding today is to opt for an independent celebrant to officiate the ceremony.
A celebrant is an individual who is trained to provide you with a custom made ceremony designed to celebrate your union in a way which is meaningful and appropriate to you and your choices for your wedding and way of life.
A celebrant is not restricted in any way by religion or government law, which means that your ceremony can include absolutely anything you wish!
Some couples may opt to use a celebrant to incorporate an element of spiritual symbolism in their ceremony, such a Hand Fasting or any ceremony involving a symbolic element such as candles, sand, water, crystals, trees, doves… the options are endless!
Some may wish to include a relevant tradition important to their family or cultural heritage, such as a Chinese Tea Ceremony, a Jewish Glass Smash, a Persian Honey Blessing, a religious blessing, or anything else which is meaningful to you. You might even wish to come up with your own tradition for future generations to follow….
Celebrants typically pride themselves on working very closely with their couples to get to know them before their day, and to design and create a ceremony which is bespoke to them. Even if you opt to have a very traditional service, a celebrant will still aim to get to know you and ask questions about your relationship, to be able to share an element of your love's personal story on your day.
You can also chose to write your own vows, exchange wedding rings, and involve guests in giving readings – or you can do something different all together. It's completely up to you!
Being unrestricted by law, a celebrant can officiate your ceremony in any location - indoors or outdoors - and in any venue - public or private - anywhere in the world; whether or not your venue holds a license for marriage.
The one down-side? A celebrant cannot legally marry you, so for your marriage to be recognised by law you must also register your marriage in legal ceremony either before or after the wedding day. This can be done very easily and for a minimum fee in a Statutory Ceremony (as detailed above).
Some couples may ask, "will my ceremony still feel like a 'real wedding'?" and all celebrants will argue that – "yes, of course it will!" A celebrant ceremony is quite possibly one of the most personal ways you can opt to make your marriage commitment, and the majority of the time the guests don't even realise the difference…. they're too busy enjoying the moment you smile and say "I do!"
Length of ceremony: It's up to you! But anywhere between 20 – 40 minutes is recommended.
Cost: All celebrants will offer their own fee, but the UK average ranges between £400-600 depending on person and location.
So, what are you waiting for? Now you know more about the three most popular choices, hopefully you can feel a little bit clearer about deciding which one is right for you …
… although, I may be biased, but I know which one I would go for!