Altering Your Wedding Dress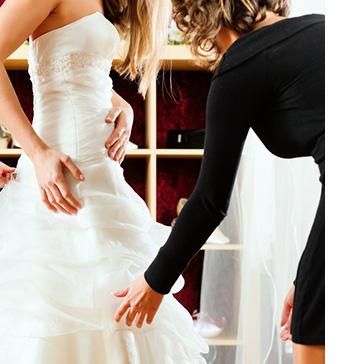 19 out of 20 brides need their wedding dress altered before the big day! Make sure that your dress fits you beautifully by following our Timeless Advice on how to ensure that your dress is altered to perfection.

Give yourself plenty of time


Many brides make the mistake of leaving alterations right up until the last month. Please avoid doing this! Once you have found your perfect dress, try having three or four fittings, before the big day. This will give you, and your chosen seamstress, plenty of time to make any alterations that need to be done.

Maybe you have lost a few pounds or you do not quite like how your dress feels across your shoulders… these are common problems but can easily be fixed! Just make sure you allow yourself plenty of time.

Who to pick?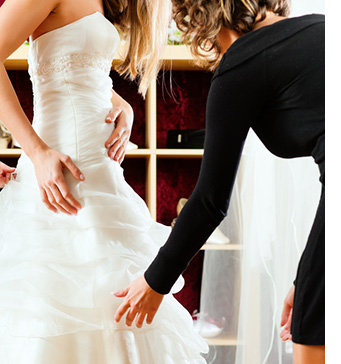 When picking the person who will adjust your dress, it can be a long process. Try and get a real feel for the person, ask to see any work they have done before and discuss what needs doing to your dress. You need to be able to trust them and feel confident that you will have your dress complete, just as you want it, before your big day arrives.

If the shop where you bought your wedding dress from does not offer an alterations service, then have a look around for someone who specialises in wedding dresses. It is often these professional that have a real passion for what they do and can help you to feel wonderful in a perfectly fitted dress.




Redesigning


Any professional in the wedding dress industry will tell you that the possibilities surrounding alterations are endless, anything you want on your dress you can have! Try being realistic when it comes to this, though and leave yourself with plenty of time! Your chosen professional needs to be able to make the changes, after all.

If you have found your perfect dress but fancy making it look a little more modern, then speak to your professional and discuss what can be done and how much it would cost, the time it will take and more importantly, is it feasible? Maybe you want to add some colour to your gown, or lose the straps…this is all possible, but a chat beforehand is vitally important!

A little suggestion


When you go to try on your dress, at the various fittings you have booked, make sure you take your shoes and any accessories that you will be wearing on your big day. This is a great way to get a real feel for your dress and will help your seamstress/dressmaker to see the big picture!

And finally… do not leave unless you are completely happy! If you can say you are 110% happy with any alterations then you may leave the shop, if not, then stick it out until you feel like a million pounds.

Other Timeless Advice you might like to read:
'Looking Good and Feeling Great'
'Countdown to a Perfect Wedding'