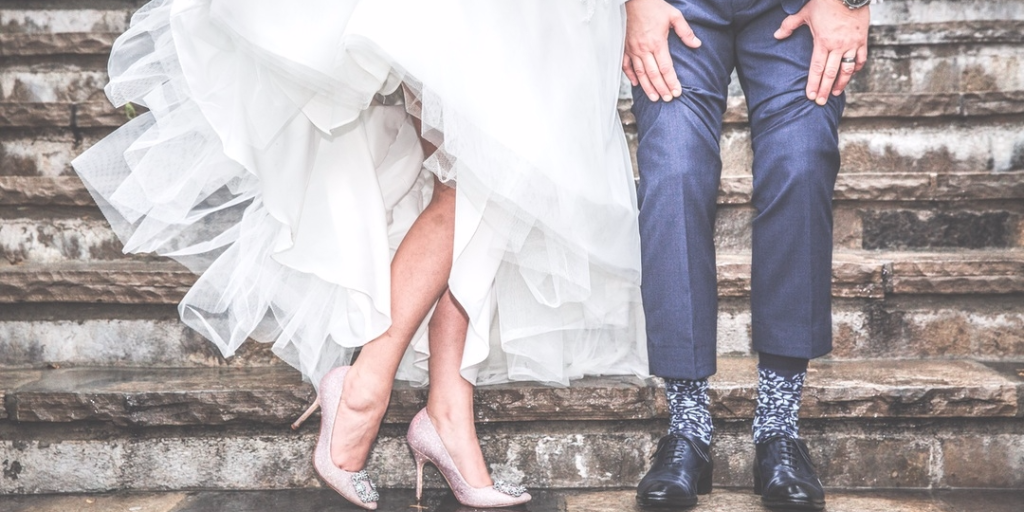 A Real Bride's Guide: Getting Started Without The Stress
---
When it comes to planning a wedding you can (and will) read all the magazines, articles and blogs in the world on the matter. Nothing, however, will quite compare to a real bride's guide. Having a shared experience of somebody going through the same thing at the same time (or there abouts) as you will undoubtedly provide the most valuable insights into planning a wedding.
We are, thefore, super excited to introduce part one of our new 'Real Bride's Guide' series featuring soon-to-be weds Lara and Ben. This awesome couple got engaged last year and are getting married in April at the beautiful Huntsham Court in Devon. Over the next couple of months Lara has very kindly offered to share all the knowledge and experience gained, and trials and tribulations experienced throughout her planning journey kicking things off with part one: Getting Started Without The Stress.
"I'll confess, I was never someone who dreamt of getting married. In fact until recently I would have much rather attended other people's weddings (a big party with lots of food and drink? Yes please!) than take on the stress and financial hardship of planning my own. Now as a bride-to-be myself, I've become a complete convert.
Weddings make people ridiculously happy, for a start. Everyone from that grumpy colleague to your mum's postman will be genuinely excited for you, and the endless enthusiasm of your suppliers will make you seriously consider quitting your job to become a wedding planner (or is that just me!?). It's also the only time you can legitimately spend hours looking at beautiful dresses/shoes/flowers/stationery/insert wedding paraphernalia of choice here. Not to mention it's the one thing, besides a house, that you will ever be able to consider splashing this much cash on. Some brides live for this, while others can't think of anything worse. Wherever you fall on this spectrum, just remember that you don't have to do what you think you're supposed to according to mothers, friends, wedding blogs or tradition. Your wedding day is about the two of you, so it's up to you to decide what, when, where, how and why you do it.
That can be easier said than done, though, so here are some tips to start planning your day your way, with as little stress as possible!"
1. Do you
"Decide on your priorities for the day, and make everything work around that. Massive foodies? Look for somewhere that gives you the freedom to pick your own menu or where you are sure the catering will blow your guests minds. Party animals? Find a venue that doesn't have a cut-off time, or plan an epic after-party somewhere nearby. Or if you bonded over your love of music, dedicate more of your budget to booking the best band you can find.
It's easy to get carried away by other people's opinions of what a wedding should be and lose your ideas along the way, but don't forget: you don't have to walk down the aisle to Wagner's Bridal Chorus or have a sit down 3-course meal if you don't want to. You can wear a trouser suit instead of a dress, or get married under a tree instead of in a church, if that's what makes you happy. After all, that's what the day is all about isn't it? "
2. Lists, lists, lists
"Once you've decided on what's most important to both of you, start making lists and lots of them – checklists, guest lists, supplier lists, playlists...
Spreadsheets and shared docs are even better if that's your thing (I would be lost without my wedding spreadsheet, created by a terrifyingly bright and uber-organised friend who I was a bridesmaid for). If it's not though, and just the thought of excel gives you a headache, Wedding Planner's tools are amazing. I still use them alongside my collection of lists and spreadsheets (yes, I'm a bit of a control freak) and they're a brilliant place to start when you have no idea what to even put ON your list to begin with. Not only will they make your life a whole lot easier, they'll also make arranging your seating plan fun instead of a reason to call the whole thing off and elope to Las Vegas."

3. Know what you want, but be open-minded
"If you've never planned a wedding before you're likely to be overwhelmed by how much choice there is, and at the same surprised by how many restrictions there can be - having to use a venue's preferred suppliers or discovering your favourite flowers aren't in season for your chosen date, for example, can throw a few spanners in the works. So don't restrict yourself by setting your heart on a vision of a Pinterest-perfect wedding before doing plenty of research and reading the small print. An aisle lined with orchids and candles certainly looks fabulous on Instagram, but may not be do-able in reality. If you stick to your list of must-haves (see step 1) but stay flexible on everything else, you'll find it much simpler to narrow down your options.
We were dead set on having a venue with accommodation for most of our family and friends for the whole weekend. It turned out that the boho-style barns we were looking at didn't offer that (at least not within our budget) so we had to find an alternative and ended up booking Huntsham Court. I never would have imagined getting married in the traditional setting of an English country house, but with enough rooms to have everyone we love stay with us and the flexibility to plan and style our day exactly how we like, it's turning out to be even better (and cheaper) than we'd hoped!"
4. Book early
"The saying goes 'Fail to plan and plan to fail' and this could not be more true when it comes to weddings. Think you're the only person who thought about getting married on the bank holiday weekend in that gorgeous venue just outside the city, with those caterers who specialise in festival-style food vans and the photographer you've been secretly saving up for since you met your fiance? Think again. There is a lot to organise when it comes to the big day, and it pays (quite literally) to get your thinking cap on early to sort out the big three - venue, catering and photography.
Having stumbled across Huntsham Court almost by accident, we ticked off the venue early. Now it was time to fill it with all the other stuff! As a dry hire venue we had the freedom to book whichever suppliers we wanted, but because of the rural location we soon realised travel and delivery costs can add up quickly. Fortunately, Huntsham recommended local caterers who do the majority of weddings in the area, and as we arranged tastings early we were lucky enough to choose between the best two before they were booked up.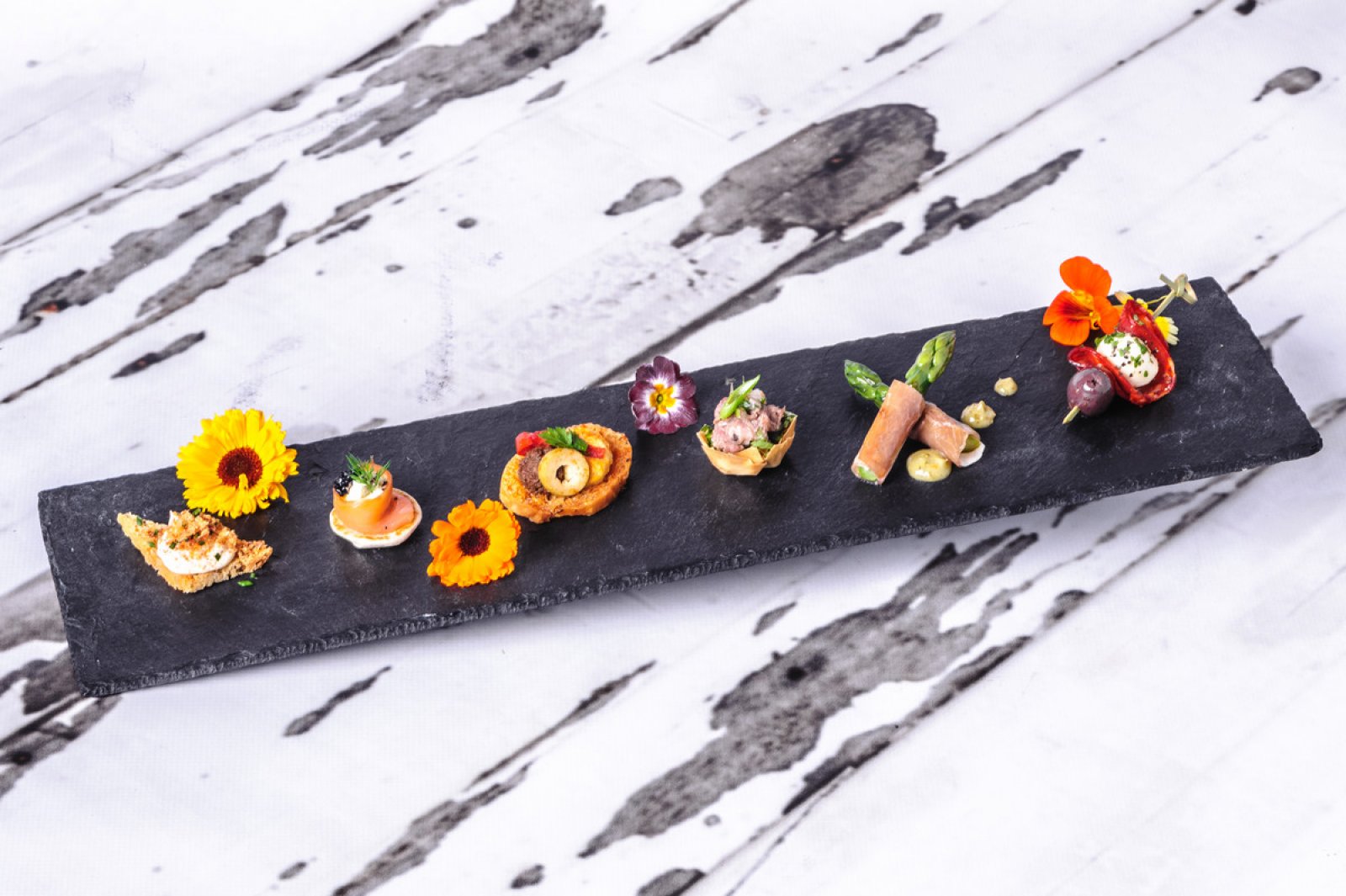 Posh Nosh Catering
While booking early will ensure you get who you want, it can also make it easier to negotiate. It's just as important for suppliers to like you as a couple and your ideas as it is for you to like them. I really struggled to settle on a photographer as there are so many talented ones out there to choose from, but as soon as we had a consultation with PNM Photography we knew their style was perfect for us. They were quite a bit over our budget, but as they were just as keen to be a part of our big day they kindly offered to help by including a photo booth session in our package which made it a perfect fit. See what I mean about suppliers being so lovely!?"
5. D-I-Y vs D-I-Don't
"Weddings are big business and naturally cost a fair bit, so it makes sense to do whatever you can yourself to save some money - after all, every little helps! Whether it's keeping every empty wine bottle and glass jar for the past year to dip in glitter or searching car boot sales for old photo frames to spruce up, wedding DIY is a great way to add personal touches to your big day for a fraction of the cost. But a word of warning...be realistic!
Cleaning out a jam jar and peeling the label off once a week is nice and simple, but baking your own 4 tier cake to decorate with buttercream frosting on the morning of the wedding might drive you to despair. The professionals are there for a reason, so let them take the load off and do what they do best while you concentrate on simply enjoying your special day. That's not just true for the day itself, be careful not to take on too much in the run up to the wedding, and pick your battle wisely! If you're thinking of doing those 'oh so easy' personalised balloon invites, just bare in mind that no matter which sharpie you buy the ink WILL peel off after 10 minutes - and you'll have wasted six hours of balloon blowing and writing #liveandlearn."
6. Remember why you're doing it
"Weddings are stressful and expensive (no matter how many magazine articles you read about getting married for a fiver, it's not possible). There may be several unwelcomed opinions, uninvited plus ones and unexpected costs along the way but, in the end, the point of it all is to celebrate the two of you and the rest of your lives together. It's sounds cheesy but it's true!
So when you've had it up to here with nosy aunts, disappointing dress fittings and spiralling quotes, give yourself a break - close the spreadsheet, put down the bridal magazine, and take a night off with your fiance and a box-set on the sofa to get some perspective and remind yourselves that there is life before, and after, W-Day."