2017's Best Wedding Hair Accessories
One of the best bits of planning a wedding (or so we think!) is choosing which of the myriad of gorgeous glittering hair pins, feathers and flowers you are going to beautify your hair with on the day. To get you inspired, expert hair and make up artist Camilla J Collins is here to give us her round up of the best hair accessories for 2017 - prepare to swoon...
"Over the years I've noticed a real decline in the addition of tiaras, headbands and even veils into wedding hairstyles. These days brides want a much softer and less traditional look and believe a lot of hair accessories to be a bit too 'fussy'.
I must admit, my heart saddens a little when I hear at the trial that my bride isn't really considering a hair piece. There are so many different options of hair accessories out there, including unconventional items such as the discarded ribbon or perhaps even an additional detail of lace that you have decided to discard from your dress.
So below I have listed a few of my favourite hair accessory options for this year, why I love them so much and why they should definitely be something for you to consider.
Hair Vines
I think these have to be my current favourite of all the hair accessories out there. Why? Because not only are they very pretty, they are just so versatile! Vines are not just for long hair, they can be used for shorter styles too. While they look absolutely beautiful entwined into half up and half down styles or even plaited into long hair, they can also look equally beautiful nestled on top of a chignon or used as a half headband creeping up the side of your sweeping fringe. Hair vines are made of malleable wire which means they can be bent into any shape or even scrunched up so that they can really be worked into the hair to look seamless and truly part of the style.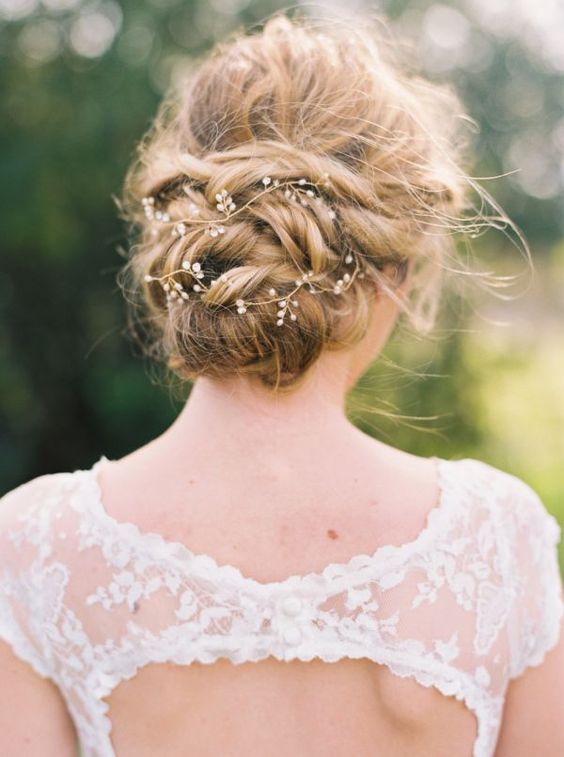 Image Sources: Swooned + Etsy
Hair Combs
I still love a hair comb and while hair comb fascinators are still popular on mother's of the bride or groom, I have definitely noticed less brides opting for one for themselves. Hair combs come in all shapes and sizes. They can be beautiful, large and jewel encrusted or small and delicate with just an arrangement of pearls or diamantes.
Once again with a hair comb, there are many options of where to wear them. The most common place is off centre, nestled in a chignon or central at the back of a half up or half down style. They can also be nestled to the side, buried in the gathering of a side fringe.
There are some really beautiful hair combs out there which have a certain element of 'vine' to them which means the can be manoeuvred to work with the hair which can make the hair piece blend beautifully and be less obtrusive.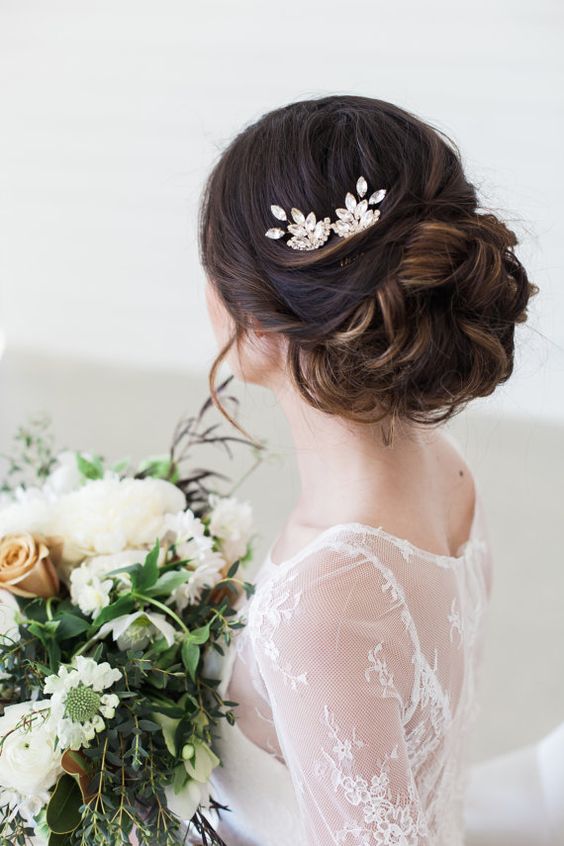 Image Sources: Brides + Etsy
Fresh Flowers
Now this is an ever increasing popular choice and it's a truly lovely idea. Your florist should be able to make you some additional flowers to wear in your hair by re-enforcing the stems so that us hair stylists can pin them in securely. You can opt for a large flower like an orchid or scatter rose buds or gypsophilia through your style - whatever takes your fancy! Always discuss flower options with your florist as some will not be particularly suitable to be worn in the hair and have a faster wilting rate! There are lots of options to choose from and if you wanted something that was perhaps not suitable, your florist should be able to find your a similar alternative as well as your hairstylist suggesting a good arrangement. I can assure you that you do not want limp, lifeless flowers in your hair, regardless of how pretty they were at the start so please do listen to their advice.
.
Image Sources: Wedding Wood + Plan Your Perfect Wedding
Scatter Pins
This has been another popular choice over recent years, however, I have noticed the use of scatter pins on the decline as well. Scatter pins are another very versatile accessory. They can be scattered through a messy up do or placed in an arrangement to form more of a hair piece. You can get lovely simple pins with just a small diamante or pearl on the end that you would hardly know was there until it caught the light. These are a lovely addition if you are not keen on the idea of hair pieces but need just a little something to break up your lovely volumous, deconstructed up do. I would definitely consider this option if you have darker hair as blonde hair usually has highlights for the light to bounce off, it's nice to define the styling of darker hair with a little something. I would recommend 6-9 of the smaller ones for scattering. Hair pins come in larger variety too with more detail on each pin and 3-6 of this variety would compliment your hairstyle nicely.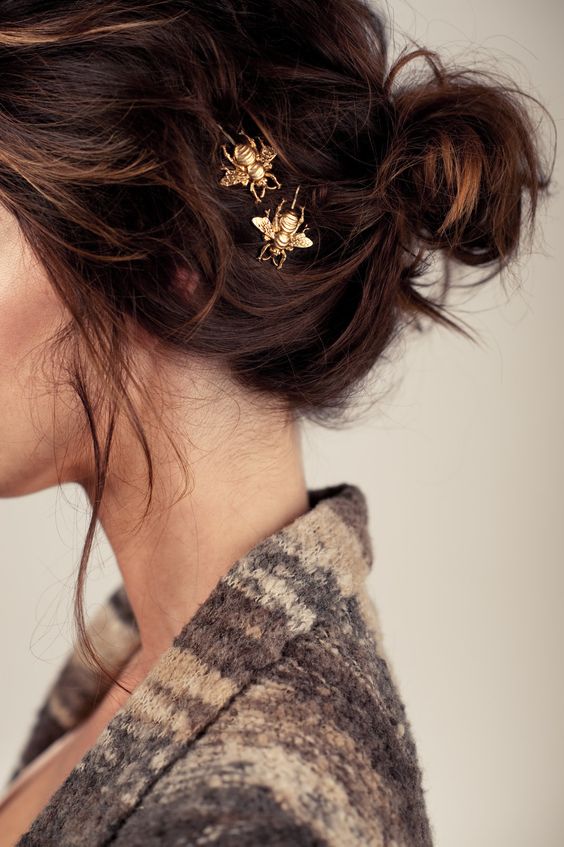 Image Sources: My Wedding + Brydie
Parts of your dress
This might sound bizarre but I've had a lot of brides come to me with discarded parts of their dress that they were considering incorporating into their hairstyle. It's such a lovely idea and can really tie in your whole look. Elements such as ties, ribbons, bows or parts of lace can all be incorporated into hairstyles so if this sounds like it could be an option for you then definitely have a word with your hair stylist and see what you can both come up with.
.
Image Source: Stephanie Vanneste + Selfish Cat
If you would like to book Camilla and her team to do your hair and make up on your big day, you can enquire on her profile here.