Vintage Style Engagement and Wedding Rings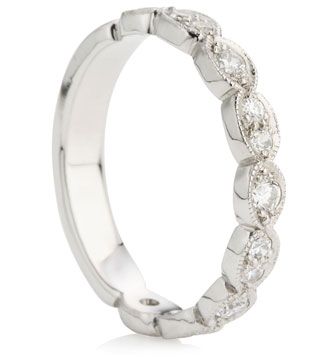 Vintage inspired weddings have become really popular with brides and grooms over the last couple of years; this has led to a trend towards vintage style engagement and wedding rings.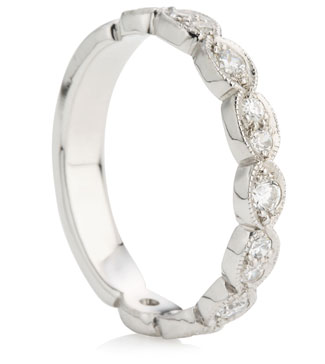 The British Empire, during the reign of Queen Victoria, had access to the diamond mines of the day; including mines in India and South Africa. During this era there was an increase in the amount of diamond set rings and towards maximising sparkle! This style was emphasised further by the millgrain setting which is identifiable as conveying an antique style. Millgrain is used to describe a type of jewellery decoration; tiny raised beads of the precious metal are created using a tool, usually, at the edge of the ring. The millgrain setting fills the band to maximise the diamond, making it appear larger.

With the trend towards vintage designs, brides and grooms are either choosing a new ring that has a vintage style, going for a truly vintage ring by scouring antique shops or being given family heirlooms.

Engagement and wedding rings which are crafted today with a vintage style are inspired by the Victorian and Edwardian era of 'romance' and sparkle. By choosing a new ring brides and grooms can find the vintage style of ring(s) they love and then select their choice of metal, such as platinum, white gold, palladium, yellow gold etc. Selecting a new ring with a vintage twist also allows you to choose the cut and quality of the diamonds in the ring, as well as finding a ring which also compliments your wedding or engagement ring.

When looking for an actual antique ring, which generally means its more than 50 years old, it is important to be aware of flaws in an antique design such as internal cracks or damage as today's quality may not apply to an antique ring; and of course the ring has already received wear and tear! Do your research before and during your hunt and go armed with questions you want answered by the dealer to ensure you end up with a beautiful piece of jewellery which you love and will last.