18 Questions to Ask Your Wedding Cake Maker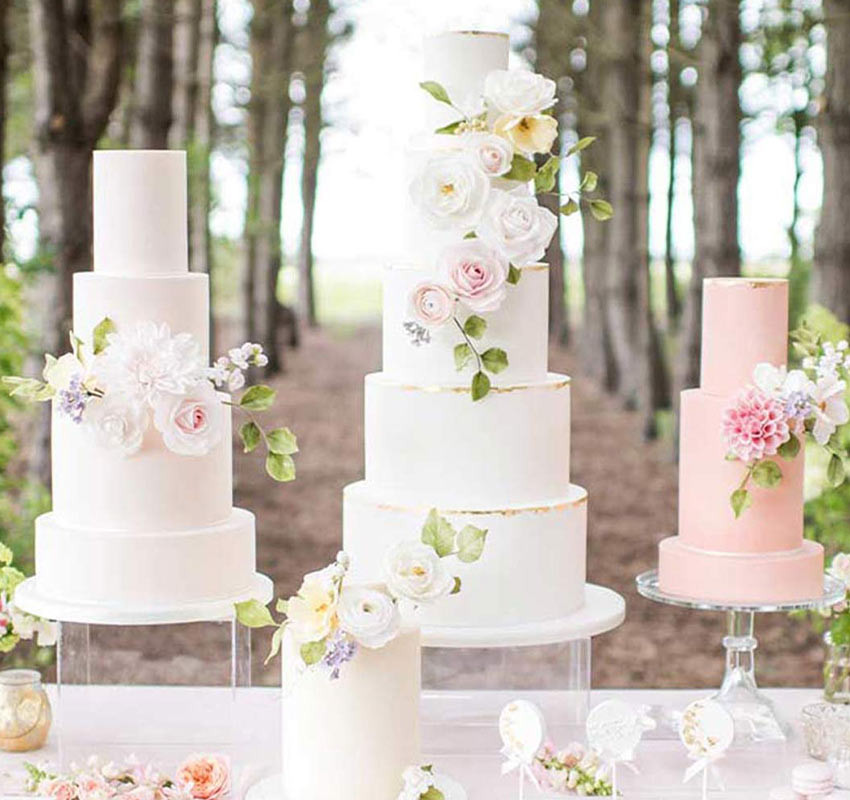 Along with many things on your wedding day, this might be the very first time you're ordering a cake from a baker, let alone a three-tiered wedding cake! So it's always worth researching online what questions you need to be asking so that you leave no important stone unturned.
Below we've listed 18 of some of the most important questions you'll need to ask your baker to help ensure you get exactly the cake you hoped for.
1. Are they available on your day?
First things first, you need to find out if the baker you like is actually available on your day. This is important to do early, before you get too attached to a particular style of cake.
2. Are they a registered food business with a food hygiene safety rating?
By checking this, you'll be ensuring that you're hiring a genuine professional baker who has the necessary requirements to trade.
3. How many wedding cakes they've made and how long have you been in business?
Whilst this question doesn't necessarily indicate that they're better than someone who is new to the game, it will give you a good idea of how much experience they have. Plus it will also mean they'll have a wider portfolio of wedding cakes to show you, so you can understand more fully what you'll be getting.
4. How big should your cake be?
Let your baker know your number of guests and potential budget and they'll be able to advise you how big the cake needs to be, whilst also remaining in budget. If you want a particularly tiered cake but don't have the budget, some bakers can do things like polystyrene layers to give the height you'd like but without the cost of paying for actual cake layers.
5. How big are their portions?
Depending on whether you're planning to serve your cake as a dessert or just as a snack later in the evening, it's good to know what the baker would class as a portion of their cake. This is also helpful to pass onto the venue who will be cutting the cake too. Typically you'll want a larger portion if it's going to be dessert, but it can be smaller if it's just an evening or even next day snack.
6. What flavours are available?
Generally most bakers will offer more than just your classic vicky sponge which you'll be able to try at a cake tasting. However if you have your heart set on a particular flavour, it's important you check this early on before you get too far into the process. Plus, if it's not a flavour within their repertoire, be prepared to pay a little more for this too.
7. Is it possible to taste the cakes?
On the whole, most bakers will invite you to a tasting before you choose your final wedding cake, however you should always check this just in case and see if it'll incur an extra charge too.
8. Can each tier have a different flavour?
If you've got your heart set on having each layer tasting different from the other, then this is a question you'll need to get in early, as many bakers often won't let you do this or it will come at an additional charge.
9. Will I get a drawing of my cake?
If you're creating a bespoke cake and ultimately looking at a slightly higher budget, then typically you'll go through a design consultation and be supplied with a sketch of what the cake might look like. However if you're choosing something from their portfolio or a simpler style of cake, then this might not be part of the process.
10. Will the icing be buttercream or fondant?
Each icing has it's pros and cons which your baker will likely talk you through. Buttercream tends to be cheaper but fondant is more longer lasting in the summer heat. If they offer both then great - at that point it ultimately comes down to personal preference, budget and what type of icing will suit your location.
11. Do they offer Gluten Free or Vegan tiers?
If you or a number of your guests are gluten intolerant or vegan, then it's worth checking whether the baker is able to offer a tier that caters to this. Alternatively, they can make a small separate cake for these guests, so that everyone gets a chance to enjoy it.
12. Can you see the cake before the wedding?
On the whole most cake bakers will send you a photo of the finished cake before the wedding day, but there's a chance some might not. If this is something that's really important to you, let them know that you'd like to see it before the big day.
13. Do they offer polystyrene tiers?
As mentioned earlier, one great way to save money on your wedding cake is to have one or two of the tiers make using polystyrene. They look exactly the same as the rest of the cake once decorated and work well if you want an impressive looking cake but budget is tight.
14. How much is the deposit?
Wedding cake prices can vary widely, with some being very expensive (but beautiful!) You'll usually know your budget up front, but it's good to know if you have to pay a deposit and whether you can split payments to make things more manageable.
15. Will the cake be delivered, and when?
A crucial thing to know is whether the cake will be delivered to the venue and if so, where to specifically and what time. If they aren't delivering it, you'll need to ideally allocate someone within the wedding party to collect it before the wedding. In addition to this, you also need to check that there is a safe and cool place for the cake to be stored at the wedding venue itself.
16. Is there a charge to have it delivered?
This is a good question to ask when you're discussing payment, to ensure you don't get any hidden charges. Usually they will at least charge for mileage, so be sure to factor this in when you're budgeting.
17. Will a cake stand and knife be provided?
An important part for enjoying the cake on the day! Most wedding venues will typically provide this sort of thing, but for peace of mind it's best to ask both the baker and the venue just in case.
18. What if I'm not happy with the cake?
Most of the time, you should expect to be delighted with the cake - especially if you've gone through all the processes to decide flavours and pick styles you've likely seen in their portfolio. But if on the rare occasion you are unhappy with it, the baker should have processes in place for complaints and terms and conditions.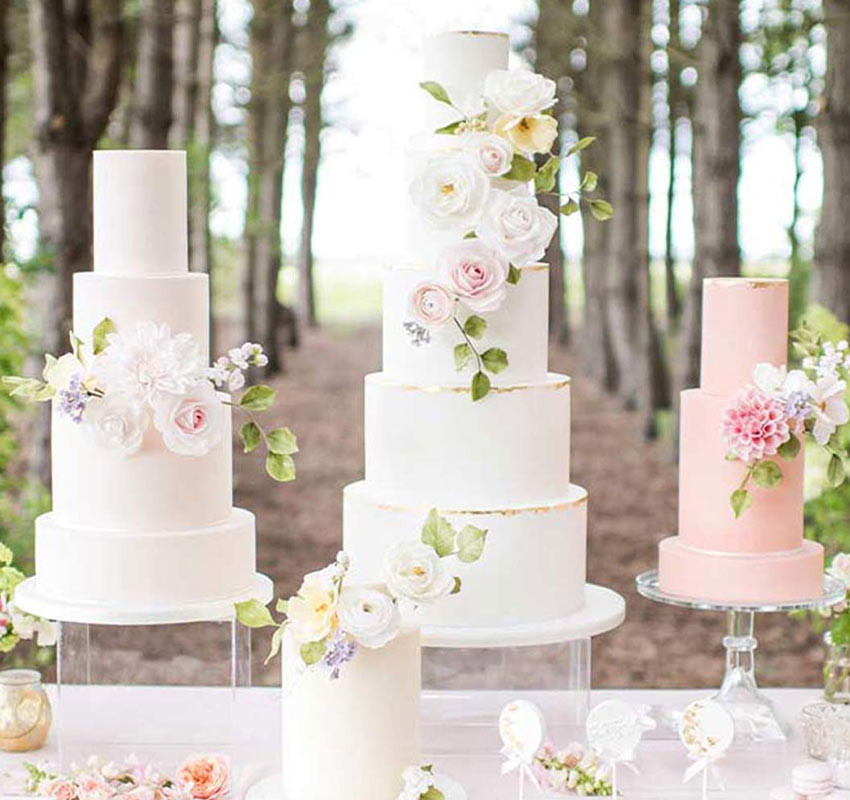 source - https://poppypickering.co.uk/