10 Ways To Personalise Your Wedding
How To Personalise Your Wedding
In my book, achieving a 'personal' wedding is far more desirable than one which is 'unique'. Whilst this may sound nuanced, it boils down to a pet peeve of mine which is couples striving to do that which has not yet been done at a wedding. An aim which is almost unachievable (there are nearly 250,000 weddings in the UK every year) and also leads to people making stupid uncharacteristic choices in the name of being unique.
Anyway… enough of my rambling. Here is a list of fabulous ways in which to make your wedding personal to you, and not unique as according to some kooky wedding blogger…
1.
Monograms
- go with the traditional elegant type, or get creative and modern. Have a stamp made and then BOOM. Stamp everything. Invites, place cards, menus.
2. Signature Cocktails
- not only will this keep on top of costs if you're having a 'free' bar, but it also adds a stamp of your own personalities. Choose a 'his' and 'hers' cocktail for your guests to try!
3. An hommage to loved ones
- include the love stories and old photographs of those who came before you for a personal and sentimental touch.
4. CD Wedding Favours
- filled with all your favourite songs as a couple - a relatively cheap favour to make, and if you've got that stamp too… PRETTY.
5. Personalised order of service
- this is a particularly fine example (though I think this company is Australian) of how to add a fun and quirky element to your order of service which your guests will love to read whilst they wait for you!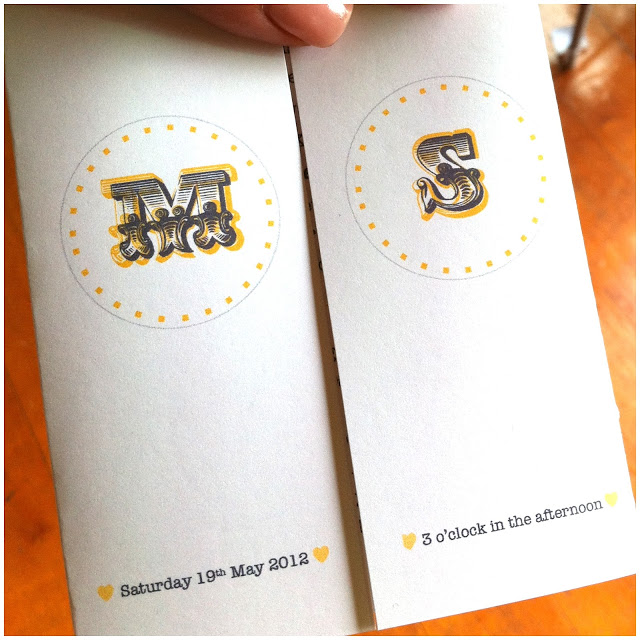 6. Have custom drinks labels
- then keep a couple of these bottles as keepsake candlestick holders! WoW's very own Bottle Bazaar do some fabulous labels, check them out
here. 
7. Table numbers/names
relating to your relationship - from holiday destinations, to significant milestones in your relationship.
8. Dance Floor Fillers
- have all your guests write down a song which gets them on the dance floor, this way they'll feel part of your big day!
9. A nod to where you met -
did you meet at University? Or maybe on holiday? This could be a lovely way to tie in your past!
10. Find and reclaim random objects
- just like this crafty couple did with an old pallet! It's really easy to pick up random pots and pallets from junk yards, or just ask around! Then paint and stencil your names on - simples!