Zuhair Murad's 2018 Decadent Blush Dress Collection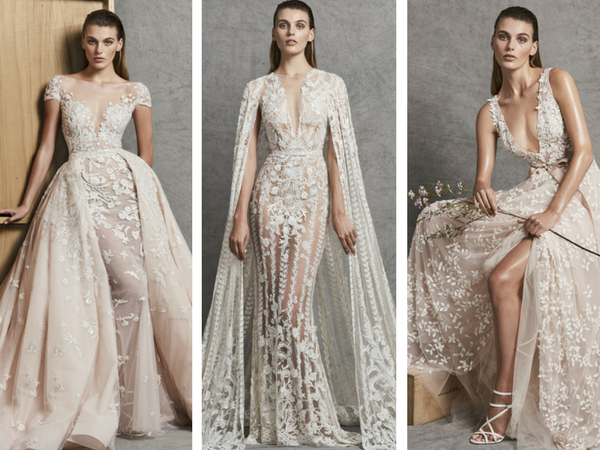 It's fair to say the Wedding Planner office is pretty obsessed with these insanely intricate and gorgeous dresses from Zuhair Murad. With their light as a feather fabrics and daring yet dainty beaded embroidery all wrapped up in the softest of blush pinks, the dresses are sophistication personified.
From the exquisite shades of vibrant pink displayed in the northern lights to a glistening rose quartz or the blush of a cheek, pink continues to be the eternal symbol of femininity and this is something Murad wished to explore through his 2018 Bridal Collection.
Using the shade in a limited palette of delicate ivory to powdered and muted pinks enables the play with colour to still let the fashion house's classic style and focus on the female form take centre stage.
Throughout the collection, florals appear in all shapes and sizes with inspiration being drawn from the romanticism era and it's exquisite engravings, complementing the pinky hues perfectly. Drawing influence from untamed, natural flowers that would seem quite at home worn as a floral crown, the collection sees trails of flowers embroided along the gowns in 3D or delicately placed on sheer chiffon as if a tattoo on nude skin.
With the aim to utterly reimagine classical codes through his designs, Murad takes inspiration from the timeless elegance of Grace Kelly, the coquettish Audrey Hepburn and Mia Farrow's pared down chic in their respective weddings both on and off screen. Utilising silk chiffon, swathes of ruffles and floaty lace, he provokes you to question what is visible and invisible. Boleros, capes and veils are placed over a bustier or an off-the-shoulder gown with unexpected additions that modernise 2018's brides in a way that will still remain classic for many years to come.
Explore the collection below and if you wish to find out more, you can contact their official UK stockist The Wedding Club here.